My Portfolio
Books, Short Stories, Poems & More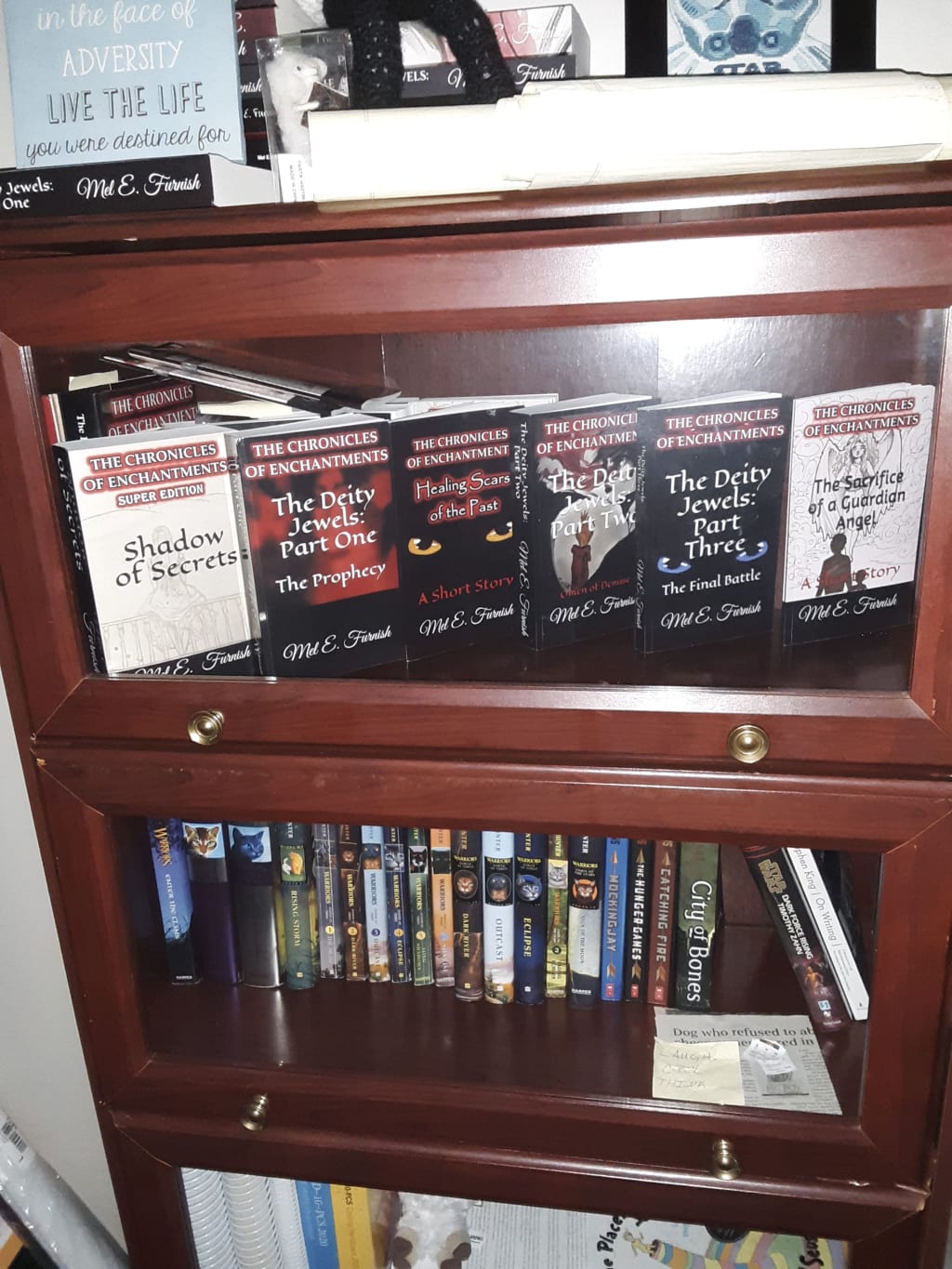 Table of Contents
Vocal Recent Posts
Vocal Portfolio:
Poems
Short Stories
Blogs/Reviews
Books
Amazon
Website
~~~~~~~~~~~~~~~~~~~~~~~~~~~~~~~~~~~~~~~~
Vocal ~ Recent Posts:
A new addition to The Chronicles of Enchantments series, this short story is based on the early events of The Deity Jewels, the first book of the first saga. Dive into the point of view of the villain from the prologue and discover what happened to Princess Evaleana after Sotan's Fall. Unexpected connections and new alliances form as his life unfolds.
~~~~~~~~~~~~~~~~~~~~~~~~~~~~~~~~~~~~~~~~
Poems:
> Monster <
> Music Box <
> Seeding Imagination, Growing Universes <
> Surrealness <
~~~~~~~~~~~~~~~~~~~~~~~~~~~~~~~~~~~~~~~~
SHORT STORIES:
EARTH
> Hunger <
FICTION
> Emerald Flames <
FUTURISM
> Sole Survivor <
> TCoE: Calypsia <
> The Chronicles of Enchantments <
HORROR
> Heartbeat <
HUMANS
> Cancel Culture Mob = Monty Python Mob <
> Empathy <
JOURNAL
> Primal Instinct <
MOTIVATION
> Without Darkness <
PSYCHE
> Parasite <
SWAMP
> Ironic <
~~~~~~~~~~~~~~~~~~~~~~~~~~~~~~~~~~~~~~~~
Blogs/Reviews:
GAMERS
> Cattails <
GEEKS
Game of Thrones
> A Future Classic <
Rick and Morty
> Rick and Morty's Dinner Party <
Star Wars
> Obi-wan's Legacy <
FICTION
TCoE: BACKSTORY BLOGS
> Pt. 1 - Sithmora <
> Pt. 3 - Kaynen <
> Pt. 4 - Cythia <
> Pt. 5 - Torrick <
> Pt. 6 - Wistria <
> Pt. 8 - Zyro <
~~~~~~~~~~~~~~~~~~~~~~~~~~~~~~~~~~~~~~~~
Books:
THE CHRONICLES OF ENCHANTMENTS
The Legend of Evaleana
> eBook <
Brace yourself for a thrilling roller coaster of a story with twists and turns to lash you back and forth. Dive into the pages of the first piece to the legend of Enchantress Evaleana, the beginning of a captivating saga. The start of Eva's life isn't a fairytale, and for many others in her life, there are few happy endings and few happy beginnings. Her childhood was a lie, and her destiny ties to her real past. Her capture led to an unexpected journey filled with secrets and magic as she discovers who she is and who she is meant to be.
~~~~~~~~~~~~~~~~~~~~~~~~~~~~~~~~~~~~~~~~
> eBook <
Following the events of The Deity Jewels: Part One, The Prophecy, we will see more of Trindavin and uncover more secrets within the characters' lives. Follow your favorite characters as their story in another world with magic, betrayal, war, romance, life, and death continues.

Evaleana and Torrick have come this far on their strange, thriller of an adventure, and now its time for them to face more challenges and tests that will bring out the good and evil in them. As they hunt down The Deity Jewels, they flee to the desert to meet strange Royals that will impact their lives in ways they never saw coming. After they endure a painful and dangerous series of steps, they come across what has been haunting Torrick for years.

His Omen of Demise.

"Love will blind you. You will deny what is so clear. Your childish dream will manipulate you, and in the end, you will watch it swiftly turn into a nightmare. Blood will betray you. And after fate has taken its toll, the beast within you will rise."

What awaits The Enchanter and Enchantress as they continue their mission? How will their lives change after this twisted and dark journey? Pick this book up now and follow their steps into this strange and cruel world.
~~~~~~~~~~~~~~~~~~~~~~~~~~~~~~~~~~~~~~~~
> eBook <
As The Dark War comes to an end, everyone must face their fate. Revenge will seep into the hearts of some, corrupting their thoughts and blinding their rage. Others will meet their destiny, and some will seek their worst enemy. Will brothers fight each other, or fight for the other? Will Evaleana and Torrick succeed? How will the aftermath impact the survivors?

Who will bend, who will tend? Who will break, who will flake? Who will fall, who will call? Who will betray, who will stay? Who will cry, who will lie? Who will see the sunrise, who will meet their demise?
~ The Prophecy of Elements (coming soon)
~~~~~~~~~~~~~~~~~~~~~~~~~~~~~~~~~~~~~~~~
SUPER EDITIONS
> eBook <
Far over the world's western horizon rests the desert, home to a collection of mysterious and conniving folk. Above the scorching dunes stands The Flarein Castle, home to the lost and defiant Princess Melainie. Under the large, ancient structure remains dark secrets and blood-thirsty monsters. To escape her "prison" Melainie lives a lie and soon uncovers some truths beneath and surrounding her own family.

What all will Melainie discover? Treachery and betrayal? Monsters and blood-lust? False or real love? Enemies or friends? An ocean of blood and war within, or a new life without the dark secrets and brutal death? Book a ride into these pages for thrilling battles and twisted mysteries.
REVIEWS:
Amazon Customer * 5.0 out of 5 stars * Action packed romance with dark twists that traps you.
Reviewed in the United States on March 8, 2021 * Verified Purchase
Everyone can change…except when they can't…..or can they? This novel is fast paced and draws the reader in quickly with what appears to be an unlikely romance during times of war. Darkness hides everywhere, outcasts with pure hearts, strong warrior women who do not want to follow the path laid before them…this book keeps the reader turning pages to find answers. It is beautifully written with crossover scenes found in "The Deity Jewels" trilogy.

After being discarded, Kaynen is headed to the desert running from his past on a journey to find who he is. In "The Deity Jewels" trilogy readers get a glimpse of Princess Melainie , now they get to witness her story unfold. Princess Melaine's mother, Queen Savia (a descendant of the Goddess Flare), had stated Melaine is "pure of heart and destined for greatness" but Melaine highly disagrees with the Queen on most things. It is wonderfully written account of family, love, deceit, sacrifice, blood, oaths and more. This is by far Mel E. Furnish's best work to date. This is a book I would read again. Highly recommend.
~~~~~~~~~~~~~~~~~~~~~~~~~~~~~~~~~~~~~~~~
SHORT STORIES
> eBook <
"His story after The Fall of The Sotan Kingdom is one of survival and courage. It's never easy being a friend to a fault, but in the end, loyalty is all he knows, and it has its own rewards."

The remaining survivors from the Fall of Sotan scattered about, some forming packs among themselves. Many of the people possessed wolf syms, one of them was named Zyro, and he was the son of Zotin, Head of The Sotan Family Royal Guard. Begrudgingly, Zyro hunts with two young females who were born after the gruesome siege on Sotan. Their ignorance of the horrors he witnessed and executed himself when he was nine years old drives him insane. The bloody slaughter still rages on within his mind.

Despite the tragic failure he is haunted by, he is caught off guard with promising news. Will he find and return the lost princess he swore on his life to protect? Will he redeem himself or will he discover his pursuit of redemption only leads him to more suffering?
~~~~~~~~~~~~~~~~~~~~~~~~~~~~~~~~~~~~~~~~
> eBook <
Following the tragic events of The Final Battle of The Dark War, Fitin must find their lost son, whom they believed to be dead. His journey will end with more than he expected.

☠

"A broken family is reunited; however, it comes at a steep price. An oath that was sworn in the shadows of the abyss ties a desperate mother to an eternal service. How long can she play the part, going against everything she's ever fought for before she gets caught?"

What is Flare planning?
REVIEWS:
Amazon Customer * 5.0 out of 5 stars * Reels you in quickly- recommend
Reviewed in the United States on February 5, 2021 * Verified Purchase
Fitin and Cythia were loved characters in The Deity Jewels books. This short story we get to find out what happens with Fitin and their lost son. Loved this short story where different characters make a reappearance in the end leaving the reader curious of what is coming next. I can not wait to see what is going to happen. If you have not read The Deity Jewels, I highly recommend them. This story line takes the reader to a different magical world full of hope, promise, lies, deals, secrets, love, war and more!

Anxiously waiting reader...…keep it up Mel E. Furnish.
~~~~~~~~~~~~~~~~~~~~~~~~~~~~~~~~~~~~~~~~
The depths of the ocean are home to dangerous beasts, many still undiscovered. Despite the efforts of two powerful young merfolk, many mysteries remain unsolved. The threats of possessed evil creatures are rising as they barely escape with their lives from a scouting trip. One strange attacker reaches out with demands for the young mermaid, Calypsia.

What is Demise wanting with the young hybrid woman?
* Based in the same time frame as the second book of The Legend of Evaleana saga, The Prophecy of Elements.
~~~~~~~~~~~~~~~~~~~~~~~~~~~~~~~~~~~~~~~~
~~~~~~~~~~~~~~~~~~~~~~~~~~~~~~~~~~~~~~~~
~~~~~~~~~~~~~~~~~~~~~~~~~~~~~~~~~~~~~~~~
A new addition to The Chronicles of Enchantments series, this short story is based on the early events of The Deity Jewels, the first book of the first saga. Dive into the point of view of the villain from the prologue and discover what happened to Princess Evaleana after Sotan's Fall. Unexpected connections and new alliances form as his life unfolds.
~~~~~~~~~~~~~~~~~~~~~~~~~~~~~~~~~~~~~~~~
Amazon:
~~~~~~~~~~~~~~~~~~~~~~~~~~~~~~~~~~~~~~~~
> Cythia <
> Oblivion, Upon Arrival <
With a wonderful selection of poems written by some of today's most talented amateur writers, each anthology contains poems that are funny, sad, religious, and profoundly unforgettable. Each publication encompasses a culturally diverse group of poets whose work has touched the hearts of readers far and wide. All publications are designed to capture the essence of today's poetic genre. A complete index of poets and an International Standard Book Number unique to each edition are included. '
My poem, Oblivion, is featured inside!
~~~~~~~~~~~~~~~~~~~~~~~~~~~~~~~~~~~~~~~~
Contena:
> TCoE: Dragons - Sneak Peek <
~~~~~~~~~~~~~~~~~~~~~~~~~~~~~~~~~~~~~~~~
******
TO BE CONTINUED...
******
If you liked what you read, please subscribe, like, share, and or tip! Thank you for reading! :D
******
For a breakdown of the universe within The Chronicles of Enchantments, be sure to check out this guide!
The Legend of Evaleana
~ The Deity Jewels
> Part Three: The Final Battle <
~ The Prophecy of Elements
SUPER EDITIONS:
SHORT STORIES:
> The Sacrifice of a Guardian Angel <
> TCoE: Calypsia <
> Emerald Flames <
FOR MORE TCoE CONTENT:
> Reading Sample <
> Cythia <
> TCoE: Dragons - Sneak Peek <
> TCoE: Backstory Blogs <
> Backstory Blogs: Pt. 1 (Sithmora) <
> Backstory Blogs: Pt. 2 - Evaleana <
> Backstory Blogs Pt. 3 - Kaynen <
> Backstory Blogs: Pt. 4 - Cythia <
> Backstory Blogs: Pt. 5 - Torrick <
> Backstory Blogs: Pt. 6 - Wistria <
> Backstory Blogs: Pt. 7 - Sivila <
> Backstory Blogs: Pt. 8 - Zyro <
~~~~~~~~~~~~~~~~~~~~~~~~~~~~~~~~~~~~~~~~~~~~~~
Facebook:
******
book reviews
I am a self-published author, raised in a small town on a family farm in Indiana. I
have published a handful of books so far, and I have plans for many more! Interested in more? Check out my website! * http://mel-e-furnish.com/
Receive stories by Mel E. Furnish in

your feed