My Time at Portia–Switch
Short Summary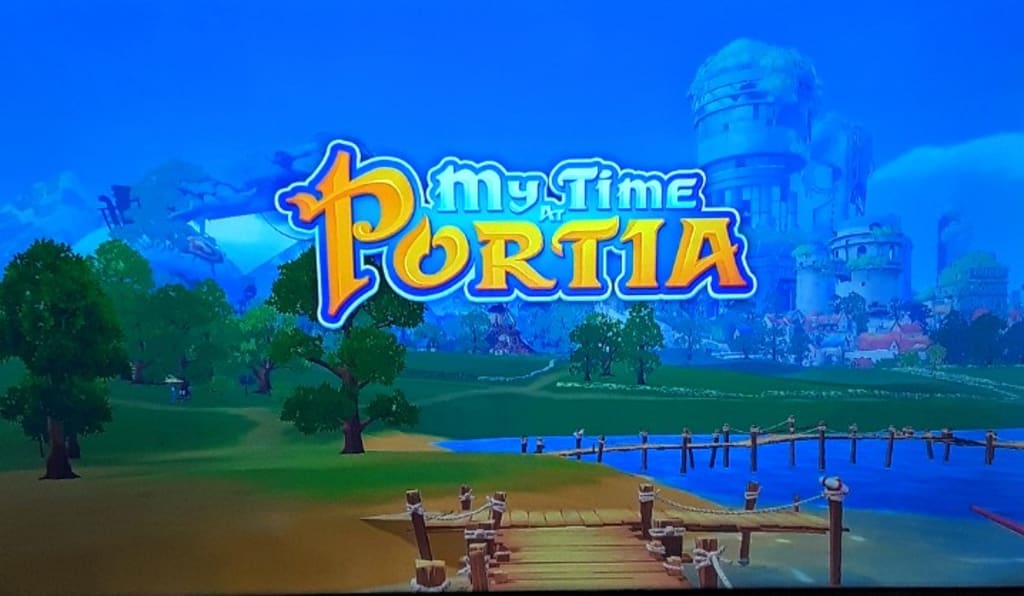 I have been utterly ecstatic about this game for a while now. I believe a lot of old Harvest Moon fans would agree, due to the fact that we have been craving a new game that had at least some resemblance to the older games. The newer ones have their own flare, but most of those who enjoyed the classics, are not too satisfied with what has been released the past few years.
Many of us were very pleased with the game, Stardew Valley. A nice mix of classic farming and foraging from Harvest Moon; action and adventure like Minecraft or Zelda. They did an excellent job with the game, and so when I heard about this new game having similarities to Stardew, I couldn't wait to dive into it.
When I read it was going to be available on the Switch, I decided to wait on buying it from Steam. So in an attempt to quell my anticipation, I downloaded the demo and tested the waters. The demo did not run well on my laptop, it was very laggy and super slow. Nonetheless, I put in a few hours anyway, trying to get a feel for the game. I was shocked how long the demo went for, it was still letting me play past several days in the game, but there wasn't much point due to no advancement, or real progression in the story.
I decided to pre-order it for the Switch, so I was anxiously counting down the days for its release (April 16th, 2019). Unfortunately, I had to work that day, so I didn't get to jump out of bed in the morning and hop to it. My excitement definitely helped the day go faster, and so as soon as I got home, I started it up.
Honestly, it looks and feels a lot like a 3D Stardew. The graphics almost remind me a lot of Harvest Moon: Magical Melody, but with a lot less of a "chibi" appeal. It is vibrant, colorful, and it may have a bit of a childish feel to it, but all the Harvest Moon games (except maybe the classic, "Harvest Moon: A Wonderful Life") were that way.
Loading the game for the first time takes a bit long. This is unfortunate, but once into the game, the loading between buildings, days, etc. isn't near as long.
A lot like Minecraft, there is crafting, mining, and combat. Yet, this game isn't quite as captivating, since it is meant to be a relaxing game. One of the definite things I am excited to try out is the "Helper" aspect, where you can get help on your land. One thing I always used to get a bit frustrated with on the old Harvest Moon games was where you would grow your farm almost too big to manage, without feeling just overwhelmed and exhausted with the game itself. If you're like me, and like to do a lot of different things in a day, this is one of the things that we used to really struggle and battle with. Stardew Valley had a nice bonus where after becoming a "Rancher" you got to buy a collecting device that automatically gathered all the products from your animals, or at least, the cows, sheep, and goats.
I haven't been able to play a whole lot yet, but so far, My Time at Portia, has definitely captured my interest. After I have put in more hours, I will definitely write more, to give more input for anyone out there who is interested or questioning the game. For more, check out the videos below!
******
If you enjoyed what you read, please subscribe, like, share, and or tip!
RICK AND MORTY FANS?
If you are a fan of Rick and Morty, be sure to read my article on one of the most emotional scenes in the series!
******
For a breakdown of the universe within The Chronicles of Enchantments, be sure to check out this guide!
The Legend of Evaleana
~ The Deity Jewels
> Part Three: The Final Battle <
~ The Prophecy of Elements
SUPER EDITIONS:
SHORT STORIES:
> The Sacrifice of a Guardian Angel <
> TCoE: Calypsia <
> Emerald Flames <
FOR MORE TCoE CONTENT:
> Reading Sample <
> Cythia <
> TCoE: Dragons - Sneak Peek <
> TCoE: Backstory Blogs <
> Backstory Blogs: Pt. 1 (Sithmora) <
> Backstory Blogs: Pt. 2 - Evaleana <
> Backstory Blogs Pt. 3 - Kaynen <
> Backstory Blogs: Pt. 4 - Cythia <
> Backstory Blogs: Pt. 5 - Torrick <
> Backstory Blogs: Pt. 6 - Wistria <
> Backstory Blogs: Pt. 7 - Sivila <
> Backstory Blogs: Pt. 8 - Zyro <
~~~~~~~~~~~~~~~~~~~~~~~~~~~~~~~~~~~~~~~~~~~~~~
Facebook:
******