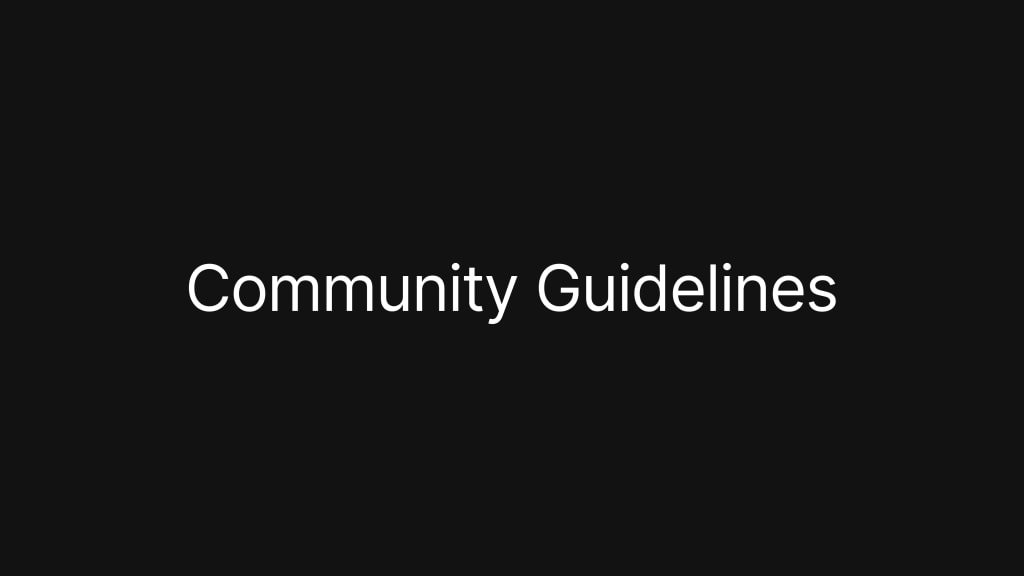 Vocal envisions a vibrant and welcoming network of readers and creators who champion one another's creativity and fuel one another's passions. Idealistic? Perhaps, but we're big dreamers.
To make this dream a reality, we need your help. Hosting a collective of creators supporting creators requires positivity, respect, and just a bit of common sense. At Vocal, our mission is to foster community through stories and conversations. By adhering to these community guidelines, you'll be contributing to a network that is safe and open for all voices.We check every single story to ensure that it complies with our standards in five key areas:
Quality
Copyrighted Content
Inappropriate Material
Assertions of Personal Beliefs
Safety & Legality
Quality
We care a lot about our creators, and we want everyone on Vocal to put their best foot forward! That's why we have some standards for professionalism that all creators have to meet. Generally speaking, we don't want to quell anyone's creative or stylistic liberties, so we will only send a story back if it contains a copious amount of grammatical errors or doesn't meet one of the following criteria for quality:
Word count
Vocal is a long-form publishing platform, which is why we require stories to be at least 600 words. Similarly, we require poems to be at least 100 words. We know there are plenty of amazing stories to be told that are less than 600 words —unfortunately, that content just doesn't align with our mission to foster engaged readership.
Not written in English
At this time, Vocal is an English-only platform. Any content in a different language should have a full English translation provided.
Spam
Vocal is a place for authentic and genuine content creation and storytelling. No one wants to feel like they're being scammed or taken advantage of while they're reading. Too many forced hyperlinks, unrelated product placements, particularly sales-y language, and disassociated comments can come across as inauthentic and suspicious and will be flagged and by our moderation team or reported by other users.
Formatting errors
Vocal has a variety of tools to help creators tell their story in the best way possible. We do require the following elements to be present in every story, and if any of these elements are missing from their respective fields, we will send the story back so that they can be added in:
A title (for obvious reasons)
A subtitle (to help us categorize your content and to help you rank higher in search engines)
Featured image or video (to help your content stand out)
600 words of content (100 words for poetry)
Copyrighted Content
Intellectual Property (IP) is valuable—Vocal wouldn't exist without it! That's why we want this community to be a place where content is original, stories are authentic, and creators are honest. Don't try to pass off other people's work as your own; we are always on the lookout for bad actors! This includes:
Plagiarism
This doesn't mean that all content needs to be 100% fresh and new—you're free to submit stories that you've published elsewhere in the past, as long as we can confirm that you own the rights to the content. Additionally, you're welcome to include content that is published elsewhere for the purposes of critique or parody (per the Fair Use doctrine), just make sure you supplement this content with original content of your own as well. We're always looking for at least 50% original content in Vocal stories—so if you use or cite any other content (for example, from Wikipedia) be sure to include at least as much (or more!) of your own content as well. Additionally, if you suspect that a story is plagiarized or unoriginal, get in touch with us and we'll look into it ASAP.
Copyrighted and/or watermarked images
We highly recommend using Unsplash or a similar stock image platform to avoid any conflicts with photography and image rights.
Inappropriate Material (NSFW)
Nudity
Vocal accepts non-nude erotic or suggestive images, but we don't publish photographs depicting frontal nudity. Acceptable iterations of nude images include fine art (paintings, drawings, digital art, or statues) as well as photographs of breastfeeding mothers. Unacceptable iterations include pornographic images and videos, as well as hyperlinks leading to pages containing pornography.
Taboo erotica
While we do publish erotic fiction on our Filthy community, we consider certain types of erotica to be harmful, not just to Vocal, but to society as well. We do not publish ANY erotic content that involves minors or characters that appear to be underage, and if we find explicit content involving minors, we will report it to the National Center for Missing and Exploited Children. Additionally, content involving extreme taboo and/or violent sexual content will not be published, such as fetishization of rape, cannibalism, bestiality and necrophilia.
Solicitation of sex
Content that solicits sex, or contains links leading to sites that solicit sexual services will not be published.
Graphic content
We do not want to limit anyone's creative freedoms, especially in fiction writing, but stories and comments on Vocal should not contain excessively graphic, hateful, and/or potentially triggering content except where it is in the interest of storytelling and appropriate, related discourse.
Violence
Excessively graphic or violent descriptions, images, or videos, as well as content that includes extremely graphic descriptions of gore, dead bodies, or the harming of animals will not be published on Vocal. However, most horror fiction, criminal fiction, and general pop culture content that includes some violent elements can be published on Vocal.
Slurs
Content that contains racial or ethnic slurs will always be flagged by our Moderation team (see "Hate speech" below), and sometimes we may send these stories back and ask that you censor or remove a certain word or epithet from your story. We understand that there are times and situations when these words and phrases are used for storytelling purposes (and we do look at each of these instances in context) but if we do send your story back, we ask that you respect our decision to always put the safety of the community first.
Glorification of self-harm
Vocal will not publish content that encourages or romanticizes any form of self-harm. This includes promoting self-mutilation or disordered eating behaviors; it also includes encouraging others to follow through with suicidal or self-harming ideation, or discouraging people from seeking professional help for these kinds of thoughts. We welcome stories and discussions related to all types of mental health struggles—Vocal is a community for sharing experiences and supporting others—but we will moderate stories and comments that attempt to:
Shame or talk people out of seeking treatment (including medications)
Fetishize or romanticize self-harming practices
Present suicide as a solution to life's difficulties
Assertions of Personal Beliefs
Hate speech
Vocal strives to be a platform for voices across political and ideological spectrums. That said, there's no home on Vocal for hate speech of any kind. This includes threats and harassment, and it means that we will moderate stories and comments that assert derogatory generalizations or implications about groups of people based on their race, ethnicity, or any cultural affiliations. We won't allow any content that encourages, incites, or shows support for any terrorist or supremacist groups, individuals, or actions.
Religious content
We've seen far too many instances of religion causing alienation and division. We cautiously moderate stories that take an overtly religious stance, or function from the vantage point that a certain religion is truer, or in any way superior, to another. Characters in fiction can of course be religious, and we welcome stories and conversations that discuss religion in historical and journalistic contexts, but similar to our stance on hate speech, there's just no home on Vocal for content that divides us, rather than content that engages us and brings us together.
Conspiracy theories
Vocal takes a cautious approach to stories related to conspiracy theory content, especially content that can be linked to real-world violence. Stories and comments that discuss this material in historical or journalistic contexts can be shared on Vocal, but content that endorses or grants any level of credence to unfounded conspiracies that can be traced to unrest in society will be flagged by our Moderation team. We believe in doing our part to prevent dangerous misinformation from spreading.
Safety & Legality
While we love stories that strive to teach us something new, there is some information that we legally can't publish. Stories that teach users how to illegally download DRM-protected music, roundups of websites where you can watch movies for free, and other content that attempts to circumvent security or privacy laws will not be published on Vocal. Here are a few more scenarios that fall under this umbrella:
Personal Information and doxxing behavior
Information about others should never be shared without their consent. We'll never give out any of your personal information, and we ask that you do the same. Please refrain from including in your story, or threatening to include, any personal phone numbers, addresses, and/or any sensitive personal information that may compromise the safety of an individual. Stories or comments that contain any identifying information that is not already accessible to the public will not be published. Context matters in these situations, but we will generally flag and review any content that appears to be doxxing behavior or unsanctioned divulgence of personal information, including surnames, places of employment, etc., especially if the content in question is indicting someone for unconfirmed criminal behavior. We ask that you refrain from using images or videos of others that are not in the public domain or otherwise covered by fair use without the subject's knowledge and consent.
Fake traffic
None of our creators should try to falsify engagement data or manipulate Vocal's monetization algorithm. We reserve the right to deactivate any account making these attempts, or deny making payments to accounts connected with these attempts.
Sales of regulated goods
Vocal does not allow the private selling or buying of regulated goods like drugs, alcohol, tobacco, guns, or the sale of products from endangered species. (If you think we haven't received stories advertising the sale of black-footed ferret feet, well, we have.)
Collection of information
Don't use any methods of scraping or data mining to collect content or user information, or make any attempts to decipher or tamper with Vocal's softwares and services. You also shouldn't use Vocal in any way that deceives others into giving out banking information, credit card numbers, social security numbers, or other personal data, either overtly or via outbound hyperlinks.
Invalid accounts
You must be at least 13 years of age to create an account with Vocal. Any accounts created by a user under the age of 13 will be terminated, and we encourage parents of children under this age to notify us if they become aware of such activity. Additionally, creators should only have one Vocal account, as outlined in our Terms of Use. If we've disabled an account of yours for suspicious or malicious activity in the past, attempts to create another account without permission may result in the deactivation of the subsequent accounts as well.
Impersonation and parody
Any satire or parody accounts should be explicitly stated or made otherwise clear. You can use parody for humor or fandom purposes, but don't lead others to believe that you're actually someone else. You're welcome to publish stories under a pseudonym or pen name, as long as it's not used for the purpose of misleading others. We reserve the right to reclaim any usernames on behalf of individuals, products, or institutions.
Reader insights
Nice work
Very well written. Keep up the good work!
Top insights
Easy to read and follow

Well-structured & engaging content

Heartfelt and relatable

The story invoked strong personal emotions

On-point and relevant

Writing reflected the title & theme
Expert insights and opinions

Arguments were carefully researched and presented

Excellent storytelling

Original narrative & well developed characters

Eye opening

Niche topic & fresh perspectives

Compelling and original writing

Creative use of language & vocab

Masterful proofreading

Zero grammar & spelling mistakes
Add your insights