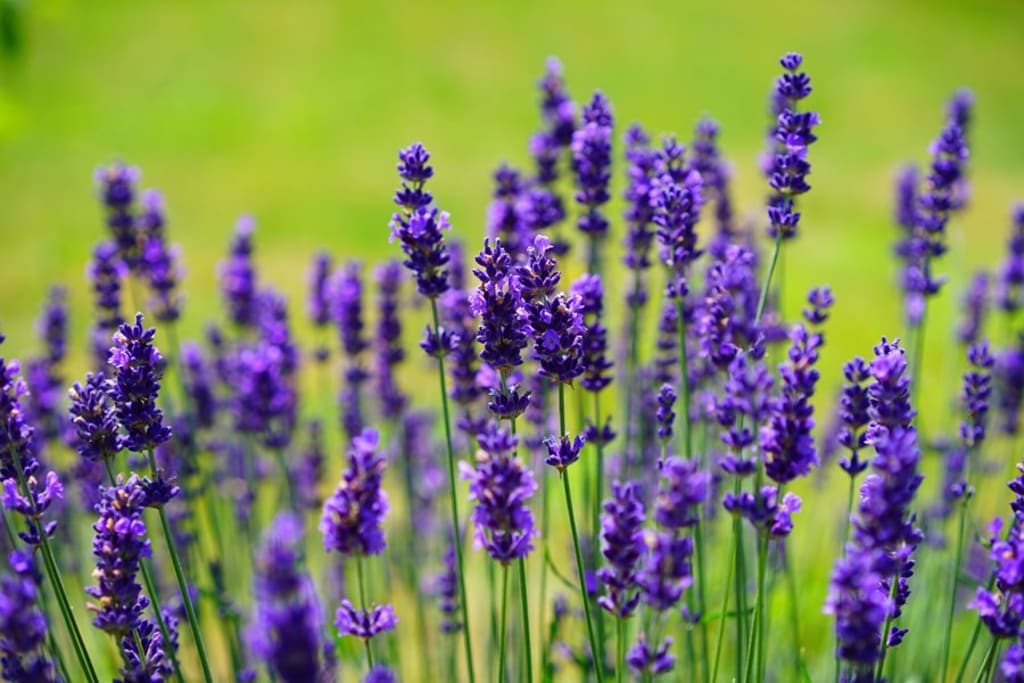 https://www.gardendesign.com/plants/lavender.html
Under the blissful blue sky,
Adrift, a sweet fragrance.
Not rose nor honeysuckle,
Will sweep your knees to buckle,
Quite like this quaint place, say this,
Field of lavender, the source, the supply.
They make a beautifully scented lullaby,
As they dance in the breeze,
No words, their pollen on the bees' knees,
As they thrive together in peace and awry.
Scattered throughout,
Roots deep and stout,
Surviving to produce,
A scent so profuse,
Leaving all who drift,
Among their rift,
Caught in a daze,
Under their rays.
To find a comforting rest,
Upon the soft grass nest.
Luring you into a deep sleep,
Easing your mind to not even a peep.
The warm summer wind brushes your face,
Carrying with it, their one last blaze.
A scented fire they unleash to cease,
A troubling thought or twisted knot,
So that you can rest, thanks to the best.
As your thoughts are abandoned and split,
Let your mind, body, and spirit commit.
To get lost in the moment,
To receive a bliss bestowment.
To live it all, and push away worry,
Enjoy today, don't make the future hurry.
To see reality and believe its entirety.
To learn love and to hate,
To feel a break and to be great,
To see life and witness death,
To laugh and to cry,
To find strength, and to learn weakness.
To conquer fears and fight the bleakness.
To stand up for what's right, to see the light,
To every situation, despite the blight.
To hold on when letting go sounds nice,
To believe in yourself, don't take the vice.
Awake now, from the dream they suffice.
Do this alone, build your backbone.
Pick yourself up from this peaceful escape,
To take on the wake, and control your fate.
******
If you liked what you read, please subscribe, like, share, and or tip! Thank you for reading! :D
******
For a breakdown of the universe within The Chronicles of Enchantments, be sure to check out this guide!
The Legend of Evaleana
~ The Deity Jewels
> Part Three: The Final Battle <
~ The Prophecy of Elements
SUPER EDITIONS:
SHORT STORIES:
> The Sacrifice of a Guardian Angel <
> TCoE: Calypsia <
> Emerald Flames <
FOR MORE TCoE CONTENT:
> Reading Sample <
> Cythia <
> TCoE: Dragons - Sneak Peek <
> TCoE: Backstory Blogs <
> Backstory Blogs: Pt. 1 (Sithmora) <
> Backstory Blogs: Pt. 2 - Evaleana <
> Backstory Blogs Pt. 3 - Kaynen <
> Backstory Blogs: Pt. 4 - Cythia <
> Backstory Blogs: Pt. 5 - Torrick <
> Backstory Blogs: Pt. 6 - Wistria <
> Backstory Blogs: Pt. 7 - Sivila <
> Backstory Blogs: Pt. 8 - Zyro <
~~~~~~~~~~~~~~~~~~~~~~~~~~~~~~~~~~~~~~~~~~~~~~
Facebook:
******
Reader insights
Be the first to share your insights about this piece.
Add your insights