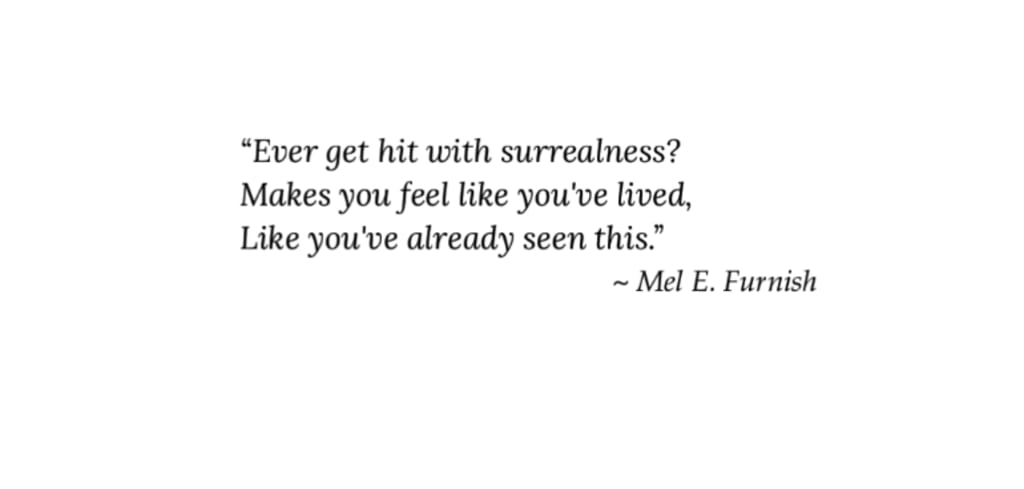 Ever get hit with surrealness?
Makes you feel like you've lived,
Like you've already seen this.
Sometimes a word,
Sometimes an inside joke or phrase.
Sometimes appearance stirred,
Sometimes an expression on the face.
Lurching you backward in time,
Then hurling you forward at the drop of a dime.
The roller coaster of emotions,
The unpredictable motions.
Heart skipping every other beat.
Gazes meet.
Endless speech exercised,
You stare as if mesmerized.
Moments of sheer joy,
Moments of pure pains.
Both hand in hand to deploy,
The ironic balance of Life's gains.
Together we build,
A life of teamwork.
For dreams fulfilled,
We endure murk.
These are all pieces free,
To make the imperfect puzzle.
For a reality,
Forged by our dreams hustle.
Best friends pursuing a destiny,
Refusing to bow to Fate.
We create our legacy,
Denying the bait.
******
If you liked what you read, please subscribe, like, share, and or tip! Thank you for reading! :D
******
For a breakdown of the universe within The Chronicles of Enchantments, be sure to check out this guide!
The Legend of Evaleana
~ The Deity Jewels
> Part Three: The Final Battle <
~ The Prophecy of Elements
SUPER EDITIONS:
SHORT STORIES:
> The Sacrifice of a Guardian Angel <
> TCoE: Calypsia <
> Emerald Flames <
FOR MORE TCoE CONTENT:
> Reading Sample <
> Cythia <
> TCoE: Dragons - Sneak Peek <
> TCoE: Backstory Blogs <
> Backstory Blogs: Pt. 1 (Sithmora) <
> Backstory Blogs: Pt. 2 - Evaleana <
> Backstory Blogs Pt. 3 - Kaynen <
> Backstory Blogs: Pt. 4 - Cythia <
> Backstory Blogs: Pt. 5 - Torrick <
> Backstory Blogs: Pt. 6 - Wistria <
> Backstory Blogs: Pt. 7 - Sivila <
> Backstory Blogs: Pt. 8 - Zyro <
~~~~~~~~~~~~~~~~~~~~~~~~~~~~~~~~~~~~~~~~~~~~~~
Facebook:
******