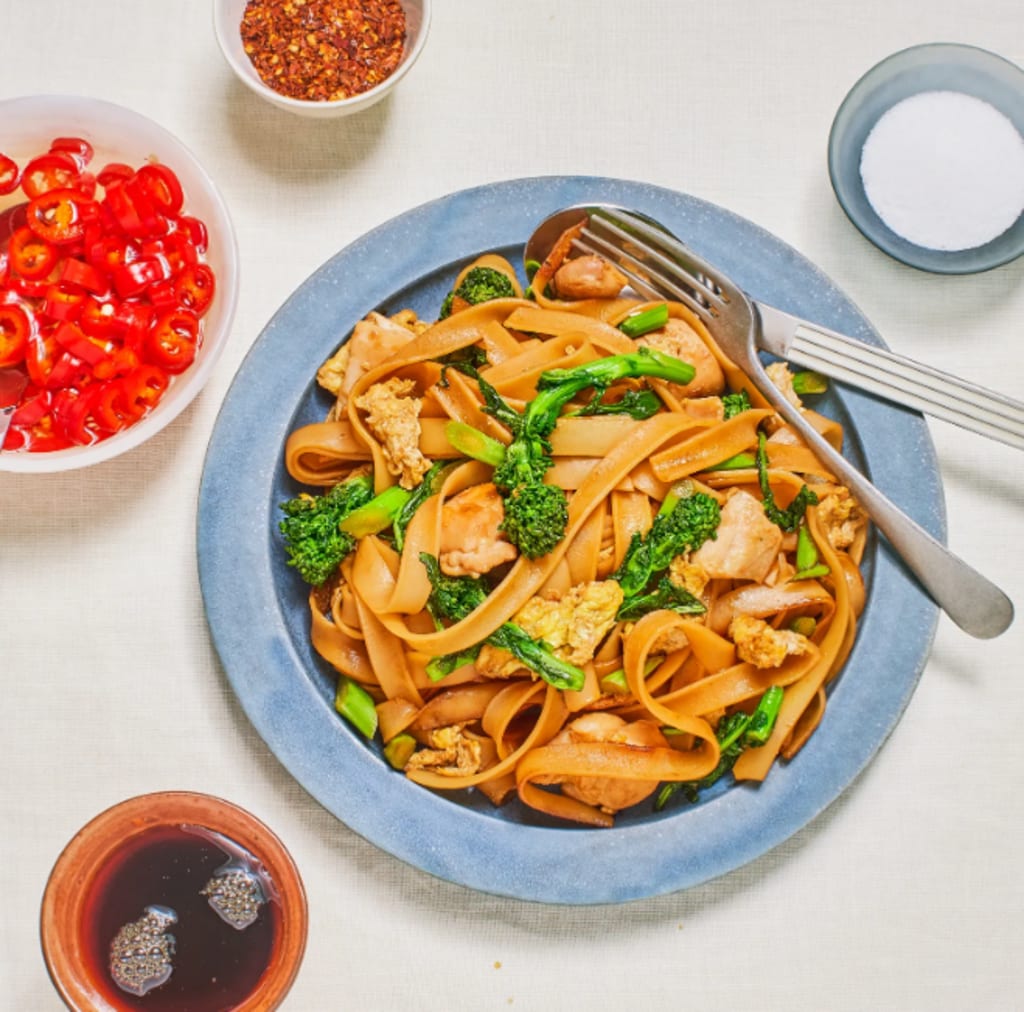 Pad See Ew With Chicken
Pad See Ew with chicken is a delicious and easy-to-make Thai dish that is sure to please your taste buds. This dish features flat rice noodles stir-fried with chicken, broccoli, and a savory soy-based sauce. In this blog post, we'll guide you through the process of making Pad See Ew with chicken at home.
This pad see ew recipe cooks in a flash, so use your prep time wisely:
Chop your broccoli and measure out the sauce ingredients before heating the wok. A combination of thin soy sauce (a.k.a light soy sauce) and sweet dark soy sauce gives the pad see ew sauce depth, while salted soybean paste brings an umami punch. For the best pad see ew, Punyaratabandhu suggests using fresh flat rice noodles, which you can find at most East Asian grocery stores (and online). If using dried rice noodles, avoid thin varieties; wider noodles are more likely to stay pleasantly chewy when flashed in the hot pan. Either way, you want to give the noodles enough flame to absorb all the sauce and start to caramelize without leaving them on too long that they start to get soggy.
Chinese broccoli, or gai lan, has long, tender stalks that cook in just 2 minutes—but, yes, you can substitute regular florets or broccolini if you prefer. You could also take this as an opportunity to use up other vegetables wilting in your crisper drawer. Add bok choy, Napa cabbage, or sliced peppers and carrots to make this noodle recipe your own.
Ingredients:
* 8 oz. flat rice noodles
* 1/2 lb. boneless, skinless chicken breast, sliced thinly
* 2 cups broccoli florets
* 4 cloves garlic, minced
* 2 tbsp. vegetable oil
* 2 tbsp. oyster sauce
* 2 tbsp. dark soy sauce
* 1 tbsp. light soy sauce
* 1 tbsp. brown sugar
* 1/4 cup water
* 1 egg
* Salt and pepper to taste
Instructions:
1. Soak the rice noodles in hot water for 15-20 minutes until they are softened. Drain the noodles and set them aside.
2. Heat the vegetable oil in a wok or large skillet over medium-high heat. Add the minced garlic and stir-fry for 30 seconds.
3. Add the sliced chicken to the wok and stir-fry until it is cooked through and lightly browned, about 3-4 minutes.
4. Add the broccoli florets to the wok and stir-fry for 2-3 minutes until they are tender.
5. Push the chicken and broccoli to the side of the wok and crack the egg into the center of the wok. Scramble the egg and mix it in with the chicken and broccoli.
6. Add the soaked rice noodles to the wok and stir-fry for 1-2 minutes until they are heated through.
7. In a small bowl, mix together the oyster sauce, dark soy sauce, light soy sauce, brown sugar, and water. Add the sauce to the wok and stir-fry for another 1-2 minutes until the noodles are coated in the sauce and everything is heated through.
8. Add salt and pepper to taste. Serve hot and enjoy!
Tips for Making Pad See Ew with Chicken:
* Be sure to soak the rice noodles in hot water before stir-frying them. This will ensure that they are soft and pliable and won't stick together in the wok.
* You can substitute other types of protein for the chicken in this recipe, such as beef, pork, or tofu. Just be sure to adjust the cooking time as needed.
* The dark soy sauce in this recipe is what gives the dish its signature color and rich flavor. If you can't find dark soy sauce, you can substitute regular soy sauce, but the dish may not have the same depth of flavor.
* You can adjust the amount of sugar in the recipe to suit your taste. Some people prefer their Pad See Ew to be sweeter, while others like it more savory.
* If you like your noodles to be a bit crispy, you can cook them in a separate pan with a little bit of oil before adding them to the wok. This will give them a slightly caramelized flavor and crispy texture.
* In conclusion, Pad See Ew with chicken is a classic Thai dish that is both easy to make and delicious. By following the recipe above, you can create a flavorful and satisfying meal in just a few steps. So, go ahead and give it a try – your taste buds will thank you!
Reader insights
Be the first to share your insights about this piece.
Add your insights