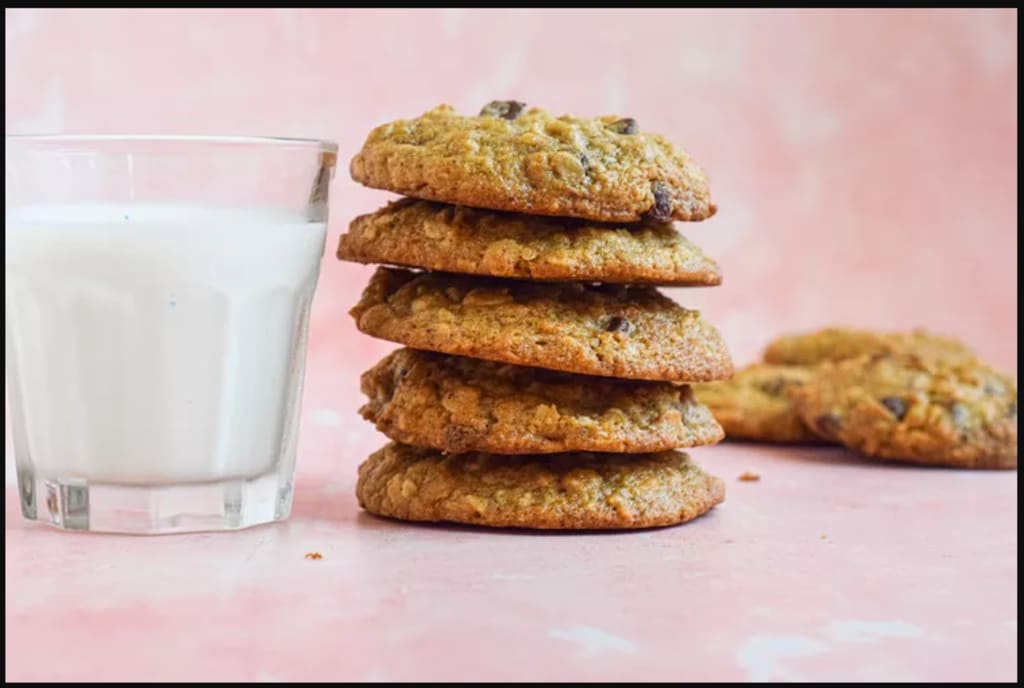 Cookies
When it comes to baking cookies, there's nothing quite like a soft and puffy oatmeal cookie. They're simple to make, easy to customize, and they pair perfectly with a cold glass of milk or a hot cup of coffee. But what if we told you that you could make them even better with just one ingredient? That's right, ripe bananas.
Bananas are a staple in many households, and they're often used in baking to add natural sweetness, moisture, and flavor. In this recipe, ripe bananas are used to make these oatmeal cookies soft and puffy. The banana also adds a touch of natural sweetness, so you can use less sugar in the recipe.
So, without further ado, let's get started on these delicious ripe banana oatmeal cookies.
* Ingredients:
. 1 ripe banana
. 1 cup of all-purpose flour
. 1 cup of rolled oats
. 1/2 cup of brown sugar
. 1/4 cup of melted unsalted butter
. 1 large egg
. 1 teaspoon of baking powder
. 1/2 teaspoon of baking soda
. 1/2 teaspoon of ground cinnamon
. 1/2 teaspoon of vanilla extract
. 1/2 cup of chocolate chips (optional)
. Instructions:
1. Preheat your oven to 350°F and line a large baking sheet with parchment paper.
2. In a medium bowl, mash the ripe banana with a fork until it's smooth.
3. In a large bowl, combine the flour, oats, baking powder, baking soda, and cinnamon. Mix everything together until well combined.
4. In another large bowl, beat together the melted butter and brown sugar until creamy. Add in the beaten egg, mashed banana, and vanilla extract. Mix everything together until well combined.
5. Slowly add the dry ingredients to the wet ingredients, mixing until just combined. Fold in the chocolate chips, if using.
6. Using a cookie scoop or tablespoon, drop the dough onto the prepared baking sheet, leaving about 2 inches between each cookie.
7. Bake the cookies in the preheated oven for 12-15 minutes, or until the edges are lightly golden brown and the center is set.
8. Remove the cookies from the oven and allow them to cool for 5 minutes on the baking sheet before transferring them to a wire rack to cool completely.
9. And there you have it, soft, puffy, and delicious ripe banana oatmeal cookies. These cookies are perfect for a sweet treat or even for breakfast. The ripe bananas make them soft and puffy, while the cinnamon and chocolate chips add a touch of flavor. These cookies are easy to make and are sure to be a hit with the whole family.
This recipe is a marriage between oatmeal cookies and banana bread. We are taking all the classic banana bread flavors and baking it in a soft oatmeal cookie. Cinnamon, walnuts, and chocolate chips reinforce the banana bread flavors.
Which Oats to Use?
I have used rolled oats for that chewy but soft oatmeal cookie texture. You could use quick oats as well.
However, stay away from instant oats and steel-cut oats. Instant oats will make your cookie mushy and extremely soft, while the steel-cut oats will make them really dry once baked.
Start With Super-Ripe Bananas
Over-ripe bananas work best in this recipe, as the cookies should have a strong banana flavor. That's best achieved using those soft, browned, and spotted over-ripe bananas
So, next time you have ripe bananas sitting on your kitchen counter, don't throw them away. Put them to good use and make these delicious ripe banana oatmeal cookies. They're easy to make, and they're a great way to satisfy your sweet tooth. Enjoy!
Reader insights
Be the first to share your insights about this piece.
Add your insights