Yellow Lentil Cutlets | Make a Wonderful Breakfast Full Of Taste And Health With Lentils. Moong Daal Cutles recipe | Tea Time Snacks
Yellow Lentil Cutlets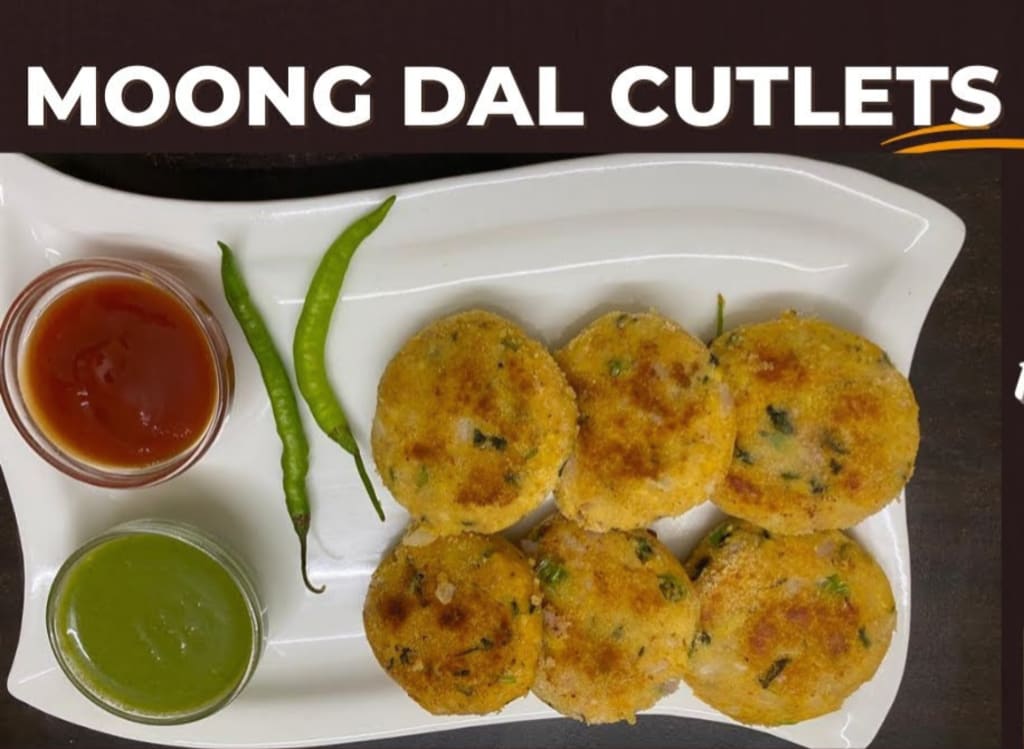 Yellow Lentil Cutlest
Moong Daal Cutlets (Yellow Lentil Cutlets)-
Moong Dal Cutlets (Yellow Lentil Cutlets) is very easy to make, fun to eat and full of health. These protein-packed lentil cutlets taste great with breakfast or hot tea in the evening. Grind the moong dal (yellow lentil), then cook them to make cutlets, then fry them with onions and some spices. Interesting recipe, quick to prepare and fun to eat.
Dal cutlets (Lentil Cutlets) is a very easy and quick recipe, the special thing about this recipe is that it is a snack recipe made from lentils, usually moong dal(yellow lentil), which is very good for health, most people like it. It does not happen, but if we make something like this from the same pulse, then everyone from children to elders can eat it comfortably.
What is special in it – Moong dal (Yellow Lentil) is a high protein and fiber lentil, it also contains a lot of vitamins, which are beneficial for both children and adults. This dal (lentil) gets cooked faster than other pulses. We will not deep fry these cutlets, first make lentils and then fry them with onions, spices, Due to which some sweetness of onion and spices will come in it and in eating it will look like gram flour cutlets. But gram flour cutlets are not easily digested, moong dal cutlets (yellow lentil cutlets) are easily digested and ready in less time than gram flour cutlets.
Does it take a lot of time to make – Moong/Masoor Dal (yellow lentil) does not take much time to cook, due to which its cutlets are ready in less time. You can store these lentil cutlets in advance (maximum 1 day) and when you want to eat, you can fry them and serve them immediately, by this they can be ready in less time.
When to serve - You can serve lentil cutlets with breakfast or evening tea. You can also serve them as a starter at kitty party, birthday party or any get together. Children also eat them with great passion, so you can pack them in their tiffin too. By making quick in front of the visiting guests, you can collect praise.
How to serve – You can serve Daal cutlets (lentil cutlets) with hot Masala Tea\Coffee, or you can enjoy it even without tea/coffee even while chatting.
Some other Recipes and Stories -
Preparation Time : 10 Minutes Cooking Time : 20-25 Minutes Total Time : 30 Minutes For : 4 Servings
Ingredients -
To make cutlets:
1 cup moong/lentils (soaked overnight)
2 green chilies
1/2 tsp salt/as per taste
1 tsp turmeric powder
1/2 tsp red chili powder
To fry the cutlets:
4 tbsp oil
1 tsp fenugreek seeds
1 cup chopped onions (2 medium sized onions)
1/4 tsp turmeric powder
1/2 tsp red chili powder
1 tbsp coriander powder
some water
How to make Daal/Lentil cutlets -
To make Cutlets:
Grind the soaked lentils overnight in a mixer jar, along with green chillies and 1 cup of water.
Place an aluminum pan on low flame and put the ground lentils in it.
Now add salt, red chili powder, turmeric powder to the lentils and mix.
Now cook the dal on medium flame for 5-6 minutes while stirring continuously.
As the dal starts cooking, the dal will start to thicken.
Grease the back surface of a plate or plate with oil.
Now to test, add a little mixture from the cooked dal/lentil.
Drizzle it on the greased plate and spread it a little with your hand.
If the mixture has settled on the plate i.e. has gathered, then the dal mixture is ready.
Cook it for 1-2 minutes while stirring continuously.
Immediately pour the prepared mixture on the plate.
Applying some oil/water on the bottom surface of a flat bowl, spread the mixture all over the plate.
Instead of a bowl, you can spread it by moistening the palm.
After the mixture cools down, cut into katlis or desired shapes with a sharp knife.
To fry the cutlets:
Heat oil in a pan on medium heat.
Add fenugreek seeds to it.
After cracking the fenugreek seeds, add chopped onions and fry on medium heat till golden brown.
Add red chilli powder, turmeric powder, coriander powder, 3-4 tsp water and fry for 1-2 minutes.
Add chopped lentils to it and fry it while stirring it well.
After roasting for 3-4 minutes, put the prepared cutlets in a serving bowl and serve hot.
Suggestion -
Before cooking the ground lentils in a pan, there should not be too many vehicles,
Otherwise, as soon as you put it in the pan, it will get lumpy and will not be able to cook.
While cooking the lentil mixture, stir continuously with a ladle.
Otherwise, the lentils will stick to the bottom and lumps will form.
Spread the dal mixture on a plate 1/2 inch thick.
Cutlets of chopped lentils can also be deep fried or shallow fried.
The cooking time of the lentil mixture may vary depending on the thickness of the pan, the flame.