Hearty Cabbage and Black Bean Soup
Vegetarian Recipes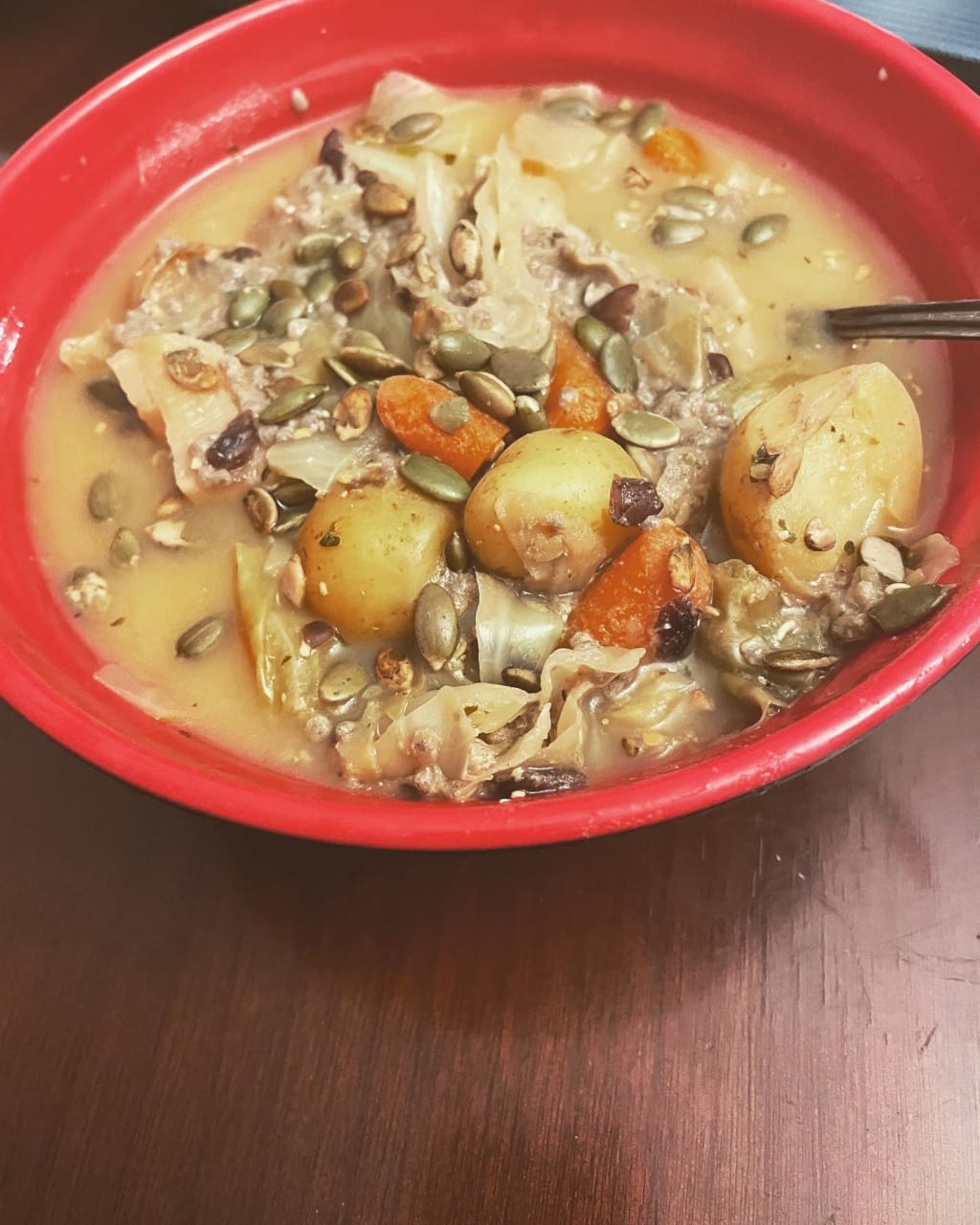 Cabbage and black bean soup
Warm up with this delicious and nutritious Cabbage and Black Bean Soup. Packed with the wholesome goodness of fresh vegetables, black beans, and a blend of seasonings, this soup offers a comforting meal that's both filling and satisfying. Enhanced with chia and hemp seeds for added protein, it's perfect for those looking for a hearty vegetarian option.
Ingredients:
1 medium green cabbage, chopped
1 can (16 oz) black beans, rinsed and drained
1 medium red onion, finely chopped
3 cloves garlic, minced
1/2 cup baby carrots, halved
1/2 cup baby yellow potatoes, halved
32 oz vegetable stock
8 oz water
4 tbsp chia seeds
3 tbsp hemp seed hearts
1 tsp garlic powder
1 packet of sazon seasoning
1 tsp dried parsley (or fresh, chopped)
A pinch of dried oregano
Salt and pepper, to taste
Fresh cilantro, chopped (for garnish)
Green onions, chopped (for garnish)
8 oz oat milk (optional for creaminess)
1 scoop unflavored protein powder (optional for added protein)
Instructions:
Begin the base: In a large pot or Dutch oven, heat a little olive oil over medium heat. Add the chopped red onions and cook until translucent, about 5 minutes. Add in the minced garlic, garlic powder, sazon seasoning, and parsley. Cook for 1 minute more, or until fragrant.
Add the veggies: Add the chopped green cabbage, halved baby carrots, and halved baby yellow potatoes to the pot. Stir well to combine with the onion and garlic mixture.
Pour in the liquids: Add the vegetable stock and water to the pot, ensuring the vegetables are submerged.
Bring to a boil: Bring the mixture to a boil over medium heat. Once boiling, reduce the heat to low and let the soup simmer.
Add the beans and seeds: Stir in the rinsed black beans, chia seeds, and hemp seed hearts. Stir well.
Season and simmer: Add oregano, salt, and pepper. Adjust seasonings to taste. Allow the soup to simmer on low heat for about 20-25 minutes, or until the vegetables are tender.
For creaminess (optional): If desired, stir in oat milk and unflavored protein powder until fully combined.
Serve and garnish: Once the soup is cooked through and the flavors melded, ladle the soup into bowls. Garnish with fresh cilantro and green onions.
Tips:
For a spicier soup, add a pinch of cayenne pepper or red pepper flakes.
To make this soup vegan, use vegetable broth and omit the protein powder.
This soup can be made ahead of time and stored in the refrigerator for up to 3 days.
To reheat the soup, simply warm it over medium heat until heated through.
Enjoy!
Here are some additional details about the ingredients and preparation of this soup:
The cabbage is the star of this soup, so it's important to use a good quality head of cabbage. Look for a cabbage that is firm and has bright green leaves.
The black beans add protein and fiber to the soup. You can use canned or dried black beans. If using dried beans, be sure to soak them overnight before cooking.
The chia seeds and hemp seed hearts add a nutritional boost to the soup. Chia seeds are a good source of omega-3 fatty acids, while hemp seed hearts are a good source of protein and fiber.
The oat milk and protein powder add creaminess to the soup. If you are vegan or lactose intolerant, you can use soy milk or almond milk instead of oat milk.
The fresh cilantro and green onions add a pop of freshness to the soup. Garnish with your favorite toppings.
I hope you enjoy this recipe for Hearty Cabbage and Black Bean Soup!
About the Creator
Alias Duece Lee Vizzini III
Now, Sweet Nothings, my blog is a sanctuary for love notes and human emotion. Each post is a step toward telling my own intricate, beautifully imperfect story.
Reader insights
Be the first to share your insights about this piece.
Add your insights