Old Man?
Sixty Six Years On Planet Earth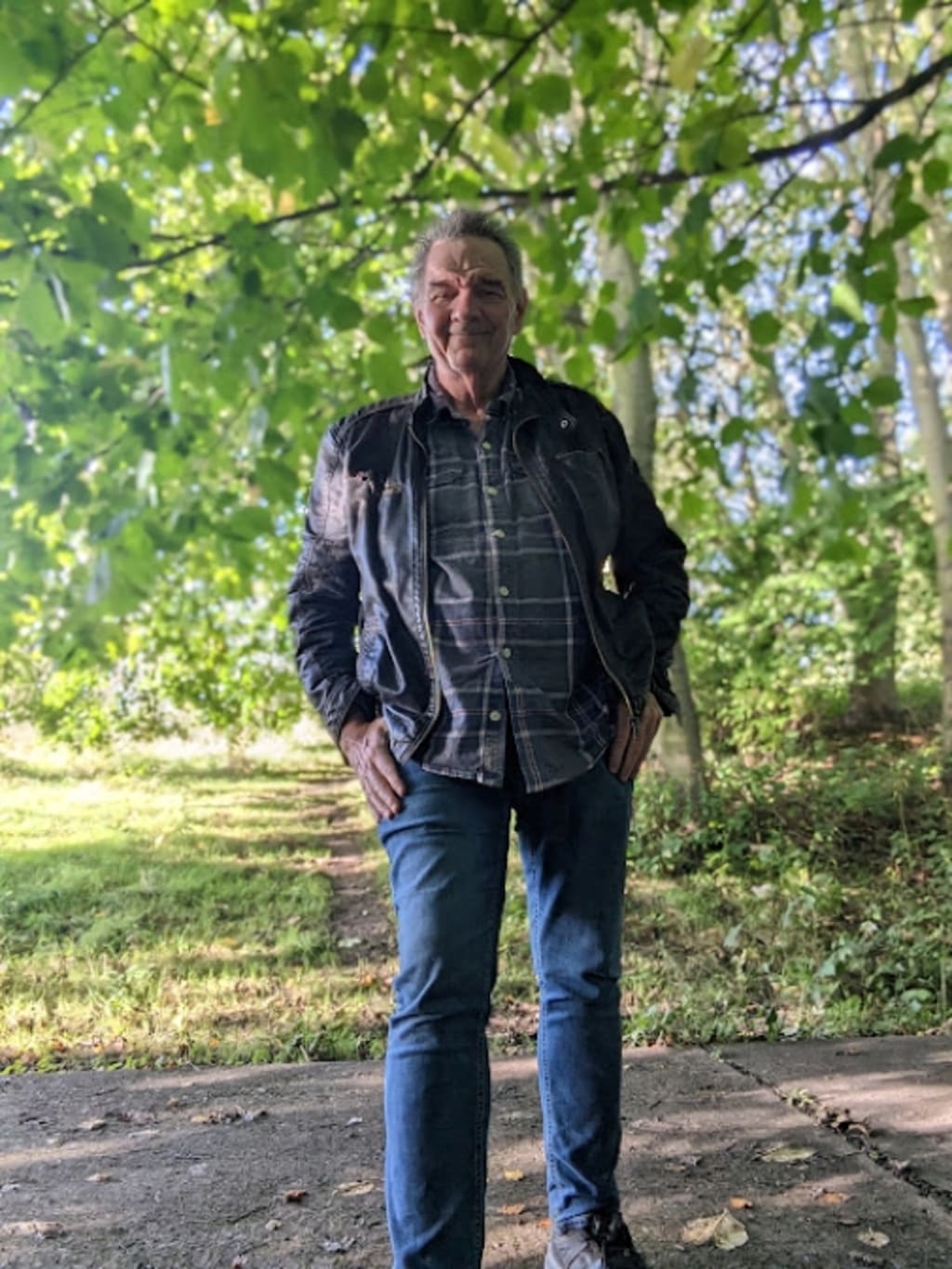 Me In Alnwick Last Week
Introduction
For this poem, I was in several minds on which piece of music to choose. First of all, there was Neil Young's "Old Man", but I certainly don't feel old or, I don't think, act old.
While I was thinking of putting this in the Vocal Poets Community maybe it should go in the Vocal Longevity community because it has hit six hundred words so there should be no issue.
It's just that it is a story that contains a poem (which is the meat of this story). I hope that it is not too much for you. It is a bit of a self interviw.
That is the thing about the online community you can be shocked by the physical age of people when you see them and the same age you think you are yourself. Well no, I am not shocked I am full of admiration for them.
When people complain or worry about getting older I tell them I am not too keen on the alternative. I have been in that mindset myself, but shall we say getting older has taught me that you can always find things to lift your spirits and make you feel good whatever your age.
This is a free-form poem documenting how I have felt at certain stages in my life and I will be very glad to be sixty-six because the alternative is not too appealing.
I will add a few story links at the end that relate to things that have happened.
Old Man?
6️⃣6️⃣♎6️⃣6️⃣

When I Was Eight I Thought My Uncle And Friends Were Old At Sixteen

6️⃣6️⃣♎6️⃣6️⃣

When I Was Sixteen I Thought I Would Kick It In At Twenty-One By Driving Off A Cliff

But I Got A Guitar And A Girlfriend

6️⃣6️⃣♎6️⃣6️⃣

At Twenty Four I Became A Dad To Juliet

At Twenty Seven I Became A Dad To Kirsty

Two Beautiful Brilliant Daughters With Whom I Will Be Birthday Luncing On Sunday

I Also Was The Most Scared In My Life When I Was One Of The First People to Contract ITP And I Thought I Would Not See My Daughters Grow Up

I Gained A Taste For Guinness, Stout And Porters While Recovering From ITP On Medical Advice

6️⃣6️⃣♎6️⃣6️⃣

Thirty I Lost My Mum And Moved To The North East From Preston

My Dad Would Not Allow Anyone To Mention That He Was Fifty, He Is Ninety Next Year

I Played With Spoon (The Geordie One) Between My Thirties And Forties

6️⃣6️⃣♎6️⃣6️⃣

Between Forty And Fifty, I Visited Mexico, Hungary, and Ireland With Fiona

We Were In Mexico When 911 Hit And I Was Worried Sick For My Mate Jim Who Was Working In The World Trade Centre That Week, But He Will Be Sixty In January

Then We Saw Shakespeare Plays In Stratford

I Also Started A Blog

I Got Diabetes

6️⃣6️⃣♎6️⃣6️⃣

Fifty Scared Me Because That Was The Age That My Mum Died

I got Cirrhosis of The Liver

Got Made Redundant and Accidentally Fell Into The Best Place I Have Ever Worked

Kept Writing And Scrapped My Last Car

Still Couldn't Write A Book

6️⃣6️⃣♎6️⃣6️⃣

Then Sixty Hit

This Is Where I Am Now

I Became A Grandad With The Arrival of Alexis Leia

Vocal Tempted Me And I Joined Up But Wasn't Sure What I Was Doing

The My Friend Les Sent Me Two Tips And Made Me Believe I Could Write

Vocal Turned Me Into A Writer

Then I Got A Copy Of Les's Book For Alexis Leia

We Had A Conversation About Self-Publishing

I Investigated It For Les And Accidentally Published My First Anthology

I Got Hit With Liver Cancer And With The Help Of The NHS And My Friends Beat It

My Surgeon Is The Same Age As Me And Said "I Intend To Live Way Pat A Hundred, And Expect You Do As Well, And There Is No Reason Why We Shouldn't"

So Sixty Six Beckons, I Have Published Books And Know I Can Write

And The Music I Have Chosen Is "Keep On Moving" Because That Is What We Must Do.

6️⃣6️⃣♎6️⃣6️⃣
The Related Stories
I still feel and act as though I am fifteen and intend to keep on keeping on.
Reader insights
Be the first to share your insights about this piece.
Add your insights