7 Films You Should Watch If You Like To Run
Your brain is a muscle and you should develop it with these films when you are resting on your coach.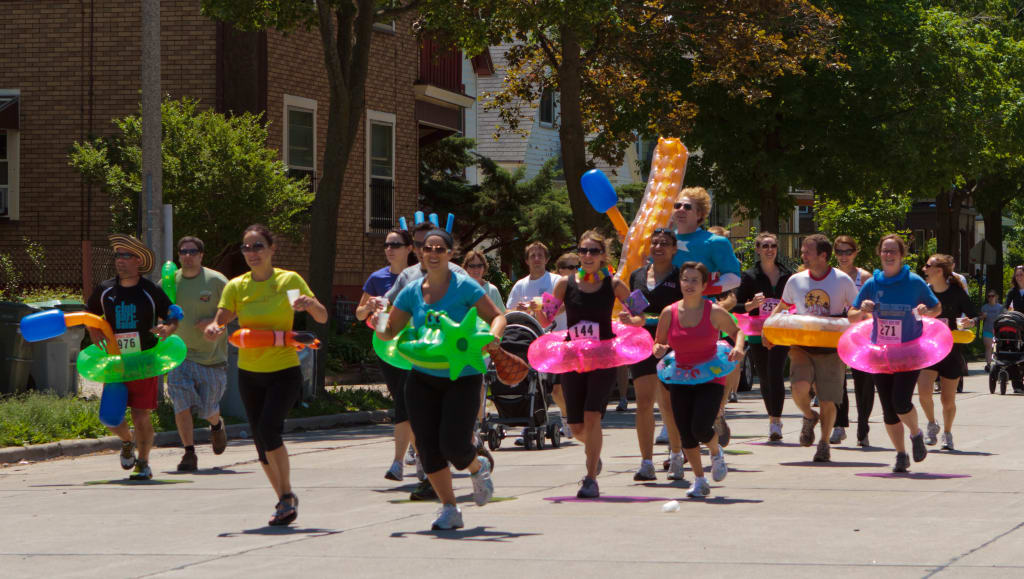 Beer runners. (Photo courtesy of Matt Baran) 
I think you will enjoy the following films if you like to run.
This 1998 biographical sports film is about the life of runner Steve Prefontaine and his coach Bill Bowerman.
Donald Sutherland received a nomination for a Golden Globe in the Best Performance by an Actor in a Supporting Role in a Motion Picture category.
If you ever wonder what is three-time Academy Award nominee Tom Cruise doing with its massive fortune of $350 million and rising extremely quickly then the answer is simple: More movies.
Tom Cruise started his career as a producer back in 1996 with the action spy thriller film Mission: Impossible with an $80 million budget.
Two years later, executive producers Kenny Moore and Jonathan Sanger invested $25 million in this idea produced by Paula Wagner and Tom Cruise.
Kenny Moore never invested in Hollywood ever again.
The film industry is a risky business and it's not for everyone. Sometimes you invest $80 million and you make a king's ransom and sometimes you invest only $25 million and you lose the entire amount.
Jonathan Sanger on the other hand, decided to bet on Tom Cruise again three years later with the 2001 science fiction psychological thriller romance film Vanilla Sky and his $68 million investment in association with four more executive producers returned more than $203 million in global ticket sales.
This 2016 biographical sports drama film is about African American athlete Jesse Owens.
He is one of the best runners.
Academy Award winners William Hurt and Jeremy Irons execute perfectly their craft and turn a tiny $5 million investment into a huge commercial hit with global sales tickets of more than $25 million.
This 1994 dramedy film is about the life of runner Forrest Gump.
This is one of the 1001 movies you must see before you die according to Ian Haydn Smith and Steven Jay Schneider.
If you are young and you love movies and you are only going to buy one book this year then I strongly suggest you buy this book. Your life will improve in a lot of positive ways.
You can also download it to your Amazon (NASDAQ: AMZN) Kindle and take it everywhere with you.
Forrest Gump is is currently one of the Top Rated Movies with a rating of 8.8 according to IMDB.
Robert Zemeckis was nominated for an Academy Award for Best Writing, Screenplay Written Directly for the Screen and for a Golden Globe for Best Screenplay - Motion Picture back in 1986 for his work in the film Back to the Future and won an Academy Award and a Golden Globe in 1995 for his work as director in this extraordinaire film.
If you already watched this film then you should borrow the book Gump & Co. originally written by Winston Groom back in 1995 from your local public library.
Tom Hanks has found a lot of success with his film Sully directed by Clint Eastwood and he currently has a net worth of $350 million which probably means he is never going to agree to act in the film Gump & Co.
A lot of people are confused about this book and often assume this book is the novel used to write the screenplay for the film Forrest Gump because the font used on the cover is exactly the same used in the posters advertising the film and they don't even pick it at the local Barnes & Noble (NYSE: BKS) or local amazon books.
Gump & Co. is the SEQUEL to the film Forrest Gump and it begins ten years after the events portrayed in the film.
I cannot tell you anything about this book. If you cannot find it at the nearest public library then buy it on Amazon for as little as $4.00 and donate it after you finish it.
You can stream this film right now if you happen to live in the United States of America, Japan, Argentina, Luxembourg, Sweden, Brazil, Denmark, Finland, Mexico, Norway, France, Colombia, Austria, Germany, Switzerland, New Zealand, Spain, Portugal, Italy, Poland or South Korea and you are a Netflix (NASDAQ: NFLX) subscriber.
This 1981 historical drama film is about the lives of track and field English athlete Harold Maurice Abrahams and Scottish athlete Eric Henry Liddell.
Some people like to run and some people must run.
Vangelis won an Academy Award in the Best Music, Original Score category and a year later they received a nomination for a Golden Globe in the Best Original Score - Motion Picture category for the 1982 film Blade Runner. A decade later they received a second nomination for the same award in the same category for the 1992 film 1492: Conquest of Paradise.
Costume designer Milena Canonero already had an Academy Award in the Best Costume Design category for her work in association with Ulla-Britt Söderlund in the 1975 period drama film Barry Lyndon directed by the great Academy Award winner Stanley Kubrick.
Barry Lyndon is currently one of the greatest films ever made with a near perfect certified fresh rating of 97% according to Rotten Tomatoes.
She won her second Academy Award back in 1982.
She received four nominations for an Academy Award in the same category for the following films: Out of Africa, Tucker: The Man and His Dream, Dick Tracy, Titus, and The Affair of the Necklace.
She won twice again in the Best Achievement in Costume Design category for the following films: Marie Antoinette and The Grand Budapest Hotel.
If you are trying to make one of the greatest films ever made then she should be on your payroll.
David Puttnam already had an Academy Award nomination in the Best Picture category for his work in association with Alan Marshall in the 1978 prison drama film Midnight Express directed by the two-time Academy Award nominee Alan Parker.
Midnight Express is currently one of the greatest films ever made with a near perfect fresh rating of 95% according to Rotten Tomatoes.
He won his first Academy Award back in 1982.
He received two nominations for an Academy Award in the same category for the following films: The Killing Fields and The Mission.
Run Fatboy Run
This 2007 comedy film is about Dennis Doyle who decides to run the Nike River Marathon in London just to prove a point.
Golden Globe nominee Thandie Newton and six-time Emmy Award winner Hank Azaria star in this film written by Michael Ian Black and Simon Pegg.
This film was manufactured with a small budget of only $10 million and it was a financial success with global ticket sales of more than $33 million.
Simon Pegg currently has a net worth of more than $10 million and he played the role of Unkar Plutt in the filmStar Wars: The Force Awakens, and he also played the role of Montgomery "Scotty" Scott in the filmStar Trek, currently two of the greatest films ever made with certified fresh ratings on 92%, and 95% respectively according to Rotten Tomatoes.
He has been training very hard for the last twelve years learning how to write the perfect screenplay and he actually wrote the screenplay in partnership with Doug Jung for the critically acclaimed 2016 science fiction adventure filmStar Trek Beyond.
Doug Jung also wrote the screenplay for the 2003 crime drama Confidence, which I recommend you a lot if you happen to like thieves and killers.
Paramount Pictures, a subsidiary of Viacom (NYSE: VIA) could never recover their original investment of $185 million despite the fact the film was loved by almost all the film critics.
If you want to see another Star Trek film in 2021 or earlier then you need to acquire the $39.99 version of the film if you have a 3D TV.
Now it's a good time to acquire a Microsoft Xbox One S for only $249.00 if you wish to play the new higher-resolution Ultra HD Blu-Ray Discs.
Like all the other publicly-traded companies still holding a lot of obsolete television channels, Viacom has been selling fewer and fewer ads in recent years and their annual sales have declined from $13.794 billion in 2013 to $13.783 billion in 2014 to $13.268 billion in 2015 to $12.488 billion in 2016.
You don't need to be an expert in finance and economy to see the clear pattern here.
Sales are down and they are going to keep going down until Viacom decides to sell a few obsolete television channels and invest the cash in publicly traded companies with a lot of websites like Leaf Group (NYSE: LFGR) or my former employers at theTheStreet.com (NASDAQ: TST)
Evolve or die.
If you are a millionaire then you can systematically sell short a few Viacom shares each week until they change their old-fashioned ways.
If you cannot make money with Star Trek then maybe you should not be in the film business anymore.
Sumner Redstone should decrease their holdings in Viacom and CBS from 80% to 51% and diversify a bit.
He has forgotten how to make money or so it seems.
Time to sell 50.01% of Paramount Pictures to The Walt Disney Company (NYSE: DIS), AT&T (NYSE: T), Comcast (NYSE: CMCSA), Charter Communications (NYSE: CHTR), British Sky Broadcasting, Amazon, and 21st Century Fox (NYSE: FOXA) for $7 billion or more.
Each one of these publicly traded companies can write a billion dollar check without breaking a sweat and split the profitable assets and the unprofitable assets equally.
This 2015 sports drama film is about the lives of the 1987 cross country team of runners from a high school in McFarland, California.
Two-time Academy Award winner Kevin Costner and two-time Golden Globe nominee Maria Bello star in this critically acclaimed film produced with a modest budget of only $17 million.
The film was a financial success with global ticket sales of more than $45 million.
Mark Ciardi used to be a pitcher for the Milwaukee Brewers back in 1987 but he was forced to retire after only 18 days after a shoulder injury.
He started a new career as an actor in 1998 with the mockumentary Welcome to Hollywood.
Four years later he started a new career as a producer with the 2002 film The Rookie produced with a modest budget of only $22 million and he has been working very hard as a producer ever since.
He currently has at least four films in the pipeline.
Golden Globe winner Arnold Schwarzenegger, Cuban actress María Conchita Alonso, and the former major of Brooklyn Park, Minnesota, Jesse Ventura star in this 1987 science fiction action film produced with a budget of $27 million.
Arnold Schwarzenegger played the role of Douglas Quaid in Total Recall.
The film takes place in the year 2017 and the economy of the United States of America has collapsed and the nation has sealed off its borders and become a militarized police state, monitoring all communications.
Did Stephen King escape from a maximum security prison located in the near future and traveled back in time to warn us against the dark future we are already seeing with our own eyes hoping to change it?
This novel was originally published in 1982 by Signet Books, an imprint of the New American Library or NAL, a book publisher based in New York founded in 1948.
Signet Books was acquired in 1960 by The Times Mirror Company.
The Times Mirror Company sold Signet Books to Odyssey Partners and Ira J. Hechler for over $50 million back in 1983.
Pearson (NYSE: PSO) acquired Signet Books back in 1987.
The private German conglomerate Bertelsmann currently controls Signet Books and currently holds 53% of the book publisher since 2013.
They now publish more than 15,000 books each year.
Stephen King wrote the whole book in a week.
If you happen to be a film producer searching for the next Hunger Games or the next Battle Royale or the next Lord of the Flies then you should simply acquire an option to remake this film with a modest budget of $78 million and hire Academy Award winner Jennifer Lawrence and Dwayne Johnson as two of the producers.
Three-time Academy Award Frank Darabont could write the screenplay in partnership with a younger and hungrier screenwriter like Emmy Award nominee Bridget Carpenter.
Academy Award nominee James Franco in partnership with a couple of younger and hungrier directors like Academy Award nominee Peter Weller, Golden Globe nominee Eriq La Salle, Emmy Award winners Jack Bender, and/or Miguel Sapochnik could generate a great film.
I can imagine the whole thing in my head. I just need a few pieces of paper, a bit of ink, and your check for $78 million.
Frank Darabont and Stephen King worked together in The Shawshank Redemption.
athletics
celebrities
fitness
list
pop culture
About the author
I have written for the largest and most popular websites in Australia, Japan, India and the United States of America including but not limited to TheStreet.com (NASDAQ: TST), Seeking Alpha, Motley Fool, Insider Monkey and Startup Mindset.
Reader insights
Be the first to share your insights about this piece.
Add your insights