5 Films You Should Watch if You Want to Catch a Bank Robber
It's getting harder and harder to make a living as a bank robber nowadays with all those security measures like wireless webcams and bulletproof windows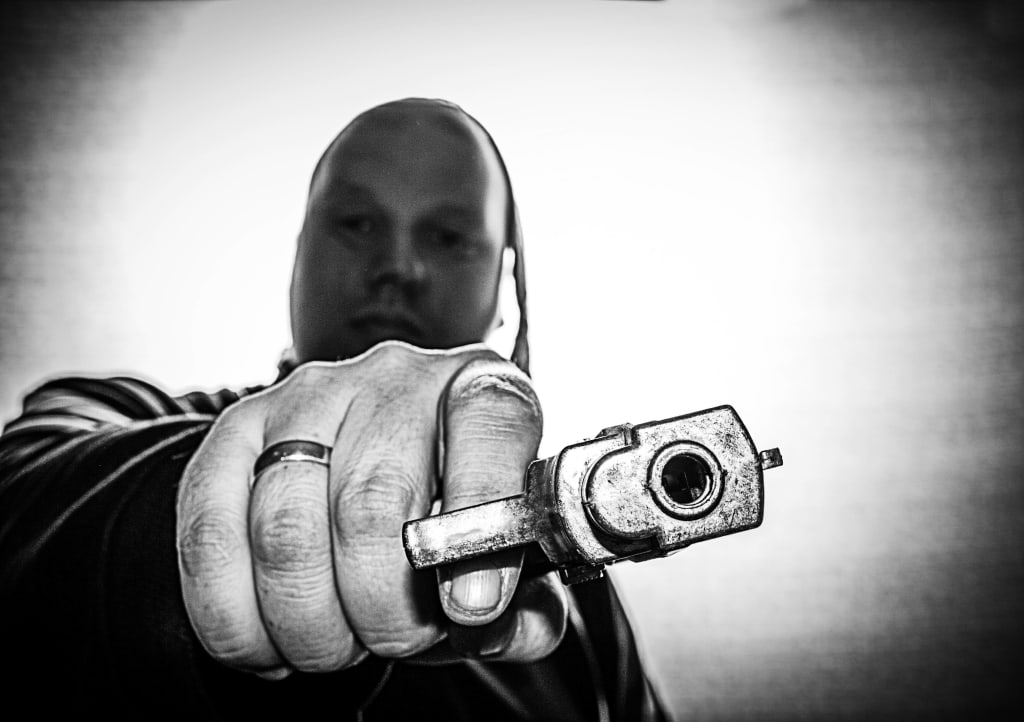 Photo courtesy of Dennis Skley
This is the third article in an ongoing series about films or television shows you should watch if you want to work for the Chief of Police.
You should read the previously published articles 9 Films You Should Watch if You Want to Catch a Thief and 7 Films or Television Shows You Should Watch if You Want to Catch a Serial Killer first if you haven't read them yet before you go any further.
Bank robbers are slowly going the way of the dodo
Only 30 armored cars and only 18 mutual savings banks were stolen in 2015.
I think the FBI should simply stop the investigation of these rare crimes and let MetLife (NYSE: MET), Allstate (NYSE: ALL), Assurant (NYSE: AIZ), and other diversified insurance companies handle the whole process including the arrest, trial, and eventual conviction.
Only 347 credit unions and only 102 savings and loans associations were stolen in 2015.
I am sure they can keep 497 prisoners locked in a few empty offices for a few years.
We simply need to collect your monthly loan payments exclusively by check or by debit card. If there are only a bunch of checks at these financial institutions then you cannot actually rob them.
We need to write a new law that says that you can only buy a cashier's check with your debit card or with a check.
We need to reduce the cash stored at any given point in time by half and the criminals will simply switch to other types of facilities.
Eventually, the number of credit unions and savings and loans associations robbed will drop significantly if we implement these simple and cost-effective security measures.
20% of all bank robberies were committed by individuals previously convicted of robbing a bank.
Clearly, prison is not working anymore. We need to try something new.
38% of all bank robbers are drug addicts.
We need to test all the first time bank robbers as soon as they are arrested and send the sick ones to a detox clinic as opposed to prison. As soon as they are clean they should be released on probation and keep them monitored weekly for drug use. If they use drugs then they go back to prison.
Two-time Academy Award winners Denzel Washington, and Jodie Foster; Academy Award winner Christopher Plummer; Two-time Academy Award nominee Willem Dafoe; and Academy Award nominees Clive Owen, and Chiwetel Ejiofor star in this 2006 crime thriller film produced by Academy Award winner Brian Grazer, directed by two-time Academy Award nominee Spike Lee, and written by Russell Gewirtz.
A few investors backed Russell Gewirtz's idea with a $45 million check and the film was a huge commercial success with more than $184 million in global ticket sales.
Russell Gewirtz's next idea was the film Righteous Kill starring two-time Academy Award winner Robert De Niro, and Academy Award winner Al Pacino, and this time they backed him with a $60 million check.
This film was panned by the critics and it was also a financial failure and he never worked in Hollywood ever again.
Two mistakes were made by his agent.
If you are a young screenwriter with only a couple television episodes under your belt then you must avoid the same mistakes his agent made:
If the film is a good film and they turn a profit then the investors must buy your third screenplay and turn it into a movie with a budget similar in size to your first film. In other words, if they invest at least $45 million in your first film then they must invest another $45 million in your third film or you won't have a career as a screenwriter if your second film bombs at the box office.
If the budget for your second film is bigger than the budget for your first film then you should not write the screenplay by yourself. Hire a more experienced screenwriter to help you out. It does not matter if your paycheck is 50% smaller. If the whole thing blows up in your face then you can blame the old guy with the Emmy Award nomination and you may collect another paycheck in the near future if you are lucky. Also, you should hire a third young and hungry screenwriter with only a couple of television episodes under his belt or a younger version of yourself and hire him for 1% of what they are paying you. It's easier to survive if you paint a target on three backs as opposed to only your own back.
I realize it is difficult to sell your first screenplay and sometimes you have been flipping a lot of burgers at McDonald's (NYSE: MCD) for minimum wage for too many years and your wife is telling you to take that check because the kids need some things or she is leaving you if you don't take that check or maybe the billionaire writing the check simply is not used to ducks shooting back at the hounds and he may destroy that check if you don't sign on the dotted line without adding any clauses.
Too many powerful forces are somehow in cahoots against you and almost forcing you to take that check but you must be strong and do what I am telling you or your career as a screenwriter is going to be as short as Russell Gewirtz's.
In any case, you should call me as soon as you cash your first paycheck and hire me to manage half your money remotely and invest it wisely in the stock markets just in case you never sell another screenplay again.
Yes, portfolio managers are extremely expensive and nobody likes to spend only half their wages but I can keep you away from Wal-Mart (NYSE: WMT) for the rest of your life or at least for a few decades if you let me pick the right stocks at the right time for the right price.
That first paycheck can last a really long time in the hands of the people with the right skills, talent, and experience.
Screenwriters know a lot about spaceships, goblins, methamphetamine wholesalers, the time and space continuum, robots, single moms in a wheelchair raising their own children who are dying of cancer, and soviet era spies but they have never visited TheStreet. (NASDAQ: TST)
Richard King already had an Academy Award in the Best Sound Editing category for the 2004 epic historical drama film Master and Commander: The Far Side of the World and a nomination for an Academy Award in the Best Achievement in Sound Editing category for the 2005 science fiction disaster film War of the Worlds directed by three-time Academy Award winner Steven Spielberg by the time he was hired by director and three-time Academy Award nominee Christopher Nolan.
He was rewarded with his second Academy Award for his extraordinary work in The Dark Knight back in 2009.
Two years later, he was winning his third Academy Award for his extraordinary work in the 2008 science fiction heist thriller film Inception, the second best film I have ever seen so far, behind the 2014 science fiction film Edge of Tomorrow.
Four years later, he received his fifth Academy Award nomination in the same category for his extraordinary work in the 2014 epic science fiction film Interstellar also produced, written, and directed by three-time Academy Award nominee Christopher Nolan.
Heath Ledger already had a nomination for an Academy Award in the Best Performance by an Actor in a Leading Role category for the 2005 romantic drama film Brokeback Mountain by the time he was dressed as the Joker.
He was rewarded with his first and last Academy Award posthumously back in 2009.
The Dark Knight is currently the fourth highest rated film ever made behind The Shawshank Redemption, The Godfather, and The Godfather 2 according to IMDB.
Academy Award nominee Gary Busey, Three-time Golden Globe nominee Patrick Swayze and John Wick star in this 1991 action crime thriller film produced with a modest budget of only $24 million.
The film was a critical and commercial success with global sales of more than $83 million.
There is a new and extremely more expensive version of the film with a massive budget of $105 million. If you have not seen this remake yet then I strongly suggest you include it on your list of FILMS YOU SHOULD AVOID LIKE THEY ARE THE BLACK DEATH.
If you don't have this list on your tablet, phone, and your computer then you should start one as we speak and include the 2015 version of this film starring Ray Winstone and Delroy Lindo on it.
Drop me a line if you would like to receive a copy of my own list. I am 42 years old and I have watched a lot of bad films in my lifetime. Rotten Tomatoes has only been around since 1998. Before that, it was very difficult to pick consistently good films.
We don't need more bad films like The Cobbler starring Golden Globe nominee Adam Sandler.
We need more good films.
Check Rotten Tomatoes before you buy that ticket.
Keanu Reeves and Carrie-Ann Moss worked together in the Matrix franchise.
World famous Jason Statham stars in this heist thriller film made with a very small budget of only $20 million and it was a huge financial success with global ticket sales of more than $64 million.
The film currently has a certified fresh rating of 79% on Rotten Tomatoes.
NOTE TO JASON STATHAM: Invest at least $6 million in association with your friend Academy Award nominee Melissa McCarthy in the sequel with a modest budget of at least $30 million and become a producer. There has to be a good biographic book about a bank robber out there.
You can stream this film right now if you happen to live in Denmark, Japan, India, Sweden, Brazil, Finland, Norway, Belgium, Australia, New Zealand, Italy, Poland or Luxembourg and you are a Netflix subscriber.
Academy Award winner Halle Berry, Two-time Academy Award nominee John Travolta and Academy Award nominees Hugh Jackman and Don Cheadle star in this 2001 action crime thriller film produced with a massive budget of $100 million by Joel Silver and Jonathan D. Krane.
Skip Woods wrote the screenplay and he has been very busy since 2001 writing screenplays for films selling almost a billion dollars in combined global ticket sales.
Hitman was made with a modest budget of $24 million and it was a huge financial hit with global sales of more than $100 million. Enough cash to make a sequel with a bigger budget of $35 million. Another financial hit with global sales of more than $82 million.
He also wrote X-Men Origins: Wolverine, The A-Team, A Good Day to Die Hard and Sabotage.
Clearly, the man knows how to write explosions, hot chicks, car chases, gun fights and everything else the typical unmarried and uneducated male wants to see on the big screen.
He has managed to write nine critically panned films in a row in his lifetime.
I guess we are already in the future portrayed in the film Idiocracy which I recommend a lot.
Maybe I should write a biographic screenplay about his life called "The worst screenwriter in the world" and sell it to Ron Howard and Brian Grazer.
Needless to say, this dramatic film is not going to include any explosions, hot chicks, car chases or gun fights and the original investment of $15 million is not going to generate any profits for the executive producers even if you hire Academy Award winner Octavia Spencer and two-time Academy Award nominee Viola Davis.
He is writing as we speak two more screenplays including one based on the video game Kane & Lynch.
Needless to say, that film is probably going to be a financial success and the critics are going to hate it and five to seven years later they are going to make a sequel and it's going to be a financial hit as well.
About the Creator
I have written for the largest and most popular websites in Australia, Japan, India and the United States of America including but not limited to TheStreet.com (NASDAQ: TST), Seeking Alpha, Motley Fool, Insider Monkey and Startup Mindset.
Reader insights
Be the first to share your insights about this piece.
Add your insights