Call Me Les Social Media Management Portfolio
Index of content published for creators as an independent artist and member of Vocal Media; a summary of the brand "Call Me Les", along with its suite of public relations articles, social media products & business ventures.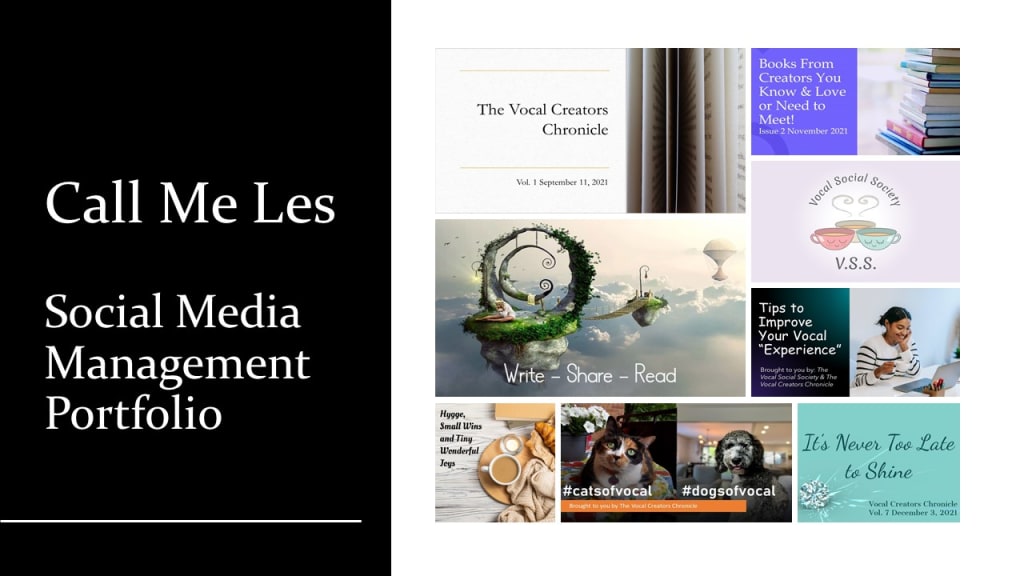 I didn't come to Vocal with a vision of one day working in the social media industry. I came to create some fictions for fun with the side hope of promoting my book, Owl in a Towel. However, that mindset rapidly evolved as I was introduced to new people and ideas. Writing for Vocal has given me new opportunities, networking and relationships, not to mention filling the lonely hours of lockdown restrictions.
I like to self-teach and experiment, and Vocal is the ultimate learner's playground.
About three months into my journey, Vocal interviewed me about my progress (Sept 10, 2021). A Vocal spotlight is an incredibly unique cover letter, in my opinion, and it is what I will be leading with for quite some time, I'm sure. The interview slots are prestigious. There are only 24 creators chosen each year and 1.4 million Creators on Vocal to choose from; I remain deeply grateful and humbled to have been approached.
For anyone reading about me now, I highly recommend you start with the Spotlight. I've included a few highlights here, but this article serves primarily as an ongoing index of my marketing portfolio. The Creator Spotlight is the soul of the story.
What Vocal had to say about me:
"Lesley Leatherdale, or "Call Me Les" as she's known on Vocal, is a model creator—plain and simple. Gravitating around her larger-than-life presence on Vocal exists a collection of creator resources and auxiliary communities; each serving to promote the same creator-first environment we strive to foster." - Vocal Spotlight
My thoughts on Vocal and my membership:
I'm driven to give back. Pay it forward is a way of life for many Canadians, myself included. I feel I owe a debt of gratitude to both Vocal and the many friends I've met since becoming a member.

Recently, I went through a single oophorectomy and ovarian mass removal (I wrote about that in: How Shark Week Saved My Life). Recovering from that, both mentally and emotionally, is one of the most difficult obstacles I've ever faced. I found Vocal, and my social media family, a few weeks after I returned to work. "Return" meaning, at least I was able to sit in my home office for a few hours at a time, but with as many breaks as I needed (I honestly work for the most compassionate and understanding business I've ever encountered). Outside of work, I had nothing to do. I couldn't socialize, the clients I was tutoring had outgrown me and I could feel depression edging in.

What started out as an affordable, fun way to start writing short stories publicly, has turned into a community and the opportunity of a lifetime.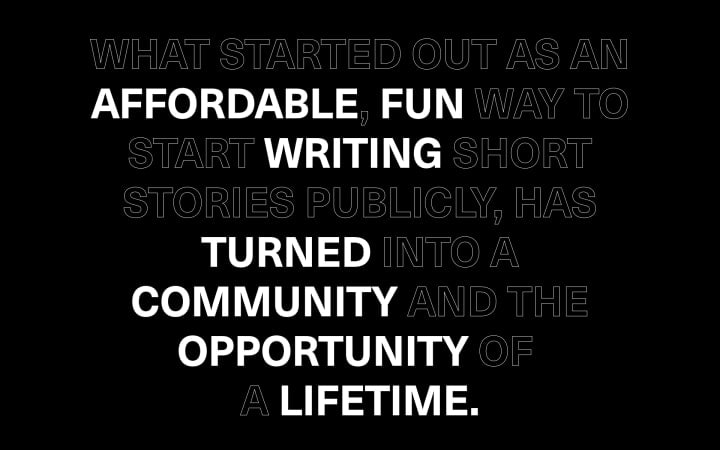 Article Index
Content to Discuss Application of Brand Features
Content to Encourage Vocal+ Membership and Engagement
Content to Enhance Public Relations and Customer Retention
Content Dedicated to Uplifting Fellow Creators
Accomplishments - 1st Place Win
Social Media Products
*
*
The Vocal Creators Chronicle
This project has not been a single person effort, although the concept of a magazine for creators and by creators did start as wholly my own idea. The Chronicle is an ad-free, pay-wall free, hand-curated magazine dedicated to showcasing talented fellow creators. Our columnists span multiple continents, and each issue requires planning and organization across many time zones. Some of the content is written for the magazine, and some is selected. We are incredibly brand loyal and promote all Vocal branded content, such as its features, contests and press releases in every issue. We do this because when Vocal succeeds, we succeed. They are the wind on which our words fly into the world.
Example Issues:
The growing ecosystem of distribution is constantly evolving, but currently includes: a Meta Page , 2 Meta groups: The Vocal Social Society & Great Incantations, an Instagram (@vocal_creators_chronicle), a recently launched Twitter, a Youtube, multiple hashtags, funnel pages for the groups such as Dogs of Vocal & Cats of Vocal, a Link in Bio account, an emailed blog, and a website. Some of these are still in the beginning stages and others are more advanced, all have been phenomenal, self-taught exploration.
Additionally, I made specific mention in both year end reviews:
*
This index will be updated regularly so check back soon. Until then, reminding you we are #bettertogether.
"Long-form is the way of the future, I believe. Humanity, now more than ever, is in need of connecting to and understanding one another. Stories are powerful. Use them wisely. Use them well, and change the world." -Call Me Les
Other Indices:
First published on Vocal Media January 20, 2022
Updated February 10, 2022.
About the Creator
She/her | Cat enthusiast | "Word-Nerd" | Fueled by buttertarts
~&~
Reader insights
Be the first to share your insights about this piece.
Add your insights