Books From Creators You Know & Love or Need to Meet! Issue 2
A society pages special feature. Brought to you by Call Me Les and The Vocal Creators Chronicle.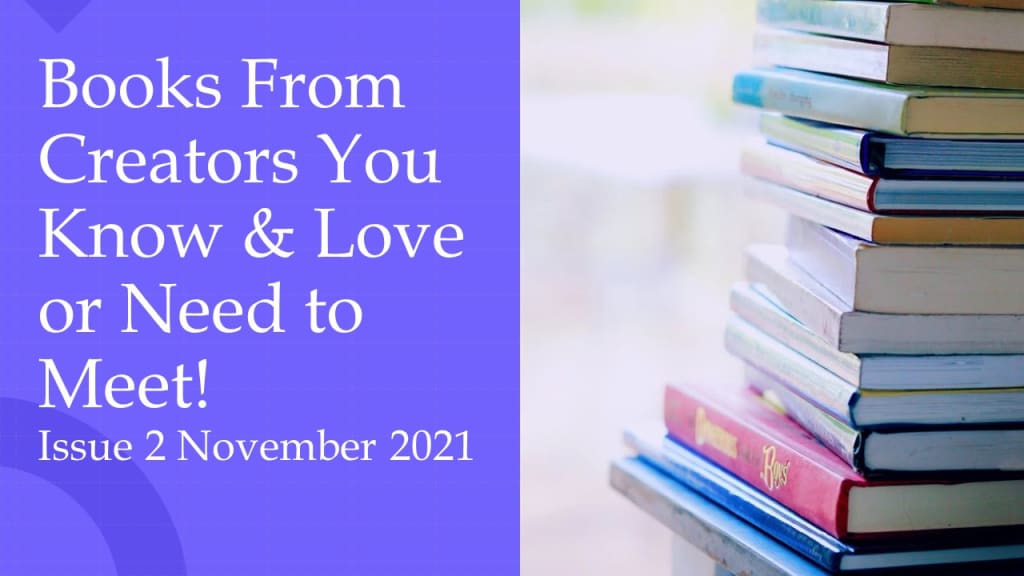 Image of books from Pexels
Hello everyone, Les here.
When it comes to writing, many of us pursue more than one avenue—a book is the stuff dreams are made of. Whether it's via a traditional publisher or through self-publishing avenues, these Creators are getting their words in print and up for sale! Here's a short list from VSS members you know and love or need to meet!
Lies and Omissions
By L. Lane Bailey
She thought her painful past was behind her. After meeting the man of her dreams, it all came rushing back to destroy her future, and even her relationship with her daughters, not to mention the love of her life. Not only did he have secrets of his own, but there were things he didn't know about his family. Time was not something he had a lot of. From the book:Behind him, Gina's husband, Howard, lurked. He reached down and grabbed Oscar by his scraggly hair and hauled him to his feet. With his other hand, Howard grabbed the back of Oscar's belt. He dragged him across the living room, slamming his face into the doorway to the hall, then down the hall to the front door.
LIGHT and Darkness: One person can change the course of the world
By: A. M. Radulescu
A Raging War, a Hidden World. And a Reluctant Heroine
Light and Darkness: A Spiritual Urban Fantasy

Workaholic Ana, alongside her loving boyfriend Andru and their fluffy companion Ron, spends her days striving for perfection. With the help of Light Bringer she's working to overcome her anxiety, attempting to feel as calm as everyone thinks she is. All while navigating the demanding restructuring of her department and putting out the figurative fires that come with it.

THERE WAS NO WARNING OF THE UPCOMING EVENTS THAT WERE TO CHANGE HER LIFE FOREVER
Owl in a Towel
By: Lesley Leatherdale (Call Me Les)
"Meet Owl: a genderless, preschool-aged bird from an interspecies family with a flair for multi-functional fabric! As the young owlet shows us how to think 'beyond the bath', one would incorrectly assume that life with a towel is 'owlways' a breeze, but the story hits a snag when a new baby arrives with a towel of their own. Empathize with Owl as they recount the tumultuous highs and lows of learning to be a big sibling, culminating in the mind-shattering moment Owl realizes that compared to Baby's new towel, Owl's beloved companion is clearly not cut from the same cloth!

Owl's story is a timeless reminder that challenges, just like towels, are all about how you interpret them."
Game of Mass Destruction: Dystopian Sci-fi Novel
By: Chloe Gilholy
Yuzuko's perfect world is disturbed when she is forced to take part in the 30th season of Game of Mass Destruction, a reality tv show where twenty contestants have to fight robots and each other for a chance to become a billionaire. Each robot they destroy gives points, but extra points are rewarded for acts of sex and murder.

Whilst Yuzuko is united with online friends, she discovers dark secrets about her family as she confronts the gameshow's owner the notorious Sia Bucks. Will she survive and become victorious or will it be a comedy of errors with violence and chaos?
Detective Dawg and the Missing Apple
By: Bryan Ridenour
An early alarm on the Danworth Farm thrusts Detective Dawg into another mystery to solve. Someone stole Melinda Mare's apple and Dawg and his team of sleuths must gather information and examine clues to figure out the identity of the thief. Kids of all ages will enjoy the story and learn important truths about forgiveness, grace, and second chances. Recommended for children of all ages.
What Will Happen Next?: A Short Story
By: Cendrine Marrouat
"In 'What Will Happen Next', you will see the world through young Emma Elicia's eyes, for all its kindness and cruelty. This is a story that acknowledges the misfortunes of life and defies them, calls the reader to the closeness of love, and soothes the soul's loneliness. You will be saddened, surprised, and in the end, uplifted." - Justin Smith, Linguist and Short Story Author
The Gifts Of Life
By: Mack
" It was the pain that pushed me forward to become the person I am today, one who found healing".

As a poet, and someone in recovery from the pain of life, I want to reframe the gifts in our lives.

Through raw and honest poems and prose, comes a new perspective on life. The qualities we saw as curses can become blessings when we choose to take a deeper look at the roles we play in our own lives. To anyone suffering from addiction, struggling in recovery, or healing this book is dedicated to you. As a reminder that healing and change are possible, and we are more than the sum of our struggles.

Take the keys of freedom,learn from the gifts of gratitude, faith, love, and strength. Find healing within and start your journey to recovery.
Allure of Capri
By: Vicky Dimichele
After going through her divorce, Rose DiMico strikes it rich with penny stocks. Although she is financially secure, she still feels that there is something missing from her life. After purchasing a beautiful castle on the island of Capri in Italy, she recounts her struggles of developing the new property into a luxurious, five-star hotel and the excitement of her blossoming relationship with A-list actor, Leonardo Montague. Will she find true love on the 'Island of Love'?
America Toons In: A History of Television Animation
By: David Perlmutter
Animation has been part of television since the start of the medium but it has rarely received unbiased recognition from media scholars. More often, it has been ridiculed for supposedly poor technical quality, accused of trafficking in violence aimed at children, and neglected for indulging in vulgar behavior. These accusations are often made categorically, out of prejudice or ignorance, with little attempt to understand the importance of each program on its own terms. This book takes a serious look at the whole genre of television animation, from the early themes and practices through the evolution of the art to the present day.
S23HF50: (Subject 23, Human Female, Age 50)
By: Paula Shablo
Beth Ann Moody is a middle aged widow who wakes up in a strange bed one morning. As if that wasn't bad enough, she soon discovers that there's literally no way out. The doors she finds lead to a closet, a hallway and a bathroom. The view from the window is nothing but white light. No one is with her, yet someone is providing her with basic needs: clothing, food and drink, even a television and a supply of DVDs. Who--or what--is responsible for removing Beth Ann from her life? What is it they want from her? And how will a woman with family and friends survive the isolation she finds herself subjected to?
The Shelter: Book One (The Shelter Trilogy 1
By: Kevin Slimmer
Adam Peterson, a recovering alcoholic, wakes up in an underground shelter with 19 strangers with no memory of how he got there.

As he navigates his surroundings, a memory of a woman haunts him. A memory that feels more like a dream than reality. He remembers nothing about who she is except her name, Hannah.
The Queen's Blade
By: Natasja Rose
The al-Aziz Clan were the most successful and dangerous assassins in the world, and they never failed to eliminate a target.

Until now.

Desperate to prove herself, Sayfiya al-Aziz goes after the young Queen Alexandra, determined to succeed where others have failed.

Instead, Queen Alexandra offers her a new life, ripe with opportunity. Accepting the offer is a risk, one that may cost Sayfiya more than she ever suspected.

Or it may lead her to something greater than she could have dreamed…
Katie's Secret Garden
By: Caroline Kane Aguiar (Author), Victor Mariño (Author)
Meet Katie and her cat Whiskers. Katie is an adventurous little girl who worries about her parents who argue a lot. She soon discovers both kids and grown ups feel sad sometimes. Katie has her Secret Garden to escape the turbulence in her house. A place of calm and peace. Join here there and see what adventures she has in her magical garden!
Love, Travel, and Volunteering : Caring for the World (Travel Series Book 1)
By: Kandy Ostrosky
Love, Travel, and Volunteering is a travelogue (diary-entry style) about self-discovery and making a difference. It captures the many obstacles that need to be overcome as a solo traveller. This travelogue is a must-read for those who love books that take them around the world and talk about different cultures as well as the challenges and joys of volunteering abroad.
Included in the book:

Travel & volunteer pictures from each country visited
Tips to planning a safe & successful trip
A list of recommended hotels & hostels, excursions & tour companies
Learn what not to do when travelling
A connection with a solo traveller & travel stories
Your very own packing list

#1 Best seller in: Travel Reference Guides, South Africa Travel, Thailand Travel, Travel Tips, & Peru Travel

A portion of each sale will be donated to The Animal House Jamaica.

This donation will help cover the cost of vet bills, dog food, fresh water, adoption fees, and much more.
Under a Starlit Sky
By: Caitlin McColl
"Your life is a puzzle. Fit all the pieces.

A man wakes up on the ground. He can't remember who he is, where he is, or why he has just woke up in the early morning dawn on a small and uncomfortable patch of grass next to a marina. His first goal, find out where he is. The second and most important, who he is.

With no recollection of his name, and nothing in his pockets save a wallet containing a business card for a construction company, a single key and a small amount of cash, he has no alternative but to start on a journey to find himself."
~End for now~
Many of these authors have more than one publication to their name. This column will be a regular feature in The Vocal Creators Chronicle.
Thanks for checking us out!
Do you have a book? Message Les!
Important Note: While we love the brand that gives our creations a place in the world, The Vocal Creators Chronicle is an independent publication. We are NOT Vocal Media, and we neither represent them nor answer questions on their behalf. All direct Vocal inquires should be directed to their support staff, starting here: SUPPORT. You may also find relevant information through their resources section, which can be found here: RESOURCES.
Be sure to subscribe to The Vocal Creators Chronicle on Vocal to receive all the latest updates from your favourite magazine BY CREATORS & FOR CREATORS in your daily news feed.
Vocal Is For Everyone. Join Vocal standard or Vocal+ today and start publishing your creations alongside thousands of other talented creators from around the globe.
First published by Call Me Les for the Vocal Creators Chronicle Family November 18, 2021
About Les & Her Work