Tips to Improve Your Vocal "Experience"
A biweekly updated document of what's new on Vocal social media: what groups are available, what members can expect, serial story updates, challenges, recipe clubs and games—everything needed to turn Vocal into a writing "experience" all in one handy document.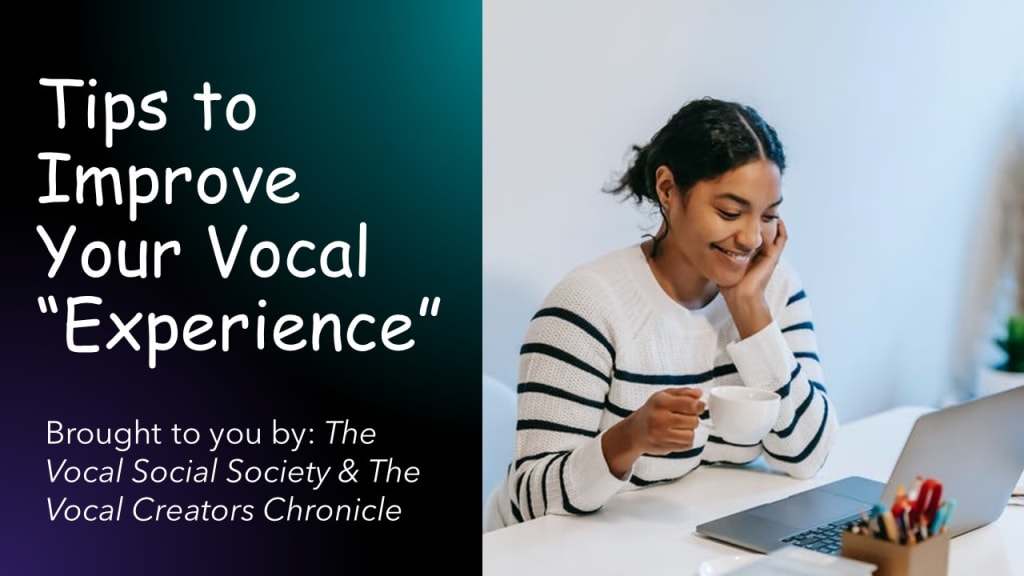 Tips to Improve Your Vocal Experience
If you're struggling to figure out what to do outside of Vocal's pages, check out some of these helpful resources to get socializing and enjoy the full Vocal experience. Updated biweekly.
Have you heard of the Vocal Social Society?

The Vocal Social Society or "VSS" is a Facebook community for Vocal writers. We peer review each other's work, offer mental health supports and more. For more information, check out our article.
Need a place to improve, swap and discuss Vocal Challenges?

Great Incantations is an inter-group effort between VSS, Cafe, VWSC and The Vocal Creators Support Group.

*Bracket challenges are a new edition! Compete for People's Choice...

Recent Grand Prize Winners: KT Marie and Gerald Holmes

See all the entries below!
Need to Polish Your Stories?
Caitlin McColl can help.
Partner Group Information
Cafe

"Founded by Caitlin McColl, VC is a public group that focuses on the art of writing. It is not a place for posting your pieces for reads, it's a place for discussion, questions, and chats. It's essentially a group of writers meeting at a virtual coffee shop to converse about the craft they love and live. If you're having plot problems, sentence structure issues, are in need of inspiration or some editing help... this group is the perfect place to get it without a feed clogged with article promotion."
The Vocal Creators Support Group

"Founded by Judey Kalchik, VSG has no limits on posting your own solo posts to garner reads but also offers daily threads on which to read swap. Judey also founded the Vocal Cooks Collaborate which features amazing recipes that make you drool all over your keyboard. This group is public and open to readers as well as writers and the only rule is BE KIND. Well, that and no post bombing. Judey is an amazing resource for using social media to get your work read."
Vocal Creators Saloon Info
Series
The VCSG is hosting a collaborative holiday story
Update as of December 3, 2021
Team 1 Winter 2021
Chapter 1 Led by Atomic Historian
Team 2 Winter 2021
Chapter 1 Led by Lilli Knight
The Vocal Creators Support Group
Message the Editors: Les, James or Caroline, and let them know what you are thinking about. Address: [email protected] or through Messenger on our Facebook page.
Want to be interviewed? Have a new book to your name? Message Les directly for consideration. [email protected]
Important Note: While we love the brand that gives our creations a place in the world, The Vocal Creators Chronicle is an independent publication. We are NOT Vocal Media, and we neither represent them nor answer questions on their behalf. All direct Vocal inquires should be directed to their support staff, starting here: SUPPORT. You may also find relevant information through their resources section, which can be found here: RESOURCES.
Be sure to subscribe to The Vocal Creators Chronicle on Vocal to receive all the latest updates from your favourite magazine BY CREATORS & FOR CREATORS in your daily news feed.
Vocal Is For Everyone. Join Vocal standard or Vocal+ today and start publishing your creations alongside thousands of other talented creators from around the globe
About our content: According to Vocal, anyone can publish on their platform. They moderate every story to ensure it complies with their Community Guidelines. However, they do not fact-check every story. Furthermore, the views and opinions expressed in the stories of the columnists and the editors of The Vocal Creators Chronicle are those of the individual Creators and do not necessarily reflect the official policy or position of Vocal nor The Vocal Creators Chronicle. The Chronicle does not accept liability for the personal opinions or use of advice of any of the columnists or editors. All advice is considered to be undertaken solely at the readers' discretion. Non-original content submitted by columnists is expected to be used in accordance with its source licensing agreements and The Chronicle does not accept personal liability for the use of content included by its columnists.
First published November 22, 2021 by The Vocal Creators Chronicle.