'Denouement Among the Lilies' — Vocal 2021 Year in Review
Vocal's senior manager reflects on another year of storytelling from the 1.4 million creators on Vocal.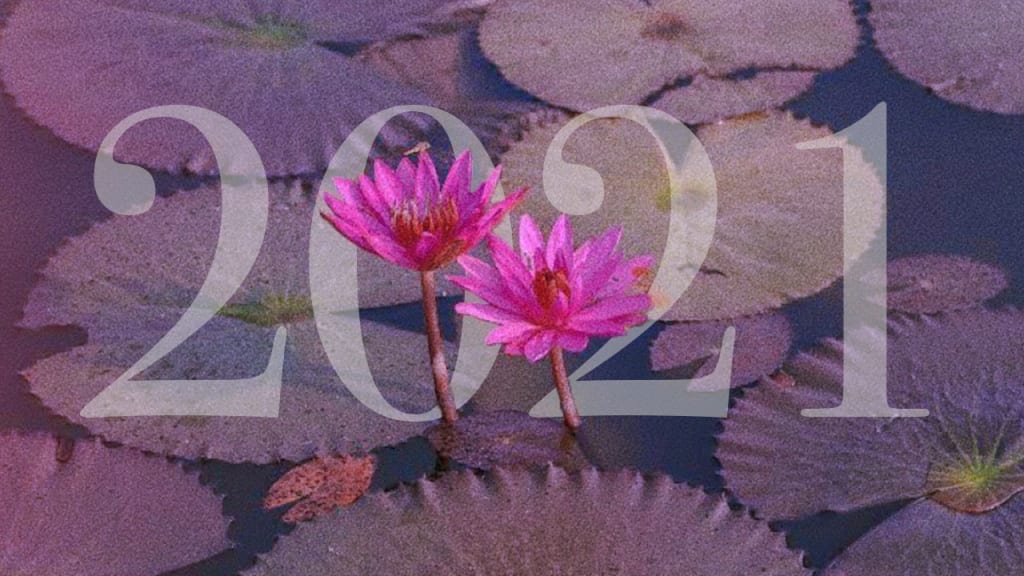 Last year, I wrote a reflection spotlighting my favorite stories from 2020. Out of 35,000 stories, I chronicled the ones that stood out; the ones I remembered, logged in a Note on my phone, re-read more than twice, and ultimately shared in my personal iteration of "This Year on Vocal" because they were just too good to keep to myself. That reflection was titled "Am I Here," named after a poem that I will never forget.
I still think about those stories from 2020, but now, the Note on my phone has a slew of new content. I'm excited to share some of it with you. Let's recap another inspiring year of storytelling on Vocal.
This Year on Vocal: 2021
This year was huge for the Vocal family, and there's still so much more to come. Our most recent Challenge, The Vocal+ Fiction Awards, which will feature 25 winning stories in a first-ever print and digital book, already offers a tantalizing peek at some of the multimedia projects we have in the pipeline. In the meantime, our Creator Experience and Content teams have continued to focus on supporting the Vocal community. We've released updates like Quick Editing, Subscriptions, and more improvements to the interface and experience on the platform. Our goal, as always, has been to make storytelling a rewarding venture for the ever-expanding and rapidly evolving creator economy.
As for me, I didn't read 35,000 stories again this year. However, I still managed to read at least a few stories every day, sometimes more. The Note on my phone grew longer, and as new entries were added, I sorted them in order of our appreciation for their style, tone, and impact, the best and most moving being always on top.
Only a few creators were awarded repeat appearances on the list. This year, I was captivated by the poetry of Dane BH, notably her poem "city boy" in which she pleads for her New York-native father to "come home, city boy, it's not too late to come back." I cackled at the antics of JaimeTheJew, whose Vocal masterwork "Fondling balls for money; an eight-year-old's success story" may have finally ousted James Tilton's legendary "Gummy Bears" as my North Star of Vocal comedy. Of course I can't forget Heather Down, whose deeply personal series "Love Letters From Heather" begs readers to pour a glass of wine, light a candle, and revel in the reminder that Valentine's Day belongs to any human who loves another, including and perhaps most importantly of all, a mother's love for her children.
The Vocal Team also witnessed the launch of several new initiatives from within the community itself. Notably, we saw the inception of the Vocal Creator's Chronicle, orchestrated and operated by the passionate and kind-hearted Call Me Les, along with fellow dedicated creators Caroline Jane and James U. Rizzi.
And Then There Was Fiction
While my personal penchant is for nonfiction writing, I cannot ignore what was perhaps the most exciting, and most requested update to Vocal ever, which took place earlier this year.
By overwhelming demand, we launched a community exclusively for Fiction. Boy, did it take off.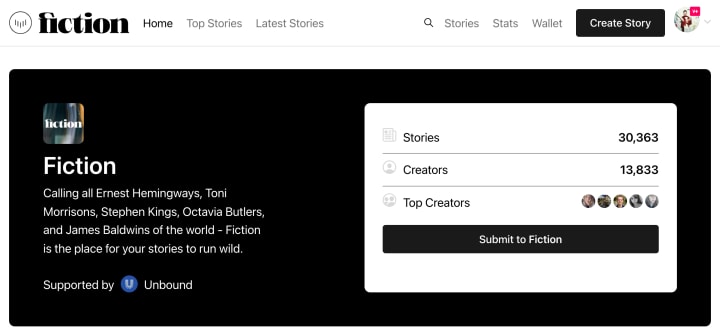 The enthusiasm that Vocal creators showed for the Fiction community exceeded our wildest expectations. So, we decided to up the ante with a Summer Fiction Series. We launched eight unique Challenges, received more than 15,000 stories, read every single one (no exceptions), and awarded a total of $52,000 to 24 winners.
It was the Summer of Fiction, and I enjoyed every second of it. Here are just a few of my favorites from the SFS:
"Mino's story" by Gemma Church
When she visited, mother would tell me stories of the moon and stars, those vast constellations who were once gods and goddesses, lovers and warriors, heroes and monsters, always impressing on me that "kings love their monsters" but that man was the only being to truly be feared. This surprised me as man seemed so feeble and small in comparison to the gods and kings but, as always, I clung to her words.
What of the minotaur? What is their side of the fable? This brilliant grown-up fairy tale is as much a dive into the psychology of man unto beast as it is a dramatic tale of misfortune and suffering. Author Gemma Church is certainly a creator to watch.
"The Unsaid Good-Bye" by R. E. Dyer
She washed up in the sink, and they continued to watch. She saw their unblinking gazes in the mirror, their pale red lips painted at an angle that implied a smile but belied some furtive, distrustful intent.
The phenomenon that is horror literature has had a consistent following on Vocal this year. Our Fiction community was christened by the macabre, notably in this winning entry from creator R.E. Dyer, which horrified me in the most delightful way.
"Intervals" by Mutationist
Tomorrow we give you back to the dirt. We send you out onto those acres, free to frolic in the forever Summer. It was only fitting we relinquish you to the pear tree, for it was there you spoke of life, death, and all things that have passed and not yet come.
"Share a short fiction story including a pear tree." This was the entirety of the prompt for the eighth and final Challenge in the SFS. The creativity of the community was on full display here, as every writer took this idea, inspired by a passage from Zora Neale Hurston's "Their Eyes Were Watching God," and filled countless pages with characters that would all find themselves underneath the pear tree, soaking in the alto chant of the visiting bees and the gold of the sun. In their story "Intervals," creator Mutationist does this perhaps best of all.
It was, truly, a magical Summer.
The Denouement
Denouement [dā-ˈnü-ˌmä]: the final outcome of the main dramatic complication in a literary work.
This year, just like last year, there were so many stories that stood out to me. I've already mentioned a handful, but out of everything that ended up on my Note, there were three stories that finished the year on top.
"THANK YOU FOR THE LOVE" by Oliver Dahl
Oliver Dahl has been a consistent and inspiring presence on Vocal this year, earning more than one Top Story for his work. Oliver's most vulnerable piece, and our favorite over here at Vocal, is "THANK YOU FOR THE LOVE," which outlines the rationale and process behind an intriguing photoshoot that seeks to examine the superficial and "transactional" elements of romantic relationships.
Sometimes you have to take down the façade. It takes some brutal honesty in order to recognize that maybe you don't love the person you're with as much as you love the comfort of being with them. ... Wherever you are, whatever your situation, I hope you're in a place where you feel loved and appreciated. I hope there are people around you that you truly love. I hope your relationships are rewarding and fulfilling. And I hope you're saying "thank you" and "I love you" with more than just your words.
While asking hard questions about purpose and authenticity, Oliver's story is also timely, as Covid-19 continues to put so many relationships to the test. Perhaps this explains why "THANK YOU FOR THE LOVE" resonated so strongly with us and so many others on Vocal. In the midst of the worst pandemic in a century, the essence of commitment has certainly been on trial. Many relationships have ended up pummeled and vulnerable, like a plastic takeout bag caught in the wind.
Shoot... Maybe Katy Perry was on to something.
"Joppatowne" by Sara Paye
Sara Paye was one of those few creators who ended up with more than one story on the list. "Joppatowne" is, I think, the best story on her Vocal profile, and that's saying something.
It's impossible to think about this year apart from the crisis plaguing society. However, in Sara's work we find quiet exposition and subtle reassurance that love, friendship, everything that matters will be okay, someday, not tomorrow, maybe not even next year, but someday.
We were all so young and in love with each other, but always in the wrong direction. We were escaping the market crash of 2008. With enough student loan money to pay for our entire futures, you would become a radio news anchor, and Jimmy would become a musician. ... We read all the time, enamored by Plutarch and his Lives, captivated by the early biographer of early biographies. King Xerxes' invasion of Greece took us over. But this Memorial Day weekend, we fled to The City to look at art and observe the conversation of history, past theses met with antithetical promises. Waves of societal conversation converging, then collapsing and dipping in synthesis.
Something about that line "We were all so young and in love with each other" gripped me. As we continue to be tested by distance and anxiety and sickness and recovery it's lovely to be reminded that we, along with the small group of friends we hold dear, will break free, someday. We will be okay again, someday.
"Denouement among the lilies" by Emily Taylor
Poetic in spirit and prosaic in practice, Emily Taylor paints the rise and fall of a first love in this: my favorite story from 2021.
So young to make such a commitment. The entirety of our twenties spill out before us. I'm thinking about that dive bar in Camden Town. Happy hour led to this? An Ophelian life; dictated to her by men. I'm overthinking, terrified to be fated to those same watery tombs. I would never tell you this. Later, I learn people regret the things they don't say.
Grief is perhaps the emotion we've felt the strongest in the last twelve months. Many of us have grieved loved ones. All of us have faced the grief of time being taken from us. Within our own community, we were forced to confront a truly deep loss in the death of Vocal creator Tom Bradbury, who touched more lives than he will ever know. Prior to his passing, we awarded Tom a second-place victory in the "A Day in the Life" Challenge for a story that now preserves his bona fide legacy. In this story, somewhat tragically titled "What Becomes Of The Broken Hearted," we see the breadth of Tom's heart in the love he had for his children: a rather roguish flock of sheep. My colleague Justin put together a special In Memoriam for Tom that opens a small window, via interviews with his Vocal collaborators, into the life Tom allowed us to see, although we know his larger-than-life presence could never be captured in one frame.
In "Denouement among the lilies," a coming-of-age reflection on love and loss, Emily Taylor depicts the journey from the former to the latter as a trip to the Metropolitan Museum of Art, to observe Monet's most famous work.
We walk laid and patterned wood to old lilies of age. You grab my hand; surreptitious stare. Smile. Brief moment witnessed by Monet's watery tombs. Painted lilies guard depths undisturbed.
This year, we have walked our own sequence of laid and patterned wood. We've smiled at someone who will not smile back. We've held hands with someone whose hand is no longer there to hold. Despite the tears we've cried, the legacy of those we love will never be taken away.
And I? Have a career off the LinkedIn you forced my hand in making. Love differently, certainly. Handle cheese knives correctly. Remember to bring jumpers on flights. Listen to the Police. Demand respect only if I can reciprocate. Communicate, even if I don't want to. Speak my mind unabashedly. Suddenly of age in front of the old lilies.
Just like last year, I find myself in awe of the beautiful miscellanea of stories we've collected on Vocal. If you've submitted even one story to this collective anthology, one poem, one stream of consciousness, we thank you. To every member of this creative community, we thank you. You've contributed to a year-long endeavor that has gathered all the pieces of a whole and rendered it radiant. While I've spotlighted a few very special stories, every piece of this collection is part of a complete work of art — worthy, even, of a display at the Met.
The laid and patterned wood we walked led me here.
On behalf of the Creator Experience team, thank you for the love. Thank you for making 2021 a groundbreaking year on Vocal. I'm overwhelmed with nostalgia, but also with anticipation, because there's only better things to come. Let's take our first steps of 2022 together.
I'll meet you right here, among the lilies.
---
Joshua Luke Johnson is a senior content manager at Creatd and head of Content Moderation and Curation at Vocal.
Reader insights
Outstanding
Excellent work. Looking forward to reading more!
Top insights
Easy to read and follow

Well-structured & engaging content

Excellent storytelling

Original narrative & well developed characters

Expert insights and opinions

Arguments were carefully researched and presented
Eye opening

Niche topic & fresh perspectives

Heartfelt and relatable

The story invoked strong personal emotions

On-point and relevant

Writing reflected the title & theme
Add your insights