Mental Health in the VSS Issue 1
Are you fretting over whether or not you're up to entering the V+ Fiction awards? Or maybe Vocal challenges in general? Life got you down lately? You're not alone. I've gathered up some resources that will help you get started and keep going. I've also included our Tiny Wins. Remember, in the end, it's the experiences that matter most in life.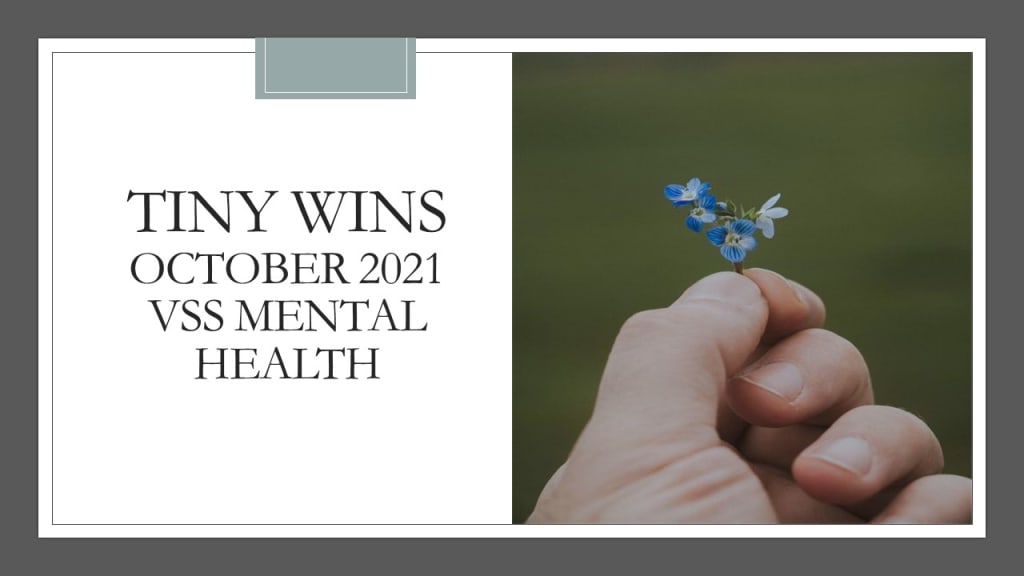 "Call Me Les" can feel like a juggernaut at times; I'm truly grateful for those who are and have always been in my corner. Haters gonna hate and between grief and being bipolar, I'm no T-Swift at "Shakin' It Off". There have been a lot of changes going on, not least of all the departure of my beloved friend and creative partner much too soon. Many of you know I've been meaning to take a small break and focus on myself, my writing and the magazine. But that's easier said than done; loose ends need to be wrapped up, delegation needs organizing etc. I'd like to take a moment to give a massive shout-out to my fellow admins, our moderators and members who have been pulling together. VSS and Great Incantations gain new members every day; each of you is unique and valued by your admins and I have to believe that so many positive vibes in one place can't help but be a light in the world.
Autumn is a tough season for mental health in general, bring in new adventures, pressure to perform and it's practically a recipe for dysfunction. I decided to start tackling mental health after my own started slipping when Tom departed.
Tiny Wins
I opened the Tiny Wins thread to help us see how the little things we accomplish actually do make a difference to our overall well being. Tiny wins remind us to celebrate small steps along the way instead of constantly waiting to arrive at the next milestone moment.
Highlights from the Tiny Wins Threads
Wishing Well
I often check in on our members to see how they are doing and I have a mini-list of those I check in on more frequently since I know they are dealing with some major personal life issues. Recently, my list of check-ins has gotten so long, I've opened a thread in the Vocal Social Society dedicated to "well wishing". Anyone who needs some good wishes is welcome to put down their name, or the name of someone they know could use them—no explanations needed. With that anonymity principle in mind, I've not included snapshots, just the link to the thread itself.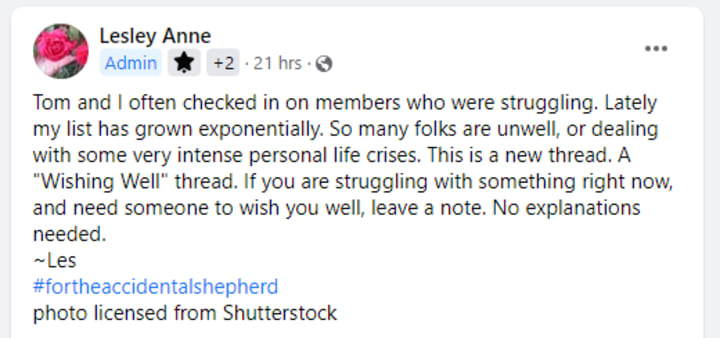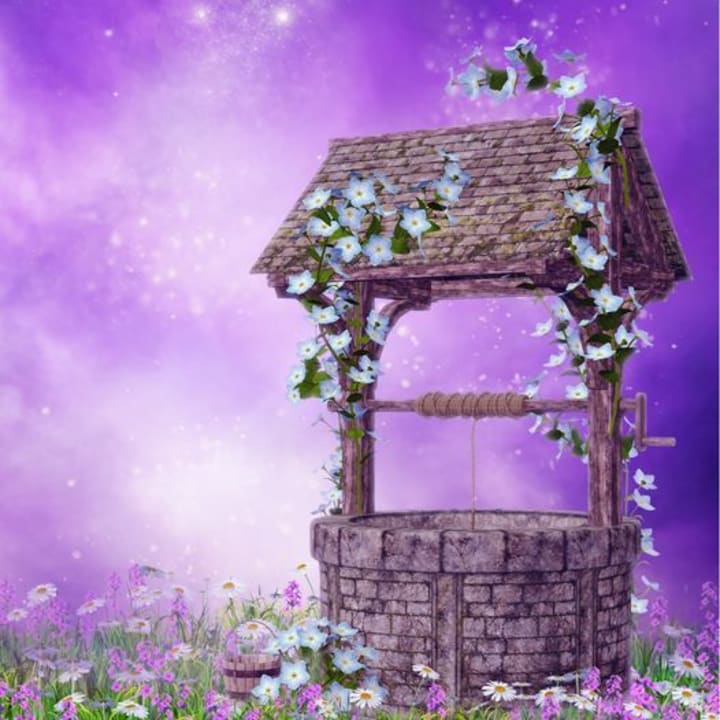 Vocal Updates
Through all this melee, we creators are in the midst of the most epic Vocal Challenge to date (imo), the V+ Fiction Awards. When so much else is going on in our lives, self-doubt can creep in and take root in no time. Pretty soon we feel like we're letting others down, or ourselves. Minor issues in our writing feel like ugly monstrosities—assuming we are even able to push through and write at all. It doesn't help that, as creatives, so many of us fall into the more turbulent and sensitive personalities (whether we show it or not).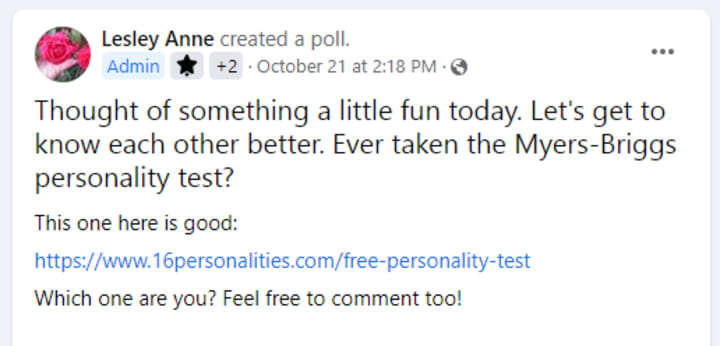 Results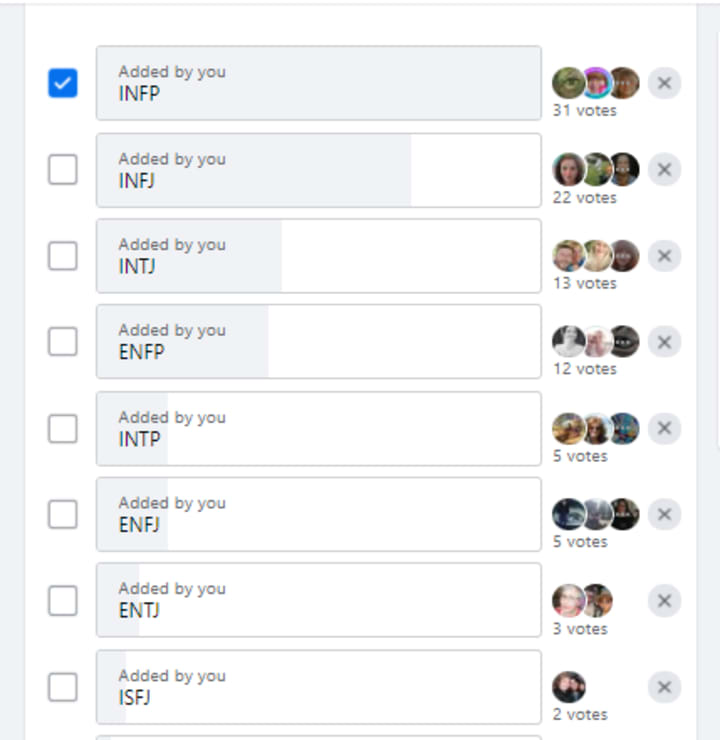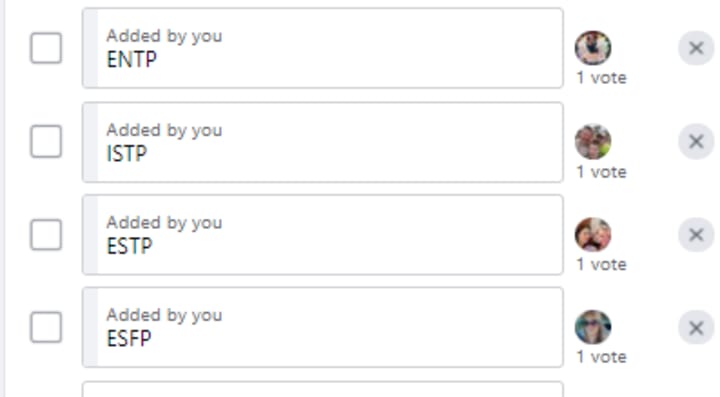 Thank goodness for dynamic leaders like Pam Reeder and Eric Anderson (ENTJs) who have stepped up to take a lead as admins in our newest Facebook group, Great Incantations.
If you want a moderated, productive environment to build your challenge pieces, read-swap, discuss ideas, voice concerns, celebrate winners, ask questions or have any other Vocal challenge related needs met, Great Incantations is the place to go. It may be an offshoot of VSS, but it's an open collaboration between the admins of several of your favourite Vocal Facebook groups including: Vocal Cafe, The Vocal Creators Support Group and, recently, Vocal Writers Sharing Community.
Going forward, I'll continue to collect and support creators using both the threads in VSS and by summarizing our journey in these articles where it can be memorialized and reflected upon anytime you need a lift or a reminder to keep going or to simply feel less alone in your struggles.
I've added a couple helpful resources here to assist us all in our journeys.
RESOURCES
1. Reciprocity
Are you stalled with generating reads and engagement? This resource is for you. From our leader of The Vocal Creators Support Group, Judey Kalchik, find out how you can improve your engagement.
2. Self Help Guide to Surviving a Writing Challenge
From Caroline Jane, we have the ultimate collection of survival tips and strategies that even the most stalwart creator could make use of in
3. Cooperation or Collaboration?
Even stopped to consider the difference between the two seemingly ubiquitous words? They are not the same thing. This article can convince even the most cynical among us to reconsider what it means to join together.
4. What does self-care really mean?
Self-care is doing stuff to take care of your body and mind. Things that help you be the best you can be. And what are those things, you ask?
Find out ways you can do more of it through the trusted resource Psych2Go.
5. Beware of the Rejection Wave
If you're only in it to win it, you're missing the bigger picture. Vocal + and writing are more than just dollars to be had or spent. And that rejection wave touches us all.
Until next time, remember we're better together.
advice
About the author
She/her | Cat enthusiast | "Word-Nerd" | Fueled by buttertarts
~&~
Reader insights
Be the first to share your insights about this piece.
Add your insights