Owl in a Towel
Meet Owl: a genderless, preschool-aged bird from an interspecies family with a flair for multi-functional fabric.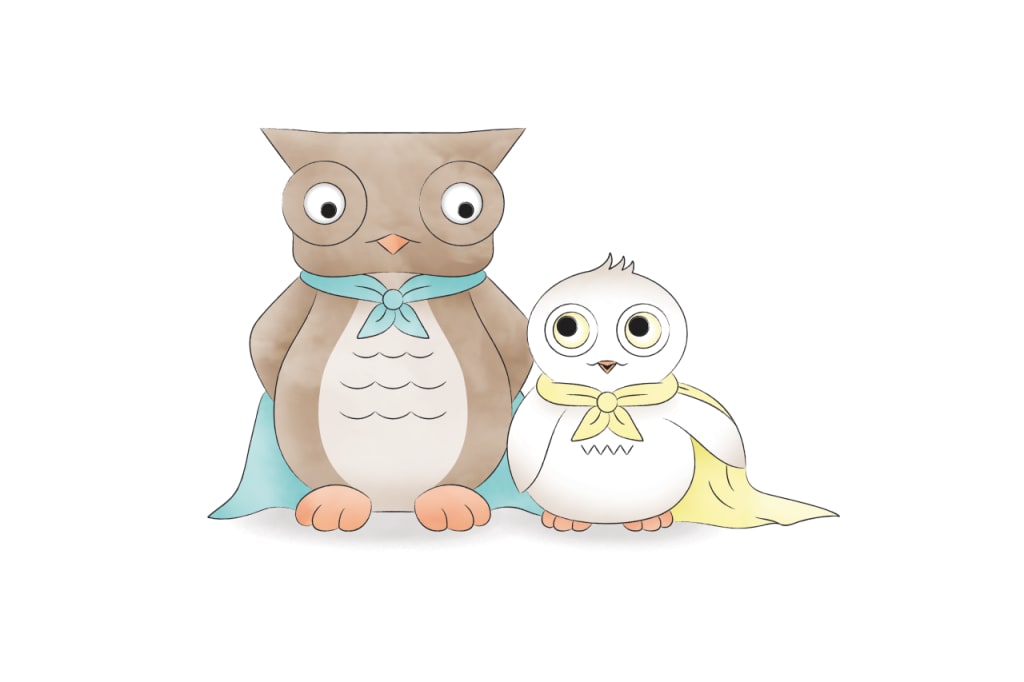 Two towels together: one yellow, one blue. Art by C. Woynarski. ©️
Update: Owl and Baby have left the nest! To get your copy of Owl in a Towel, visit the website. It comes in soft, hard, or my personal favourite, e-book! Why is e-book my favourite? Well, like so many of us, I practice the "container method" so that I can live minimally. Review continues below.
~~~
Yes, I'm reviewing my own book. Shameless plug, I know, but hear me hoot.
(Puns are not helping my case, huh?)
Alright, fine, let's just cut to the cloth ;)
Out of all the new stories out there, why choose Owl in a Towel as your next bedtime go-to?
It's a crowd-pleaser for one.
At 11" x 8.5", the book is wide enough for two sets of hands to hold. Designed to soothe impatient readers, it boasts fast-flipping fun with limited text per page. The art is bold yet uncomplicated, in a watercolour palette reminiscent of Kipper the Dog, bordered by plenty of white space for a weary parent to rest their screen-tired eyes.
But your burning question has to be:
What's so special about a towel?!
Well, as Owl will show you, much like towels, this story is more than it appears at first glance. Owl's tale is a timeless reminder that life's challenges are all about how you interpret them.
As stated in the preface, mindful reading of this story is encouraged; particular attention has been given to the choice of words and illustrations, which may be used as starting points for age-appropriate discussion about the ever-changing world we live in.
For instance: Owl's gender is deliberately unspecified so that anyone might imagine themselves in Owl's place; subtle references to empathy, problem-solving through an emotional crisis, telling our fears to trusted people, blended families, tolerance of other cultures, and adoption are some suggested topics for dialogue, should they be of interest to you, kind readers.
And any story that offers you multiple paths of conversation with your child is a good bedtime story in my books any day of the year!
It starts out slow with a Dr. Seuss-ish flow.
I am an owl, and this is my towel.

It was given to me the day I was born.

Wrapped up tight, I felt safe and warm.
Feathers or not, Owl is just like any other toddler you've ever met, eager to tell you who they are and what's important to them. So, after being introduced to Owl's family album, the following few pages are spent romping with Owl as they show you the answer to your earlier question.
But, just when you thought life with a towel is 'owlways' a breeze, the story hits a snag when a new baby arrives with a towel of their own.
The passage that describes life with a new baby in the family is timeless.
Weeks passed, then months, and Baby didn't do much.

Just slept or cried and made a big fuss.
Things do get a little better when baby,
Learned how to laugh instead of just cry.
And who among us hasn't felt the fluttering of changing feelings when someone copies what we do best?
Then the day came when Baby made up a game.

And whatever I did, Baby did the same.

Was this a good thing? Was it bad?

I couldn't tell if I felt sad, mad, or glad.
But the feeling all big siblings will empathize with most is the mind-shattering moment Owl realizes that compared to Baby's new towel, Owl's beloved companion is clearly not cut from the same cloth!
Side by side, my towel looked scruffy, unfluffy, and plain.

It was ratty and tatty and had a small stain.

It was no longer new nor hardly still blue!

A hole here, a tear there—the difference was perfectly clear.

But what should I do?!
As you may have guessed, Owl immediately rushes to their parents to alert them to this revolting revelation.
But Momma's no fool.
When Owl suggests she might like the new towel better, Mamma bird is quick to respond with a comforting,
"Not at all, dear, I love them the same," she replied.
Dad, on the other hand, likes to think outside the shell.
"Better?" wondered Daddy. "Hmmm . . . maybe together they could be better."
I won't spoil the ending. But here's a hint:
Pull, tug. Clip! Clip! Clip! Clip!
So, regardless of whether you're a night owl, early bird, or some kind of perpetually exhausted pigeon, the next time you're in the mood to branch out with your kids and purchase or rent a new bedtime story, consider visiting with Owl a while on their perch. Love it or hate it, I promise you'll never look at your towels the same way again!
~~~
You can connect with Les on Facebook, Instagram or LinkedIn.
Cheers, folks!
And remember, it's always "better to be happy than dignified." - Jane Eyre (Charlotte Brontë)
book reviews
About the author
She/her | Cat enthusiast | "Word-Nerd" | Fueled by buttertarts
~&~
Reader insights
Be the first to share your insights about this piece.
Add your insights