Ep 4: Homegrown Thanksgiving '23
The Baseline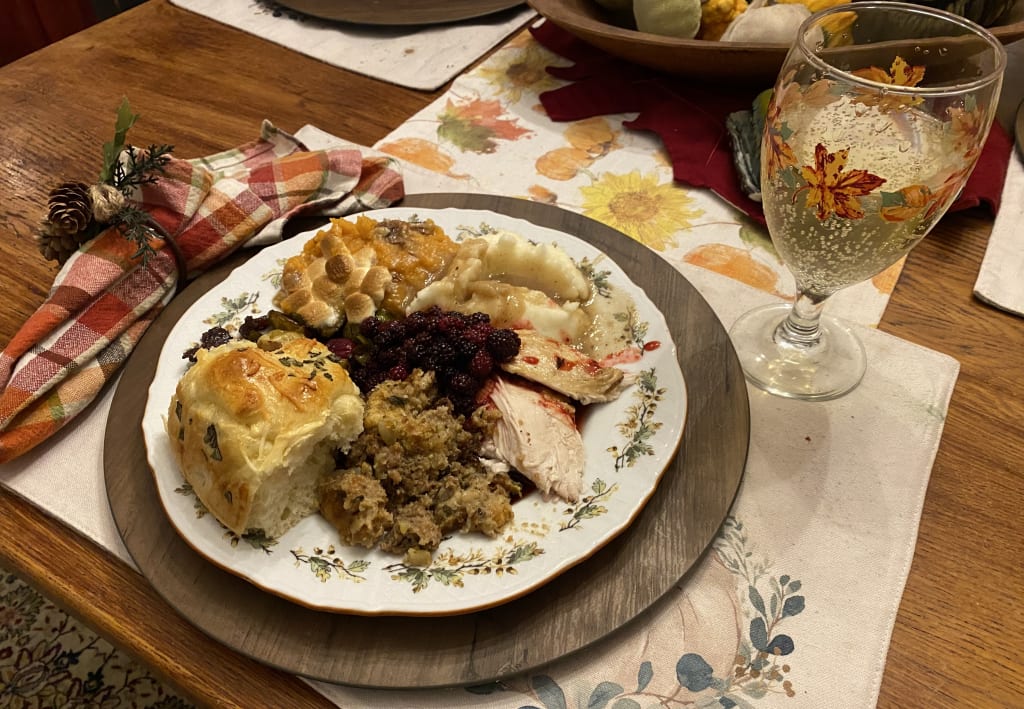 This is the fifth entry documenting our 14-month challenge to ourselves to prepare a Thanksgiving meal made entirely of food and ingredients grown, harvested, hunted and produced right here on Fain-XX Farm. Regardless of the outcome, subsequent entries, photos, recipes and social media posts will be arranged into a book format for publication.
* * *
Thursday, November 24, 2022
It's Thanksgiving 2022 and I'm feeling a little defeated. It has been more than a month since I added to the record any preparations for Homegrown Thanksgiving '23. Sadly, it has been nearly that long since we have made any preparations for Homegrown Thanksgiving '23.
2022 has been a tough year for sure. All the more reason why it is so important for us to master this challenge of creating a Thanksgiving feast made entirely of food cultivated, harvested, foraged, produced, hunted and prepared right here on Fain-XX Farm with a few acceptable exceptions, salt being the only accepted exception thus far. We need to succeed to reassure ourselves that we can survive, estranged from this petty, volatile market economy. Furthermore, I'm certain that a bounty won by our own steady industry will add to the sweet and savory of the feast.
This year's turkey is the store-bought variety, and none too cheap either considering runaway inflation. I had hoped to take advantage of fall turkey season this year, but our commitments to this crazy world was a formidable obstacle to surmount. I will have another shot in the spring, and yet another next fall, but for now, we are eating a Jennie-O.
I did baste and cook this year's turkey with ingredients I know I'll have grown or prepared on the farm next year. After placing the 20 lb. bird on a lift-out rack in a deep roaster oven that is one of the best buys I ever made, I pour in a couple beers to give it some initial moisture, tossed in some finely chopped fresh sage with a little fresh thyme and parsley and some dried basil, and top it off with just enough real maple syrup to coat the whole bird to glaze. I roasted the turkey at 350 degrees for about four hours basting it in its own juices every hour or so and coating with maple syrup three more times, the last time just before I took it out of the roaster.
Sage is a staple addition to our Thanksgiving feast, and we are fortunate to have a healthy, prolific specimen in our herb garden. Besides the turkey, sage is in Jessica's dressing, it's in the giblet gravy, the Brussels sprouts, and sprinkled on top of the most beautiful homemade milk rolls imaginable.
This year's Thanksgiving feast was a long way from being all homegrown, but it did offer a baseline for next year's sumptuous repast. We weren't homegrown this year, but we have the recipes and a year of preparation to get there.
About Pecans
Some of the following recipes contain pecans. In previous episodes, I've mentioned using hickory nuts as a substitute for pecans for Homegrown Thanksgiving '23 because we don't have a mature pecan tree on the property. We still want to use hickory nuts as much as possible, but we recently discovered a plentiful supply of pecans from legacy trees in downtown Rogersville, our hometown for three years now, only about two miles from our farm.
These half-century-old and older trees are along Main Street, in Crockett Spring Park, and one is even in front of the Hawkins County Courthouse, the second oldest operating courthouse in Tennessee. I haven't yet looked into ordinances regarding foraging for the nuts on city and county property, but locals who have been here longer than us insist that it is expected and encouraged.
In these recipes, where pecans are called for, we have left them in with the caveat that if pecans are not readily available on nearby public land at the time they are needed, we still have a healthy supply of hickory nuts — and as yet another alternative recently discovered, beechnuts as well.
Silver & Black — It Ain't Cranberry — Sauce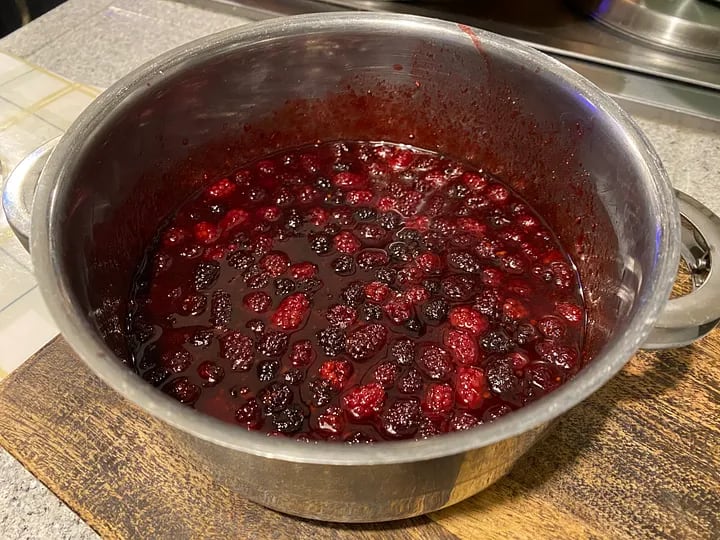 Though Jessica makes an amazing, fresh cranberry salad, I've sadly always been partial to the old fashioned, store-bought, can-molded cranberry sauce. Yes, I realize that isn't very imaginative, but that is what I grew up on and that is what I like. For me, it is the critical element in the much anticipated, perfectly legendary, culinary juxtaposition of that sweet and sour, cold gelatin with salty and savory, gravy-smothered turkey and sage dressing. But for as much as I like the cranberry sauce, even the cheap stuff, the nearest cranberry bog is nearly 1000 miles from us, so we won't be harvesting any of those tart fruits on Fain-XX Farm.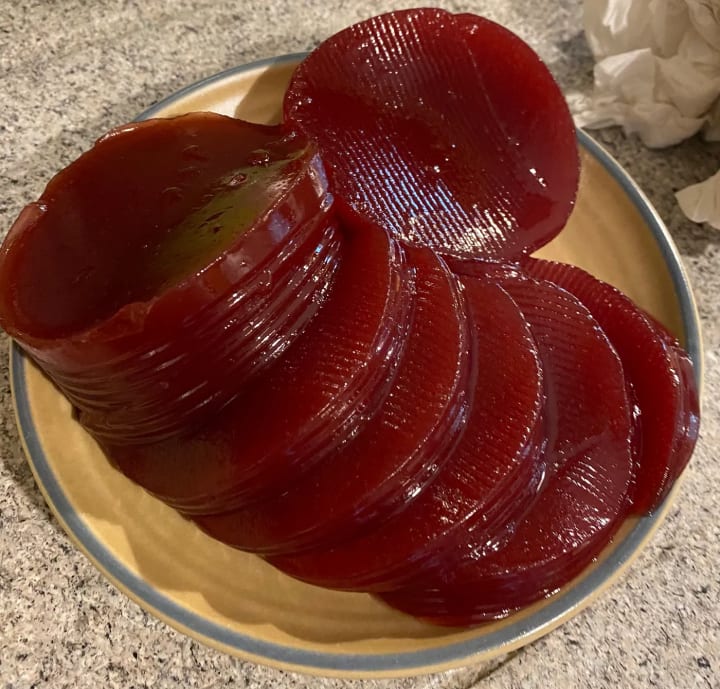 As I've mentioned in previous episodes, we have a cornucopia of wild berries growing on the farm. In addition to blackberry — silverberry (autumn olive), two kinds of cherry, wild strawberry, mulberry, and even wineberry are growing wild on the property. The small, red with silver flecks, silverberry was my first choice for an alternate compote to replace cranberry sauce, but, as it turned out, a silverberry-blackberry fusion complemented the meal most perfectly.
I'm concerned about the consistency of the silverberry harvest. Though we still have at least a gallon of last year's silverberry in the freezer, and several half-pint jars of silverberry jelly in the pantry, we did not add one additional berry to our stores this year. The mature bushes form an almost contiguous thicket from the northeast foot of our forward mountain slope around to the southeast side of the same steep, yet not one berry formed this year.
My suspicion is that the silverberry bushes did not get enough chill hours due to last year's winter being mild if not slightly on the warm side. If I'm right about that, next year ought to be a bumper crop. So far for the season, we have been 15 to 20 degrees below normal temperatures since the end of September. This year's first frost was as early as I remember in these parts, October 6. I expect a cold winter will trigger an uptick in the fruiting process of the silverberry.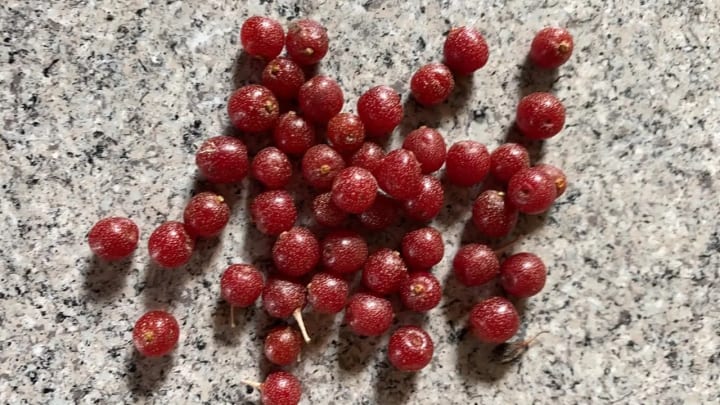 We did have a respectable collection of blackberries this year and with nearly a gallon of them still in the freezer, it seemed acceptable to take some of last year's silverberry jelly and cook in some fresh-frozen blackberry to create the Silver & Black Sauce. The two wild berries paired beautifully and after trying with my turkey and dressing, I don't miss the store-bought cranberry sauce. I have to be honest; Jessica cheated a little this year by adding a raspberry gelatin pack, but it is absolutely not necessary. It gelled nicely, but blackberries have plenty of pectin without adding anything and if it doesn't gel that is fine too.
Ingredients:
1 cup silverberry jelly (half-pint jelly jar of last year's harvest)
1 cup blackberries (harvested in the spring and frozen)
1 cup sugar
Mix all the ingredients into a suitable pot. Using a candy thermometer, heat to 220 degrees then remove from heat. Chill to gel and serve.
Silverberry Jelly or Jam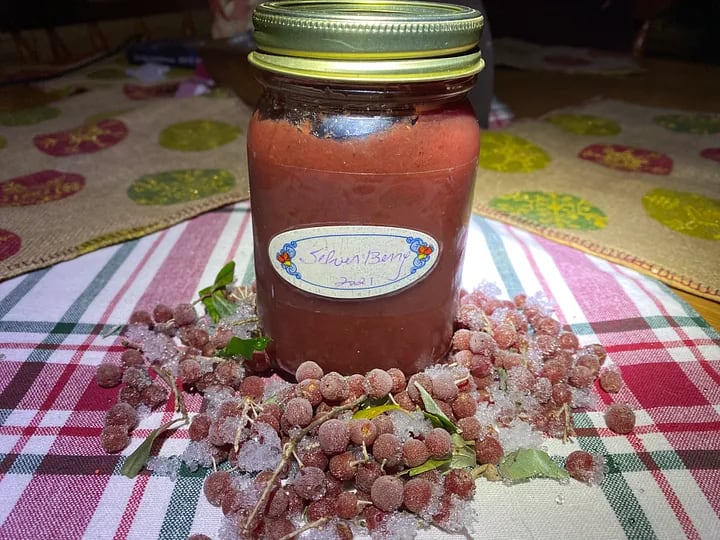 We still have more than a gallon of last year's silverberries in the freezer, but we used silverberry jelly in the Silver & Black Sauce because we have several jars already made and it's easier than starting with fresh berries as evident from this recipe.
Silverberries are similar to choke cherries in that the berry is mostly pit. Though the pit of a silverberry is not toxic like a choke cherry, it isn't very tasty so it's necessary to separate the pit from the pulp using a food mill.
Ingredients:
5 cups berries
1 apple peeled and chopped (optional for pectin)
2 tbsp. lemon juice (or apple cider vinegar for acid)
3 cups sugar
In a suitable pot mix in the berries and the apple (a cup of blackberries will work too) and cover with water. Boil the fruit and water mixture until the berries start to split and flesh out, approximately 10 min. For jam, just pour the mixture through a food mill into a new pot. For jelly, add the extra step of straining the pulp and bits of fruit out of the mixture. Add in the sugar and choice of acid, heat the mixture to 220 degrees then remove from the heat.
For canning, pour into about six, 8 oz. jelly jars, place new lids on the jars then hot water bath for 10 to 15 minutes.
Silverberry doesn't contain much pectin and may not gel without added pectin either from a store-bought packet, apples, or even blackberries, which, I recently learned, are also high in pectin. Regardless, for a homemade jelly worthy of Homegrown Thanksgiving '23, a silverberry syrup will be just fine.
Sage Dressing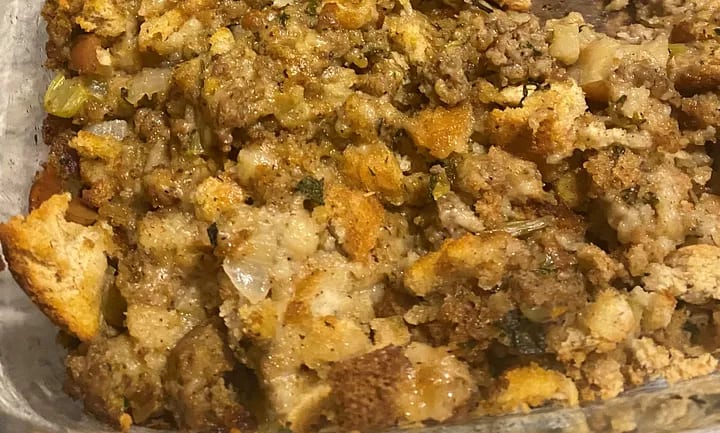 The tart sauce wouldn't be famous without the savory robustness of the sage dressing. For days after the big feast, I might rummage through the leftovers in the fridge and snack on just the dressing and sauce.
We put sage in much of our Thanksgiving dishes, it just seems to be a perfect fit for the season.
Ingredients:
4 tbsp butter
1 chopped onion
2 chopped celery sticks
4–6 cups of dried, cubed bread
2 cups of broth (chicken or turkey)
2 tsps. of salt
2 tsps. of pepper (roasted poblano seed)
half cup of finely chopped sage
A pinch of chopped parsley and oregano
2 lbs ground sausage (1 lb hot, 1 lb sage)
Jessica cooks everything in a cast iron skillet. We just think seasoned cast iron makes everything better.
Cook both pounds of sausage together stirring in the sage, parsley and oregano to mix. Caramelize the onion in butter (cooking until a light brown). Add celery to the onion and cook until tender. Stir in the cubed bread, broth, salt and pepper until bread is saturated then spread all cooked ingredients into a 13 x 9 baking dish. Bake at 350 degrees for 15 minutes.
Sweet Potato Casserole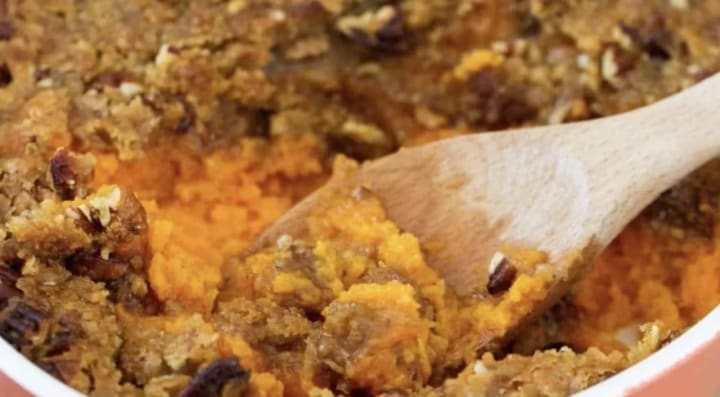 Ingredients:
4 to 6 large, sweet potatoes
Stick of butter (do not soften)
2 large eggs
1 tsp vanilla extract
Half-cup flour
Cup brown sugar
Cup sugar
Cup milk
Cup pecans
Cup mini marshmallows.
Prick sweet potatoes with fork or knife; place on a baking sheet and bake at 350 degrees for 45 min until tender. When ready, remove the sweet potatoes from the oven and allow to cool so they can be picked up by hand. Remove the skin of the sweet potatoes. It should easily peel away.
put in a bowl and mash. Add sugar, milk eggs and vanilla. Whip together until smooth. Pour mixture into 13" x 9" pan.
In a separate bowl, combine flour, butter and brown sugar. Cut in the butter until mixture resembles coarse crumbles. Stir in pecans. Top the mashed sweet potatoes with the pecan crumble mixture. Cover with a cup of marshmallows evenly spread.
Bake at 350 degrees for 30 to 40 minutes until marshmallows are brown.
Marshmallows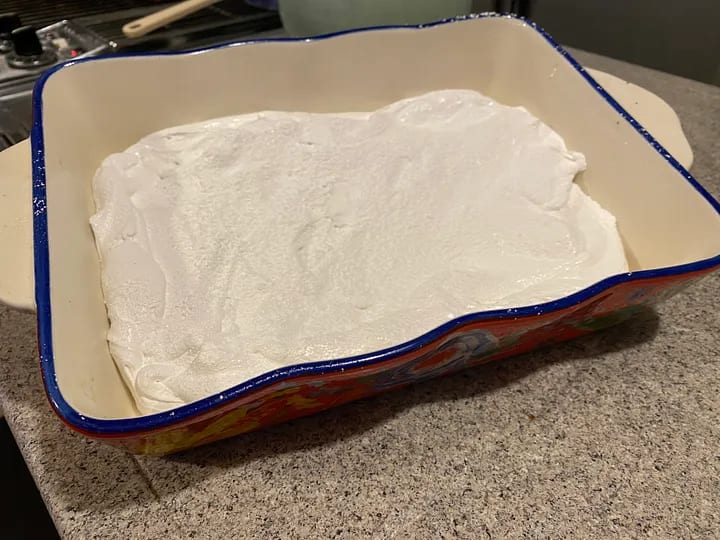 Obviously, we can't just go pick marshmallows off a tree, so if we want to use them in our recipes, we are going to have to make them.
Though the popular confection is derived from more natural origins — Althaea officinalis, the marshmallow plant — today's puff balls are made from sugar, water, corn starch and gelatin. The former ingredients are obtainable through our labors, but the latter, the gelatin, is a stretch. Gelatin is an animal by product found in connective tissue. That won't be easy to achieve, but there may be an alternative.
I'm actually researching substitutions for gelatin and the most promising involves using one of the most reviled invasive species of the south, kudzu. Read more about that in another episode, but for now, we will be using store bought gelatin to make our marshmallows.
Ingredients:
2 cups sugar
1/4 cup corn syrup
1 cup water
7 tsp gelatin
1 cup powdered sugar
1/2 cup cornstarch
Mix sugar, corn syrup, and 1/2 cup water in a pot. Stir over medium-high heat until sugar mixture comes to a boil. Reduce heat and cover for 2 minutes or until sugar forms a smooth syrup. Remove lid and cook sugar syrup until it reaches a "firm-ball" stage, about 245 degrees using a candy thermometer.
While the sugar syrup is cooking, prepare the gelatin by mixing 1/2 cup cold water with the gelatin in a medium saucepan. Allow the gelatin mixture to bloom for about 10 minutes. When sugar reaches the necessary temperature, remove from heat and allow the bubbles to subside. Using a hand-held or stand mixer on low, slowly mix the sugar into the gelatin mixture, careful not to scorch it. When all ingredients are stirred in together, increase the mixer to high and mix for 5 to 10 minutes until the mixture turns fluffy white and nearly triples in size.
When the marshmallow base is ready, pour into an 8" x 8" greased pan (or covered with parchment paper). An oiled spatula will help retrieve all the marshmallow base from the mixing bowl. Spread the base around the pan evenly. Sprinkle with powdered sugar and wait approximately 6 hours for the base to set.
Cut to desired size and shape and serve! Or use them on the sweet potato casserole.
Sage Milk Rolls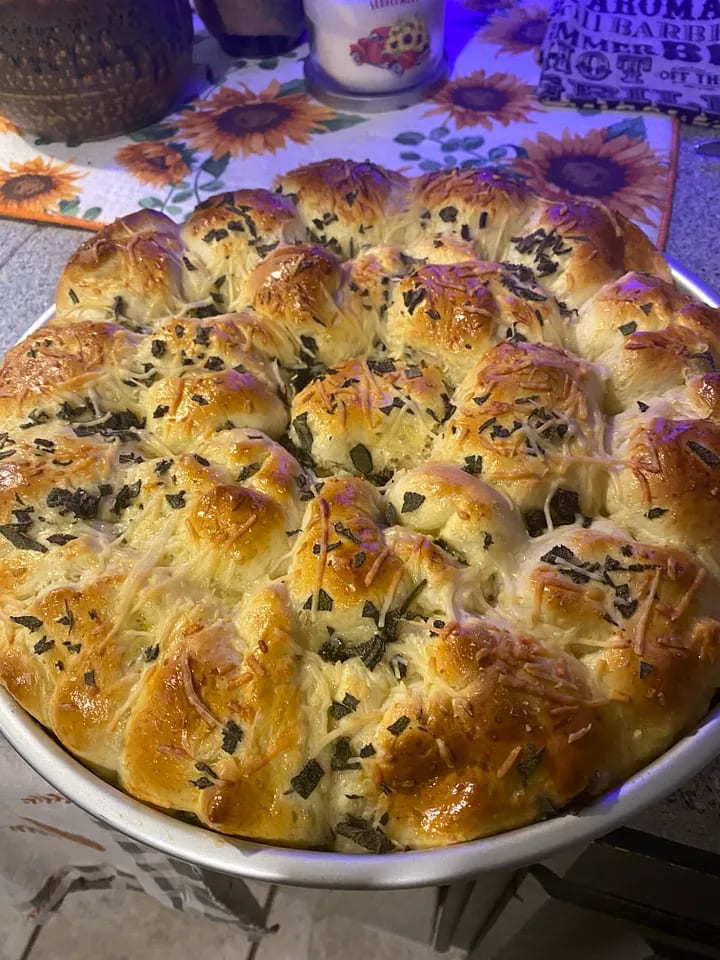 Ingredients:
1/2 cup of water
1 1/3 cup of milk
5 1/4 cups of bread flour
2 pkg active dry yeast (in later episodes, we'll capture our own yeast and make a starter)
1/2 cup freshly chopped sage
1/2 cup chopped mozzarella
1/2 cup sugar
1/2 cup butter chopped
2 tsp salt
3 medium eggs
In a small pan over medium heat, whisk together 1/3 cup of water, 1/3 cup of milk and 1/4 cup of bread flour until it's a sticky gravy. Remove from heat and cool for 30 minutes.
In a bowl, stir together 2 1/2 cups flour and yeast. In a saucepan, combine 1 cup of milk, sugar, butter and salt. Stir over medium heat until the butter is almost melted then stir into the flour mixture, with the cooled gravy, two eggs and the remaining flour.
Turn the dough out onto a lightly floured surface and knead until slightly tacky but smooth and elastic. Place dough into a large, greased bowl, cover, and set in a warm place to rise for about one hour. Punch dough down then let rest for 10 minutes before pulling apart and shaping into about 20 balls. Arrange in a greased 10-inch round our similar pan. Cover in a warm place and allow to rise for another 30 to 45 minutes.
Whisk together one egg and a tablespoon of water then brush on top of the dough balls. Sprinkle liberally with the freshly chopped sage and mozzarella then place in an oven preheated to 350 degrees. Bake for 25 minutes until the tops of the rolls are golden brown. Cool and serve warm.
Pie Squared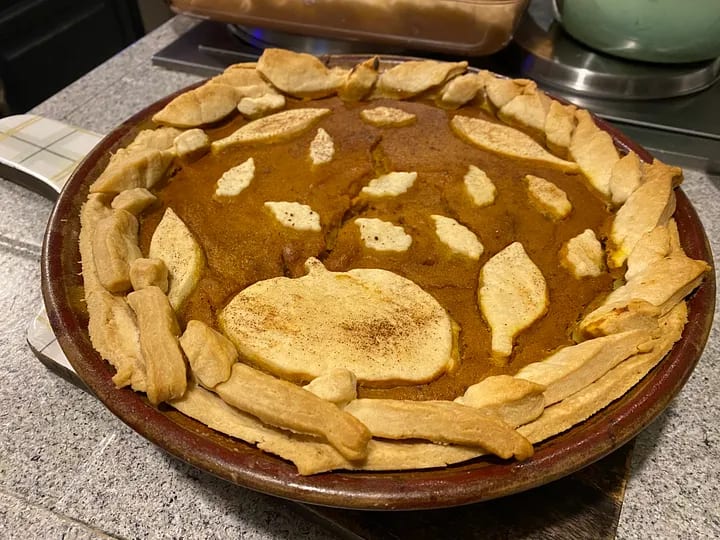 Who has time for multiple pies? Pie Squared is an amalgamation of our favorite holiday pies, pecan and pumpkin. We get the best of both.
I've already discussed the alternatives for pecans, but how do we have a pumpkin pie without at least cinnamon and maybe nutmeg when neither of those spices grow anywhere near here? In September, I was blessed with the answer to that question, but then life got in the way and neither Jessica nor I looked into it more until this year's opportunity passed us by.
The Lindera Benzoin, or the northern spicebush, is a very useful native species that was used by the Cherokee as well as other American Indian tribes, but I never heard of it until I stumbled onto a young bush inside the wood line near our house in late September. As we looked into it more, we discovered that another popular name for the spicebush is wild allspice, and the berries especially are said to taste similar to an amalgamation of cinnamon, nutmeg and clove with some floral undertones.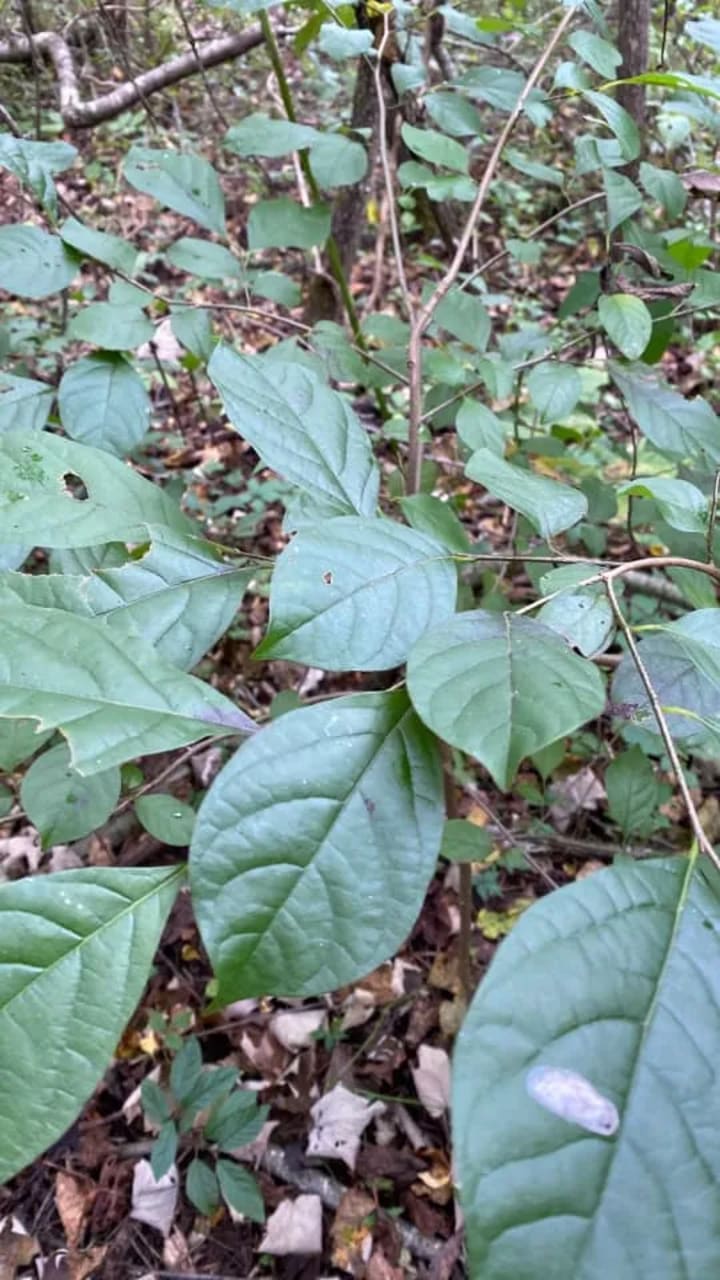 The whole of the spicebush is edible and used for teas, tinctures and medicinal purposes, but the berries pack the majority of the distinct flavor that can serve as a replacement for cinnamon and nutmeg. The only problem is the spicebush is a dioecious plant, which means there is a male and a female of the species. Only the females produce the valuable berries, and sadly the males are more common in the wild. I expect if the bush I found in September was a female, it would have had berries at the time I took the picture… Unless, it too needs longer chill hours to bloom. Regardless, I'll be looking to this bush next fall and hopefully find a few more before then.
Until then, this year's pie has cinnamon and nutmeg.
Crust Ingredients:
2 1/2 cups flour
1 tbsp powdered sugar
1 tsp sea salt
1 1/2 shortening (coconut oil)
1/2 cup cold butter chopped
1/3 cup ice cold water
Mix flour, sugar and salt together. Cut in cold butter until it resembles a coarse meal. Cut in shortening until mixture makes pea-sized crumbles. Graduly add in 1/3 cup cold water while mixing until dough comes together. Dough will be slightly tacky. Refriderate for 10 minutes. Remove from refrigerator and rest for 5–10 minutes. Roll to 1/4 inch think on lightly floured surface. Makes two pie crusts or one top and one bottom. Press one bottom into a 9" pie pan and it's ready for the filling.
Filling Ingredients:
1/3 cup toasted pecans chopped
1/4 cup brown sugar
1 3/4 cups pumpkin puree
3/4 cup maple syrup
1 cup heavy cream
3 tbsp unsalted butter
3 large eggs
1 tsp cinnamon
1/2 teaspoon ground ginger
1/2 tsp nutmeg
ample whipped cream to serve with
In a bowl, mix toasted pecans, brown sugar and 2 tbsp of melted, unsalted butter and set aside. In another bowl, stir together pumpkin puree, eggs, cream, maple syrup, 1 tbsp of butter, cinnamon, ginger and nutmeg until smooth. Pour in the toasted pecan mixture into the bottom of the pie crust. The pecans are supposed to rise to the top during baking, but you can see from the photo, they did not rise all the way in Jessica's pie this year. Pour the pumpkin mixture on top of the pecans then bake 15 minutes on the bottom rack in an oven preheated to 425 degrees. Then reduce heat to 350 degree and move pie to center rack and bake for an addition 35 to 45 minutes until pie is set. A knife inserted into the center should come out clean. It should jiggle in the center like gelatin but not wave like water.
Mashed Potatoes Not Forgotten
It isn't an exotic and preparation couldn't be more elementary, but mashed potatoes — not instant — are a staple dish for the Thanksgiving feast.
Peel and quarter 8 to 10 medium potatoes and boil until fork tender or softer. Mash potato pieces adding in a stick and half of butter, up to a cup and a half of milk until desired creaminess, a dollop of sour cream, and salt and pepper to taste. Keep it warm in a suitable pot or serving tray until ready to serve.
About the Creator
M.S. Humphreys is The Bantering Welshman, an East Tennessee native, author, journalist, storyteller, marketing specialist, husband and step father. https://www.instagram.com/thebanteringwelshman/ and http://www.banteringwelshman.com
Reader insights
Be the first to share your insights about this piece.
Add your insights