Vocal Verified—Mindfulness and Meditation
A curated selection of personal stories, stress management tools, and zen secrets to help you find your center.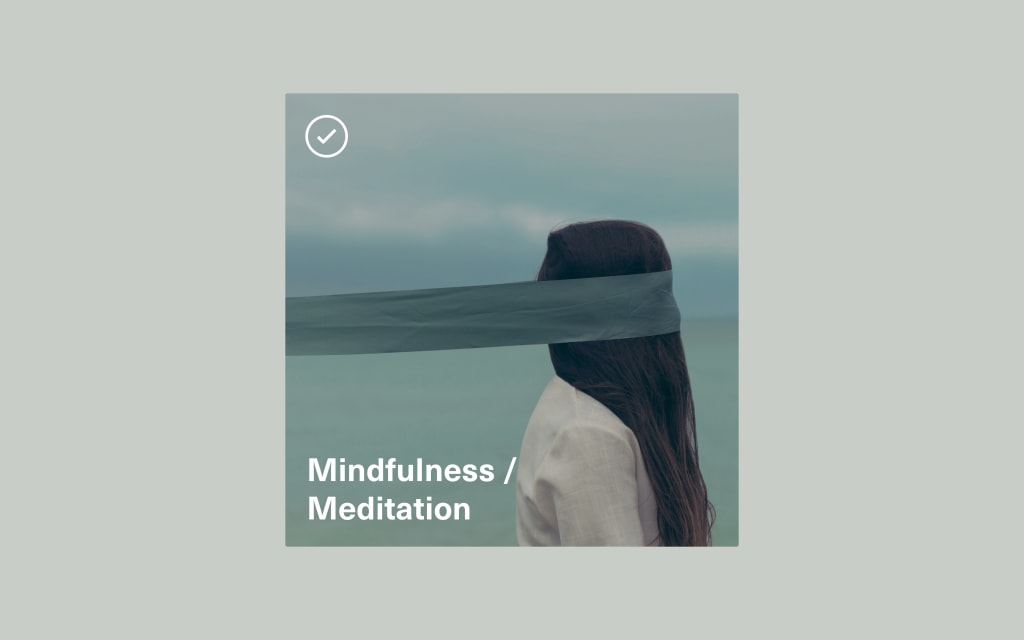 "Mindfulness" as a term has been thrown around more and more as wellness lifestyles grow ever-trendier, and it seems that it's all but lost its meaning.But we shouldn't let valuable practices get buried by meaningless new-age fads. Mindfulness as meditation means that you're checking in with yourself, recognizing your mind as a part of your body, and acknowledging your body's space in your surroundings. Awareness is the new nothingness, and accepting stress and the way you're reacting to it can be the most effective way to relieve it.
But if you're new to meditation, or if the idea of changing the way you think feels daunting, then it can be hard to know where to start. Luckily, our Vocal creators are experienced with the ins and outs of wellness culture, and as the head of content curation here at Vocal, I see tons of advice for living a healthier, more fulfilled life every single day. I've compiled our creators' best tips, tools, and personal anecdotes about mindfulness and meditation to help you take the first steps to personal awareness.
Explore the stories; leave a tip for any you find particularly life-changing; or share a wellness journey, stress relief tip, or meditation technique of your own with the Vocal community.
If you're not already a creator, you can sign up here to get started.
For more stories about happiness, healing, and self care, explore Motivation, our community for self help and success.
For more wellness and lifestyle stories, explore Longevity, our community for fitness, health, and wellness.
Savannah Grant wants to help you find emotional freedom, and awareness of yourself is the first step.
Health and productivity expert Tom Greene explores the ways in which mindfulness is helping businesses by creating a happier, more productive workforce.
Creator Shane Eide spent a year practicing mindfulness, and shares his findings with the rest of us.
Aliex Anne shares how meditation helped her focus and succeed in school, along with an exercise in self awareness.
Mental health champion Carol Townend introduces us to what she calls "sensory mindfulness."
Steven Wallace, a teacher, explores the benefits of active stress relief efforts in schools.
Andrea Calayan is a holistic life coach and Reiki practitioner ready to tell you all the signs of not being grounded, as well as how to regroup.
Mindfulness expert Vanessa Dias helps you find the perfect morning routine for your body and soul.
Linda Paul understands that clearing your mind can be a lot harder than it sounds.
Christina Marie Martin shares all the benefits—spiritual and physical—that she experienced from meditating daily.
Creator Claire Raymond shares how a mindful approach has helped her approach to her mental health.
John Skillyard explores how an awareness of your thoughts can rewire your brain for the better.
Mindfulness researcher Topacio Marrero presents ways to manage time while tackling stress.
Reiki practitioner Kate Samolenko outlines everything you need to know about the healing energy practice. You can find her Reiki practice on Facebook or on Instagram.
Summer Sheehan knows how busy you are, and offers ways to work meditation into your already-hectic life.
Sarah Owen's approach to meditation is perfect for those of us that have a difficult time keeping our thoughts from racing.
Based on the penultimate piece of a 12-step recovery plan, Rebecca Morris-Miller takes a particularly spiritual approach to healing.
Sky Vettel wants you to let go of your phone for a minute—just a minute—and focus on yourself.
Creative Weirdo shares stress-relieving alternatives to meditation for those who want a more concrete approach.
Bekah Dee has tried the yoga, the meditation, the essential oils... and she's found better alternatives.
Sophie George presents some easy techniques to begin your meditation journey if you don't know where to start.
Sophie also offers a guide to one of the most important pieces of meditation that we often overlook.
Sinéad Ní Dálaigh presents a Danish approach to being present in your surroundings, and ensuring that those surroundings are as cozy as possible.
The Unholy Creeper is also a fan of the Scandinavian approach to being mindful about your own comfort—the recommended book is a great starting point.
Amy Savage presents a mindfulness tool to help us meditate in the modern age.
About the Creator
Collaborative, conscious, and committed to content. We're rounding up the best that the Vocal network has to offer.
Reader insights
Be the first to share your insights about this piece.
Add your insights