Vocal Verified—Ultimate Alt Playlist
A curated selection of alternative, indie, folk, alt-pop, and everything in between for the not-so-common listener.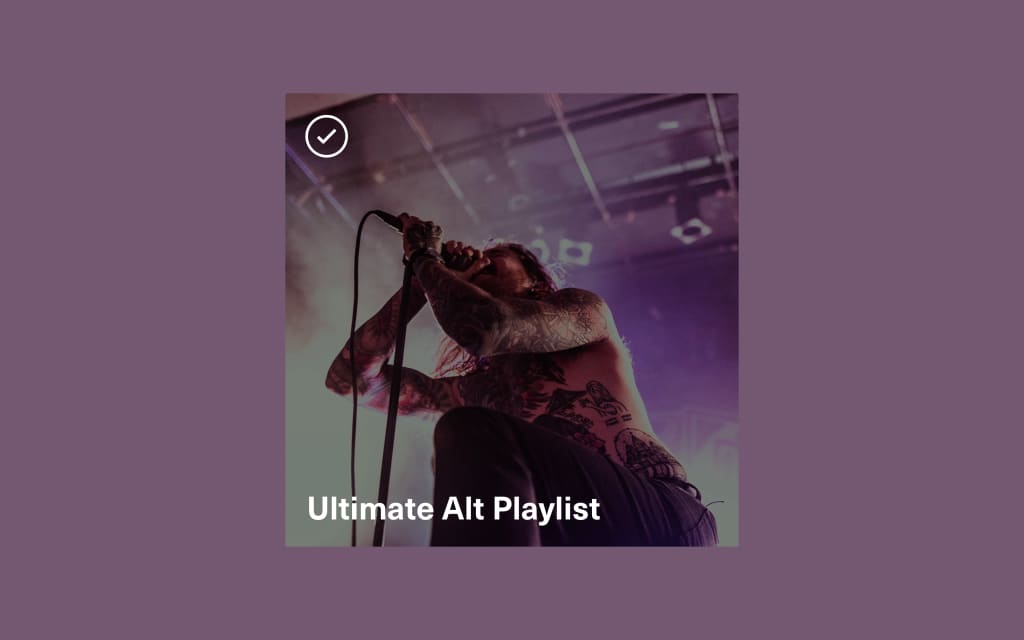 Those of us that reveled in the pop-punk glory days of the late noughties may have matured in taste, but just barely. We've traded out LG Env's for iPhone X's, very clever AIM s/ns for professional email addresses, and those deep-set, swooshy emo bangs for naturally-balayaged practical locks. But the rebellious streak that made us scene kids immerse ourselves in studded neon belts and All Time Low lives on, and that means that radio pop and top 40 hits are probably still not really our cup of tea.
If it sounds like I'm describing you, then stick around. There's a huge number of Vocal creators that were cut from the same cloth, and they're always submitting album reviews, new artist alerts, and perfectly constructed playlists for the alternative and indie fans among us—and as the head of content curation here at Vocal, I get the chance to read them all. I've rounded up the best indie, alt-rock, and alt-pop recommendations from our creators to help keep that artsy, angsty youth in you alive.
Explore the stories—if you're feeling generous, leave a tip for the creator that gives the best recommendation; then, give the artists a listen, and create a story of your own to share any thoughts, feelings, recommendations, or playlists with the rest of the Vocal community.
If you're not already a creator, you can sign up here to get started.
You can find more stories for music lovers on Beat, Vocal's community for all things music.
Let's kick things off with this perfect indie playlist by Emily Adams, which runs the gamut from Childish Gambino to Sujan Stevens.
According to Victoria Brown, September 2018 was all about new and old indie—she even created a stellar soundtrack for a very chill autumn. Find her complete playlist in her story, or follow her on Spotify.
A little chill, a little sad, a little nostalgic, and perfect for staring out the window of a city cab longingly in the middle of the night. Elo Campeau knows a thing or two about music, even though she says she only pretends to.
Renée Wood turns her passion for music into an to even sadder, even more nostalgic playlist for the cold, bleak months ahead.
Podcaster and musician Austyn Castelli sings the praises of a progressive, representative indie girl band. Follow her on Spotify here.
Creator Alicia Rose analyzes the meaning behind her favorite Twenty One Pilots song.
This review by musician and songwriter Sean Martin takes an individual look at each song on the 2017 EP.
Sean also shines light on the international alt-rock scene for those of you looking to venture even further away from the mainstream.
Though this band may lean more mainstream, the distinct alt-pop feel definitely has its appeal for Cassandra Ryan.
Self-proclaimed "pretentious" music lover Jacob Harold introduces a lesser-known punk band, complete with their album so you can listen for yourself.
Anyone who loves Paramore (so, everyone) will love music journalist Mark McConville's similarly female-led, just-as-punky recommendation.
Okay, so this one's cheating a little bit, but I couldn't risk you missing out on a great band just because the Beat Staff is behind the story (we have pretty great taste). You can follow Plastic Barricades on Spotify here.
Your one-stop shop for indie bands: Emilee Bates has a bunch of stellar recommendations—some you already know and love, and some you may not yet.
Musician and artist Eden Roquelaire has created the ultimate grrrl power playlist. You can follow Eden on Spotify here.
Who doesn't love the Gorillaz? Spencer Barrett reviews the newest album from the beloved, weird, animated band.
Jessica Bailey is a music enthusiast, and introduces us to a truly genre-bending band with a brain-teasing name.
Yes, another review of the newest Twenty One Pilots—but this one covers the entire album. Our creators love to write about Twenty One Pilots, it seems, and Becca Carroll is no exception. You can follow Becca's dedicated alt Spotify here.
Creator Patrick Hollis lived out many of our indie dreams in seeing the Arctic Monkeys live, and he details the experience for those of us not as fortunate.
This one takes things down a much chiller, folksy avenue of indie in a beautiful review of dreamy music by Mathew Moody.
Carrie McDonald traces the roots of our favorite indie artists, from BORNS to Lorde.
Allison K Jones recommends her top indie artists, as well as her select works from each of them.
Music journalist Eric Allen reviews the latest from everyone's favorite indie songwriting queen. You can find his blog of music-related musings here.
Music reviewer Yvonne Glasgow introduces an experimental, punk-bluesy group that defies genre. You can find Yvonne on Spotify here.
J. B. Potenza reviews the latest album from the flower-crowned fuel of all our collective sad-pretty-girl dreams.
Logan Mang examines the roles of two prominent alt-rock artists, and the future of the genre, in the context of our current world.
From psychedelic to grunge, these are the best indie rock bands of all time as identified by creator Skunk Uzeki.
Music blogger Tristin Cunniff reviews this quintessentially indie album that you definitely need to hear.
This mellow reimagining of post-punk is deemed a "great success" by music student Maddie Christy— and I'm inclined to agree.
Musician Hannah Adamson gives her thoughts on the Arctic Monkeys' newest "avant garde concept album." Hint: They're pretty positive. You can follow Hannah on Spotify here.
Lou Sid was just as stoked as the rest of us to see the return of MGMT, and shares a song-by-song dissection of the psychedelic new album.
Creator James Williams offers a beautiful, in depth interpretation of what he calls Florence + the Machine's "quiet revolution in terms of their identity."
About the Creator
Collaborative, conscious, and committed to content. We're rounding up the best that the Vocal network has to offer.
Reader insights
Be the first to share your insights about this piece.
Add your insights