Vocal Verified—Horror Fiction
A curated selection of the best spooky stories from the Vocal community to keep you up at night.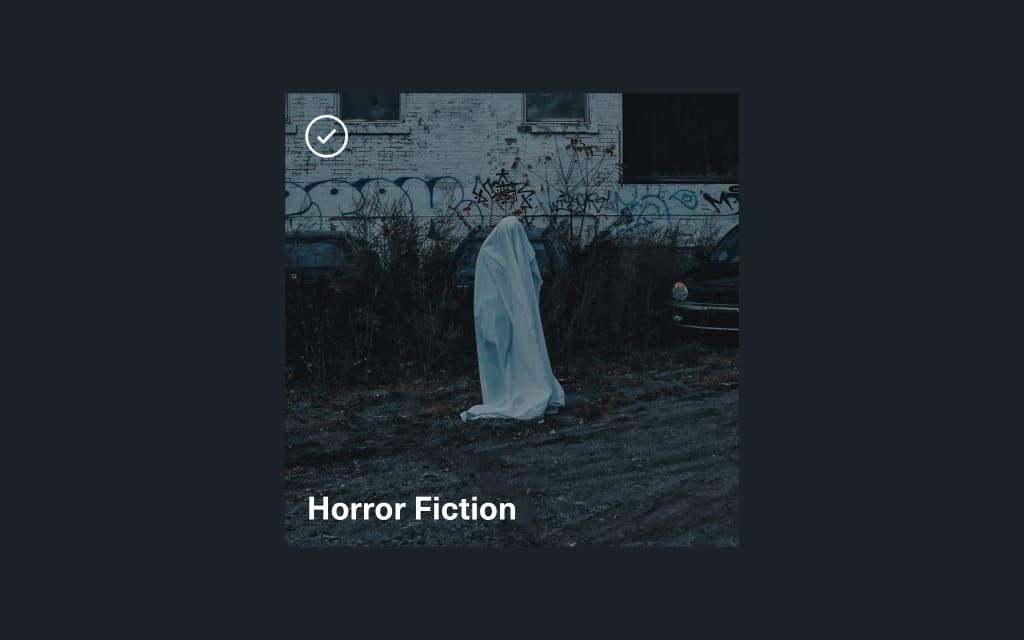 It's the most wonderful time of the year. Spooky season means crunchy leaves, chilly air, and cold, dead things that ironically warm my cold, dead heart. If you had told me as a creepypasta-loving thirteen-year-old that this would be my job someday, I'd be as skeptical as a newlywed husband living in an obviously haunted house; but here I am, the head of content curation here at Vocal, and I get the opportunity to see all the wonderfully gory stories that our creators submit year round. So, as a Halloween gift to you, I've rounded up the creepiest horror fiction submitted by our creators.
Take a second to dim the lights, light a candle, and wrap a blanket tight around your shoulders. Then, when you're ready, explore the best horror fiction that the Vocal community has to offer. If you're feeling less tricks and more treats, you can leave a tip for the creator that gives you the biggest chills.
Or, if you find yourself too spooked to sleep, you can pass the long, dark night by crafting a disturbing tale of your own. If you're not already a creator, you can sign up here and join our very spooky family.
For more spine-chilling stories, you can head over to Horror, Vocal's community for all things horrifying.
Iris St. Lucy creates a gruesome play-by-play of a man of God's descent into madness.
Inspired by classic American novelists, Ana Evangeline gives a haunting glimpse inside the mind of a girl that sees art in murder.
Alexis Bellaw explores a mother's—and a daughter's—worst nightmare.
Rosie Leone writes personal stories about dealing with anxiety, so it's not surprising just how much anxiety is caused by her horrifying tale of mutilation.
Prepare to catch your breath—Melody Humby, an avid horror movie fan, creates a twist that puts Shyamalan to shame.
Melody has created too many bloody stories to choose just one. Shield your eyes for this bonus.
Horror author Denise Williams pens a haunting, hopeless story reminiscent of The Shining.
W. F. Rastell paints a horrifying picture of the ultimate workplace dispute.
Writer of books and short stories Michael J Pennington takes you to grandma's house of horrors.
In this holiday legend, creator Rhia Thurman brings "ruining your childhood" to a whole new level.
As if the Salem witch trials weren't horrifying enough, Ara Rose's account of an accused woman is both hopeless and haunting.
Urban legend and a touch of dismemberment set Chuck Gideon's Faustian folklore apart from the rest.
Honestly, Andrea Heer had me at "splatter of hot human-cream." The monster from your closet is even grosser than you imagined as a kid.
Creative writing student Leticia Collins clinically narrates from inside the brain of a Ted Bundy type.
E E Holding highlights her interest in the dark, macabre, and bizarre in this wonderfully classic ghost story.
Jay Tilden, a writer and a student of history, pulls from classic tropes of American Gothic in a tale haunted by the past in more ways than one.
Don't let the picture fool you—Janie McKnight's Scotch legend is not for the faint of heart.
Self-proclaimed storyteller-in-training Jose Gabriel tells of a husband who will go to extreme lengths for his grieving wife.
In this ghost story, Michael Bauch crafts a broken family haunted by their trauma.
Aleixa Gagnon's interest in psychological horror shows in this terrifying account of lucid dreaming gone wrong.
Perhaps the most graphic story in this roundup, Styles Parker's Peter England series is not for the faint of heart. You can find Part 2 here, if you can stomach it.
In this purportedly (almost) true story, Simon McBride crafts a narrator who sees a lot of himself in the creatures that haunt him.
Isaac Shapiro's monster of choice is a slight deviation from the classic creepy crawly, but has the same unsettling effect. You can read Part 2 here and the series' conclusion here.
Somewhere between poetry and horror fiction, C. B. Blanchard's prose is just as beautifully haunting as the picture she paints.
Copywriter and author Dan Seavers perfectly personifies the thing that is more terrifying to us than anything else: our own insignificance.
About the Creator
Collaborative, conscious, and committed to content. We're rounding up the best that the Vocal network has to offer.
Reader insights
Be the first to share your insights about this piece.
Add your insights