Best 5G Phones to Buy in 2022
Do you desire those lightning-fast data rates? The top 5G smartphones to get you there are listed below.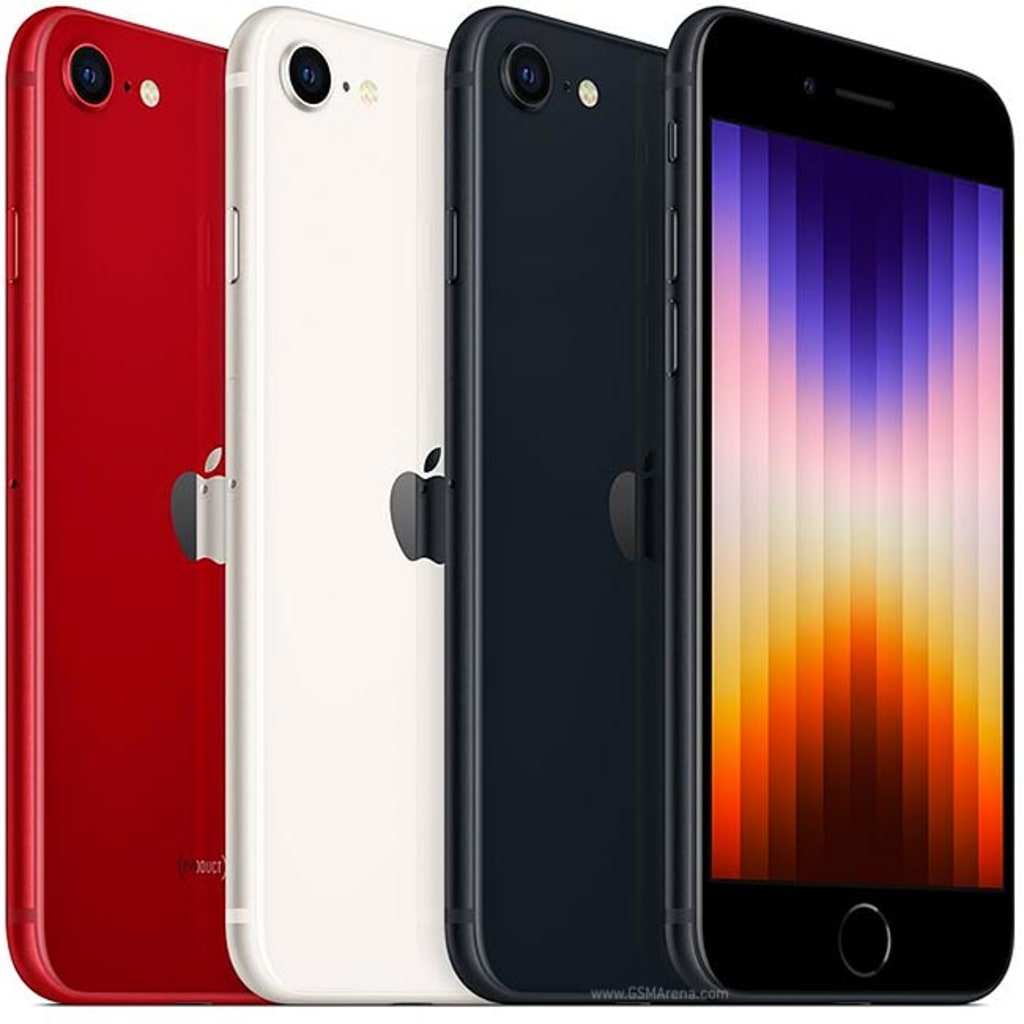 Given their exorbitant pricing, the greatest phones, such as the iPhone 13 series, Galaxy S22 range from Samsung, and Google's own Pixel 6, enable the most recent, ultrafast 5G data rates.
You can access these blazing-fast networks with devices other than those pricey, high-end phones, though. Many affordable alternatives from Samsung, OnePlus, and Motorola have 5G connectivity, and even Apple's most affordable iPhone SE is 5G-capable.
Don't be scared to get a 5G phone like the S22 Ultra even if you're not in a 5G zone because a 5G phone will still function normally on a 4G network (albeit at slower speeds).
It's a good idea to prepare for the future; even if 5G isn't available where you are right now, it's possible that it will during the three years or so that you own your phone, so at least you'll be prepared to benefit from it when it does.
The top 5G smartphones to get you there are listed below.
1. Apple iPhone SE (2022)
Despite being Apple's least expensive phone, the iPhone SE nevertheless has ultrafast 5G. While it doesn't have the same photography capabilities as the much more expensive iPhone 13 Pro, it still runs the most recent version of iOS 15 and has the same chipset, making it a fantastic phone for regular use and light gaming.
Apple iPhone SE (2022) features Apple A15 Bionic and iOS 15.3 as its most recent operating system (5 nm), It includes a strong CPU, It boasts Apple GPU (4-core graphics), Hexa-core (2xX.X GHz Avalanche + 4xX.X GHz Blizzard), and it gives excellent performance with no latency. It also goes by the names Apple iPhone SE3, Apple iPhone SE, and others (3rd generation).
The Apple iPhone SE (2022) has a sizable capacity and loads of RAM. It offers 256GB 3GB RAM, 64GB 3GB RAM, and 128GB 3GB RAM, all of which are large internal memory sizes that are beneficial for multitasking. NVMe is present.
Versions include A2783 (for the global market), A2595 (for the USA, Canada, Puerto Rico, Saudi Arabia, and USVI Virgin Islands), A2785 (for China), A2782 (for Japan), and A2784 (for Armenia, Belarus, and Kazakhstan).
PRICE : $429 at Apple
2. Samsung Galaxy S22 Ultra
The Galaxy S22 Ultra is the best phone Samsung currently produces, featuring all the features you'd want in a premium flagship device. The device has a big, bright screen and an amazing rear camera arrangement (which includes a zoom lens unlike anything we've seen before). It is bursting at the seams with power. Although this Android phone isn't cheap, if you want the greatest Android device money can buy, this is the 5G phone to choose from.
The Samsung Galaxy S22 Ultra 5G has a screen with Corning Gorilla Glass Victus+ for screen protection and a resolution of 1440 x 3088 pixels (around 500 ppi density). A display that is always on is supported. It has the most recent version of Android (12), One UI 4.1, and supports the Exynos 2200 (4 nm) - Europe processor. It also provides excellent performance with no lags.
PRICE : $1,200 at Samsung
3. Samsung Galaxy A53 5G
For the price, Samsung's new Galaxy A53 5G has a lot to offer. It's simple to forget that this phone only costs $450 when you consider its large 6.5-inch display, camera's wide-angle, ultra-wide, and macro lenses, and extended battery life.
Additionally, the Galaxy A53 5G is now $50 less expensive than its predecessor, and it will receive at least four generations of Android updates. It is compatible with sub-6GHz, C-band, and millimeter-wave 5G. Thanks to a new shade named Awesome Peach, the Galaxy A53 5G is still fashionable and even more endearing. It has a contemporary, sophisticated look that is not marketable.
The rear of the body feels silky against the skin when combined with a matte finish. The rear camera frame's surrounding region has undergone minor refinements from its predecessor, giving the appearance that it is more seamlessly integrated with the body.
A 120Hz refresh rate is provided by the 6.5-inch FHD+ Super AMOLED Infinity-O display on the Galaxy A53 5G smartphone. This flat screen boasts Corning Gorilla Glass 5 protection and a little hole in the top center for the selfie camera. The display is sharp, 800 nits bright, and vibrant colors. Use outside is not at all problematic.
PRICE:
$450 at Samsung
$350 at Target
$450 at Best Buy
4. OnePlus 10 Pro
In our evaluation, the OnePlus 10 Pro received a favorable rating for its sleek appearance, potent performance, and competitive pricing. The camera, which is good but not spectacular, has to be improved, but generally, this flagship provides a fantastic experience. It's a good alternative to take into account if you're looking for a high-end 5G phone that's a little different from your friends' iPhones and Galaxy phones.
The OnePlus 10 Pro (2022) is stylish and appealing, and it has a beautiful, bright appearance. It has 500 nits (typical), 800 nits (HBM), and 1300 nits of LTPO2 AMOLED, 1B colors, 120 Hz, HDR10+ (peak), It measures 6.7 inches, 108.4 cm2 (screen-to-body ratio: about 90.0%), Its resolution is 1440 by 3216 pixels, with a 20:9 aspect ratio and a 525 ppi density. It has an Always-on display with Corning Gorilla Glass Victus for screen protection.
The OnePlus 10 Pro has a large internal memory of 128GB with 8GB of RAM, 256GB with 8GB of RAM, and 256GB with 12GB of RAM for multitasking. It has UFS 3.1, a lot of RAM, and a sizable memory. Better viewing angles & less power usage are included.
PRICE: $780 at Amazon
5. Motorola Moto G Stylus 5G (2022)
One of the greatest stylus-equipped smartphones available right now, especially for the price, is the Moto G Stylus 5G (2022), which costs $500. You receive Android 12 and 5G connectivity, as well as a big 6.8-inch screen and 256GB of storage.
Sadly, there will only be one software upgrade and three years of security patches for the phone, which is far less time than the four years Samsung promised for the Galaxy A53. The Galaxy S22 Ultra, which costs $1,200, is the next step-up option if you want a phone with a stylus.
The Motorola Moto G Stylus (2022) comes with the most recent version of Android 11, MediaTek Helio G88 (12nm), a potent Octa-core CPU (2x2.0 GHz Cortex-A75 & 6x1.8 GHz Cortex-A55), Mali-G52 MC2, and excellent performance with no lags.
PRICE:
$350 at Lenovo
$350 at Best Buy
6. OnePlus Nord 2T 5G
Since the Nord line from OnePlus is only available in Europe, Americans will only be able to admire this high-performing, low-cost 5G phone with jealousy. The Nord 2T comes with extra features like 80W fast charging, a 90Hz refresh rate, and, yep, 5G speeds. It has enough power for all of your daily needs, performs gaming well, has a decent camera setup for the price, and handles other tasks just as well.
It's a good phone to take into account if you want a flagship experience without shelling out top dollar. Yes, the OnePlus Nord 2T 5G is worthwhile investing in, but it's not for everyone.
It's a well-rounded smartphone with a 50MP triple camera with OIS, 80W fast charging, a 90Hz AMOLED panel, and 7 5G Bands, and it costs Rs 28999, which is reasonable given what OnePlus is providing.
Since OnePlus and OPPO have merged, I'll be honest and say I don't trust them. What if we see advertisements and OPPO's app store?
Since OnePlus canceled the OnePlus Nord 2 5G after its launch, the OnePlus Nord 2T 5G makes more sense for individuals who don't have any issues with ColorOS.
PRICE: $440 at OnePlus
7. Apple iPhone 13, iPhone 13 Mini, iPhone 13 Pro, and iPhone 13 Pro Max
In September of last year, Apple revealed four 5G iPhones. The iPhone 13 series, which has a starting price of $729 and includes the A15 Bionic chipset and dual rear cameras, is at the front of the list.
The iPhone 13 Mini is your best option for a 5G-enabled phone if you're searching for something smaller and less expensive. The iPhone 13 Pro and 13 Pro Max are outfitted with more capabilities if you're looking for something more upscale.
The Apple iPhone 13, iPhone 13 Mini, iPhone 13 Pro, and iPhone 13 Pro Max are all stylish and appealing devices with Super Retina XDR OLED, HDR10, and Dolby Vision, as well as 800 and 1200 nits of brightness, respectively (peak), It features a screen size of 6.1 inches, 90.2 cm2 (86.0% screen-to-body ratio), a resolution of 1170 x 2532 pixels, a 19.5:9 aspect ratio, and a 460 ppi density.
It is ideal for gaming, viewing videos, and browsing the internet. It includes a wide color gamut, scratch-resistant ceramic glass, an oleophobic layer for screen protection, and True-tone support.
Apple's iPhone 13, iPhone 13 Mini, iPhone 13 Pro, and iPhone 13 Pro Max all have high internal memory capacities of 128GB with 4GB RAM, 256GB with 4GB RAM, and 512GB with 4GB RAM, which is important for multitasking performance. They also have NVMe, loads of RAM, and high-quality construction.
PRICE:
$829 at Amazon
$29 at Apple
$800 at Best Buy
About the Creator
Odedele Badru is a freelance content marketer who promotes growth of businesses. His articles have appeared on a number of websites, including BusinessDaily, Entrepreneur. He holds both a marketing and public relations diploma and an MBA.
Reader insights
Be the first to share your insights about this piece.
Add your insights