Indian Cusine
Traditional Sweet for Valantine Month.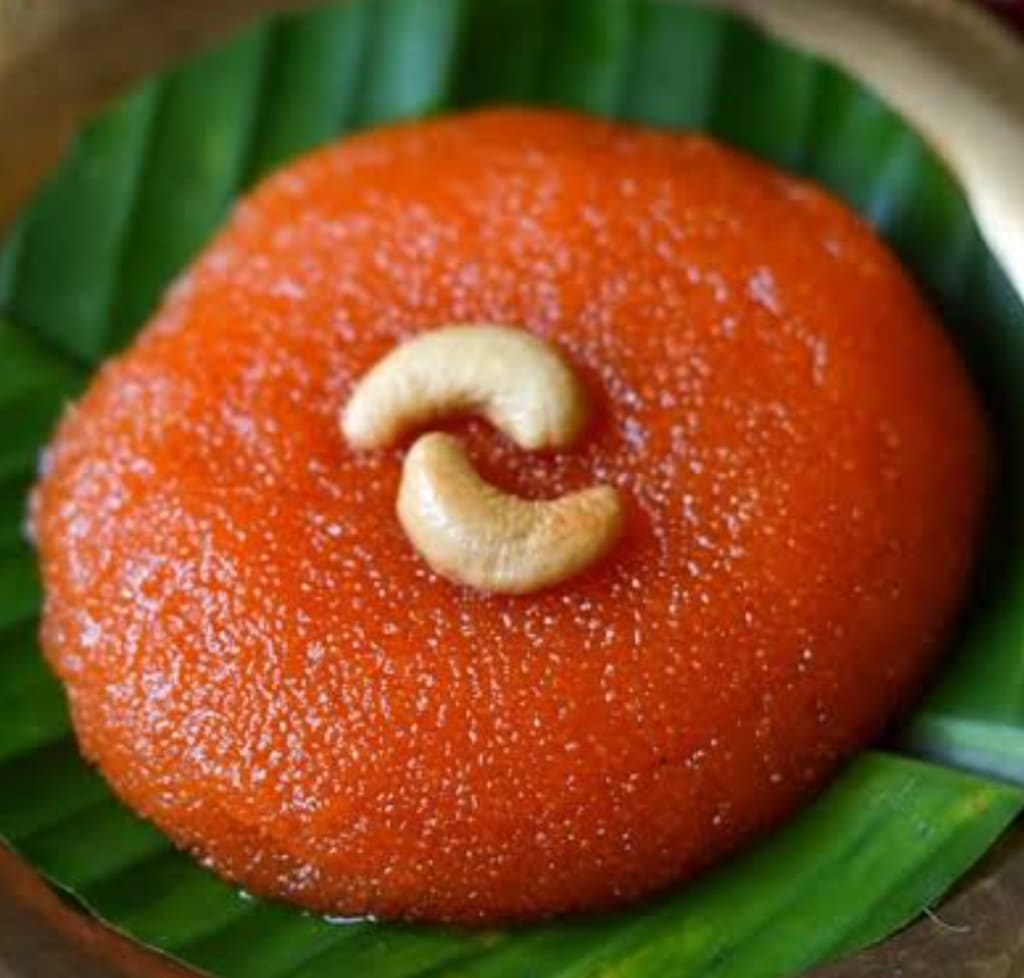 Kesari
Hello and welcome! My name is M.Rajalakshmi Manikandan and I'm a passionate food lover and content writer. I have a deep love for exploring different cuisines and flavors, and I'm always on the lookout for new and exciting dishes to try. Whether it's whipping up something in the kitchen or dining out at a local restaurant, I'm always eager to taste and learn more about food. As a content writer, I aim to share my knowledge and love for food with others, providing helpful tips, recipes, and insights for all those who share my passion. I hope to inspire and engage others through my writing, and I can't wait to share my latest culinary adventures with you. Thank you for joining me on this delicious journey!
Valentine's Day is a time for celebrating love and affection with those closest to us . One of the best ways to do this is by indulging in sweet treats . Sweets have long been associated with love and romance , and for good reason . Not only do they taste delicious , but they can also bring a sense of comfort and joy to those who partake in them.
Today we will embark on a culinary journey and discover the traditional sweet recipes of India. As we are in the month of Valentine's Day, what better way to start our new beginning than with the sweetness of these delicious treats. So, let's get ready to indulge in the rich flavors and aromatic spices of Indian cuisine. Get your aprons on, and let's start cooking!
"During every festival occasion, my mother used to make me Kesari it's a really sweet Indian dessert recipe. This has become my husband's favorite too, and now my kids love it as well. Let's start making this forever-loved Kesari today."
Ingredients for Kesari (a sweet dish from India):
1 cup semolina (sooji or rava)
1 cup sugar
1 cup water
4 cups whole milk
2 tablespoons ghee (clarified butter)
2-3 strands of saffron (kesar)
5-6 green cardamoms, powdered
1/4 cup dry fruits (almonds, cashews, raisins)
2 tablespoons slivered almonds (optional, for garnish)
Note: The quantity of ingredients can be adjusted based on the desired consistency and taste.
Step-by-Step Preparation Method for Kesari:
1.In a heavy bottomed pan, heat ghee on medium flame.
2. Add the semolina and roast it until it turns golden brown, stirring continuously. This will take about 5-7 minutes.
3.Add the powdered cardamom and dry fruits (almonds, cashews, and raisins) and stir for 1-2 minutes until they are fragrant.
4. In a separate saucepan, heat water and sugar on medium flame until the sugar dissolves. Keep this syrup aside.
5. Slowly add the milk to the roasted semolina mixture, stirring continuously to prevent lumps.
6. Pour the sugar syrup over the semolina mixture and stir well.
7. Soak saffron strands in a few tablespoons of warm milk for 5-10 minutes, then add this to the pan. Stir well.
8.Cook the mixture on medium flame, stirring continuously, until it thickens and comes together. This will take about 8-10 minutes.
9. Transfer the mixture to a serving dish and garnish with slivered almonds.
10.Serve the Kesari warm or at room temperature. Enjoy!
Benifits of Sweets:
Boosts Mood : Treating yourself to sweet can trigger the release of endorphins , the feel good harmone , leading to an instant mood boost.
Provides Energy : Sweets are a great source of qiick energy , especially for athletes and people with active lifestyle.
Satisfies Cravings : Satisfying your sweet tooth can help prevent overrating and mindless snacking on less healthy options.
Enjoy your KESARI with these goodness with your lovedones and family!
About the Creator
My name is Rajalakshmi Manikandan and I'm a home maker , passionate food lover and try to become a content writer . I have a deep love for exploring different cuisines and flavours . I'm here to share my Indian recipes with you all.
Reader insights
Be the first to share your insights about this piece.
Add your insights