Step 6: How Payments Work
Vocal was built to help creators like you earn for your hard work. Here's how it's done.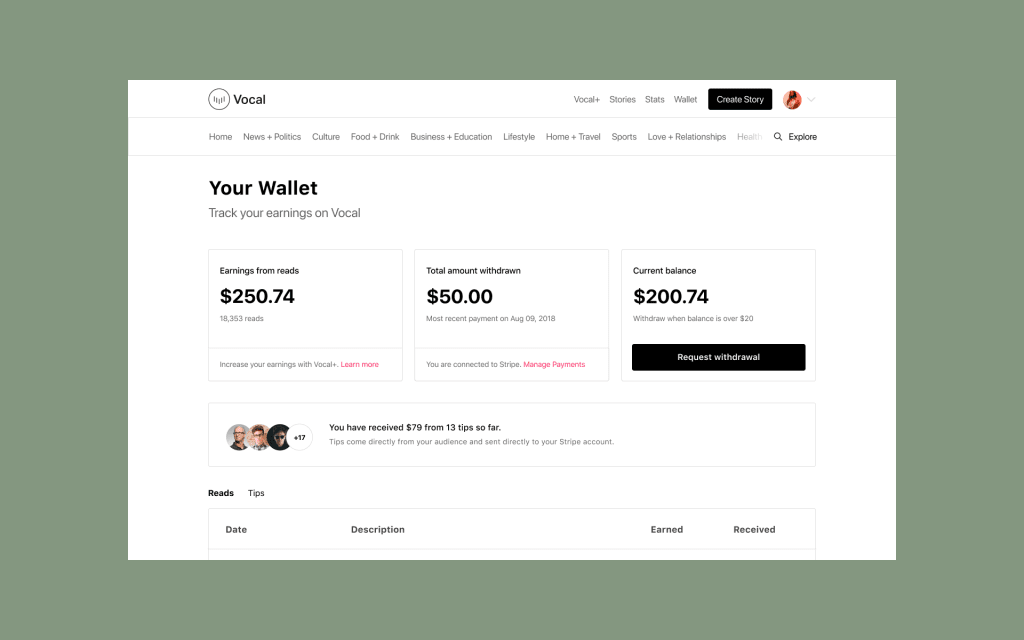 You've created your story, you've successfully promoted it, and your audience is loving it. Now how do you turn that into earnings?
As long as you have Stripe connected, your readers are able to send you tips for stories that they love. Tips are sent directly to your Stripe account, and Stripe sends them right to your bank—no minimum earning needed to access them. You can read all about how to send and receive tips here.
Aside from tips, Vocal also pays you for the engagement your stories receive. Every time your story is read, it's calculated by Vocal, and the earnings automatically accrue in your Wallet where you're able to check them at any time.
Your Vocal Wallet keeps track of the following:
Reads displays the views and engagement you have received from your stories, and how much that's generated in earnings.
Withdrawn keeps track of how much money you have withdrawn from your earnings into your Stripe account.
Current Balance shows you how much money you currently have available in your Vocal account. In order to request a withdrawal, you $35.
Tips keeps track of the micro-transactions you have received. Tips do not show in your Current Balance as they are transferred directly into your account.
Your Transaction History includes any tips from your audience, withdrawal logs, and weekly earning round-ups.
Learn more about your Vocal Wallet here.
How your earnings are calculated:
Your reads are calculated on a CPM (cost per thousand) basis. Free Vocal creators earn $3.80 per every 1,000 reads; Vocal+ subscribers earn $6.00 per every 1,000 reads. And once your earnings reach your withdrawal minimum ($35 for free Vocal creators, or just $20 for Vocal+ creators), the "Request Withdrawal" button becomes available to you.
Before you request your withdrawal, double check your Stripe Dashboard, which you can access through the Dashboard link in your Wallet. Always be sure that all of your information is kept up to date—you wouldn't want your withdrawal to be sent to an expired debit card or closed bank account.
Once the withdrawal has been requested, you'll see the funds reflected in your bank account in 3-5 business days, converted to your local currency.
Congratulations! You've shared your stories, grown your fan base, and earned some money. Now, let's do it again.