Why You Should Cross-Post Your Medium and Substack Articles on Vocal
Boost your readership with Vocal's quick and easy cross-posting tools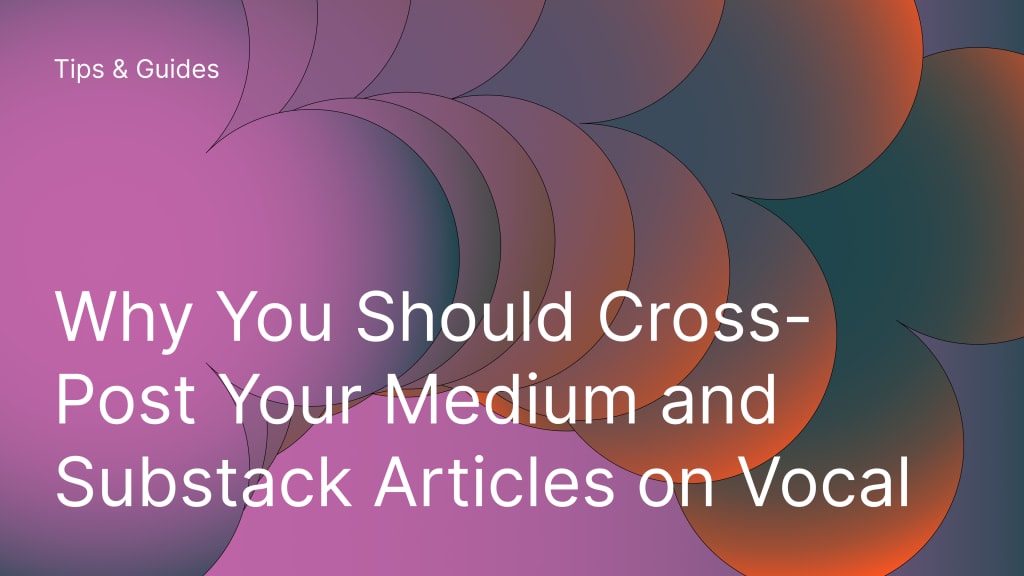 We're committed to helping creators grow their readership, which is why we encourage creators to cross-post their work on Vocal and offer easy-to-use tools to link back to your original publication.
Here are some of the benefits of cross-posting your Medium and Substack articles on Vocal:
Expand your audience
Cross-posting on Vocal puts your work in front of a wider audience, leading to more traffic on your other platforms. Like Substack, Medium, or WordPress, Vocal's unique strengths earn it a place in your creator's toolbox.
For example, people without Medium accounts can only read a few free articles before they're prompted to make an account. Vocal doesn't have a reading limit or charge anyone to read stories, so maxed-out Medium readers can still access your full archive when you cross-post on Vocal.
Substack, meanwhile, doesn't offer many tools for promoting your newsletter, so cross-posting on Vocal can offer a major lift to your promotional strategy. Not only will more people read your work, you can directly encourage them to subscribe to your newsletter by embedding a subscription link. This is especially enticing to readers if some posts remain exclusive to paid Substack subscribers.
On that note, cross-posting to Vocal gives you the opportunity to choose what your audience will see. You may find your readers on Vocal prefer certain types of content over others, so you can stick to cross-posting articles that perform the best. Leaving some content exclusive to Substack or Medium can also encourage your most interested readers to subscribe on those platforms.
Improve your search engine ranking
Expanding your audience delivers more traffic to your Medium and Substack pages, improving how those pages rank in search results. You'll just need to link back to where you originally published your content to ensure that search engines prioritize the source, not the cross-post.
Get featured as a top story
We love celebrating the best our creators have to offer and helping readers discover new creators, so the Vocal team regularly selects top stories to be featured on the Vocal homepage.
More ways to get paid
In a similar way to Medium, Vocal pays creators based on the number of reads a story gets. Readers can also support you directly with one-time tips or monthly pledges—yet another bonus for creating on Vocal.
How to cross-post and link to Medium and Substack
To get the full benefits of cross-posting your work, you'll need to link back to where you originally published it. You can embed links to Medium, WordPress, or anywhere else on the web in the Vocal editor.

For Substack articles, you can also embed a subscription link. Just paste the basic URL of your newsletter into the embed box, and readers will be able to subscribe to your newsletter without ever leaving Vocal.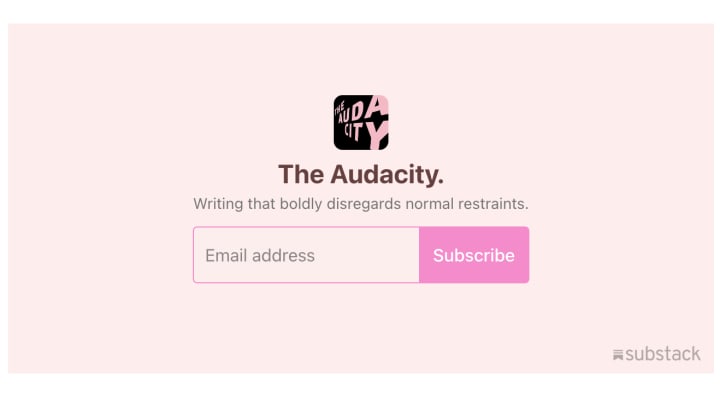 You should also link back to your Medium or Substack accounts in your profile so your readers can follow you on their platform of choice. [Link: Link Your Social Media Accounts in Your Profile]
How to post on Vocal
The Vocal editor makes cross-posting a quick and simple process. Fill in your story's title and subtitle, choose a featured image (or video) and, of course, paste in your body text.
To embed links in the Vocal editor, click the plus sign to the left of the body section. This will bring up the option to embed links, upload your own images, or browse Unsplash for stock images.
To add or modify style elements in your story, highlight the section of text you'd like to change. This pulls up the text editing toolbar. You can create lists, headings, and block quotes, and modify your text with bolding, italics, etc. You can also use the link tool on this bar to embed a link into your highlighted text.
Once approved and published, your story becomes visible to Vocal's active and passionate community of readers and creators. We believe that creators deserve to thrive, no matter what platform they consider home base—so regardless of whether you post first on Substack, Medium, or somewhere else, we recommend cross-posting on Vocal to grow your audience and increase your visibility.
Reader insights
Nice work
Very well written. Keep up the good work!
Top insights
Compelling and original writing

Creative use of language & vocab

Excellent storytelling

Original narrative & well developed characters

Expert insights and opinions

Arguments were carefully researched and presented
Add your insights