How Vocal Can Help YouTube Creators Grow Subscribers and Earn Extra Money
Vocal makes it easier to gain new subscribers and maximize your earnings.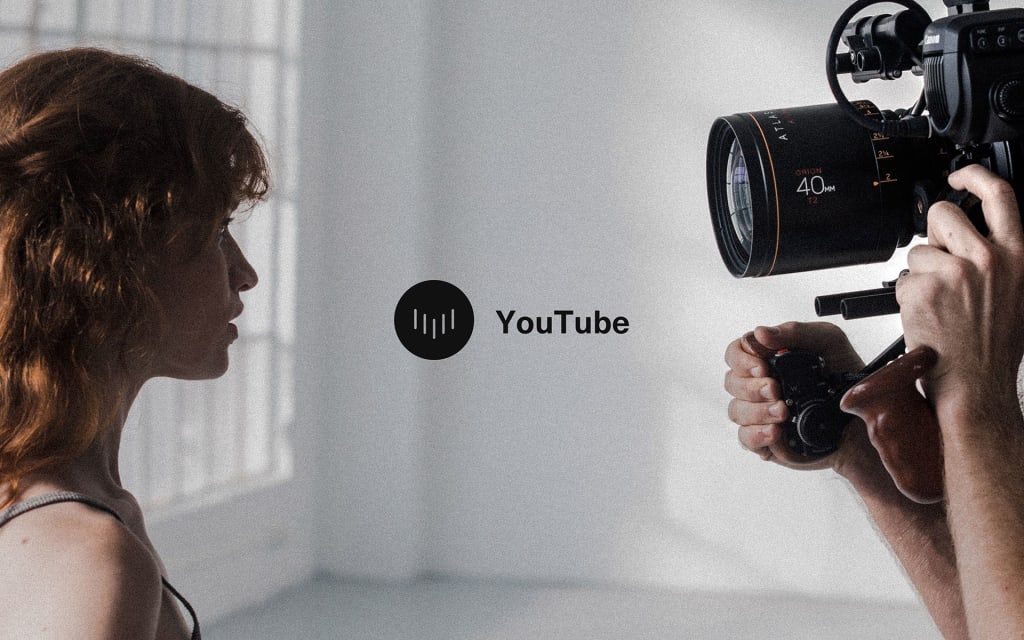 YouTube has become one of the most heavily-monetized social media platforms in the world, and has launched thousands of careers to stardom. YouTubers work tirelessly to expand their channel and, to get the fans they want, they need to market themselves as much as possible.
Every day, millions of videos are uploaded to YouTube. To monetize their channel, YouTubers have to market their videos and themselves to potential viewers. But it's become hard to get discovered because of content congestion.
Vocal and its communities can make it possible to expand your channel's visibility and increase your earnings. Here's how you can use it to make your YouTube channel more successful than ever before.
Start storytelling.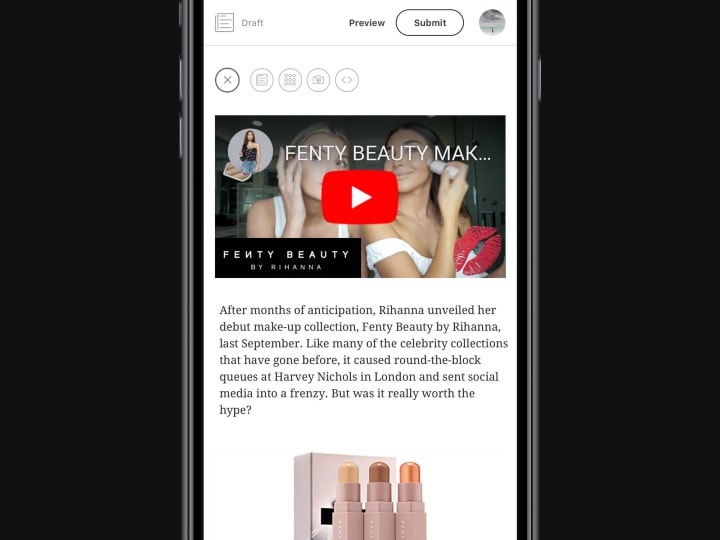 Just released a new YouTube video? Easily embed it in your story by pasting in a link into the embed module. Vocal stories are required to be at least 600 words, so you have to do some storytelling. Try telling your fans the inspiration behind the video or create an interview with your video guests.
Think of your story as your canvas. Here are just a few of things you can add to make your story more engaging:
Behind the scenes photos
Instagram, Twitter, Facebook and other social posts
Playlists from Spotify
Products featured in your video
Resources discussed in your video
Make your videos more searchable.

The biggest hurdle newbie YouTubers have is actually getting the minimum amount of views required in order to start earning. 10,000 views isn't easy to attain and it can take months. To speed up the YouTube earning process, you will need to promote your videos and make it easier for people to find them.
Creating on Vocal gives you the opportunity to make your videos more SEO-friendly. Google's search engine crawlers pick up on words used on websites to describe the content, as well as the quality of the content. By writing about your YouTube videos, you make your videos more visible on Google's search engines, which in turn, gains you more views.
Unlike with YouTube, Vocal creators start earning from the first view.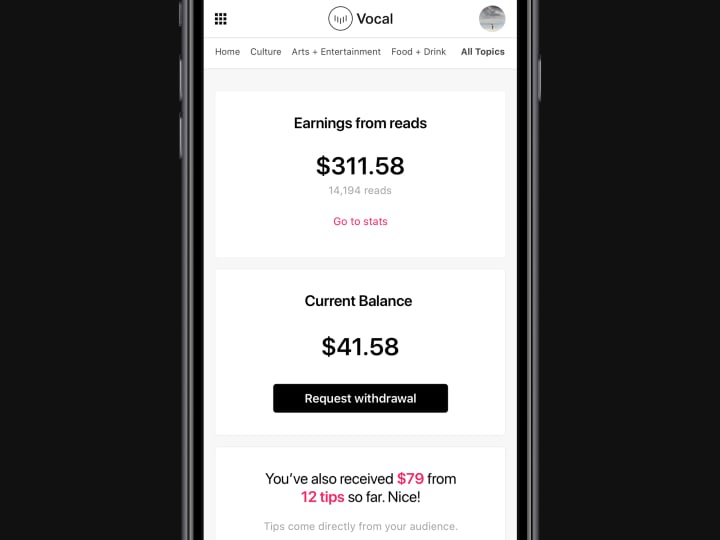 YouTube is known for having a very high minimum number of views before monetization can take place. Vocal's pay-per-engagement model starts at the very first engagement, and can work as a great way to supplement your YouTube income.
Vocal's platform also registers all engagements that are received from embedded YouTube videos. This means that the engagement you receive from Vocal readers will still be registered by YouTube—and therefore will count towards your YouTube profits. We call this "double-dipping."
Get tips from your fans.
Another way that Vocal maximizes YouTuber's income is through the platform's tipping function. Fans who appreciate your stories or your writing don't even need to be members to tip you. All they need to do is love your work.
Tips are processed via Stripe, which is simple, secure, and even supports Apple Pay on iOS devices.
Vocal is a perfect way to create high-quality resource materials for your videos.
Videos perform best when there are additional resources to accompany them. Written resources, Spotify playlists, and even products mentioned in your video can all help enhance the experience for your viewers.
Vocal's platform is a perfect way to create a fully immersive experience for your viewers. You can embed products you mention in your story, add photos, embed social media posts, and more. This allows your users to better engage with your work—and in turn, gets them more interested in you as a YouTuber.
If you want to have transcripts of your video as a resource, you totally can by using an app like Sonix that creates transcripts for you within minutes. Just upload your video to the Sonix site, take the automated transcription, and paste it into Vocal as the main part of your story.
Show off your channel's merchandise.
Selling your channel's merch, like t-shirts, is a great way to earn some extra cash to buy that new video camera.
YouTubers who sell their merch on places like Shopify, Squarespace, Threadless, and Teespring can easily add their products into their Vocal stories.
Additionally, if you're selling your videos on platforms such as Amazon, iTunes, or Vimeo, try embedding them into your stories.
Expand your brand and gain a community.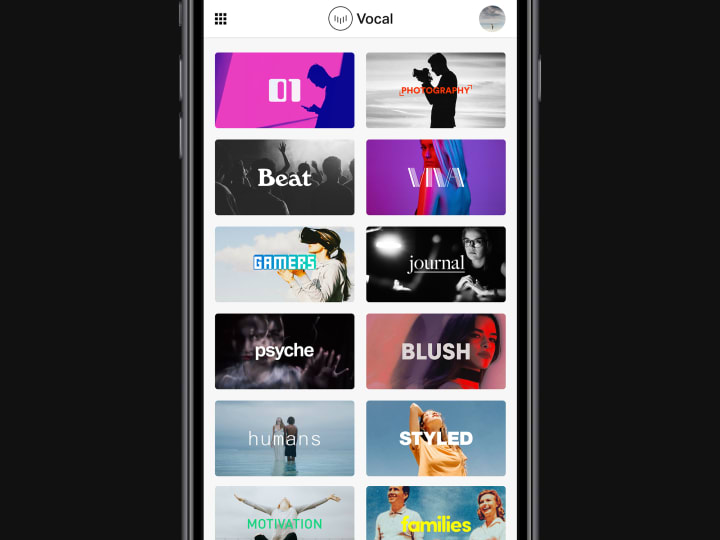 The most successful YouTubers aren't just public personalities; they make a point of showing off their many talents. You can expand your brand by being both a YouTuber and a successful creator on Vocal.
What makes Vocal unique is the fact that it has dozens of built-in communities filled with readers who are passionate about the topics your YouTube channel discusses. By creating Vocal stories in communities that your videos relate to, you're making yourself an authority in your field. This makes you a more credible YouTuber—not to mention a more well-known online personality.
Promote your social media channels.
Social media is crucial to the success of your YouTube career, especially if you have the goal of being an influencer. To get more followers, you should cross-promote your social media through Vocal.
No matter what your social media platform of choice is, Vocal acts as a great platform to promote it. You can embed Instagram posts, Twitter posts, Facebook pages, or even your Patreon to gain more followers.
The beauty of Vocal is that it gives creators of all kinds a way to amplify their reach, talk about hard-hitting topics that your channel wants to discuss, and gives viewers an incredible experience they won't forget. By joining Vocal and creating stories, you are amplifying your YouTube career.
Reader insights
Be the first to share your insights about this piece.
Add your insights