How to Embed Rich Media in Your Vocal Stories
You spend a ton of time honing your creative craft—you shouldn't have to learn to code to share it with your fans.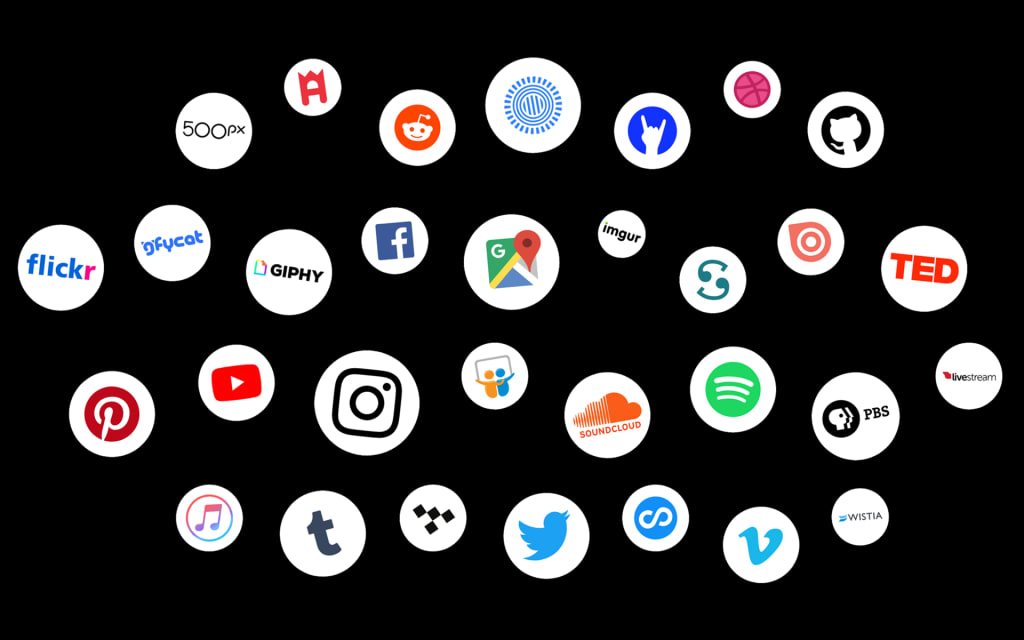 Sometimes it takes more than just text to tell your story. Whether you're showcasing your latest Vimeo short or using your Instagram posts to add a personalized touch, there are many ways to bring your Vocal story to life. But adding photos, videos, audio, and social media posts shouldn't slow your creative flow.
That's why we made it easy to embed all kinds of rich media into your Vocal stories. All you have to do is click the plus sign icon in Vocal's editor, select "Insert Embed", paste the URL of whatever you'd like to embed where prompted, and press Enter. Here are some creative ways to include movies, music, and interaction in your Vocal stories.
Social Media
There are a few reasons you might want to embed social posts. Maybe you're talking about a brand's latest launch, or an artist you love, and want to share an update from their social. Or, maybe you're directing readers back to your own socials to promote and grow your audience there. Either way, posts and pages can embed seamlessly; readers can like and interact, and are easily taken to the post on-platform if they'd like to explore more. Below, you can see what posts from each major social media platform look like and how you can interact with them.
On an embedded Instagram post, readers are able to expand and open the post directly on IG so they can easily interact, comment, and more. They can also directly open the pages of anyone tagged, and they'll be able to read entire captions right in your Vocal story.
Clicking anywhere on the embedded post will open it directly in Twitter in a new tab; readers are also able to explore any links or hashtags included in the tweet straight from the embedded post. On both Twitter and Instagram, simply clicking on a post and copying the URL there will allow you to embed these posts in your story.
Facebook posts are like-able and share-able right from your story, with no need to open the platform in a new tab; but if a reader wants to, they'll be taken right to the post on Facebook by clicking the center of the embedded post. Facebook post URLs are a bit trickier to grab; you're not able to copy and paste a link from your desktop browser, because posts there don't have their own unique link—but, if you open a Facebook post on a mobile browser, you can copy the URL from there.
Linkedin posts aren't interact-able from within the Vocal story, but readers see the post date and any images; for more information, or to like the post or comment, they'll need to open the post in a new tab.
Enhance with images
Vocal has already made it easy to include high-quality images in your stories. We've put together a resource full of recommended sources for stock photos, and we've partnered with Unsplash to make it easy to search and select high-quality images without ever even leaving the editor. But there are other ways to make your stories fun and visual beyond adding images alone.
SmugMug lets you create a visual, professional-looking gallery to display your photography or artwork. You're able to customize layouts and themes, organize your art, and it's even searchable for your fans. You can get a free trial for 2 weeks—then, you're billed either annually or monthly, starting at $48/year, or $5.99/month.
We all know DeviantArt; it's where you go to find or share digital art, fan art, memes, and just about anything else you want, where others can share your work and give feedback. It's a good resource if you're looking for digital or studio art instead of photography, and the great thing about embedding the art directly is that it'll bring readers right to the page you sourced it from when they click—meaning that the work is easily find-able and credited.
Dribbble is another platform for user-generated art, including awesome typography, prints, and of course, GIFs. If you're a designer that shares your work on Dribbble, you can easily embed and display it; or, if you're just looking to add a little visual appeal (like a wiener dog in a sweater vest), you can do that too.
Giphy is probably the best-known source of free GIFs on the internet. You can search for just about anything and find it, and you're also able to create your own GIFs with images or videos, which you can share and embed, too.
Imgur is another great social source for images, but there are also galleries that are completely scroll-able and share-able right from your Vocal story. Do yourself a favor and click through.
Music, Video, and Podcasts
To enhance a story even further, you can add videos, podcast episodes, playlists, and more. The possibilities are really endless; promote your own work by sharing your latest EP or music video. Take readers through a guided yoga session with YouTube videos, and finish it off with your favorite meditation playlist. Vlog a road trip and share your go-to sunny day windows down driving album. Share your latest podcast episode, transcribed so it's also readable and totally accessible for everyone. Here's what that could look like.
From Spotify, you can embed just about anything. Singular songs, artist pages, or curated playlists are all fair game, and can all be previewed right in your Vocal story by every user, regardless of whether they have any account or not. To embed anything from Spotify, go to the album, artist, or playlist page you'd like to include on desktop or mobile, click the three dots that appear either next to the "Play" and "Follow" buttons (on desktop), or at the top right corner (in the mobile app). You'll see the option to "Share"; expand that selection, and click "Copy link." You can do this to enhance your story or give context to a review, or to promote your own music.
You can do the same on Soundcloud that you can do with Spotify—embed albums, artists, playlists, collections, and more. This is what it looks like when you embed an artist's page; their most recent tracks will appear, along with the option to play them in the story, or to open on Soundcloud. You can take a look at these embeds in action in this example story by our creator, Samantha Bentley.
Bandcamp is a great platform for up-and-coming musicians, because it allows listeners to directly support the artists they listen to. It's a lot like Vocal in that way—share your music on Bandcamp, then embed it in a Vocal story, and encourage your readers to send tips here, too.
YouTube videos are playable from start to finish in your story—and because they're hosted on YouTube, every view in your story also counts as a view on YouTube. This means it's a great way to promote your own YouTube channel—this video is from one of our creators, Mr. Davis, who's using the platform to do just that.
Vimeo videos are embedded the same as YouTube—you simply copy and paste the URL of any video, and double dip on the views the video gets.
Samsung VR is a really cool database full of 360 degree immersive videos made for VR. It's perfect for anyone exploring the world of new tech—maybe talking about the future of video, or reviewing a new VR headset. The experiences are interactive in the Vocal story, meaning you can click and drag to explore the world in each video, like you can do in the one above.
Videos on Twitch can be embedded in the same way—but what makes Twitch really cool is that you can also embed channels that will go live in your story when they start livestreaming on Twitch. Depending on the Twitch streamer, the availability of these streams will vary once the livestream ends, but if you're looking to share your own livestream your videos are set to be viewable even after they've ended, it can be a cool way to connect with other gamers and streamers.
We're all familiar with Tidal—Jay Z's subscription-based streaming service for music, videos, and podcasts. These songs will also play as previews in your Vocal story, and you can also embed playlists and full albums as well.
We've all relied on good ol' Genius at one time or another. You can embed links to songs on Genius and it'll generate the full lyrics—but the really cool part is that you can see the explanation and annotations of all lyrics in the Vocal story, just by clicking the highlighted sections—you can test it out above.
Anchor is a great resource for people creating a podcast, because it allows you to edit and distribute your podcast all in one place—but you can host podcasts on Anchor, too, and listen to the entire episode right in your Vocal story.
And the same goes for Stitcher—awesome resource for podcast-makers, and a super simple way for you to share others' podcasts, too. We've put together an entire resource for all of you podcasters on how you can best use Vocal to share your work and grow your audience, whether you're on Stitcher, Anchor, Spotify, or just about anywhere else.
iHeart lets you embed artists and songs like other streaming sites; a really cool thing you can do, though, is embed an actual radio station, where readers listen to the radio in real time, and will see the most recently played songs on that station at any given time.
Collaboration Tools
These can be super helpful if you're look to get feedback, build a community, collect information, collaborate on projects, or anything else you can think of. Some of these tools are really helpful business management tools, but they can double as creative drawing boards and really effective ways to communicate and collaborate with like-minded people.
Trello is a list-making software that's particularly helpful in managing content or setting tasks. If you're trying to get your fans involved—maybe to have them give you ideas or tell you what they'd like to see you create next—a public Trello board is a great way to collect ideas or feedback while still keeping everything organized, and it's free for anyone to have a basic account.
Strawpoll allows you to create your own poll that others can vote in and results are collected. This can be super helpful in collecting data, either for research for a story, or to get an idea of what your fans care about and want to see.
Typrform is a software that allows you to create more in-depth surveys and quizzes for when you need more info than just a one-question poll. You can have readers give their contact info to compile an email list, survey them on how they're enjoying your content, or do something totally for fun, like this sample quiz above.
Meetup is an awesome resource to get groups together, coordinate IRL meetups and events, and work on community-building for people with all sorts of things in common. Whether you'd like to get some comments from local artists for your next story, or coordinate a happy hour with other Vocal creators in your area, Meetup will help you do it.
Education and Presentation
These are the tools you need to teach everyone a thing or two. Between organized ways to display a presentation or an idea, graphs and charts to clearly present data, and resources full of concise, educational information, here's the perfect way to supplement your stories or prompt further exploration.
Slideshare, by Linkedin, is a simple, visual way to share presentations, infographics, files, and more. You can upload and create your own presentations to supplement your story, or use a shared presentation from an expert on your topic to back up your claims. The slides are completely scroll and view-able in a Vocal story, so you can click through the entire presentation without leaving the page.
Esri's Storymaps lets you combine visuals, maps, data, infographics, and more make your information more digestable and engaging. Like the other presentation tools here, the entire presentstion is viewable in-story, but these are dynamic and scrollable in a way that's professional-looking and intuitive.
Issuu is an online publishing platform for complete literary and visual magazines and journals. In order to publish your own, plans starts at $19/month, but anyone can explore others' published stories and magazines—and when they're embedded, your readers are able to click through the whole thing, too.
Atlas is Quartz's data visualization platform that helps you organize information neatly into charts and gives you the option to share it and let others' download your data. It's a great way to disseminate any findings from your own personal research and make it easy to understand.
Marvel allows you to conceptualize and design applications, letting you customize every step of display and user experience. When you're ready to share your design, your readers can interact with the complete prototype right in your story—test it out above.
There are fewer rabbit holes are more enjoyable to get lost down than the TED Talk rabbit hole. Experts in any subject, totally free, and watchable within your Vocal story, to help build credibility and encourage further learning.
EducaPlay is a platform to teach through games—you can play the games and take the quizzes that are on the site (like this one!) or you can create your own. This would be especially great to combine with one of the previous polling tools to gather data (have your readers test their knowledge and then let you know how they did), for stories geared towards educators or parents, or to make your topic a bit more fun and interactive.
SkillShare is a source for online video courses in just about every subject. They're not accredited, but they're very cool, very helpful, and very easy to embed.
Make something great, and then show it off
Finally, there are a bunch of great resources for our makers. Whether you're a designer, you sell prints or handmade art, an inventor, a creative—if you're marketing yourself or something you create, you can do it on Vocal.
If you're a creative, you probably know Behance. It's a network built to discover and showcase creative projects, and serve as your portfolio to help connect you to people who are interested in your work. If you have a Behance profile, you can showcase it on Vocal and allow your readers to scroll through and explore your work.
Kickstarter is a popular crowdfunding platform meant to help creative projects become reality. Some Kickstarter creators have found success through Vocal; you could even use your tips and earnings to supplement your pledges on Kickstarter.
Indiegogo, similar to Kickstarter, is a crowdfunding platform built to help entrepreneurs bring their visions to life. Readers can't contribute directly from your story without clicking and opening your project in a new tab, but they don't have to—that's why they can also send you tips right here on Vocal.
Redbubble is a cool, user-generated marketplace that sells clothing, prints, and decor based on user artwork and concepts. If you're a creator on Redbubble, it's easy to shamelessly plug your hard work on Vocal.
There are a lot of things that go into creating a great story, and media alone won't get you there; but it certainly helps. With these resources, you'll have everything you need to put together well rounded, informative, fun stories that will keep your reader engaged, and keep them coming back again and again. If you explore around, get to know Vocal's editor, and use the tools at your fingertips, there's nothing that you can't bring to life.