Tips to Grow Your Audience On Vocal
Effective ways to grow your audience and optimize your Vocal experience.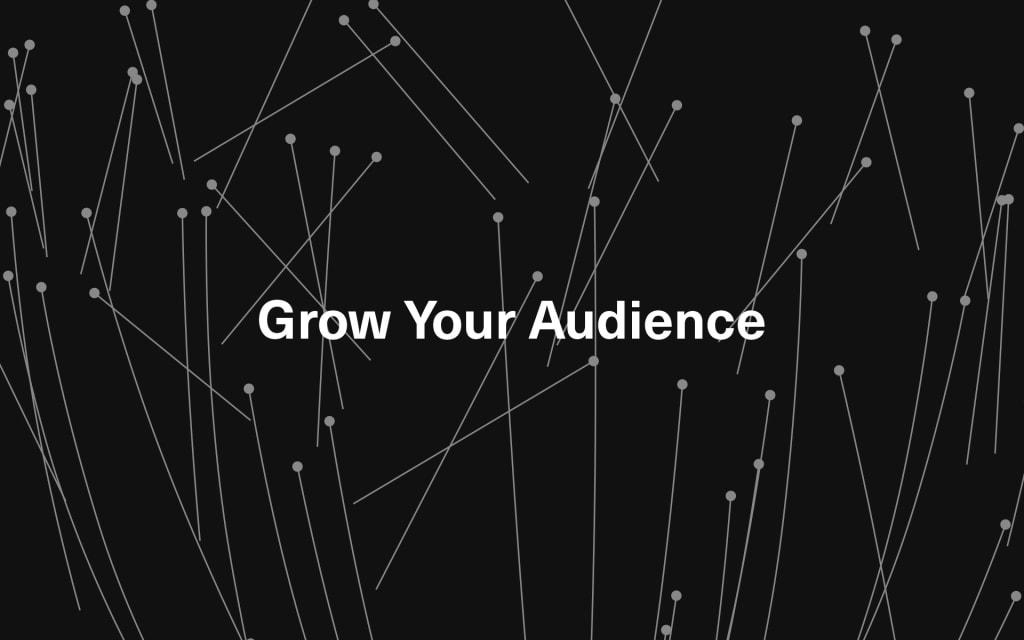 Finding success with Vocal means something different for everyone. Maybe your priority is fostering a supportive community; maybe it's creating the next "What Colors Are This Dress?" story and breaking the internet. Either way, attracting the right audience will help achieve whatever goal you've set for yourself. And though we give you the tools you need to create beautiful stories and connect with audiences, there are always some further steps you can take to increase your reach and build a following.
We've put together some tips and suggestions for creators—some are simple, some require a bit more planning and effort, but all make it totally possible for any creator to increase the engagement their stories receive.
Build a strong profile.
As a creator, your brand is incredibly important. Vocal can help you get discovered, but you need to complete your profile to optimize your online visibility.
Here are a few things you should definitely do:
Add a personal profile photo that represents who you are as a creator. If you signed up to Vocal via Facebook, Twitter, or Instagram, the profile photo you use on those platforms will be your default Vocal avatar. If you choose not to use a photo, Vocal will generate an avatar with initials from your profile name.
Add your full name so you can easily be discovered. Your name is what's used to create your profile URL, so make sure to update any backlinks if you decide to change it. If you prefer to remain anonymous, you're welcome to use a pseudonym, but we recommend using your real name so that it's easy for others to recognize and trust you.
The best Vocal bios leave a great first impression and help you accomplish your goals. You have 240 characters to play with in your bio—add an authentic description of yourself, what you're interested in, and links to your social profiles or personal website.
Vocal has made it even easier to add beautiful, relevant images to your story by integrating Unsplash. You now have access to over 550,000 free, hi-res professional photos to help visually tell your story, without leaving the Vocal editor.
Make your story an experience.
Good writing is great, but a top-performing story is multi-dimensional. Take your audience beyond your writing; including rich media can ensure that readers become engaged, immersed audiences that are truly invested in your work.
This approach can be completely tailored to your story—if you're a yoga teacher, for example, what would be an instructional story on vinyasa flow can become an interactive class complete with follow-along videos and meditation playlists with just a few simple embeds. Bands can share their new album on Spotify, sell merch, and include the Instagram teaser for their new music video all in one concise place.
Using the universal embeds to their fullest extent ensures that your audience has more avenues of interest, keeping them engaged longer and making their experience a memorable one.
There's a lot of research out there that indicates longer stories perform better than shorter ones. CoSchedule analyzed and compared several studies about story length and came to the conclusion that stories over 2,000 words tend to be the most successful.
Even more important than length is that your story is comprehensive and detailed. Stories that are authentic and include images, videos, audio, and other media embeds provide an engaging user experience, and perform best.
You probably have social media accounts—use them!
Whether you have thousands of followers or just a few close friends, you should make Vocal and social media a two way street—use your Vocal author page and stories to promote your social media, and use these social accounts to promote your Vocal stories. This means that you should not only include your Vocal profile in all of your social bios or about pages, but also provide links for your readers to follow you on social media in your Vocal bio.
You can embed your social profiles at the end of your story and encourage people to follow you, and use social media to share and promote each of your stories—try to share regularly on Facebook or Twitter, use Linkin.Bio to link your Instagram posts to your Vocal stories, or even share the link in a relevant subreddit. Social curation platforms like Pinterest or Flipboard can also help you reach an audience that you might not normally have access to—explore them!
You have 8 seconds to grab a reader's attention. Your headlines are the first part of your story that your audience will see and are responsible for getting them intrigued and excited. Generally, headlines should be unique enough that they help your audience identify your story and have an idea of exactly what they're clicking on—but a headline that's too short or long can be confusing to a reader.
Try using Sharethough's free headline analyzer tool to learn how to create titles that drive traffic, shares, and search results.
Don't forget to check your Vocal stats.
Keep an eye on your Vocal stats page to see which stories are performing best. This will give you a great first indication of which stories your growing audience is drawn to, and what topics you should be focusing on.
Once you know which topics your readers are most interested in, you can use tools such as Buzzsumo to turn those topics into story ideas and titles. Simply search the topic in Buzzsumo, and it will show you the most successful stories relating to that topic in whatever time period you select.
Try advertising on social media to bring quick attention to your story that might be a little bit more timely. You can also try testing out a few different stories to see which perform best. Choose a few stories, commit to a budget, play around with which ones receive more engagement, and develop your own unique promotion strategy from there.
Some social platforms, such as Facebook, will require a business account to run certain types of ads. Others, such as Twitter, will give you the same ad options on both personal or business accounts. To learn more about the ad options on each platform, check out Hootsuite's Social Media Advertising 101.
Publish stories regularly.
Publishing consistently has its perks. You'll be able to keep your audience engaged by publishing regularly, ensuring that your fans know what to expect from you and when to expect it.
There are benefits for you, too—being on a schedule can keep the creative juices flowing, and continuing to put your work out there can give you a sense of confidence and encouragement. This can mean once a month, or once every week; choose the right frequency for your developing self brand.
Giving your stories a diverse layout can make them more interesting to scroll through, and also make them look more professional. Avoiding large chunks of text is ideal—in fact, Grammarly recommends that each paragraph maxes out at 100 to 200 words so that readers can easily find exactly what they're looking for.
Just as important, a good variety of text, images, products, and videos can keep people engaged and guide them through your story. Break up your stories with concise subheadings so that people know exactly what they're looking at; align your images to the left or right around your text content to keep the eye moving across the page. You shouldn't fill your story with irrelevant or unnecessary media, but having a clear, varied structure can make your story visually attractive and engaging.
Engage with other Vocal creators.
Explore Vocal's daily "Staff Picks" to see recommended favorites from the curation team, or take a look at the stories of our selected Featured Authors. Make note of creators whose stories you love, or whose interests align with yours, and share their stories on social media—or even send them a tip to show your support. Fostering communities of creators supporting creators encourages everyone to create, and it's also a great way to help you build a dedicated fan base.
Engage with readers.
Do you see your audience liking or sharing your stories on Twitter of Facebook? Engage with your fans to keep them coming back for more. Like or comment on their social posts, follow back, share something of theirs in return, and say thanks.
Encourage your readers to share your stories.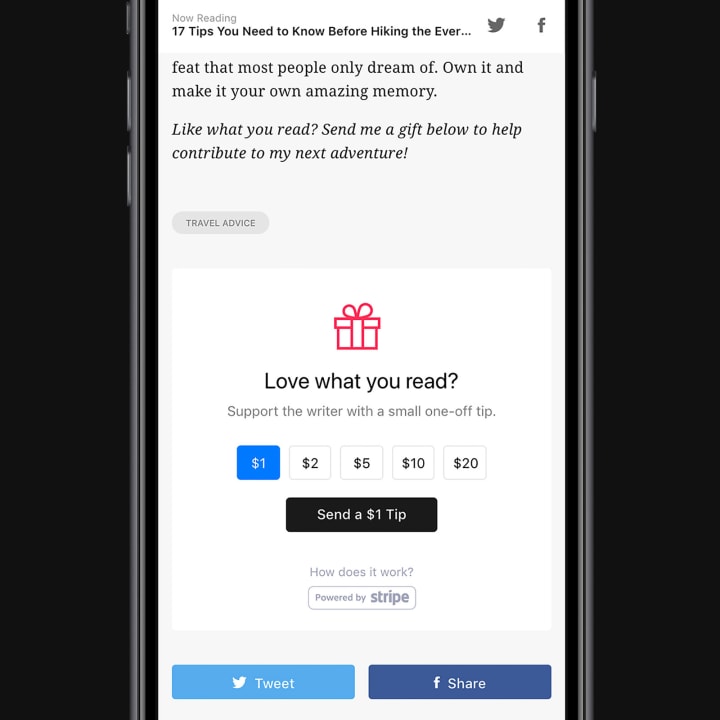 Include easy call-to-actions (CTAs) in each story to direct your audience to share after reading if they liked your story—the "share" buttons at the bottom of every story make it easy for your fans to post your story on their Facebook or Twitter.
Add this in the closing paragraphs of your story by saying something as simple as, "If you liked what you read, please share…" or even offer it as an alternative to a tip: "If you enjoy my stories, leave me a tip, or even share my work on social media! Any support is appreciated. 😊" A friendly request making it clear that a simple share would mean a lot to you can encourage readers to take action.
Tell readers what to read next.
This is especially helpful for people writing a series, or trying to brand themselves around one specific topic. Embedding previous installments or topically relevant stories with prompts like "If you enjoyed this you might also like…" will ensure that the readers you're sending to your previous work will be looking for more of this type of story.
Your mom is your biggest fan.
This is only half a joke. It's all about building a fan base, but in the meantime, you have people in your network that will unconditionally support you. Send your story to everyone you know, especially people who may not see it on your social media. Ask your friends, family, or coworkers to share your story with someone they think will be interested in it, or put together an email list of everyone you know that shares your interests, and alert them when you publish a new story you think they'll love!
Reader insights
Nice work
Very well written. Keep up the good work!
Top insight
Easy to read and follow

Well-structured & engaging content
Add your insights