How Vocal Can Help Podcasters Grow Their Audience and Earn Money
Grow your podcast's listeners and increase your profit with the help of Vocal.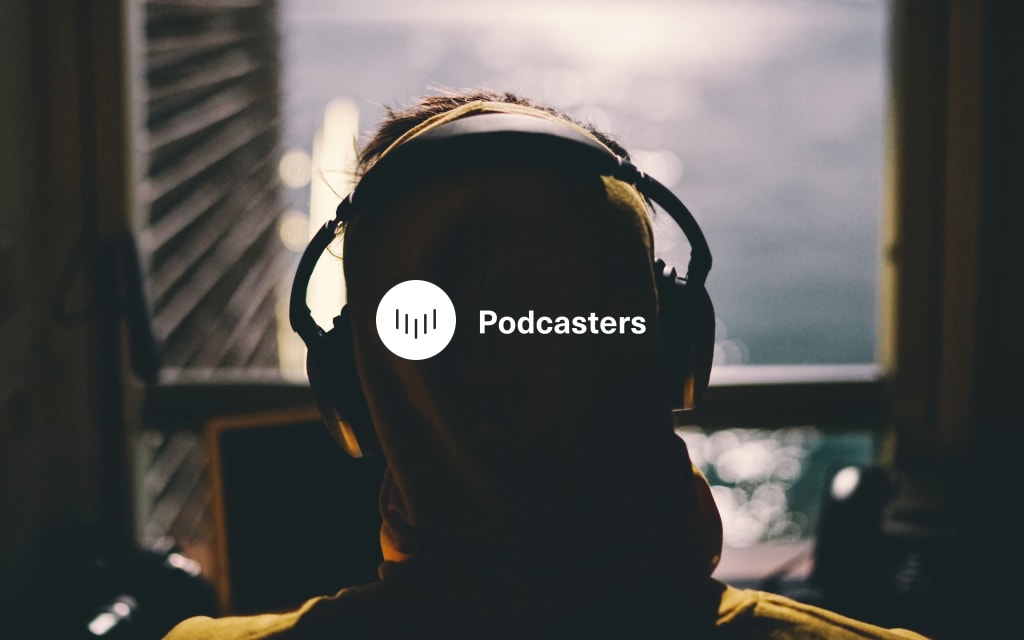 Being a podcaster means that you need to have a lot of dedication to your art. Podcasts are notoriously difficult to profit from—more so than books, videos, or even music. Along with being difficult to monetize, podcasts are incredibly difficult to market.
Another major issue that the podcasting world has is a lack of a defined platform. Podcasts are on a million different sites, and it seems like just trying to find all the podcast-related content for a single show can be a hassle for any well-meaning fan.
With podcasting, you also have to struggle to add dimension to a one-dimensional medium. There's only so far that telling a story with your voice can take you. Adding more substance to your podcast's experience is crucial if you want to stand out from the rest.
That's where Vocal can help out.
Vocal is a platform that provides the storytelling tools and engaged communities for podcasters, musicians, filmmakers, writers, and artists to get discovered and fund their creativity. It's a platform that allows you to embed almost anything, such as illustrations, infographics, videos, products, music, and more alongside each story you create. Along with giving you a platform for your storytelling, Vocal pays creators on the views they get.
This provides podcasters with the opportunity to boost their brand and grow their audience, while creating an engaging storytelling experience.
Here are a few ways your podcast can benefit from Vocal.
Create your story.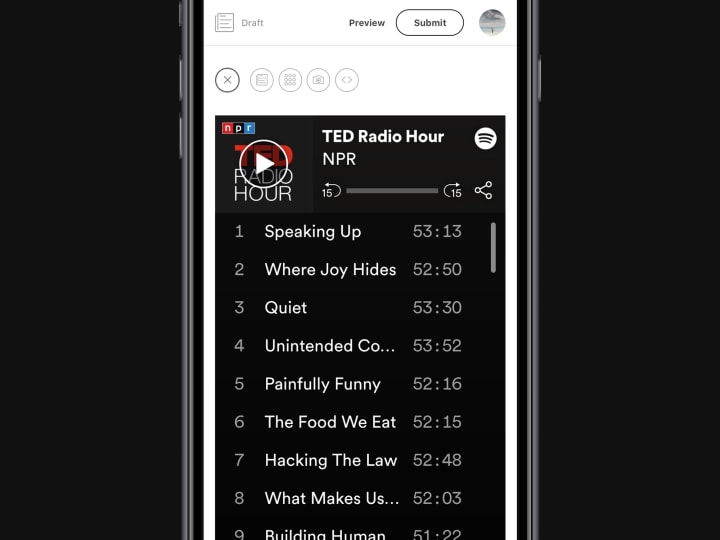 Vocal allows you to easily embed your podcast and create engaging stories. Just released a new episode? Easily embed it in your story by pasting in a link into the embed module.
Since Vocal stories are required to be at least 600 words, you have to do some storytelling. Try creating a transcript of your podcast with speech-to-text tools like Sonix.
Think of your story as your canvas. Here are just a few of things you can add to make your story more engaging:
Related videos from your podcast
Behind the scenes photos
Instagram, Twitter, Facebook, and other social posts
Spotify playlists
Merchandise
Livestreams of your podcast
Earn money from your podcast on Vocal.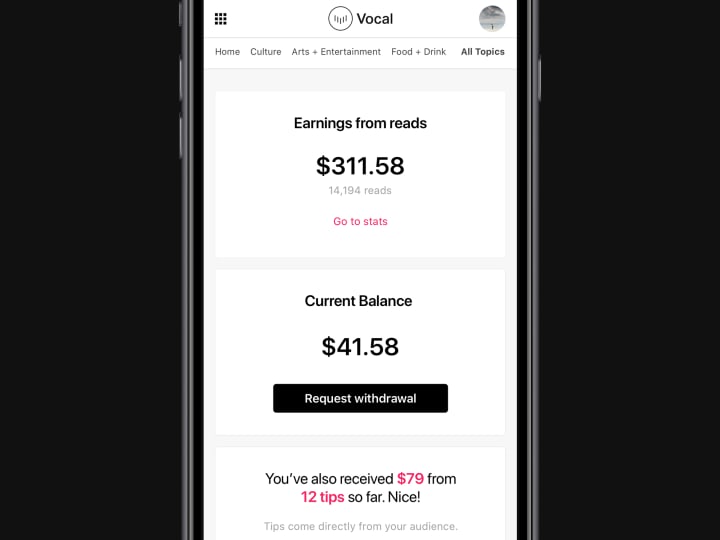 Vocal provides podcasters the opportunity to get rewarded for their stories. The more people who read your stories, the more money you make. Additionally, Vocal has a built-in tipping system where podcasters (and all creators) can receive tips from their fans. Tipping is an easy, secure way for your fans to support you, and even supports Apple Pay.
Some podcasters publish their podcasts on platforms like YouTube and earn based off views. YouTube videos that are embedded in Vocal will still register views that count towards monetization.
By embedding your YouTube podcast into a story, you can earn from both Vocal and YouTube. We call this "double-dipping."
Use Vocal to increase your podcast's SEO.
Emerging podcasters have a hard time getting discovered. That's why we've created topic-specific communities to help your podcast get viewed by the right audience.
Vocal also makes it easier for podcasters to strengthen their SEO (search engine optimization).
SEO can be pretty confusing to master, so let's start with the basics. Search engines like Google crawl the internet and rank information that's relevant and authoritative. Unfortunately for podcasters, these search engines crawl and index text, not audio. So unless you're creating content around your podcast, it's difficult for you to grow your audience.
Google gives priority to longer, well-written content—which is why we have a 600 word count minimum. However, we suggest going above and beyond. Typically, stories on the first page of Google have more than 1,000 words.
Try creating a transcript of your podcast by using Sonix to turn your podcast's speech into text, edit it as you see fit, and paste it into your Vocal story.
Amplify your story.
We urge creators to self-promote their stories—share it in a Facebook group, add a link in your Instagram bio, and send it to everyone you know to share. Cross promoting on social is yet another way to garner views and help your voice be heard.
Create an immersive experience.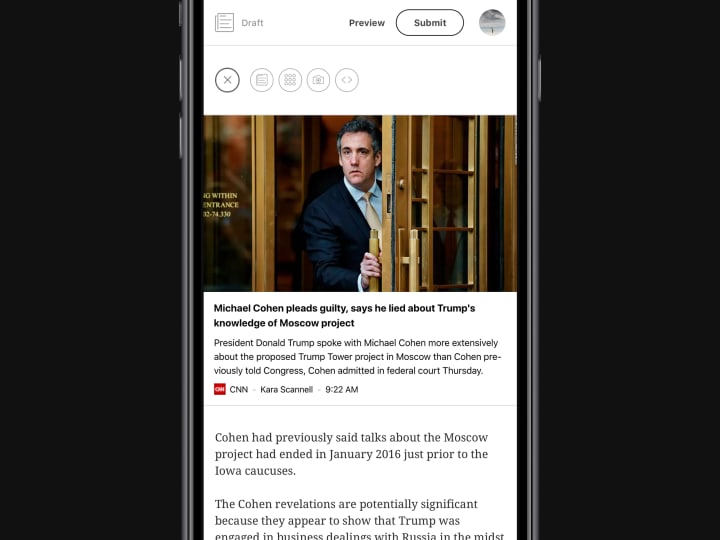 You just finished recording a podcast, and you want fans to really experience the things you're talking about—but how? It's a common problem that many podcast creators have.
This is where Vocal can become one of the best resources for your podcast. By creating stories on Vocal that include additional context, visuals, and resources, you transform your audience's experience into a multidimensional, immersive story.
You can do everything from embed news articles to featured products mentioned in your podcast. If your podcast features a lot of interviews, you can use Vocal to show video footage of the interview, promote your guest's social media, or even embed supplementary videos that educate people on the topics you're discussing.
Join a community.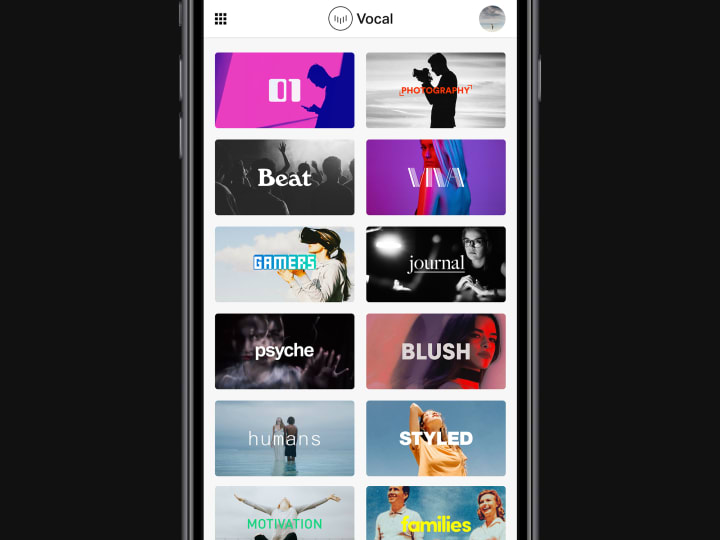 If there is anything podcasters know, it's the importance of getting involved in a community. When you have a voice in a community, people naturally will start to back your podcast and give you more attention. That's why many podcasters work to create content that appeals to a variety of communities.
Vocal isn't just one community. It's a network of dozens of topic-based communities. When you create stories on Vocal, it gets published on the community that will most likely have an interested audience. This allows you to expand your reach to interested listeners and connect with others who may want to collaborate with you.
Sell your merchandise.
If you have already established yourself in the podcast world, you probably sell merchandise. The more that people know about the products that you want to sell, the more likely it is that you will see sales increase.
You can boost your podcast's earnings by simply embedding merch into your story. Whether you have a Shopify or Teespring store, your products will be displayed beautifully inside your story.
Interact with your fans.
If you are looking to grow your audience, try using Vocal as part of your podcast's marketing campaign. Vocal allows you to create engaging stories for your fans, expand your podcast's reach, and earn some extra money in the process.
By joining Vocal, you can amplify your reach, tell the story beyond your your podcast, and gives your fans an incredible experience they won't forget.
Reader insights
Be the first to share your insights about this piece.
Add your insights