How to Recycle Your Content on Vocal
Finding a way to recycle your old work can save hours, but displaying old content in a fresh and engaging way means having a plan.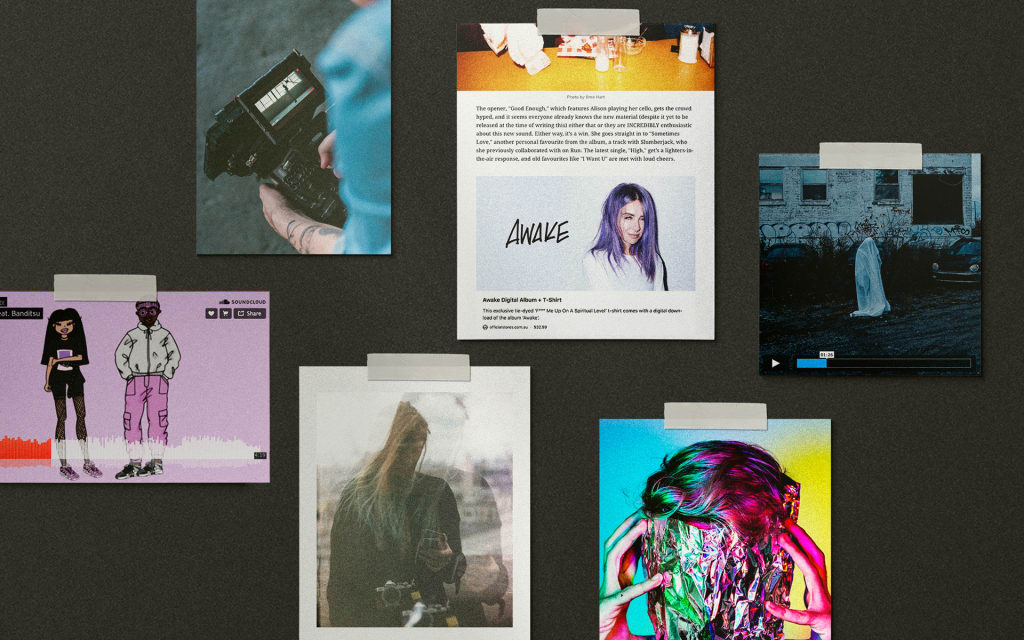 No matter where you look online, high-quality content is always in high demand. Creating stories that connect with your audience can be hard work—but doing so on a regular basis can be an even greater challenge, particularly when you have to find a way to promote it.
The struggle for content is all too real for most creatives. Unexpected obligations, time constraints, or even a general lack of ideas can lead to stifled creativity.
When you hit a creative block, it's still important to connect with your audience and continue to promote your stories. But how do you find the inspiration you need to keep creating content that your readers love?
The answer: Recycle your older stories.
Let's Talk Strategy
Before you start copy/pasting your old content, let's talk about two things you're probably already familiar with: Engagement and Consistency.
Engagement is the catch-all term for how many shares, likes, comments, and interactions that any piece of content receives.
There are entire companies built around studying engagement, including how often you should post, and at what time of day, to drive engagement with your stories. The one thing almost every study agrees on is that consistency matters. Creators who are consistent are likely to see higher overall engagement and better performance on social media websites and search engines.
Active, relevant creation is the definitive way to keep readers coming back for new, interesting stories week after week.
So, how can your old stories help with that? Here are a few quick ideas before we go any further. You can use older content to do any of the following:
Revisit and update readers on topics that you haven't talked about recently
Deliver previously created content in new and interesting formats
Improve on previously high-performing stories to gain new fans
Build a buffer of newer content while still engaging with your readers
While Vocal's submission guidelines don't allow content that is published elsewhere online, there are some simple ways to use your previously published stories for inspiration and even rework them into new, relevant content that your readers will love.
Remember: Recycling old content isn't a way to cheat your fans out of new content. You have to be selective about what you choose to recycle and why you choose to promote it, but there's definite value in stories that performed well in the past.
Indexing your Old Content
Take a minute to look back over your stories from the last year in your Vocal stats page. What is performing well? Did you have any standout hits where your stories saw a spike in engagement? What about older content that might still be relevant?
Grab a notebook, or open up your favorite note-taking app (we recommend Notes or EverNote). Let's break down each recycling candidate one at a time:
1. High Performers

Look back through your content and highlight the stories that got the most engagement. Be sure to look through your social media channels, too. Check for your most liked Instagram post, your most retweeted tweet, and your most commented on Facebook post to determine your top hits.
Well-received content is a prime choice for recycling. It's an obvious pick because it has already resonated well with your readers once and is likely to do so again.
2. Evergreen Content
Some content never fades. That book review that you published a year ago? That's evergreen content, particularly if people are still talking about the book. Look through your post history for any of the following:
Tips
How-to content
Product reviews
Listicles
Guides
Historical deep-dives
Best / Worst practices
In your search, you may locate some "evergreen-adjacent" content can give you a good starting point for evergreen content ideas. If "Best Modern Pop Singers" was your highest-performing story to date but none of the artists are relevant anymore, you still have a baseline for what type of content resonates with your readers. A more evergreen version of it, such as "Best Pop Singers of All Time," is likely to gain similar traction. From there, you can continue to branch out the topics of your stories and watch your stats page to see what your readers are most interested in.
Similarly, you may find some evergreen-adjacent content that was published on other platforms, or wasn't published at all. If your list of the "Best Modern Pop Singers" was only from a year ago, a little work could make it relevant again and differentiate it enough from a story published on another platform to qualify it for publication on Vocal. Update the information on the artists that are still relevant, replace those that aren't, and review the story as a whole through the lens of a more experienced writer. Don't be shy about adding pieces that need some updating or reworking to your list.
3. Similar Content

When scanning your stories, how many of them are topically similar? Have you posted 50 short stories in the last few months all dealing with the same subject matter? Do you have several book or movie reviews from similar genres? If you're a musician, do you have playlists that you can embed in a story? If you're a podcaster, do you have some episodes you'd particularly like to highlight?
As you scan through your previously published content, take careful notes on what pieces might be similar to one another. How did each perform as a whole? How did each perform individually?
Mark those similarities and set those items aside.
4. Never Before Seen
For this category, we're going to leave your previously published content behind. Instead, we're diving deep into the forgotten folders of your hard drive for old stories that you've never posted before.
Maybe it's the guest post you created but was never published. Maybe it's the video you never published to Vimeo, or that podcast you recorded but never published anywhere. Maybe it's time to dust off those older pieces and freshen them up. Take a minute to look at these stories, not for what they are, but what they could be.
Really think about it. Could that older content resonate with your readers? Could you build upon it or improve it?
If the answer is yes, set it aside.
Repackage & Renew
By now, you probably have a variety of content. If you've never recycled your stories, you could be sitting on an extensive body of work.
But what do you do with it?
The repackaging process is the most exciting part. Keep your notes on your recyclable stories nearby and add to them as we talk about ways to transform your old work into something new and exciting. Here are a few suggestions:
1. Now and Then
Remember that story you wrote two years ago that saw a lot of engagement? Why not rewrite it from today's perspective? You've gotten wiser; maybe your perspectives have changed. Can you update that content to create something relevant to your current fans?
The same is true for any kind of work showing its age. Photographers, why not share a photo of the same place taken at the same time and talk about the differences between then and now? Writers, why not rework an old short story with new creative writing techniques you've learned?
2. Change Formats
If you find yourself with a handful of similarly-styled content on hand, changing formats and then using Vocal to promote that content is a clever way to deliver it to new fans.
Authors of can post excerpts from their books and embed a link to the book to drive awareness and sales.
Podcasters can transcribe episodes with Sonix and embed the podcast in their story to get more listeners and drive growth.
Photographers can transform a collection of individual travel photos into a travelogue and embed their website while including a description of their travels and/or photography methods.
Videographers can transcribe their videos or write a short synopsis and embed their video in their story.
Musicians can create a short description of their work and embed playlists to drive Soundcloud and Spotify listens.
Modern, high quality content doesn't need to be confined to one medium or format. Change the way you imagine your stories by adding dynamic and interesting content from another medium.
Given the opportunity, you may find that your fans interact with older content in new and exciting ways.
3. Old Content Redux
If you dug up any previously published or unpublished stories from your hard drive, consider taking the time to update and refresh them to make them evergreen, as we described above.
Vocal's communities provide a unique way to allow creators to publish—and readers to consume—stories on many different topics. If it interested you enough to create content about it, changes are there's a community that it can fit on. That being said, take a look at the communities in Vocal's network while you update your stories to make sure you're moving in the right direction with your editing.
There is no obligation to cling to the past when recreating old content. If it isn't relevant or if you don't love the writing style you used back then, strip it down to bare bones and recreate it from scratch. Even if you simply work with the most basic idea, that's still often better than starting from scratch. You have the positive selection of knowing what resonated with your audience, and you have a topic and basic outline to work with.
4. Curate and Consolidate
Think about how you might consolidate similar content into lists or collections. If you have several reviews of beauty products, these can be reworked into a list article highlighting your favorite makeup brands. Similarly, book or movie reviews can be grouped together to make genre-specific lists, or your can take stories you wrote about travelling and combine them into a travel guide for a specific location.
This concept also works well for many of the methodologies we discussed above to change content formats.
Authors can create an anthology of short stories and publish an excerpt on Vocal, embedding the full work in their story.
Podcasters can choose their favorite episodes to summarize and embed in a list article.
Photographers can compile similar images and write a short blurb about each, embedding or linking to their website in their story.
Videographers can create a list article with their favorite videos on similar topics embedded, either transcribing the videos or writing a short synopsis for each.
Musicians can curate and embed playlists of their work with short descriptions of their careers or the inspiration behind their music.
Continue Adding Value
As you're deciding which of the above courses of action to take with each story, be sure to consider the performance metrics of each one. This information can be useful in creating new and exciting stories for your readers because, through their engagement, they are telling you what they like most.
That brings us to the most important aspect of recycling old content: Added value.
While recycling content has some serious strategic advantages when it comes to your posting schedule and overcoming creative blocks, it's essential to find a way to add value to your older content when you show it to your readers. Continue to provide them with something new, unique, and highly desirable by embedding related, rich media to keep your content fresh and exciting. Keep the notes you took close by during the process, and compare which strategies work best for which stories.
In some cases, you might have to work hard to consolidate and update older work. Other stories will take less work and may have a faster turnaround time from discovery to completion. Either way, you have a valuable starting point. You have the reference of what's resonated with your readers in the past, and you have an idea and a basic outline to work with.
If you do it right, recycling old stories can breathe new life and engagement into stories that your readers have interacted with in the past. Don't let that great content go to waste.
Reader insights
Be the first to share your insights about this piece.
Add your insights