I Need Therapy
but it feels like professional gaslighting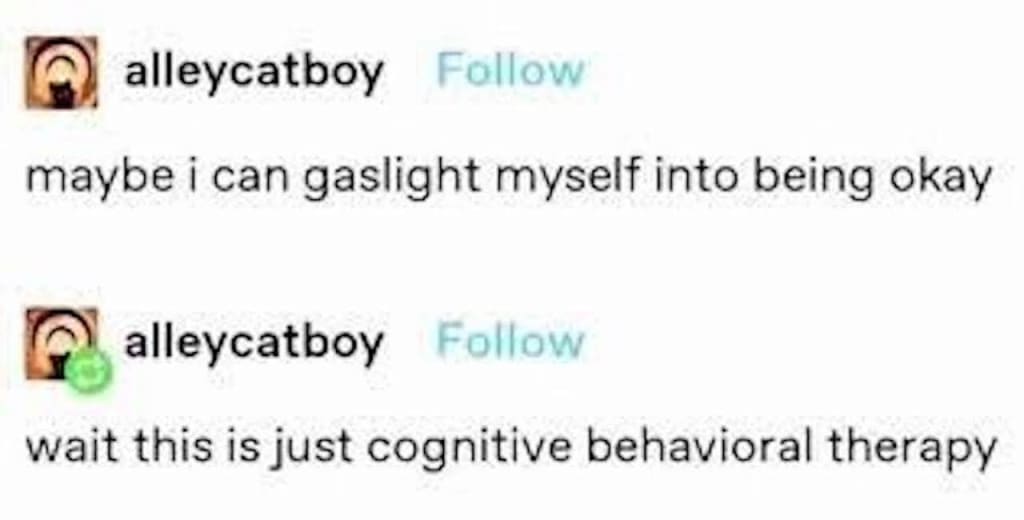 Last night, I watched a movie and it gave me an existential crisis. The movie in question was "The Giant Mechanical Man" curtesy of Tubi. For context, Janice (Jenna Fischer) who doesn't have her life together crosses paths with Tim (Chris Messina) who performs on the street as the giant mechanical man and finds purpose in his street performance because he wants people who don't have their lives together to feel less alone.
Time to spiral!
I feel like something is missing in me that everyone else seems to have and that is the ability to continue under unfortunate circumstances. The ability to persist through adversity. As beautiful as the metaphor is, I am not the concrete rose. I am cynical, pessimistic, nihilistic. I get overwhelmed by the littles things and don't believe/can't understand why people aren't falling apart all the time. That would imply that I am wrong, right?
Is therapy just the act of gaslighting your brain into not recognizing patterns of behavior or finding meaning in your (negative) experiences? I know human beings are complex, but if you've been alive for almost 3 decades and keep having similar experiences, however unfair or unfortunate, are you not supposed to believe that those experiences reflect the norm of human behavior and are you supposed to live your life with no regard for those experiences? Are our experiences not supposed to inform how we navigate the world unless they're wholly good experiences that confirm that human beings are good? And is that not a form of confirmation bias?
And on the topic of confirmation bias, I know that believing that I will never find anyone to meet my emotional needs is a limiting belief and that there are so many therapists who will tell me that there are a bunch of hypothetical people out there who won't be like the people who've hurt me in the past. My question is, what if I never meet these hypothetical people? Does anyone account for this possibility or am I suppose to delude myself and continue in hopes that I will find my way to these hypothetical people who will meet these needs as I am not able to meet them for myself. I truly hate things that there are human needs that you cannot fulfill for yourself.
Like how Adrianne Lenker said,"like the rock bears the weather" in "not a lot, just forever". The rock can't do anything about the weather that wears away at it. Or the way Aly and AJ said, "I feel like a guitar that's never played" in their song "No One". I'm a guitar that's being neglected and I need someone to change my strings because I can't do it on my own.
What if these negative experiences keep happening? I didn't even want to believe what these experiences seemed to tell me, but from a very young age that the consequences of showing emotions was bullying, invalidation, and abuse.
I tried to move through the world believing that there were people who would love me somewhere and I just needed to find them. There were fits and start but I kept trying.
I'd make a few friends and I'd tell myself that this time would be different and it wasn't. I tried again. Surely this time will be different. It wasn't. I tried again, and again, it wasn't different. How many times can I reasonably delude myself and keep trying before it's more rational to give up? I cannot live my life for hypothetical people and hypothetical positive situations.
At this point, I have no solutions and advice is welcome.
Reader insights
Outstanding
Excellent work. Looking forward to reading more!
Add your insights