Super Delicious Vegan Sandwiches for Fall
Melty, roasted, crunchy, gooey - the best vegan sandwiches warm up your fall the healthy way. 
Back in college, my BFF Karen's then-boyfriend, now husband Eric was part of a Sandwich Club. It had only two members: Eric, and his friend Brian. I don't know why, but for some reason, I pictured this guy as a chubby, sweaty Dungeons and Dragons kind of guy complete with awkward facial hair and zero social skills. Imagine my surprise when I eventually met this "Brian" and he turned out to a strikingly handsome, very funny guy with perfectly rolled up sleeves and high cheekbones. Also my future husband. Uh...who's awkward now? (The answer is: me, for judging people I don't even know and then totally eating my words by marrying them.) ANY WAY, the only way you could get into the Sandwich Club was by marriage (or so Eric and Brian said), and that was definitely a plus. I always forget about how healthy and texturally amazing sandwiches can be. They're the perfect vehicle for all your crispy, crunchy, chewy, creamy, fresh, and flavor-filled favorites. Just shove your favorite edible goodness between two slices of bread (or lettuce, if that's the way you like it) and mash your face into it. But if you need some sandwich-making confidence or just new ideas, read on for a list of seriously delicious vegan sandwiches that are perfect for fall.
I'll never forget the first time I had hot wings. My just-for-the-summer boyfriend took me to a super sketchy bar and we ate bone-in hot wings with bleu cheese sauce while heavy metal screeched from the speakers and my tongue burned. I wanted to like them, but I wasn't sure that I actually DID. Over the next several years I kept trying the amazing buffalo sauce combination in a ton of different variations and I loved it every time. This Vegan Buffalo Cauliflower Sandwich with Ranch Sauce is brilliant and perfect for a chilly fall evening with friends. Just cut a cauliflower into two to make steaks (or four if you want to make smaller, slider-style sandwiches). Dredge the cauliflower in batter, pop in your oven to bake, then smother in buffalo sauce and dip in vegan ranch (recipes for both included). Devour (minus the ear-shattering heavy metal, unless that's your jam).
 Cranberry Walnut Chickpea Salad Sandwich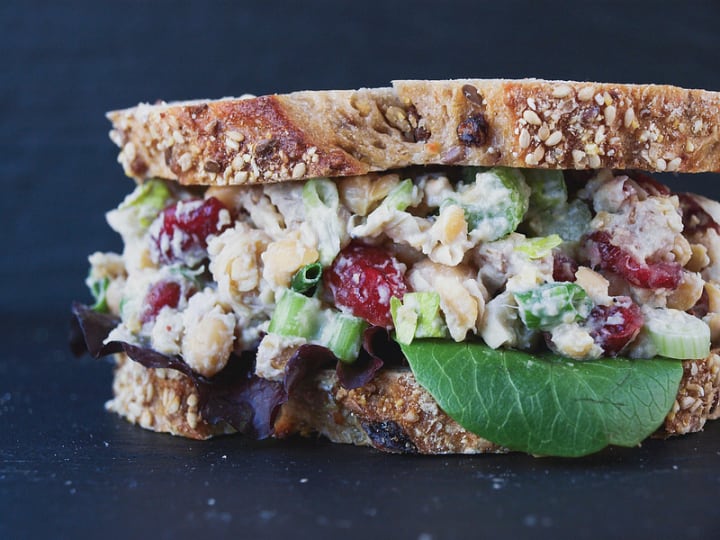 Cranberries aren't just for Thanksgiving. Once they start showing up in the grocery store in the fall, it's time to buy a whole bunch and put them in just about everything, including this Cranberry Walnut Chickpea Salad Sandwich. Chickpeas are so incredibly versatile - you can roast them with spices for a snack, blend them up into hummus, fry them up in scrumptious falafel, or dump a can into veggie soup for some added protein. Of course, you can also put them in chickpea salad, which is even better as part of a sandwich, especially when the salad includes cranberries. It's "chunky, sweet, peppery, and crunchy" as the author describes it, and makes a hearty meal that you'll love on a cold fall afternoon for lunchtime. Really, it's so substantial that the bread is optional, but the fruit, seed, and nut loaf featured here looks pretty close to perfect. It's great on a bed of greens too. If you want to make it when fresh cranberries aren't available, of course you can use dried.
Green Goddess Melt Sandwich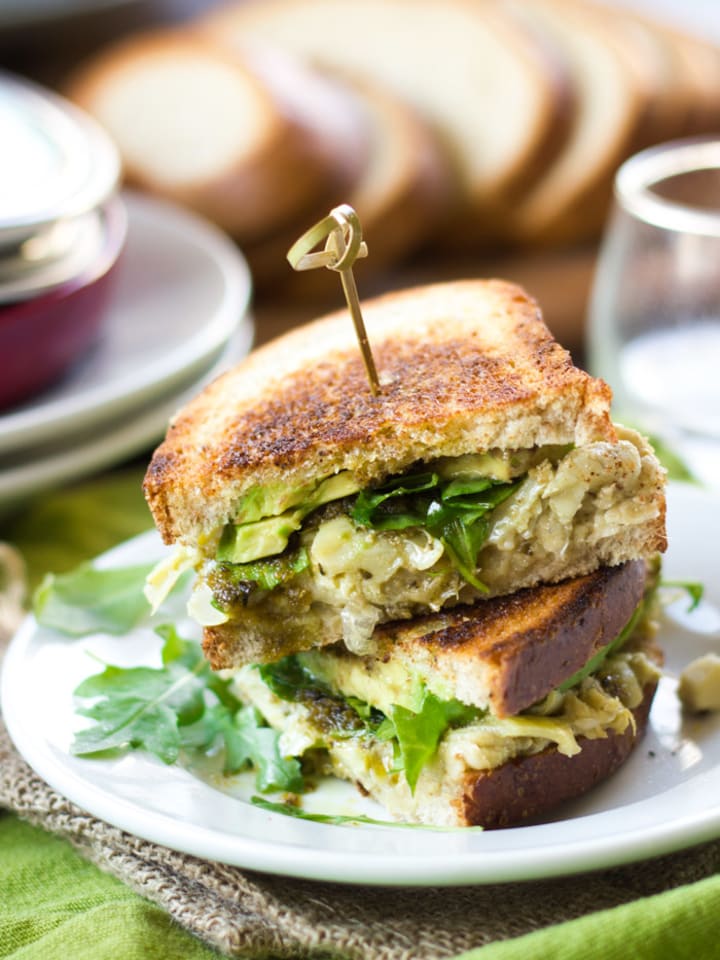 Technically nothing is actually melting in this sandwich - there aren't any vegan cheese substitutes of any kind. But the author promises, "if you were to take a bite of this sucker with a blindfold on, you'd never ever know that you were eating something that wasn't melted." How can she make such grandiose claims? The creamy, warm soft gooeyness that comes from mashed beans, garlicky pesto and avocado slices layered inside this amaaaazing Vegan Green Goddess Melt Sandwich. You'll also find artichoke hearts, some of my favorite meaty little veggie pieces of all time. The whole thing is grilled until it's golden, crunchy, crusty, and all the other elements that make a perfect melt. The best part? In about 15 minutes you'll be ready to eat your veggies - decadent, delectable veggies.
Roasted Butternut Squash Slider with Balsamic Caramelized Onions and Sriracha Mayo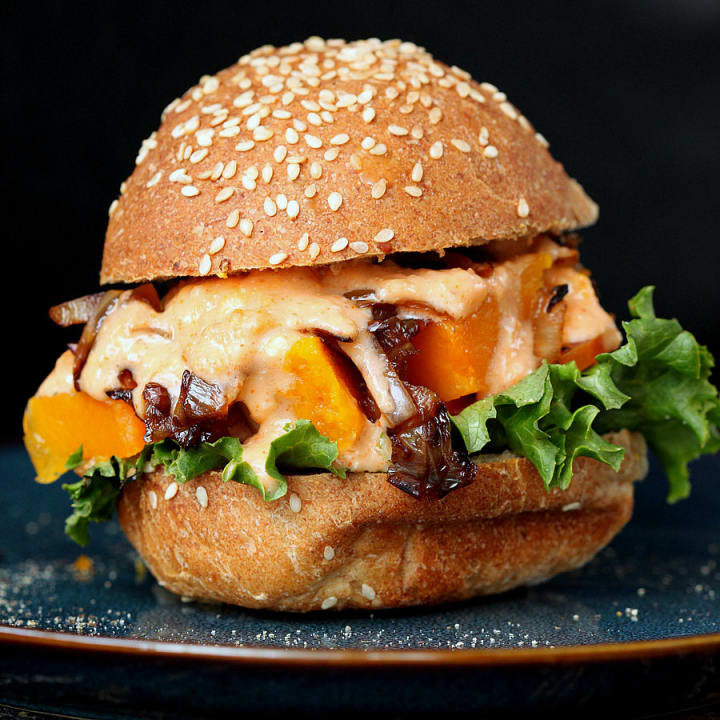 Just LOOK at that sesame seed bun. If you're a game day party kinda person, you might want to bust this recipe out for some seriously satisfying gourmet sliders. They're like nothing you've ever tried before. If you're new to roasting squash, be sure to heed Vegan Richa's instructions and roast your butternut squash WHOLE (with just a couple holes poked in it so it doesn't explode, which I can tell you from sad experience that it will if you don't). Butternut squash is super hard when it's raw and can be slippery when you're trying to cut it, and it's much harder to eat a slider with missing fingers. The title - say Roasted Butternut Squash Slider with Balsamic Caramelized Onions and Sriracha Mayo three times fast - makes this sound complicated, like it's going to be a pain to prepare, but caramelizing onions take minimal babysitting, roasted squash is so unbelievably easy to scoop out of its rind once it's cooked, and while you're waiting for both to be finished you can whip up the quick, spicy sauce. You will definitely want some napkins - this baby's hands-on squeeze-out-the-sides and scoop-up-with-a-fork good.
Spicy Falafel and Roasted Veggie Naan-wich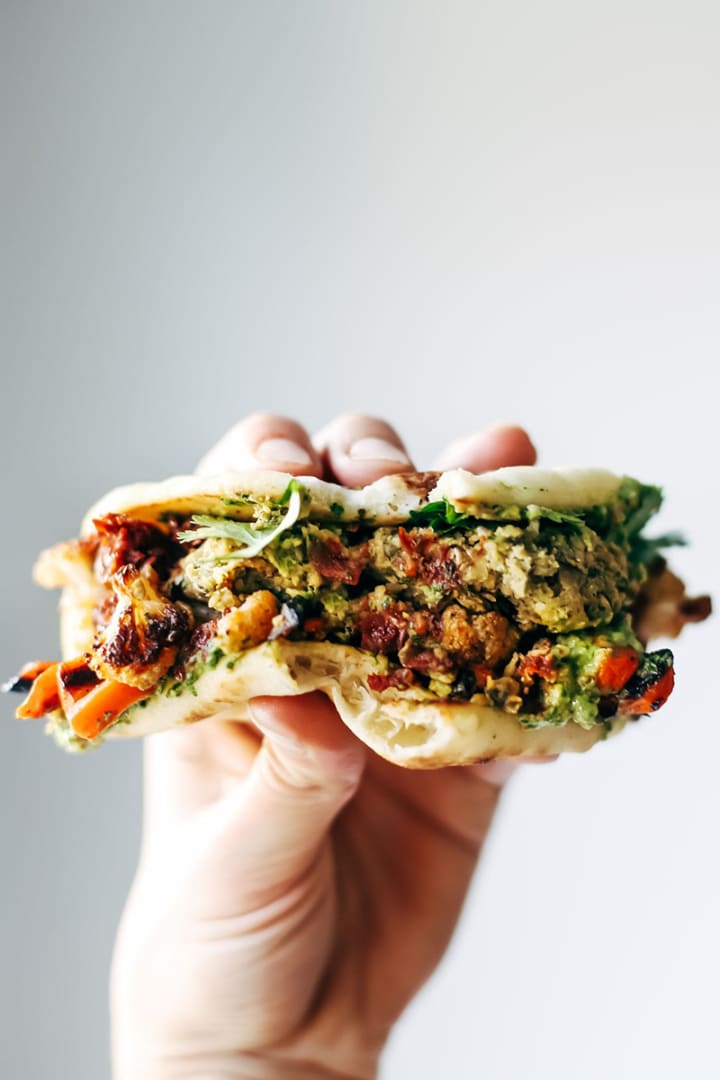 Oh, naan, you puffy, pillowy, chewy, savory flatbread of my dreams. How you make everything so much more delicious. I'm perfectly happy to stuff naan in my mouth all by its beautiful self, but this Spicy Falafel and Roasted Veggie Naan-wich looks like the fusion food train to happy town. It starts with garlic naan (naan's even sexier older brother) and adds homemade falafel (if you have never tried falafel because it rhymes with "awful" now is the time to leave middle school behind and introduce your taste buds to your new favorite way to eat legumes). Then it gets a fabulous topping of roasted cauliflower and carrots, sundried tomato spread, an enchanted substance called "the Magic Green Sauce," and a sprinkle of cilantro. The author recommends snuggling up with one of these darlings and a blanket in front of the fire and adds "also, you would not be mad at yourself if you decided to roll them up (like you would with a burrito), keep in the fridge, and then just grab them for on-the-go workday lunches." Both options sound like the perfect plan for sandwiching (or should I say naanwiching?) your way through the coldest, gustiest days of the season.