Keto Beef Stew
3 amazing Keto recipes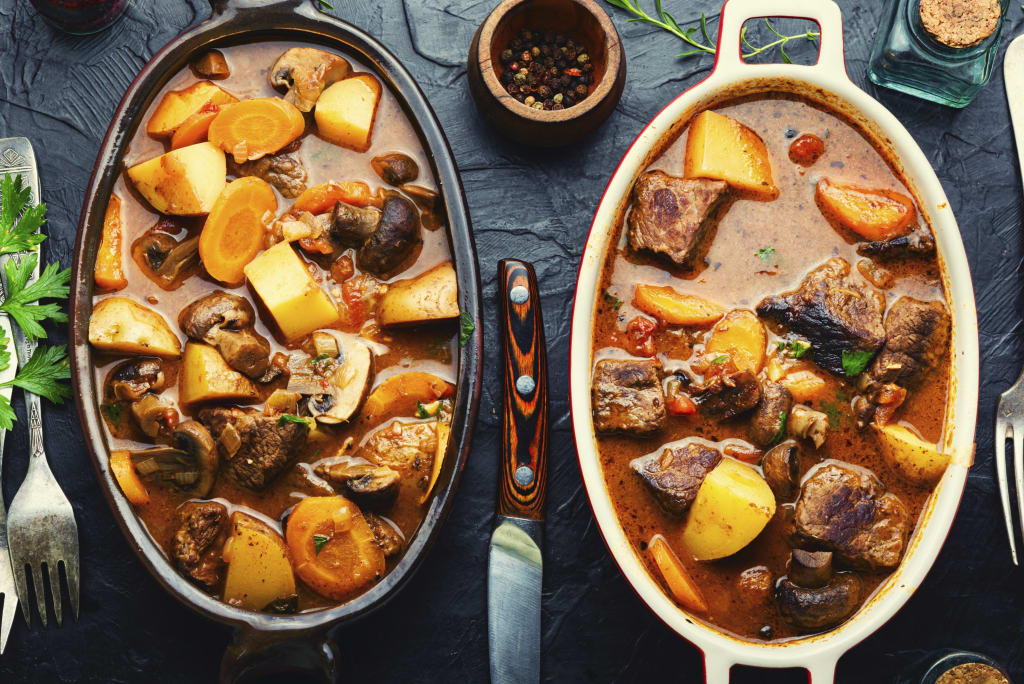 INGREDIENTS
2 lb. beef chuck roast, cut into 1" pieces
Kosher salt
Freshly ground black pepper
2 tbsp. extra-virgin olive oil
8 oz. Baby bella mushrooms, sliced
1 small onion, chopped
1 medium carrot, peeled and cut into rounds (optional)
2 stalks celery, sliced
3 cloves garlic, minced
1 medium turnip
1 tbsp. tomato paste
6 c. low-sodium beef broth
1 tsp. fresh thyme leaves
1 tsp. freshly chopped rosemary
DIRECTIONS
Pat beef dry with paper towels and season well with salt and pepper. In a large pot over medium heat, heat oil. Working in batches, add beef and sear on all sides until golden, about 3 minutes per side. Remove from pot and repeat with remaining beef, adding more oil as necessary.
To same pot, add mushrooms and cook until golden and crispy, 5 minutes. Add onion, carrots, and celery and cook until soft, 5 minutes. Add garlic and cook until fragrant, 1 minute more. Add tomato paste and and stir to coat vegetables.
Add broth, thyme, rosemary, and beef to pot and season with salt and pepper. Bring to a boil and reduce heat to a simmer. Simmer until beef is tender, 50 minutes to an hour.
CREAMY VEGAN CAULIFLOWER CHEESE SOUP
ingredients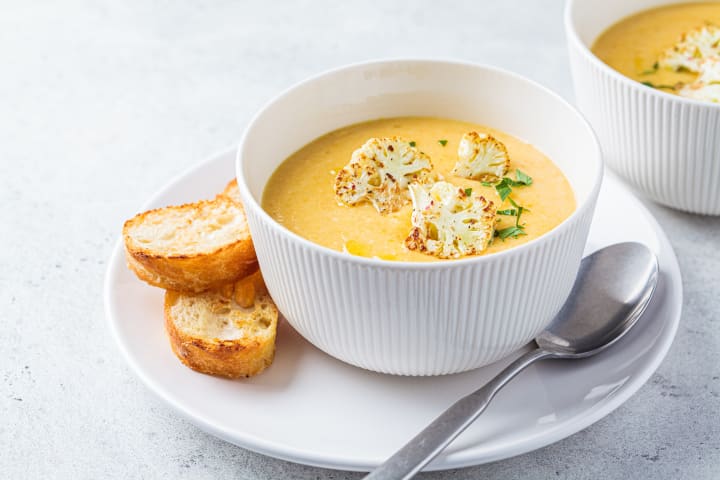 1 large head cauliflower cut into florets
2 large onions finely sliced
2 L vegetable broth
6-8 tablespoon nutritional yeast flakes (depending on taste)
120 ml plant milk (I prefer Oatly or unsweetened soy)
100 g grated vegan cheese (plus a little extra for finishing)
Dash freshly ground pepper
Instructions
Put the cauliflower into a large saucepan or stockpot, along with the onions and vegetable broth.
Bring to the boil, then reduce the heat and simmer for 10-15 mins, until the cauliflower is fork-tender.
Remove from the heat, and ladle into a blender, along with the nutritional yeast, plant milk, and vegan cheese.
Blend for a couple of minutes, until smooth.
Season with pepper, and serve sprinkled with a little grated vegan cheese.
This creamy vegan cauliflower cheese soup will keep in an airtight container in the 'fridge for around 5 days. It's not suitable for freezing.
Keto Chicken meatballs and salad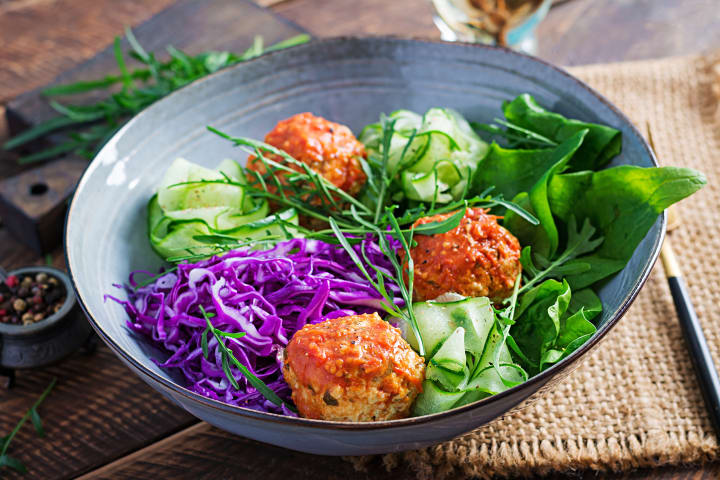 Ingredients
▢ 1 pound ground chicken
▢ 1 large egg
▢ 3/4 cup grated parmesan cheese
▢ 1-1/2 tablespoon olive oil
▢ 1 teaspoon garlic powder
▢ 1 teaspoon onion powder
▢ 1 teaspoon smoked paprika
▢ 1/2 teaspoon cayenne powder
▢ 1/2 teaspoon salt
▢ 1/4 cup fresh parsley .. chopped
Instructions
To make Keto Chicken Meatballs, pre-heat your oven to 400 degrees, line a baking sheet pan with foil and lightly spray that foil with non-stick spray.
Then, add ground chicken, parmesan cheese, egg, oil, fresh parsley and spices to a large bowl and using your hands, mix well until everything is well incorporated. Using a large spoon or a scooper, portion out your meatballs and place them on your baking sheet. You should get approximately 28-30 meatballs. Bake for 25 minutes, remove from the oven and serve with your favorite salad.
Grilled Salmon with Veggies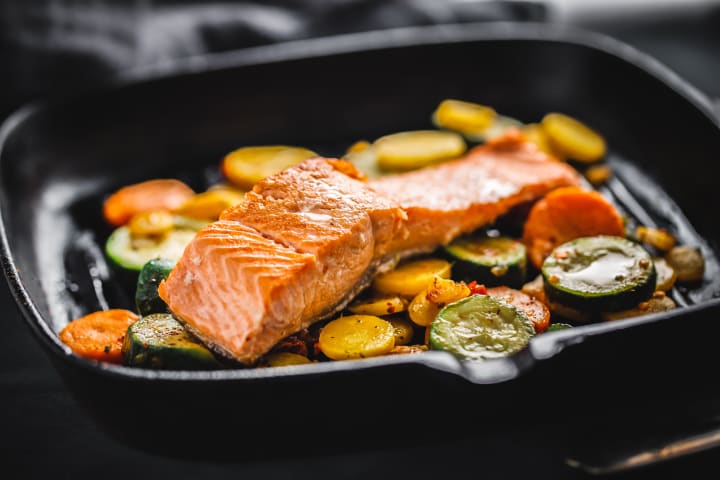 Ingredients
1 small zucchini, trimmed and quartered lengthwise
3/4 red bell pepper, quartered
3/4 green bell pepper, quartered
1/2 bunch asparagus, ends trimmed
2 tablespoons olive oil
3/4 cup store-bought Greek vinaigrette
1/2 yellow onion, sliced into thick half-moons
Four 6-ounce skinless salmon fillets
1/2 cup crumbled feta (optional)
1/4 cup kalamata olives, roughly chopped (optional)
2 tablespoons chopped fresh parsley
Directions
Preheat a grill or grill pan over medium-high heat.
Put the zucchini, bell peppers and asparagus in a large bowl and toss with a scant 1 tablespoon of the olive oil and scant 1/4 cup of the vinaigrette, making sure everything is nice and coated. Transfer the coated veggies to the grill. Add the onions directly to the grill and give them a good brush with the vinaigrette and olive oil mixture. Grill, turning the veggies every 2 minutes, until tender and well-marked, about 8 minutes. Remove to a serving platter.
Pat the salmon dry with a paper towel. Reserve 2 tablespoons of the vinaigrette for serving, then brush the salmon on each side with 1/2 tablespoon of the remaining vinaigrette; drizzle on both sides with the remaining olive oil. Grill the salmon for 2 minutes, then rotate 45 degrees and cook for another 2 minutes. After 4 minutes total, flip the salmon and grill on the other side for 2 minutes, then rotate and cook for 2 minutes more. Brush with some of the remaining vinaigrette while cooking if needed.
Transfer the salmon to the serving platter with the vegetables. Drizzle everything with the reserved vinaigrette. optional. Sprinkle over the feta, olives, and parsley.
Have you ever...
Been hungry, and wanted something tasty, but you just don't know what to eat...
Preparing healthy meals often takes time, are far too complex, and use ingredients that you can't find anywhere!
In this book, you will get the best low carb recipes for losing weight & for a flat stomach you can prepare in less than 10 minutes.