Five Guides to a Happy Place
Sometimes the easy route is best.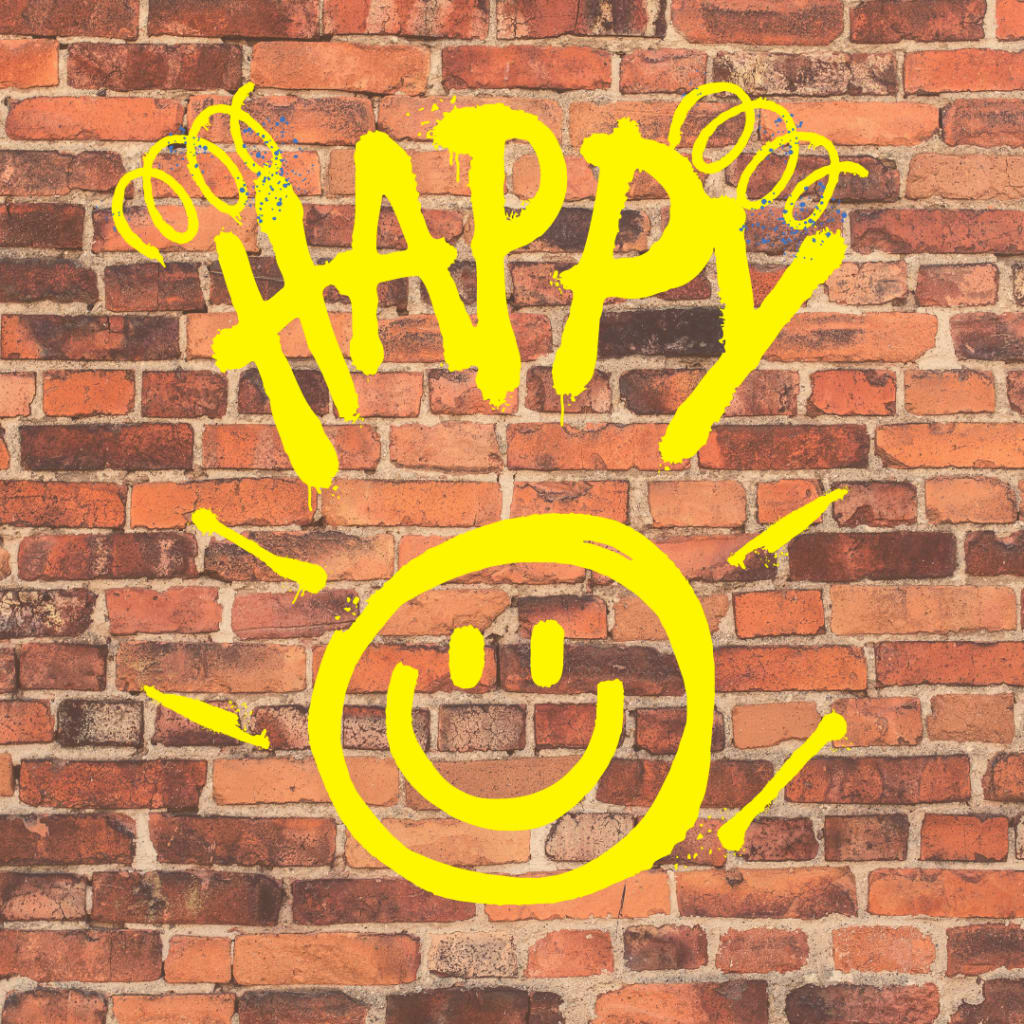 Unpacking, in its basic form, is like chatting with a friend to share something dreadful that's happened to you. There are times our friends can offer the best solutions and there are times… not so much. Either way, we must do something with the stuff that comes from unloading our emotions and connecting them to the relating situations. Recently, I recalled not knowing how to manage my stuff after unpacking. My initial experience with talk therapy filled me with alternating reactions of anger and disgust. When I continued speaking of the circumstances that got me there, I hid in any space that was left. After a few sessions, I coiled into a ball of anxiety. I went down a rabbit hole of depression. Then I planted myself on top of a mound of self-sabotage. Soon after, I stopped going to therapy.
Giving up therapy left me in a rough state. Exhausted and mortified, I settled in a behavioral unit. The impact of depression caused every inch of my body to ache. Decades of negative thoughts frazzled my mind. Shame, guilt, and fear cleared a path for boulders to crash into my life. I felt like I was running out of hope. I needed support to manage the trash of childhood trauma, domestic abuse, and intimate partner violence. Otherwise, I'd waste the rest of my life tripping over too much garbage, most of which did not belong to me.
The severity and the duration of trauma I lived through required I learn how to manage when life got uncomfortable and messy. Talk therapy suited my needs, although I previously ran away. By my fourth round of therapy, I was attending one-hour sessions, three times a week. Space was available for me to sit with the discomfort of acknowledging the trash bins that filled my childhood. Grace was in abundance for me to be angry with being preyed upon and the violations & betrayals that followed. Some days, my tears tasted old and funky, like the hot garbage I buried to appease others. No matter, I remained committed to clean up the wreckage. Every session I went dumpster diving into my childhood, clinging to strands of hope there'd be some relief. The stench of manipulation dissipated clarity. The grossness of my past behavior transformed to closure. Feeling my way through the mess, rather than absorbing it, granted me peace.
How did all this happen? Over many years, I've gathered great resources. But I am amazed at the immediate solution from the following five tips. They have provided me with what I need, especially on my gloomy days… the days where sitting up in bed was a chore.
1. Get dressed every day.
Aim for simple. Bathe in your favorite scent and top it off with a moisturizer. Dress in your favorite colors. Or get silly with it, put on mismatched items, like socks or slippers. Think of what will cause you to smile when you walk past a mirror, then put that on. If "dressing to the nines" is your goal, enjoy that too.
To lounge in the house smelling good and feeling comfy is all the win I need. Styling my hair ups my game. I feel accomplished and motivated to get other things done.
2. Slow Down.
We can diminish joy when we rush. How many wallets have you lost with cash inside? Let's not forget the anxiety that comes from not having money to pay for a cart full of groceries. Have you run out the door, knowing you forgot something, but not sure what… until you need it? You are not alone. I was infamous for locking myself out of my car and my house. Overwhelm showed up, and I showed out full of agitation. It took a minute for me to get it, but I had to slow down. To decrease the mark of overwhelm and agitation, give yourself time. Prep as much as possible. Gather items in the same place, so you can find them easily. Try putting them in one area in advance.
Planning gives me a great sense of calm. There will be moments when control over your time will not exist. Take deep breaths, gather your thoughts to prioritize what's important. On those days, start by grabbing each item as it comes to mind. Walking in and out of a room several times used to bring me to the point of panic. Now I remind myself, "this is going to make me happy."
Please believe me when I tell you there's been days when time was what it was. I had scheduled a shared vehicle for work. They showed up over twenty minutes early. I started rushing to gather my things. My mad dash had me knocking stuff over until I spilled half of a new container of creamer across my counters. I breathed while watching it stream to the floor. "No bad days, only challenges," is what came out when I exhaled. I was high-fiving myself as I cleaned up the mess. It was cool that the driver acknowledged he was a bit early. I was more amazed by my ability to slow down and made it to the vehicle in a timely manner. I had everything I needed and wanted for work that day. And that random phrase, "no bad days, only challenges" is a constant reminder to give myself space and grace to make mistakes. Being human and allowing the chips to fall where they may is just another day.
3. Feel It.
I can be silly. Not annoying silly. At least I don't think so. But, a dear friend of mine advised I grow up. He just stared at me, waiting for some seriousness to take shape. It didn't. My immediate reply was, "it's overrated." Because I understand how we interact, I knew sarcasm would pardon my absurdity. Trust me when I tell you, I'm five years old. Think about how a five-year-old rules life. A five-year-old tells you what they want. Then run the gamut of emotions without apology. I think they invented the language of sarcasm.
A sure way to sink into a low mood is to stifle your emotions. Think of crying, screaming, laughing, or funny faces as vehicles to move you through the situation at hand. Whatever the situation calls for, do that. Whatever you do is what you need to get to the other side. You don't have to be a bonehead and hurt people. If you're heated, bury your face in a pillow and let it out. Ask for space to sort out what's going on. Return to express clearly your needs and or expectations. Put yourself in a time out if the other person is behaving as an adult. Separate yourself in the best way possible.
4. Mental Health Break
We all know self-care is more than massage and mani-pedis. I love these and take part as often as I can. But mental health breaks are something I do several times a day. It can include anything from writing to sleeping to stretching. Sometimes it's a five-minute meditation or mindfulness activity. I welcome anything that will allow me to find my center. I also keep a few books on hand, even though I may have read them multiple times.
A happy day starts with proper rest. The longest break is sleep. I get close to seven hours daily. When I get a full eight hours and feel rested, I deliver my best self, and what can be happier than that? A few hours before I get ready for bed, I place my phones are on silent. My room is dark when I get in the bed. I dismiss any thought I do not care to sleep with. Lately, I've taken to thinking about my paternal grandmother who named me. I focus on her smile and her voice. I fall into a calm sleep and awake in a good mood. That is, until I'm reminded how old I am by the stiffness in my bones.
5. Who Do You Love?
I remember feeling my therapist is a putz for suggesting I say, "I love you" to myself in a mirror. I had to "pause after each word, and do it consecutively, three times." It took a few weeks of her getting on my nerves before my first visit to my mirror. I was stunned by the boost to my self-esteem. I love you, communicated peace to my soul. My confidence grew and, as my maternal grandmother would say, "I started feeling myself." I felt like I could touch the sky when I got a better job. Not much time had passed before I fell back into old habits. A few years full of overwhelm unfolded a severe bout of depression. In the middle of a session, my therapist sent me to spend a few days in a behavioral unit. On the fourth day, they discharged me. Unfortunately, I went back to making up life as I went along. It wasn't until I dropped my false face and admit I needed help with navigating my life.
Therapy three times a week turned me around. My integrity became a priority as I renewed my power from "I love you." I welcomed accountability to understand how to manage the rough spots. Confidence restored, laid my foundation to build boundaries. And I felt capable as my self-esteem improved. Hence, my strand of hope became fortified with three cords: wisdom, techniques, and qualifications. Uncoiling from my bowed state, my expectations for myself and of others rose. I could no longer dwell in the incinerators of shame, guilt or fear. "I love you" extinguished any filthy residue on my spirit, and I reclaimed my belief I was always lovable, loving and I deserved good.
The way we express self-love will be as different as our reflections in the mirror. I had to step in front of my mirror and declare my love for myself. It's been my guide to safety, comfort, and peace. No shame. No guilt. No fear. Some mornings I'll smile before I even say it. Still, I let it soothe my soul as I absorb each word. "I. Love. You." Reminding myself I love me keeps me happy, so I do it daily.
I hope you enjoyed reading and have found these approaches useful.
I take pleasure in writing and value the support of my readers. You're welcomed to share, and I am grateful for tips.
If you haven't already, visit my public profile here on Vocal. Please subscribe to be notified when I post another story. And connect with me on Instagram @dollymomma_writes
Thank you in advance.
Always in love ❣ 🥰 🥀 🌹 💐
About the Creator
During my roughest times, I maintained my innate desire to help others. Sharing my experiences as a healing narrative helps me communicate hope. Sharing a laugh is love.
Thank you for subscribing, tipping and sharing.
IG @dollymomma_writes
Reader insights
Nice work
Very well written. Keep up the good work!
Top insight
Eye opening

Niche topic & fresh perspectives
Add your insights