10 Ways to Add Argan Oil to Your Beauty Routine
Trust me, you'll thank me later.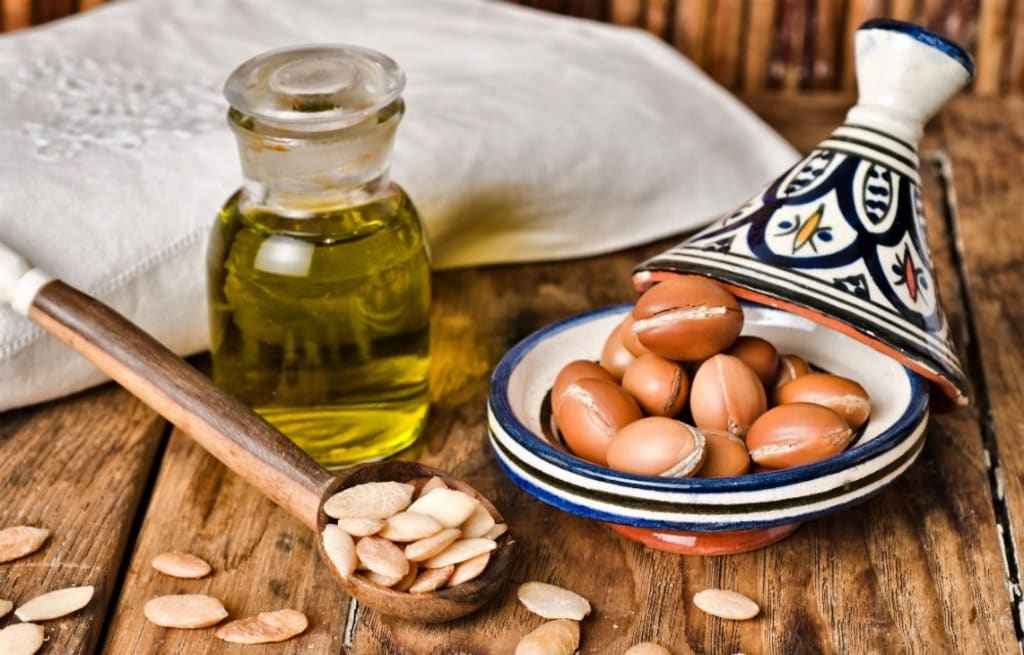 Everyone is in love with coconut oil, but what about the people who aren't? My friend, for example, is allergic to the stuff. Even if she wanted to, she couldn't use any products that contained it without a trip to the hospital. Not cool. But have no fear: Argan oil is here! This plant oil is just as great at multitasking as its tropical competitor and has insanely good benefits. Some of these benefits include vitamin A, vitamin E, anti-oxidants, linoleic acid, and Omega-6 fatty acids. Sweet! But what if you don't know how to use it? No worries, that's where this article comes into play. Here are 10 ways to add argan oil to your beauty routine.
1. Facial Moisturizer
It's super easy to use argan oil as a facial moisturizer. All you need to do is take one drop and apply it to your whole face. This will keep it soft and smooth without any need for fancy and expensive creams. Perfect to use as a light moisturizer for the warmer months!
2. Facial Exfoliator
Instead of buying a pre-made exfoliator, just make one using argan oil! It's ridiculously simple: Just mix a few drops of argan oil with a bit of brown sugar. You can do this in your hands or in a small bowl, depending on what feels right. Personally, I prefer using the palm of my hand. Then, scrub away! Make sure to rinse your face after exfoliating. Great for getting rid of dead skin cells in the winter when your skin is naturally more flaky and dry.
3. Lip Balm Substitute
Who needs lip balm when you've got argan oil? Just rub 1-2 drops into your lips for a perfect lip balm substitute. It'll keep your lips moisturized and chap-free, if used regularly. I recommend doing this 2-3 times a day, or as needed.
4. Stretch Mark Prevention
No one likes stretch marks, but thankfully there's a way to prevent future ones from occurring: Argan oil! To prevent stretch marks, simply warm 2-3 drops of argan oil in your hands and gently rub the mixture onto any problem areas. Do this once daily for best results. I recommend doing it after a nice shower (once your skin has dried).
5. All-Over Body Moisturizer
I know I was kind of dissing on coconut oil before, but I actually love it. In fact, when argan oil and coconut oil pair up, they make the perfect all-over body moisturizer! Just add a couple argan oil drops to coconut oil (or any other carrier oil - like sunflower oil) and spread where needed.

6. Cracked Heel Moisturizer
Not sure about you, but sometimes my heels get dry and actually crack. I notice this more with my mom's heels than my own, but it's still an issue a lot of people face. Thankfully, argan oil is great for that, too. To treat dry, cracked heels, just rub 2-4 drops of argan oil into the affected skin. Then, put on a pair of clean socks while your skin soaks up the oil.
7. Cuticle Softener
Want to have a girls night and do each other's nails? Don't invest in some crazy expensive cuticle oil: Just use argan oil! All you need to do is rub a bit of oil into your cuticles to keep them soft and prevent hangnails.
8. Acne Inflammation Fighter
This oil is also great for reducing acne inflammations. Just try rubbing a bit of oil into breakouts. At the very least, it'll help keep that icky redness at bay.
9. Frizz and Fly-Away Tamer
Most people know and use argan oil because it's great for hair. Well, that's no lie, and if you want to use it for that too, be my guest! To tame annoying frizz and fly-aways, try rubbing a couple drops into wet hair. Don't apply too much though! Less is truly more with this oil.
10. Prevent Razor Burn
Believe it or not, this oil is also great at preventing razor burn. Just rub 1 drop of oil into recently shaved areas, and presto! You're good to go.
Before you buy it, here's what to look for


One more thing - if you're not sure where to get argan oil, or which one to get, I've made it easy for you by listing what real, high quality argan oil looks like. See, there are a lot of argan oils to choose from on the market. The problem? Most of them are impure, meaning they've been diluted with something. This keeps manufacturing costs down for the company that makes them, but decreases the benefits and efficiency of that product.
That's why it's important to look for argan oil that have these components:
Only one ingredient: 100% pure argan oil (no fillers)
USDA Organic (look for the seal)
Packaged in a dark amber glass bottle
Cold-pressed
From Morocco
If the argan oil you choose has all these going for it, buy it. Not into searching for your own? Here's one that has all those components (yes, I checked). You can safely buy this without having to worry about it's quality. Enjoy!
This USDA Organic Argan Oil is imported from Morocco, is cold pressed, packaged in a dark amber glass bottle, and made from only one, pure ingredient: Argan. It's also cruelty-free (and leaping bunny-certified to prove it)!
diy
product review
organic
how to
aging
advice
body
list

Ariana Palmieri
Ariana Palmieri is a green beauty blogger who strives to live as eco-friendly as possible. In July 2015 she started her blog, Greenify-Me, to document her own journey with sustainable products and makeup that would benefit the environment.
See all posts by Ariana Palmieri →