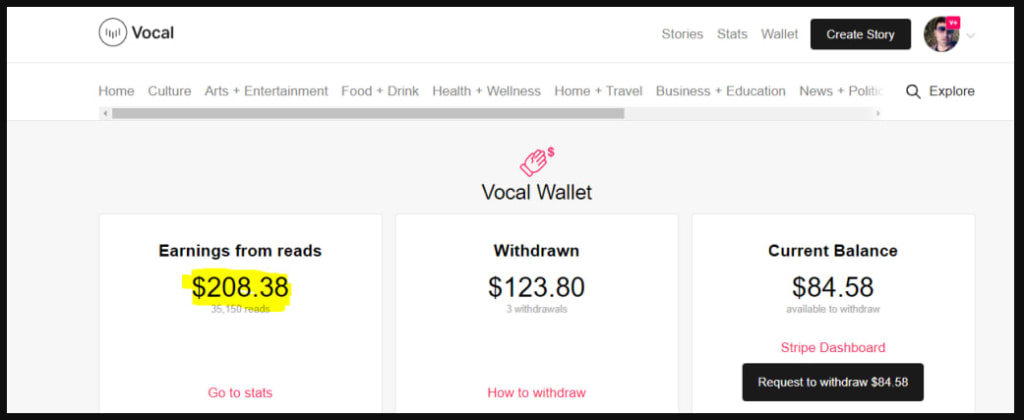 Vocal Media
Vocal Media is a platform that allows users to publish their own stories, poetry, and other types of written content. It's a great platform for aspiring writers who want to get their work out there and start earning money from their writing. Here are some tips on how to make $100 a month writing on Vocal Media.
I am writing on Vocal Media for the past two and a half months and my experience being a writer on the platform really changed in the past few weeks. I was a writer on Medium but now I am putting more effort into writing on Vocal Media. This platform is one of the best for writers to make money because of its lucrative business model.
Recently, I have achieved this landmark of making $100 on Vocal Media. My mission for 2023 is to make at least $2000 a month on Vocal, I am going to share some tips with you guys that could help you make more money on your Vocal Media articles.
1. Write on a Regular Basis
One of the key things to success on Vocal Media is consistency. To make $100 a month, you need to publish a minimum of two articles a week. Writing and publishing regularly helps build your audience and increases your chances of getting paid for your work. It also keeps your readers interested in what you have to say and keeps them coming back for more.
2. Find Your Niche
Find a topic or niche that you are passionate about and write about it. This will help you establish yourself as an expert in your field and attract a larger audience. Some popular niches on Vocal Media include travel, food, beauty, and personal development.
3. Write High-Quality Content
To make money on Vocal Media, you need to write high-quality content that is engaging and well-written. Take the time to research your topic and make sure your articles are well-structured and easy to read. Use images and videos to make your articles more visually appealing and to break up the text.
4. Use Keywords and SEO
Make sure to use keywords in your articles that are relevant to your topic. This will help your articles rank higher in search results, making it easier for people to find your work. Optimize your articles for search engines by using relevant keywords, meta descriptions, and headings.
5. Promote Your Articles
Promoting your articles on social media is a great way to reach a larger audience and increase the visibility of your work. Share your articles on your social media profiles and encourage your followers to share your work with their own followers. This can help you reach a larger audience and increase the visibility of your articles.
6. Join the Vocal+ Program
Vocal+ is a premium membership program that allows you to earn more money for your articles. Members of the program earn a share of Vocal's ad revenue, as well as other perks like early access to new features and a dedicated support team. To join the program, you need to have published at least 10 articles and have a minimum of 500 followers.
7. Be Patient
Building an audience and earning money from your writing takes time and effort. Don't get discouraged if you're not making money right away. Keep writing and promoting your work, and eventually, you'll start to see the rewards of your hard work.
In conclusion, making $100 a month writing on Vocal Media is definitely achievable. By following these tips and putting in the effort, you can start earning money from your writing and build a successful career as a writer. So start writing, promote your work, and enjoy the rewards of your hard work!
Reader insights
Be the first to share your insights about this piece.
Add your insights