Veggie Mushroom Tacos Recipe
How to make Veggie Mushroom Tacos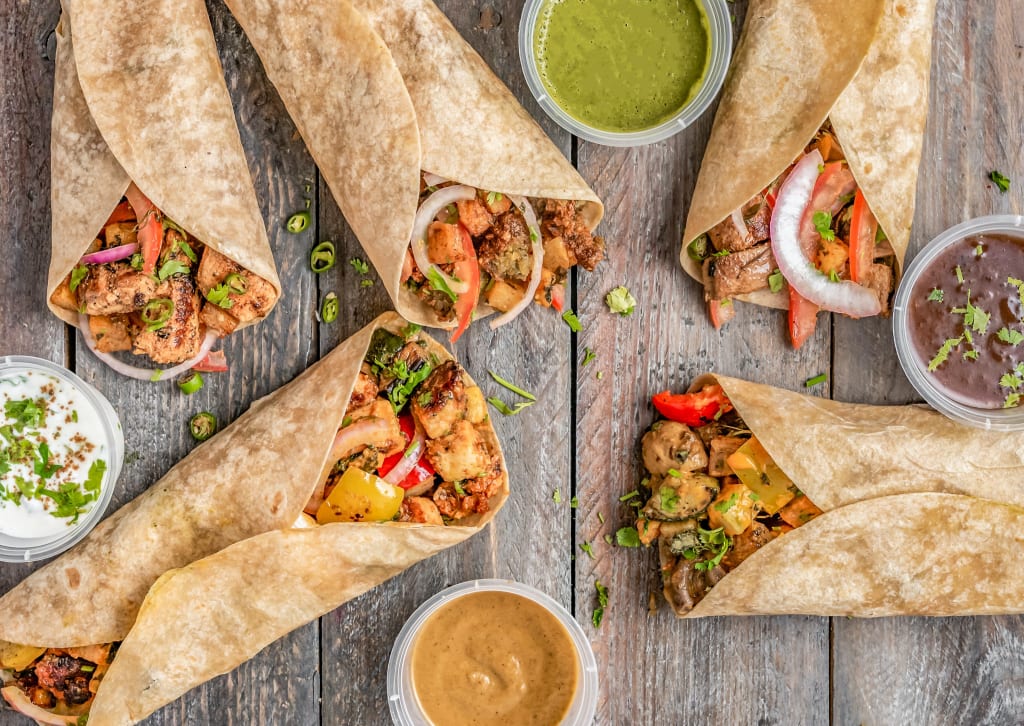 The origin of this recipe is unknown, but it is believed to have been inspired by the traditional Mexican dish, Tacos de Hongos, which is a taco filled with mushrooms and other vegetables.
Veggie Mushroom Tacos: Whether you hate mushrooms or love them, these veg tacos are a delicious way of incorporating them into your diet. Fresh veggie mushroom tacos make a great party snack. They also make for a quick meal when you don't have time to cook. Here's how you can make this tasty dish.
Total Cook Time 20 mins
Prep Time 10 mins
Cook Time 10 mins
Recipe Servings 2
Easy
Ingredients of Veggie Mushroom Tacos
3 capsicums
350 Gram Mushrooms, sliced
1 Onion, finely chopped
1 Tbsp Olive oil
1 tsp Ground cumin
6 cloves of garlic
1 tsp Black pepper
1 tsp Dried oregano
1 tsp Paprika/ chilli flakes
Salt to taste
4-6 Taco shells
Sour cream, shredded lettuce/cabbage, salsa, avocado and lime (optional toppings)
How to Make Veggie Mushroom Tacos (Method 1)
Cut the capsicums into strips. You may choose to use the green, yellow and/or red varieties.
Put one tbsp olive oil into a pan and add the mushrooms, capsicum and onion slices. Start stir-frying them gently for around 5 minutes, until your mushrooms turn brown.
Then add the seasoning: garlic, cumin, pepper, oregano, paprika and salt to taste. Continue stir-frying the ingredients together for around 3 minutes.
Ensure that all the elements are evenly mixed together. Taste and check the balance of flavours. Turn off the heat and let the filling cool for a minute or so. Add a dash of lime if it suits your taste.
Keep your taco shells lined up. Spoon generous servings of the filling into the shells gently.
Top with sour cream and/or shredded lettuce.
Serve with salsa at the side. Enjoy!
Health Benefits of Veggie Mushroom Tacos Recipe
1. Improved Digestion: Mushrooms are a good source of dietary fiber, which helps to keep your digestive system functioning properly. This can help reduce the risk of digestive problems such as constipation and irritable bowel syndrome.
2. Boosted Immune System: Mushrooms are also a great source of antioxidants, which can help boost your immune system and protect against disease.
3. Increased Nutrient Intake: Veggie mushroom tacos are a great way to get more vegetables into your diet. They are packed with nutrients such as vitamin A, vitamin C, iron, and potassium, which are essential for good health.
4. Weight Loss: The high-fiber content of mushrooms can help you feel full for longer, which can aid in weight loss and weight management.
5. Lower Cholesterol: Mushrooms are also low in saturated fat and cholesterol, which can help keep your cholesterol levels in check.
Prepare Veggie Mushroom Tacos Recipe (Method 2)
Ingredients:
Taco shells (or hard taco shells)
1 tablespoon olive oil
1/2 onion, diced
1 bell pepper, diced
1/2 pound sliced mushrooms
1 teaspoon cumin
1 teaspoon chili powder
1 teaspoon garlic powder
Salt and pepper, to taste
1/2 cup black beans, drained and rinsed
2 cups shredded lettuce
1/2 cup salsa
1/4 cup shredded cheese
1/4 cup chopped cilantro
Instructions:
Preheat oven to 350°F. Place taco shells on a baking sheet and bake for 5-7 minutes or until crispy.
Heat olive oil in a large skillet over medium-high heat. Add onion and bell pepper and sauté for 3-4 minutes or until softened.
Add mushrooms and sauté for an additional 5 minutes or until golden.
Add cumin, chili powder, garlic powder, salt, and pepper and stir to combine.
Add black beans and cook for 2-3 minutes or until heated through.
To assemble tacos, fill each taco shell with lettuce, mushroom mixture, salsa, cheese, and cilantro.
Serve immediately. Enjoy!
Reader insights
Be the first to share your insights about this piece.
Add your insights