Oven Roasted Brussels Sprouts
Oven-roasted Brussels Sprouts are incredibly easy to make and are packed with great flavor.
Oven Roasted Brussels Sprouts by Giangi's Kitchen - Giangi Townsend
Oven-roasted Brussels Sprouts are incredibly easy to make and are packed with great flavor.
It takes five ingredients and 25 minutes, and you bite into the crispiest and most flavorful Brussels Sprouts you have ever tasted.
Crispy and golden on the outside and tender on the inside. Mixed with mayonnaise and old-style grain mustard, you will beg for more.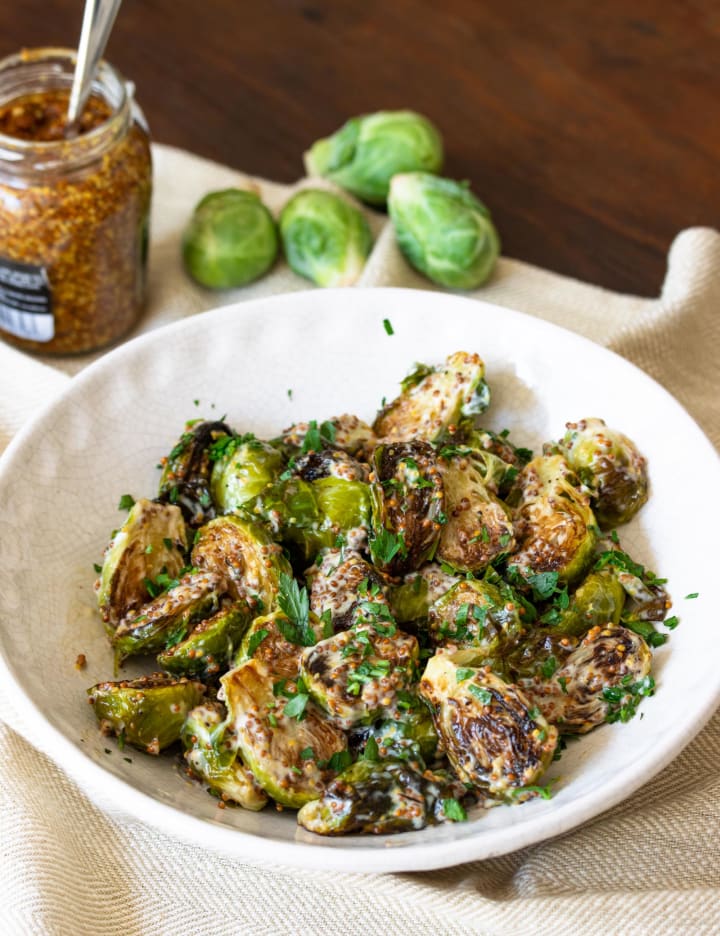 Irresistible caramel flavor, which is sweet and nutty all in one bite. Once the mayonnaise comes in contact with the oven-roasted Brussels sprouts, it melts and releases a tremendously smooth sweet flavor.
The flavor combined with the old-style grain mustard, which is more tangy and spicy, is heavenly for your taste buds.
I was not raised eating Brussels sprouts, but once I took my first bite, there was no way back. I am in love with them and obsessed. Thus, I have shared many recipes with Brussels spouts with all of you.
Raw, steamed, roasted, sauteed, here we have a vegetable that can transform itself according to how you prepare it and is always a delicious side dish.
Roasted Brussels sprouts do not need much seasoning to taste fantastic, but I have come up with many ways to serve them over the years.
How healthy are Brussels sprouts for you?
Brussels sprouts are high in antioxidants, vitamins, and minerals, as well as high in fiber.
The perfect vegetable to add to your diet.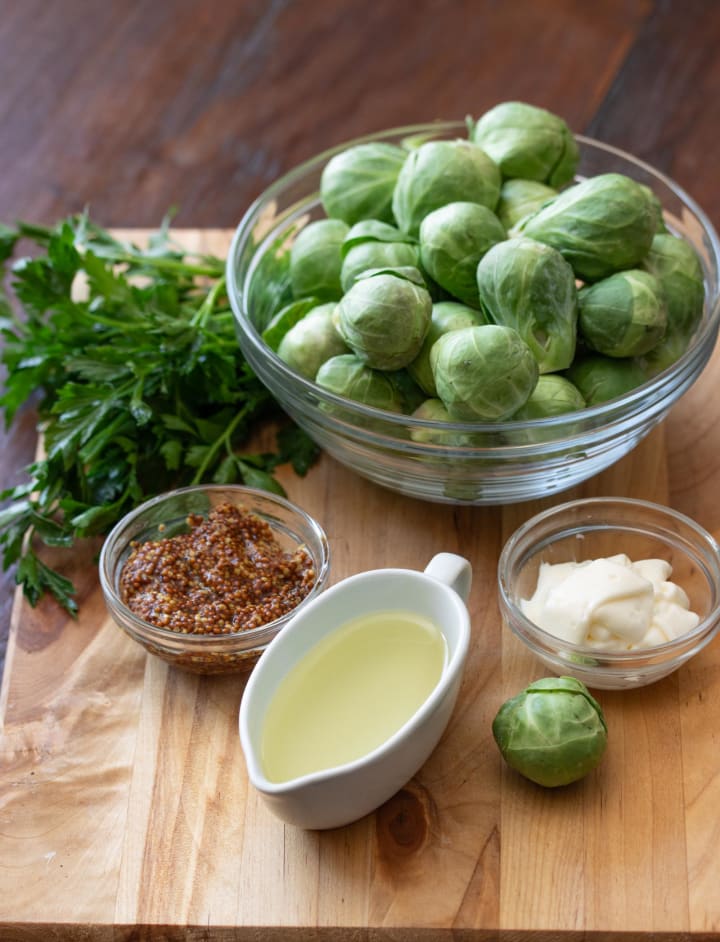 How do you know when Brussels sprouts are ripe?
The season for Brussels sprouts on the Northern Hemisphere is from October and lasts through March. Of course, with the hot houses, our grocery stores always offer them.
They should be firm and a bright green color. You want them free of buds that start turning yellow and begin to open.
Once you see the leaves turn yellow, brown, or wilted and smell like cabbage, they are too old and should not be eaten.
What is Old-Style Mustard?
Mustard seeds are blended with vinegar and white wine into a rich, fruity-scented paste.
The old-style mustard is milder than your regular mustard.
Do not substitute with regular mustard with this recipe, as it will not be the same flavor.
Here are a few helpful tips for the ingredients needed to make these delicious oven-roasted Brussels sprouts
This is a quick introduction. Please read the recipe for complete instructions.
Brussels Sprouts: Ensure they are all the same size for even roasting. Check that the nubby end is clear and not dark-spotted. The other leaves are tightly close to each other.
Olive oil: A light olive oil will not interfere with the flavor of the Brussels sprouts. Bertolli has been my cooking life-long favorite.
Old Style grain mustard: Classic Dijon mustard is characterized by its grainy texture.
Mayonnaise: if you can make homemade it, it is the best. However, Kraft makes a pretty good one, and it is easily accessible all over the world.
Parsley: Optional but adds a nice layer of flavor to this dish.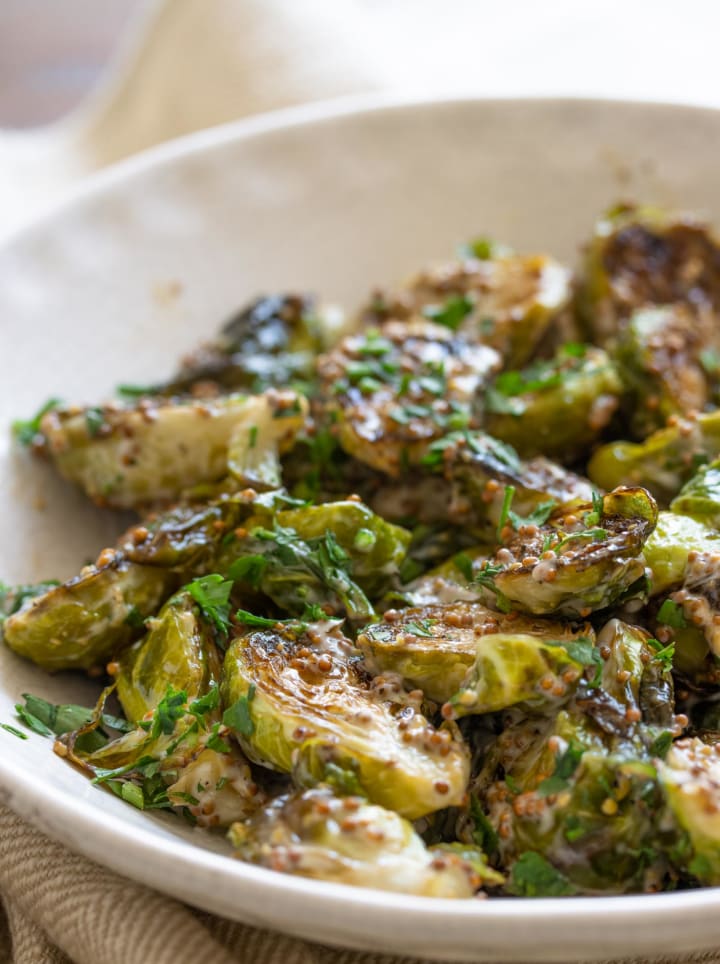 Equipment needed
I only recommend what I use and love.
Cutting board: I always use wood as they are gentle on my knife blades.
Chef's knife: a must in every kitchen. The sprouts are a bit tough to cut thru, and a sharp knife will facilitate the slicing.
Mixing bowl and spatula: Used twice with this recipe. Once to prepare the Brussels sprouts before roasting, and the second time to prepare the sauce and mix them soon after coming out of the oven.
Baking sheet: use a large one so your sprouts will have room to be spread out.
Serving dish: A lovely dish is always welcome to the table.
Roasting tips to consistently achieve excellent oven-roasted Brussels sprouts.
A few tips and tricks will ensure your roasted Brussels sprouts turn out perfectly every time.
Start by choosing your Brussels bright green sprouts with the outer leaves intact and tight to each other. Firm when you gently squeeze them. Having them all the same size is beneficial for even roasting.
Trim the nubby ends and slice in half from the flat base through the top. You want that flat edge that will bake flush to the pan and caramelize.
Do not remove the core. It holds your leaves together, and during the roasting process, it will soften out and give you a great flavor.
Do not overcrowd the baking sheet, or they will produce steam when they roast and will never crisp up to your liking. If making them for a crowd, use two baking sheets. You will thank me for it later.
Bake at a high temperature to get crispy with golden edges, but not too high that the olive oil burns the baking sheet and creates that unpleasant bitter flavor.
But most importantly, do not disturb them when they are roasting.
Halved Brussels sprouts, when placed flat side down against the pan, will steam the inside, making them perfectly golden and crispy on the outside and perfectly tender on the inside.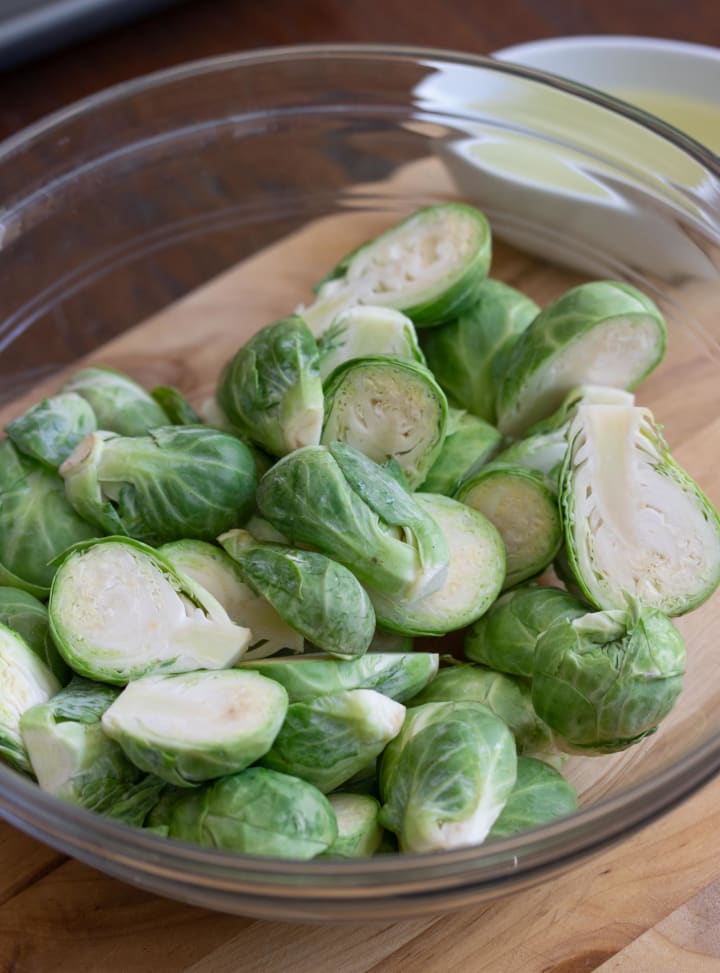 And step-by-step to make these delicious roasted Brussels sprouts with mustard.
This recipe is very quickly achieved.
Wash the Brussels sprouts, dry them, slice them lengthwise, and place them in a bowl.
Add olive oil to them and ensure that each piece is nicely covered.
Transfer the Brussels sprouts to a large baking sheet and turn with all cut flat side facing the baking sheet.
In the oven, they go.
Meanwhile, prepare the sauce by whisking together the mayonnaise and the old-style grain mustard.
Once the Brussels sprouts are golden and ready, remove them from the oven and add them to the prepared mayo-mustard sauce.
Season with salt and pepper, mix well.
Transfer to a serving dish, sprinkle the finely chopped parsley, and enjoy.
What can you serve with your oven-roasted Brussels sprouts recipe?
The possibilities are endless as they are the perfect side dish to most food.
Grilled salmon with olives and pine nuts
Chilean sea bass with tomato relish
They are also the perfect party side dish.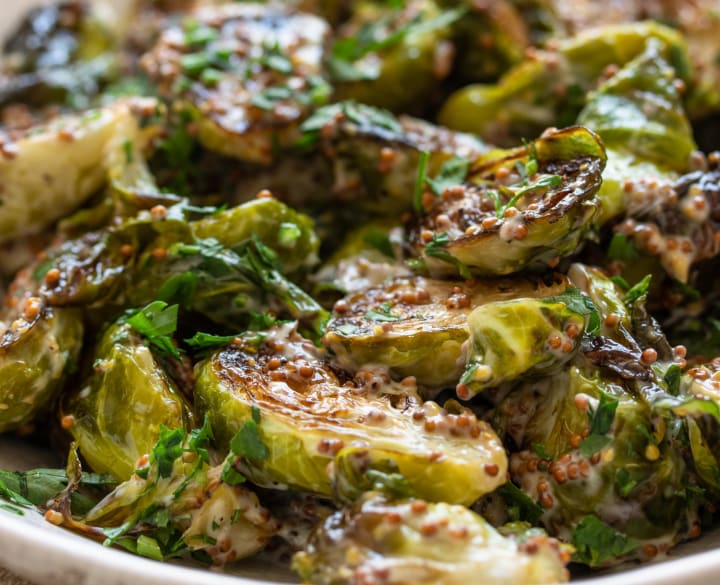 Ingredients Needed
3 cups Brussels sprouts washed and halved lengthwise, core left intact.
¼ cup olive oil
3 tablespoons Old Style grain mustard
3 tablespoons mayonnaise
2 tablespoons chopped parsley ( less if you wish)
Salt and pepper
Instructions
Preheat the oven to 400F.
In a large bowl place, the sliced Brussels sprouts and drizzle them with olive oil. Mix well and transfer them, cut side down on a cookie sheet.
Bake in the preheated oven for 20 minutes. They need to be brown and soft.
Meanwhile, whisk together mustard and mayonnaise. When the sprouts are done, mix them with the mustard mayo mixture.
Season with salt and pepper and add the parsley. Give it a last toss and serve.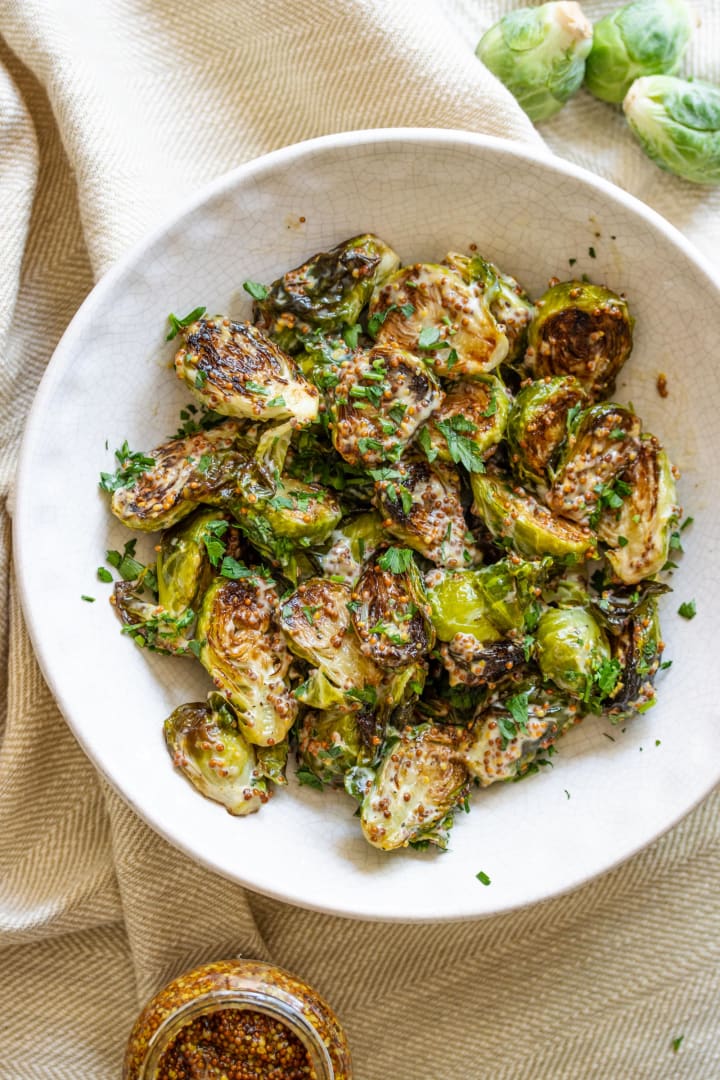 Do you like this recipe?
~I invite you to visit Giangiskitchen.com for the complete printable recipe, tips for my Oven Roasted Brussels Sprouts and hundreds of easy dinner recipes.
~ Subscribe to my Newsletter and get my free weekly menu, recipes, and grocery list.
~ New to cooking and need help getting started? Giangi's Kitchen Back To Basics - Cooking 101 eBook is what you need to achieve all your cooking dreams.
~ Come and cook along with me on Giangi's Kitchen youtube channel.
About the Creator
Quick and easy meals for everyday cooking. Using simple and fresh ingredients & creating delicious, nutritious, and elegant dishes.
Browse hundreds of healthy, quick, and easy meals for everyday cooking. Food Network Chef GGG participant.
Reader insights
Be the first to share your insights about this piece.
Add your insights