Tomato Salad With Mint
Easy Summer salad rich in flavor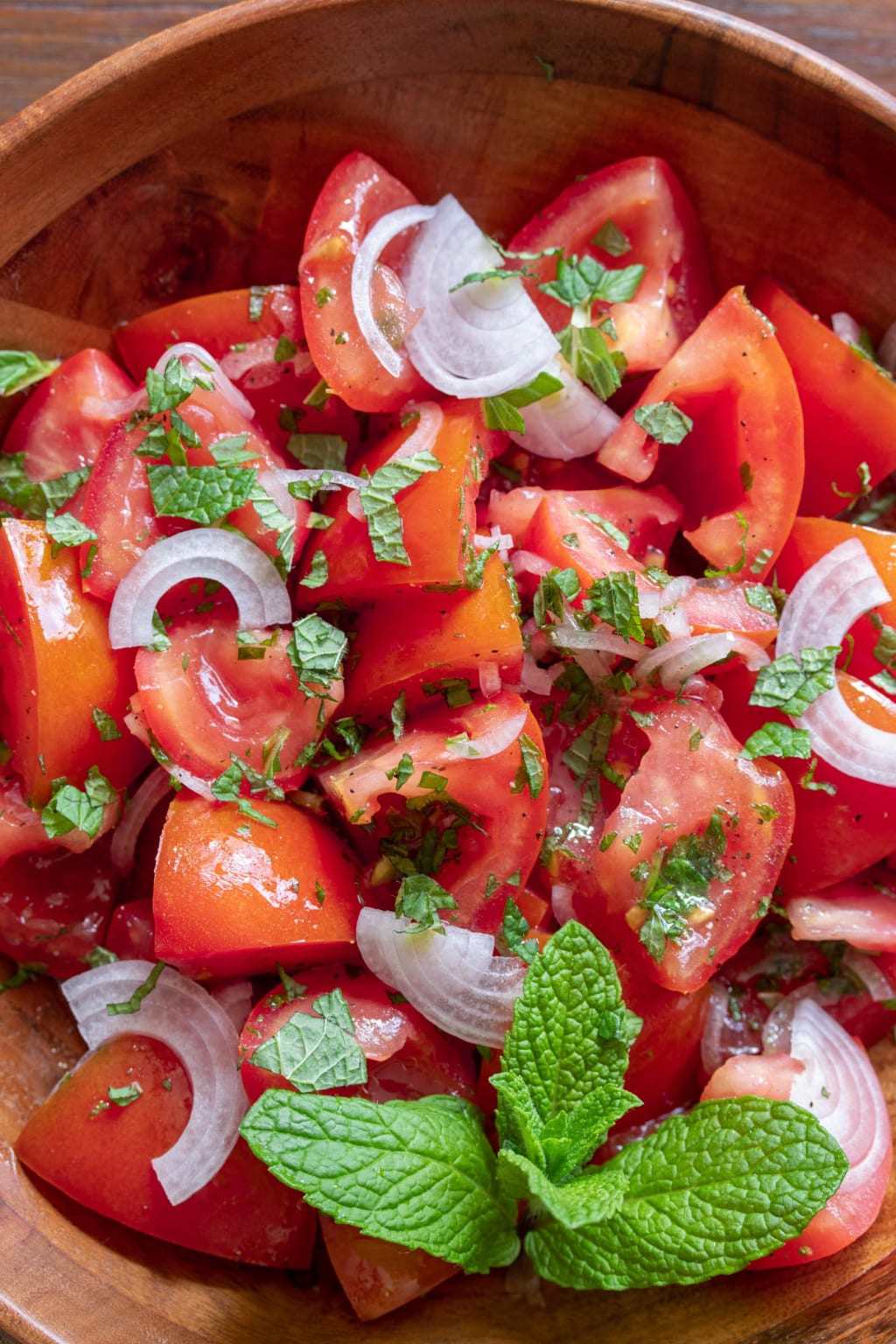 Tomato Salad with Mint by Giangi's Kitchen
Tomato salad with mint is a super refreshing summer salad.
With abundant fresh tomatoes gracing our markets, it comes to enjoying them as much as possible. At least, we have done so at our house.
This recipe is relatively easy to make, making it the perfect side salad for all your meals. With summer outdoor activities, this refreshing tomato salad with mint is the perfect answer.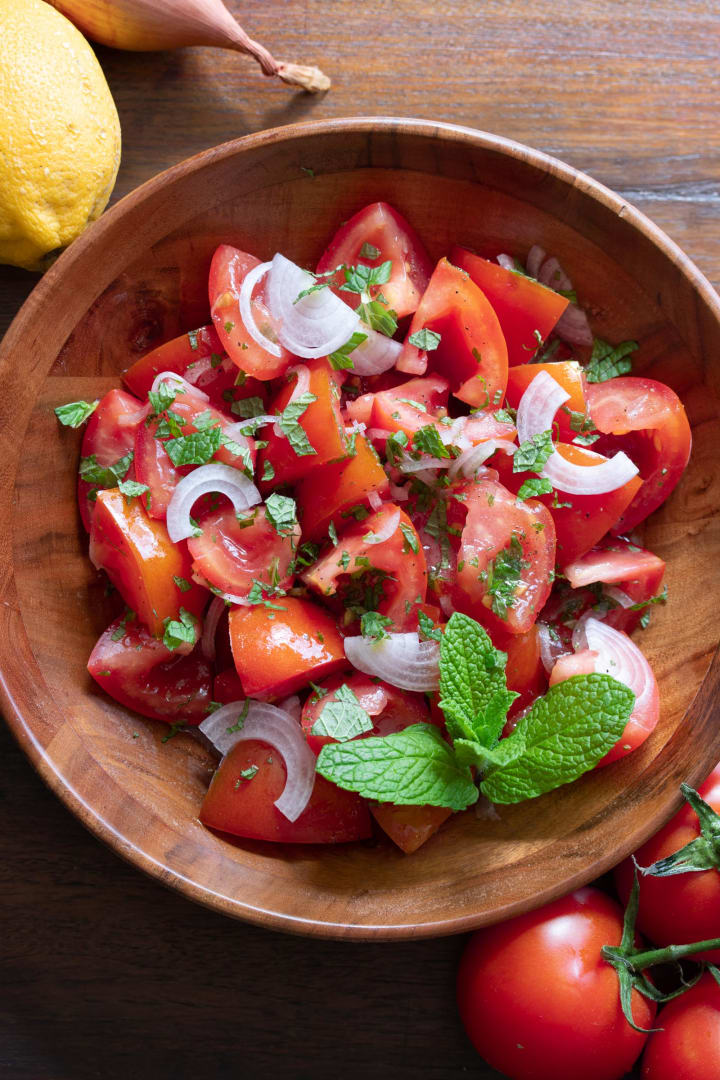 Potlucks, barbecues, and pool parties, this salad will soon become your and your friend's favorite.
Simple ingredients that marry well together. Being French, we enjoy shallots and are more propensity to select them over other onions.
The mint with the freshly squeezed lemon brings a very uplifting, fresh taste to this salad.
What is a shallot?
Shallots, like garlic, leeks, and onions, are a flavor-building vegetable in the allium family. Strong in Asian and Middle Easter cuisines, and since the eleventh century, enjoyed in Europe.
A staple in both homes and restaurants. Shallots are the perfect balance between spicy and sweet. Bite into raw, and the intense pungent flavor will be dominant.
Once cooked, the sweetness comes forward, bringing out a rich caramelized flavor.
What is the difference between a shallot and an onion?
Shallots have a more delicate and sweet flavor, while onions have more intense heat.
What is the best substitute for the shallots?
Yellow onions, sweet Vidalia, white onions.
Cipollini, red onions.
Chives and scallions.
What does mint add to a dish?
Mint brings bright flavor and scent to drinks and dishes. Used more frequently in Middle Eastern cuisine.
Fresh and fried leaves are used as an ingredient.
The essential oils are extracted to use as flavoring and scent.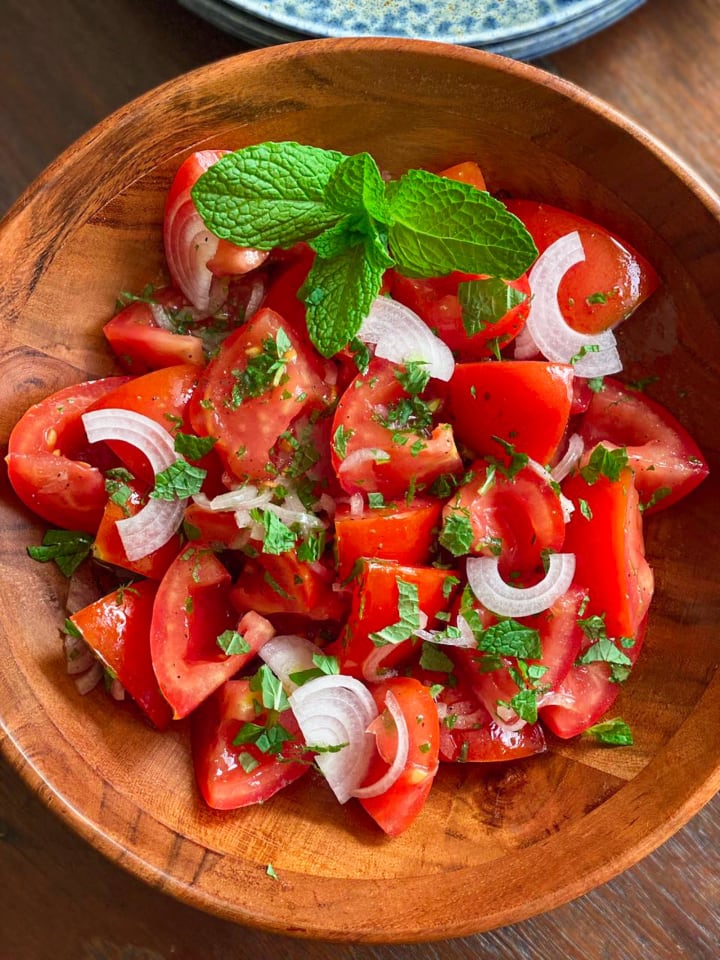 Here are a few helpful tips for the ingredients needed to make this Tomato Salad recipe
This is a quick introduction. Please read the recipe for complete instructions.
Tomatoes: Ripe and ready to be enjoyed. Ensure they are not bruised and smell fantastic—nothing like a summer tomato.
Mint: Beautiful bright green leaves. Do not overwork them. They give this salad that very fresh, uplifting flavor. A must!
Shallots: Slice them as thinly as you possibly can. Use a mandoline if you have one. The thinner, the more delicate the flavor will be.
Olive oil: I always use light olive oil because it does not overpower my recipes. I leave this one up to you if you want to use EVOO.
Lemon: Gives that fresh, uplifting taste to the tomatoes, brings out the freshness of the mint, and brings down the intensity of the shallot. My all-time favorite. Roll it under the palm of your hand to release all the juices before slicing into it.
Equipment needed
I only recommend what I use and love.
Serrated knife: The perfect knife to cut into the hard skin of the tomatoes without breaking them.
Cutting board: Wood will always be my favorite as it is easier on the knives by not making them dull.
Salad bowl: A beautiful plate or bowl brings an extra touch to your table.
Tips and step-by-step instructions to create this excellent tomato salad recipe
This recipe is relatively easy to make with so few ingredients, and it takes no time to prepare.
Start by creating the salad dressing by mixing the lemon juice with the salt and pepper. Once the salt is dissolved, add the olive oil and mix well to create a cream-like consistency.
Add half of the thinly sliced shallots.
Add the mint to the dressing and set aside.
Slice the tomatoes, remove all the inside seedlings, and cut them into chunks. Mix them with the salad dressing and let them rest so the tomatoes will soak in the mint flavor.
When ready to serve, add remaining thinly sliced shallots and enjoy.
What to serve with your tomato salad with mint?
This delicate salad will work well with fish, Tequila Shrimps with Prosciutto and Basil .
Serve it along with Albacore Tuna Croquettes, you can make it a complete meal.
Or our very popular Chiles Rellenos or Roasted Chicken.
Storage options
This salad stores wonderfully for a day in the refrigerator. Please place it in an airtight glass container.
You can prepare the salad up to adding the shallots the day before or, better yet, early in the day when you plan to enjoy it.
Ingredients needed
1½ pounds fresh tomatoes
20 mint leaves
2 small shallots thinly sliced
5 tablespoons olive oil
juice of 1 lemon
salt
pepper
Instructions
In a salad bowl, mix olive oil, mint, lemon juice, salt and pepper.
To slice the tomatoes, use a serrated knife and cut them in half through the core end. Cut out the cores and slice the tomatoes into irregular chunks. Remove all the seedlings.
Place the tomatoes with the mint. Mix well and let rest at room temperature, allowing the mint to soak in the tomatoes. Add the thinly slices shallots, fold one more time and serve.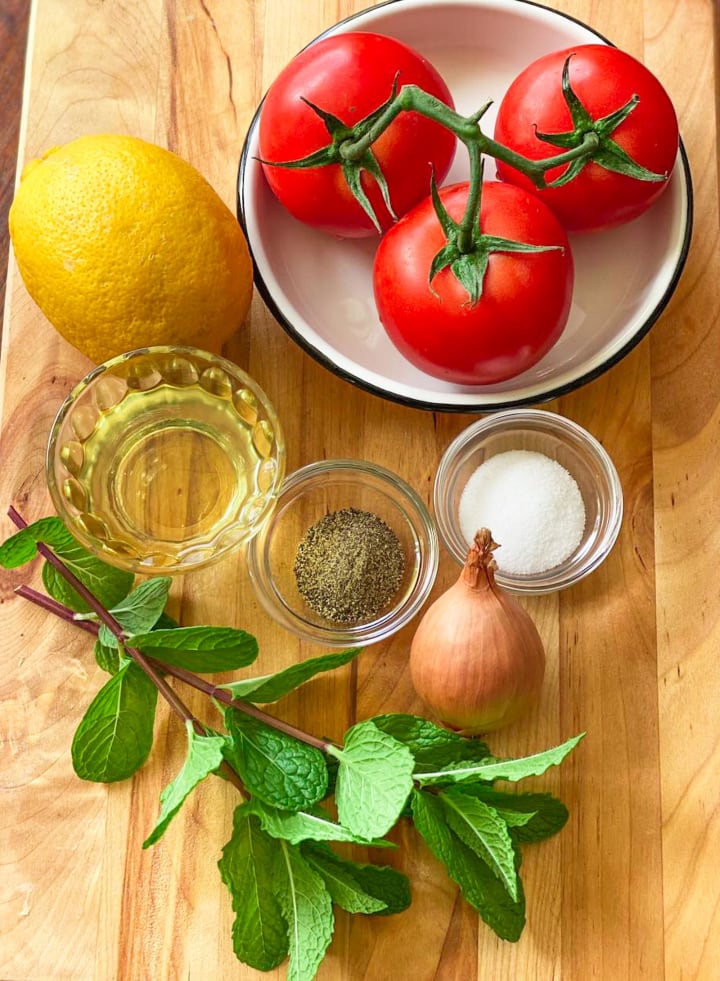 About the Creator
Quick and easy meals for everyday cooking. Using simple and fresh ingredients & creating delicious, nutritious, and elegant dishes.
Browse hundreds of healthy, quick, and easy meals for everyday cooking. Food Network Chef GGG participant.
Reader insights
Be the first to share your insights about this piece.
Add your insights