Navy-Style Macaroni
Sailor's Pasta would be probably a better name for it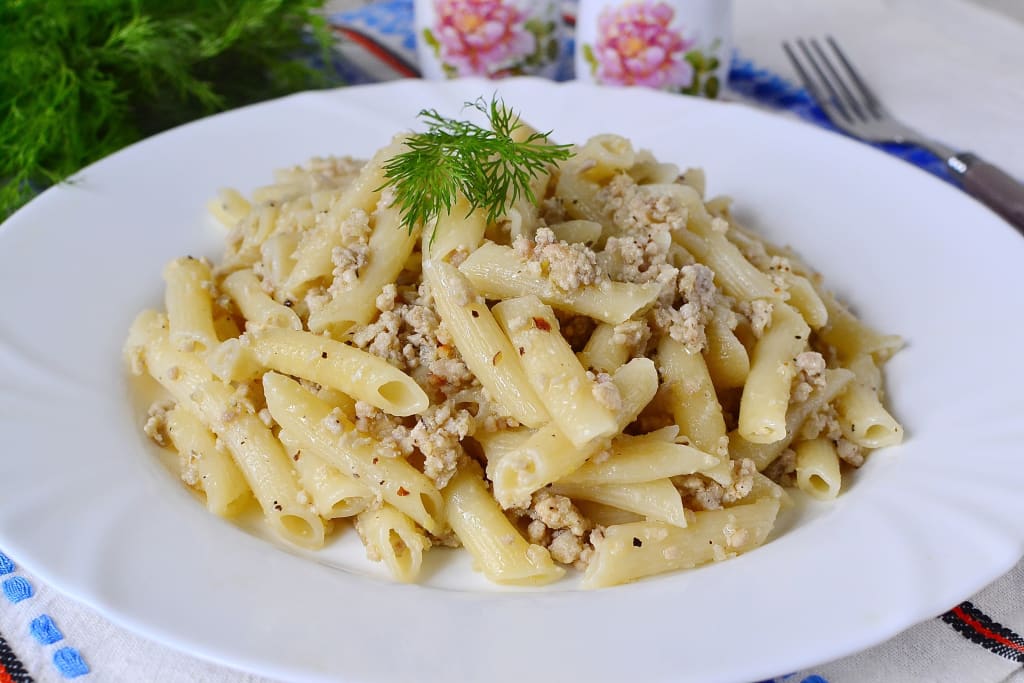 Soviet-Russian 3-ingredient pasta "Navy Style"
"Here's your mommy!" My mom said as I entered our apartment, handing me my 4-month-old baby and shaking off her hands as if she just carried around a ton of bricks.
"Was he fussy again?" I asked, changing my shoes for more comfortable sleepers. I now know how to do it with the baby in my left arm.
"Worse than usual: napped for only 20 minutes at a time and didn't want to get off my arms. I think he might be colicky."
"Alright, let me just change out of my nice clothes," I hand the baby back to my mom. As I go into my bedroom, my mom says, "He demanded so much attention I didn't even manage to cook the dinner."
"It's alright, I can go out and bring something," I say. "I'm just so tired, just give me a second."
"How about navy-style macaroni?" Mom suggests.
"Sure, that'll work, if you are up for it."
I take my son from my mom and go to the living room where all his toys and books are. I play with my baby and he seems to be alright in my lap.
"Did you pretend to be colicky just to wear your grandma out?" I'd ask my son and he'd just smile back at me.
I am a single mother who works a lot. I am running an academic department at a university and teaching a full load. I gave birth at the end of July and had to go back to work two weeks later before the fall semester started. My mother took the parental leave instead of me (the laws of my country allowed for that) and moved in with us to help out. But my little baby is so hyperactive he just wears both of us out. I leave at about 8 am and try to be home by 6 pm to have dinner with my mother. When I come, mom just hands my son to me, and I start a second shift of working as my son never sleeps through the night. I have to get up often and since I can't go back to sleep easily, I just do grading or my other work at night. I am perpetually tired and exhausted and I don't know for how much longer I can last like that.
"Let's eat!" my mom calls from the kitchen about 15 minutes later. "Macaroni's ready!"
I take the baby and move to the kitchen. The dish smells and looks so good! The pasta mom used is actually penne but we still call it macaroni.
We call it macaroni because growing up in the Soviet Union, we didn't have a lot of varieties of shaped pasta available. Spaghetti and macaroni were the most common ones and you always made navy-style pasta with macaroni. So, the name stuck even though the dish can be made with any short and stubby pasta, or even with thin spaghetti.
I eat the pasta and the feeling of warmth and comfort envelopes me from inside out. It's my mom's staple dish that she had made so many times when I was growing up I thought I'd never miss it again. See, in the Soviet Union we didn't have a lot of variety in food and navy-style macaroni was something that you could make quickly and easily as you always had minced or ground meat, onions and pasta at home. Just like on a Soviet Navy vessel that would go into the sea for months at a time. You could always find these staples as they don't go spoiled for a long time: fresh onions, ground meat and pasta.
A wave of gratitude overwhelms me. "Mom, thank you so much!"
"Don't mention it, it took me no time."
"No, not just for pasta. For everything you do for me, helping out with the baby and everything else. I don't know how I would have done it all without you." My eyes well up.
"Oh, but that's what mothers do," my mom says. "That's our job."
"I know, mom, but I still wanted to tell you how much I appreciate it."
I wanted to hug her, but the pasta and the baby nailed me to the seat. Besides, we are not huggers. The Soviet culture was not touchy-feely. We only hugged when we said good-byes for a long time or greeted each other after we were apart for a long time. I can't wait to hug my mom now that we live on different continents and I haven't seen her since before the pandemic.
***
Here is the recipe for the 3-ingredient navy-style macaroni:
Take one large onion and chop it finely.
Put a pot of salted water to boil for the pasta.
Cover the bottom of a medium-sized frying pan with any vegetable oil (the Russian recipe will call for sunflower oil). Heat it up and fry the onion on slow to medium heat until caramelized but not burned. Add a pound of ground meat (beef or pork are the best but chicken and turkey will work as well) and fry, stirring often. Add salt and pepper to taste before it's done.
While the meat is cooking, add pasta to boiling water.
When both meat and pasta are cooked, drain the pasta and mix pasta and meat together in the pot. Serve with a glass of tomato juice, that's the best combination to my taste.
In childhood, when ground meat was not available, my mom would substitute it with canned meat (we called it "tushonka"). Average canned tushonka has lots of spices and is juicy enough to substitute the onions, while it also has a decent amount of meat.
To make it a little more sophisticated, you could add any pasta sauce to it. But then it won't be the Russian navy-style macaroni anymore.
***
This simple rugged dish will give you enough comfort and nourishment if you decide to try it. It is a good recipe to remember for the time you'll find yourself in a bunker with scarce food. Just remember all those sailors in the Soviet Navy who had to survive on it for months at a time. You will feel like an extreme adventurer on a sustenance diet program. Enjoy!
About the Creator
Avid reader and occasional writer of satire and dystopia under a pen name of my favorite wild cat.
Reader insights
Outstanding
Excellent work. Looking forward to reading more!
Add your insights