Healthy Fast Food Lunches
Yes, healthy fast food lunches do exist. You just have to know what to order.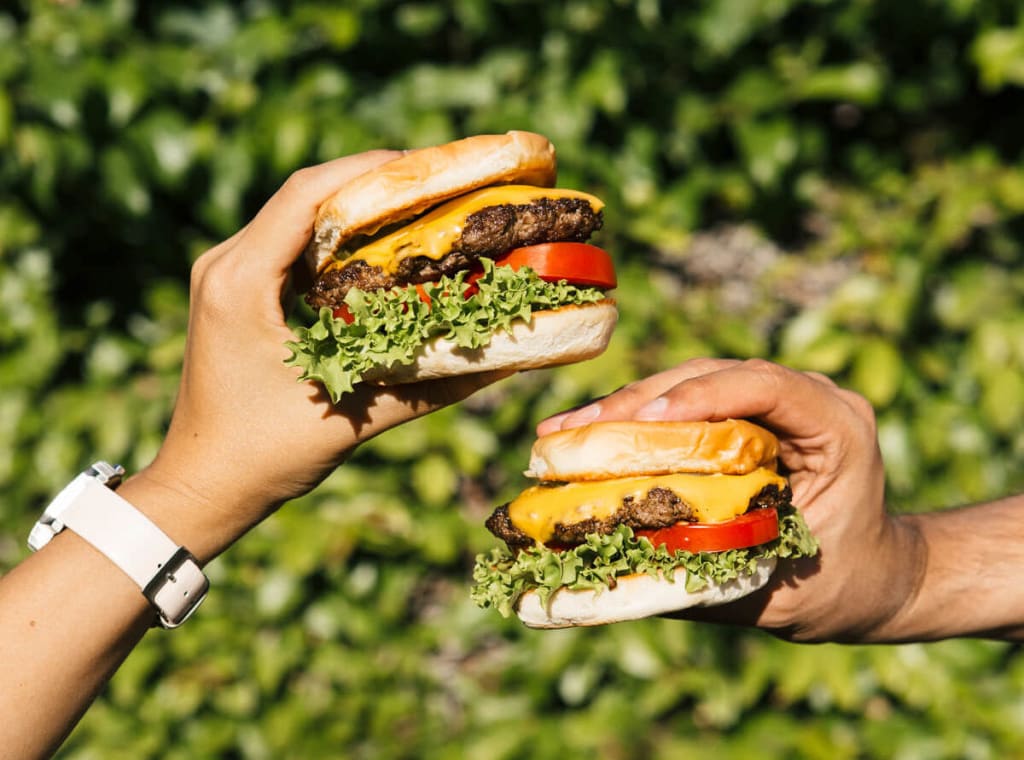 Fast food is notoriously bad for you, and that shoddy reputation definitely is rightfully earned. Many fast food lunches can load you up with over 1,000 calories and several times your daily recommended intake of salt, fats, and sugars. Don't believe it? If you want to see how bad a fast food diet can be for you, just watch Supersize Me.
Make no mistake about it, the vast majority of fast food meals are absolutely appalling for your health and waistline. However, there are quite a few healthy fast food lunches you can enjoy without feeling too much guilt.
If you're looking for some of the more healthy fast food lunches, order one of these options—and choose regular water as your drink of choice.
Starbucks: Spinach and Feta Wrap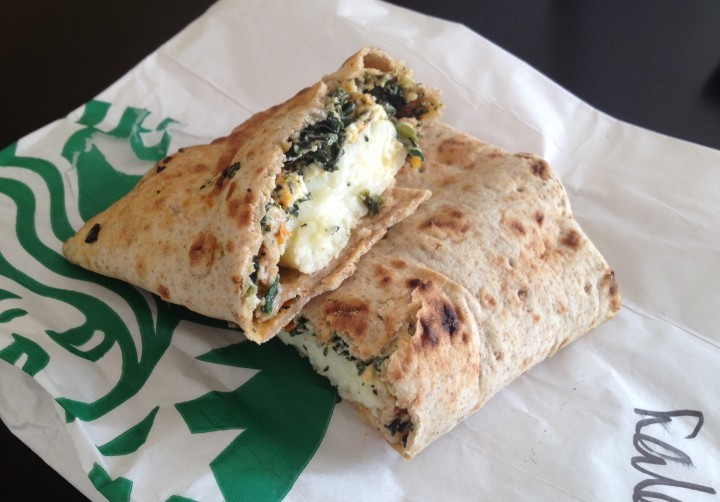 Leave it to coffeehouse powerhouse Starbucks to create a sandwich under 300 calories, right? Their Spinach and Feta Wrap will clock in at around 290 calories per serving, all while imparting a decent amount of protein for a casual lunch meal.
That being said, this wrap does have an issue with sodium. It currently has around 830 milligrams of sodium per order, which is almost half your daily recommended value. Even so, this is a great vegetarian option for people who love affordable yet healthy fast food lunches.
McDonald's: 6 Piece Chicken McNuggets w/ 1 Honey Mustard Sauce
Despite McDonald's less-than-healthy reputation, this classic fast food chain has some pretty healthy options on its menu. One of the most affordable meals on the McD's menu also happens to be one of the healthiest and most diet-friendly choices, too.
A 6-piece McNugget order with a single sauce packet will only run you about 340 calories. Moreover, chicken tends to be packed with protein, which explains why this humble meal offers a whopping 13 grams of protein, too. It's somewhat high in sodium (655 milligrams), but the fact is that this is a way healthier food choice than most other McDonald's lunches you'll find.
In terms of healthy fast food lunches, this is one that definitely passes the test for most dieters. It might not be low carb, but it's low calorie enough to keep most nutritionists somewhat satisfied with its rating.
Chipotle: Burrito Bowl With Steak, Black Beans, Fajita Veggies, Fresh Tomato Salsa, Cheese, and Romaine Lettuce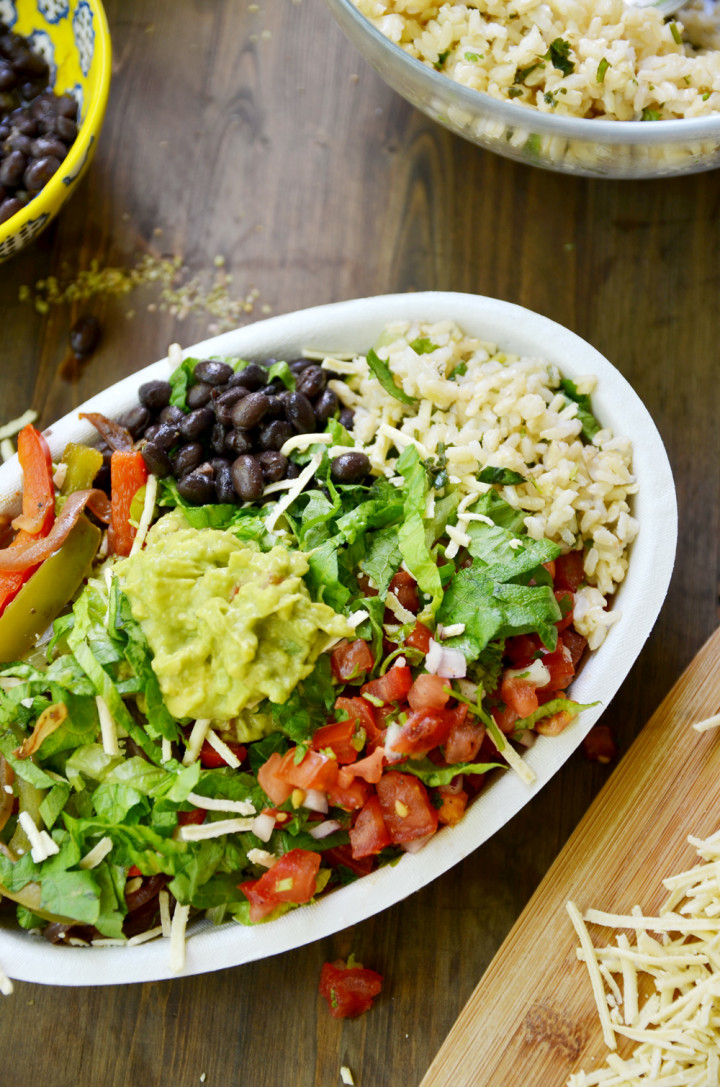 If there's any restaurant famous for having healthy fast food lunches, it's Chipotle.
Chipotle's burrito bowls tend to be fairly safe picks, and the fast food chain itself is known for making a pretty valiant attempt to be healthier than most other options out there. A standard burrito bowl with steak, black beans, fajita veggies, lettuce, cheese, and salsa will run you about 460 calories.
This particular burrito bowl also has a pretty jaw-dropping 46 grams of protein, making this lunch a bodybuilder's favorite. Vegetarian options are also pretty heavily protein-packed, which makes this venue great for a post-workout treat.
It's worth noting that most Chipotle restaurants now show calorie counts in all their menu items on the menu board, or in the leaflet menus they have near the counter. So, if you need healthy fast food lunches in a pinch, going to Chipotle's a good way to pick something that suits your particular dietary needs.
Shake Shack: Hamburger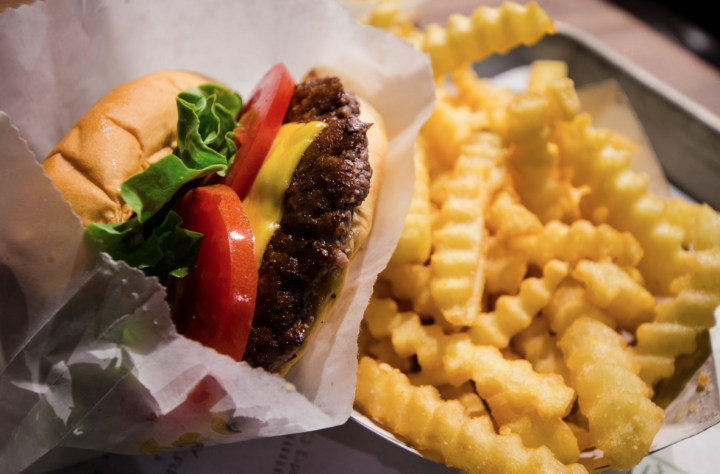 Believe it or not, when you have a no-frills hamburger, chances are that you're looking at one of the most common healthy fast food lunches you can get at a chain restaurant. Shake Shack's burgers are a great example of this.
A single hamburger with ketchup, onions, and lettuce from Shake Shack will clock in at a very reasonable 360 calories. This sandwich also happens to be remarkably low salt for a fast food burger, boasting only 460 milligrams of sodium per burger.
More impressively, a Shake Shack burger also has over 25 grams of protein to help you build muscle and get toned. In terms of healthy food, you really can't get much better at a fast food chain.
Chick-fil-A: Grilled Chicken Sandwich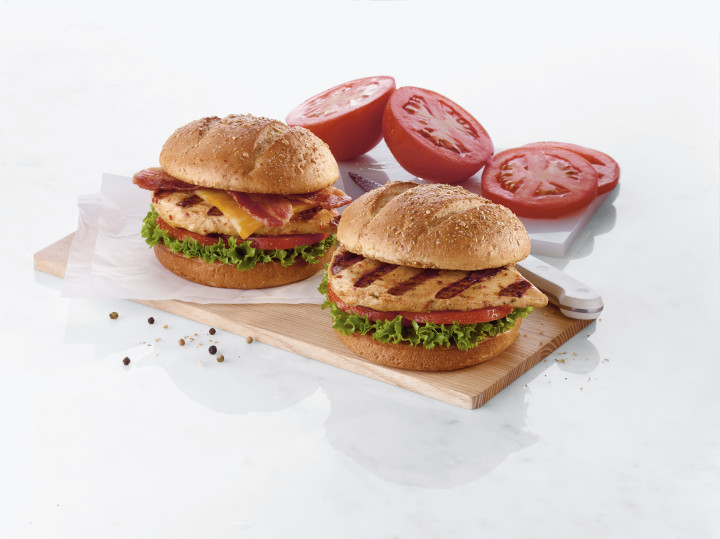 There are many fast food chains out there that have mastered the art of making a grossly unhealthy grilled chicken sandwich. Chick-fil-A is not one of them.
The Chick-fil-A Grilled Chicken Sandwich might be one of the most healthy fast food lunches involving this chain. It's got 320 calories and a whopping 30 grams of protein per serving. The only issues we have with this sandwich is that it also brings in around 40 grams of carbohydrates and has 800 milligrams of sodium per serving.
Even so, it's relatively healthy and we can't knock it.
Papa John's Pizza: 1/6 Small Garden Fresh Pizza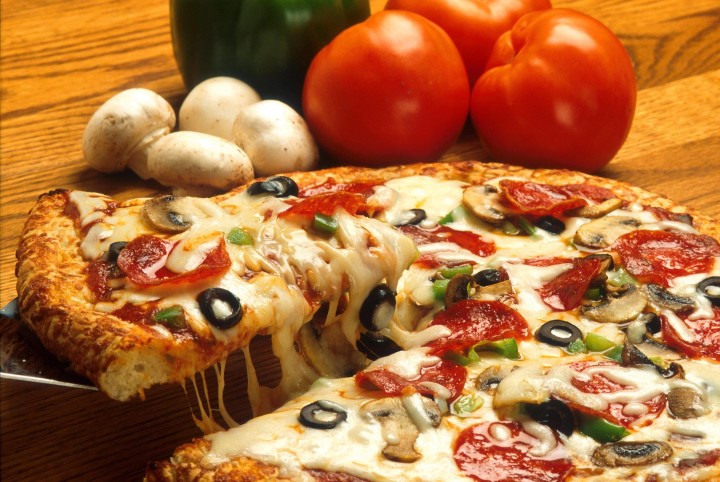 An excellently decadent vegetarian option if there ever was one, a single slice of a small Garden Fresh pizza from Papa John's will only set you back 140 calories. So far, we haven't seen many healthy fast food lunches that are lower calorie than this—a really impressive feat.
With around 19 grams of carbohydrates per slice and a very reasonable 530 milligrams of sodium per serving, this diet option is proof that fast food doesn't have to kill your waistline. Go ahead, take a second slice. It's as guiltless as fast food can be.
Taco Bell: Grilled Steak Soft Taco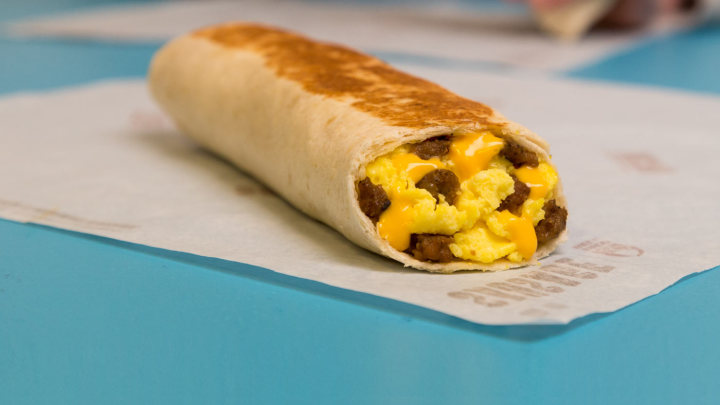 Of all the fast food chains in America, Taco Bell might just be one of the most health-conscious out there. After having had a public image crisis dealing with its over-the-top options, the company hired an on-staff nutritionist to help create healthier options.
Taco Bell's Grilled Steak Soft Taco is a wonderful option if you're looking for a very low-calorie meal. Boasting only 200 calories, each of these tacos provides 12 grams of protein and has a small amount of Vitamin A, iron, and calcium per serving.
They're low calorie enough for a standard diner to be able to order two without feeling a pinch of guilt. We'd call that a win in the healthy lunch world, wouldn't you?
On a side note, if you're looking for a serious set of healthy fast food lunches, ordering almost any taco or burrito fresco will shave off a decent amount of calories.
Burger King: Hamburger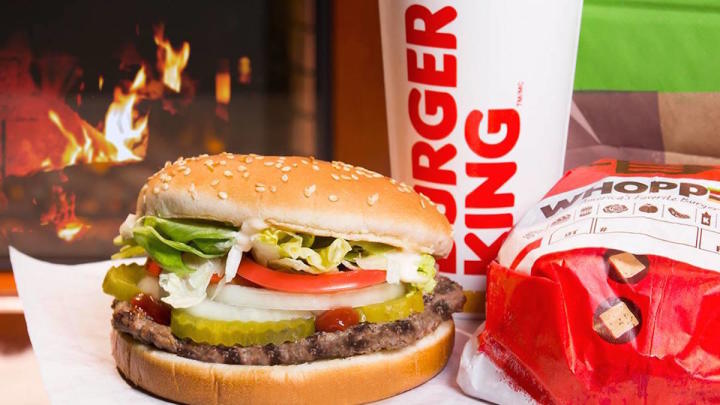 If you don't have a Shake Shack nearby, you might want to grab a burger at Burger King. A single hamburger at the BK will net only 230 (!) calories, and 460 milligrams of sodium. However, it's worth noting that Burger King hamburgers don't quite seem to have as much protein as Shake Shack burgers.
Eat This, Not That claims that a burger from the BK only has a scant 9 grams of protein per burger. Even so, when your burgers are that low calorie, you could probably just eat two if you need a protein fix that badly.
Pret a Manger: Egg And Veggie Power Lunch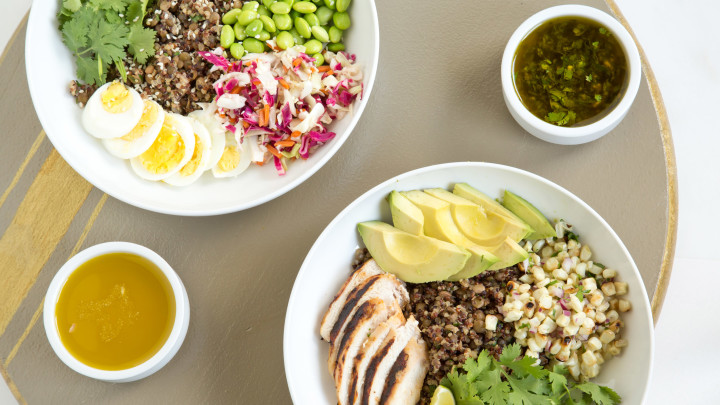 Pret a Manger has become a favorite among commuters who want healthy fast food lunches that are fresh, specifically vegans and vegetarians, who often have the hardest time eating out.
Their salads are usually the best bets, particularly if you're vegetarian. The Egg and Veggie Power Lunch salad, for example, has a very reasonable 420 calories in every serving. It also delivers a respectable 22 grams of protein, and also keeps sodium surprisingly low. Best of all? It's vegetarian-friendly.
Pret a Manger: Small Turkey Chili Cup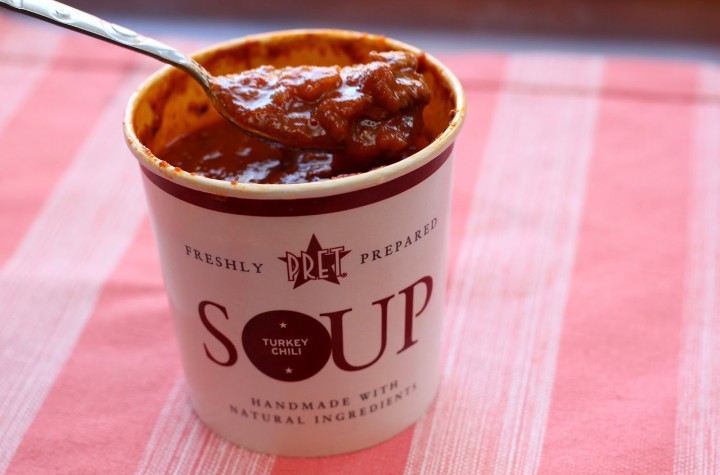 If you're a meat eater, a small cup of Pret a Manger's Turkey Chili will only run you about 200 calories, and it's surprisingly filling. That being said, this chili bowl isn't low carb, but it does have a respectable 7 grams of fiber.
The calorie count on this chili is low enough to make you afford a side salad in a pinch, which makes this one of the more guiltlessly healthy fast food lunches we've seen.