Butternut Squash, Kale, and Chicken Stir-fry
Healthy Eats that taste Naughty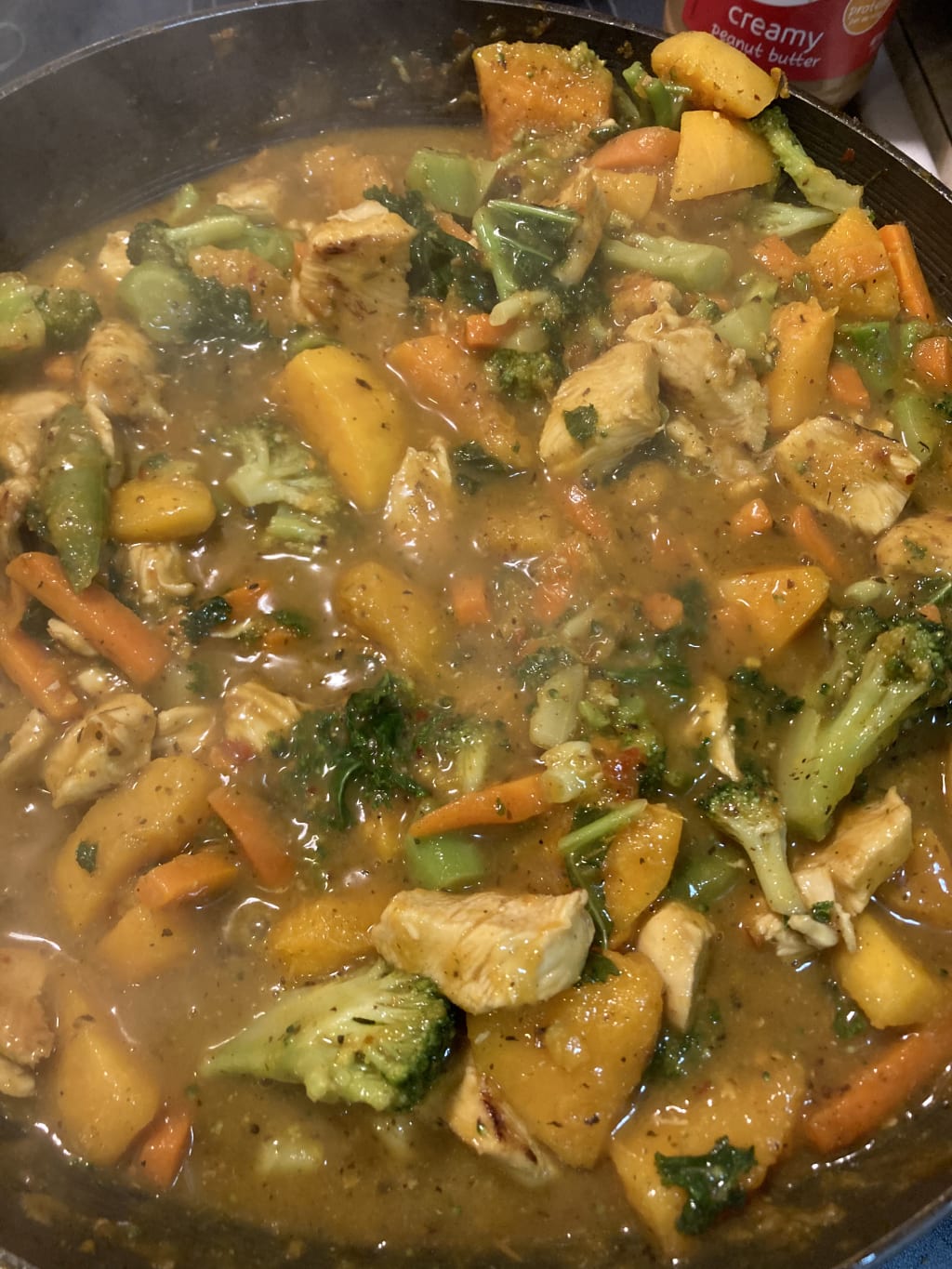 Ignore the peanut butter in the picture - not part of the recipe (thanks big bro for not putting it away).
So we have been hitting the squash pretty hard. Acorn squash, spaghetti squash, butternut squash. Turns out, squash is really delicious. And super healthy. And super filling.
Got teenage boys that need to be pre-fed before meals (regardless if they play football or not)? Squash! House full of men who work from sunrise to sunset in manual labor jobs, then come home and eat the whole kitchen? Squash! Have a werewolf pack near a full moon? Even canines like squash.
I'm serious. That's how filling it is. I love it. And lets not get started on all the vitamins and health benefits. And the best part is, if you do it well enough, they won't even know they're eating healthy. I know. The "H" word. How dare I?
This time I am bringing in a stirfry with my new squash obsession. No noodles or rice, just veggies, and sauce. Though, that's just me (pasta and grains don't go well with my bariatric life or my diabetic people).
We can make this a vegetarian dish too, just nix the chicken. However, I got big eaters too, (including a growing four-year-old who loves her 'healthy' food - I know, I know, I'm super lucky) and lean protein mixed with the squash is the best way to make these guys feel full for longer.
The best part about this recipe is you can switch the sauces out however you like. The combo I went for in the picture was more of a lemon-pepper and garlic flavor, but you can do a more traditional teriyaki, or whatever you like.
Now, lettuce go into more detail with the kale (See what I did there? I got mom jokes for days, y'all. Don't judge me). Kale is a glorified lettuce. One that a lot of people underestimate. Kale is usually better blanched in the meals, and my bunny loves it raw too (believe it or not, my bunny is picky. Who knew that a dang rodent could be picky?). It does have a flavor, but not a strong one.
It's a great filler, but let's not forget that it's full of fiber, probiotics, iron, vitamin K, antioxidants, vitamin A, and vitamin C (Surprised?), and it's anti-inflammatory and nutrient dense. It's good for your heart, fights cancer, boosts vision health, and helps level out blood sugars (ahem...talking to you my diabetic family). So, have I convinced you it's a worthy addition to your food yet? Yes? Nooo? Maybe? I'll take that maybe. Just try it. It's not awful, I promise.
So without further rambling on let's get to these instructions!
The Chicken
So, I let my cubed chicken sit in a pre-made 30 minute lemon pepper and herb marinade in the fridge for about an hour before cooking it in the sauce. If you're not adding chicken, don't worry about this part.
Ingredients
1 Butternut squash - peeled, seeded, and cubed.
A blend of vegetables that works for stir-frys of your choice (broccoli, snap peas, carrots, fresh green beans, onions, etc) - I used a #lifehack and grabbed a couple of Birds Eye Asian Medley steamer bags. Works perfectly, and saves me time.
30 minute pre-made marinade or Teriyaki sauce (whichever you prefer - the marinades are found where the condiments are usually in stores)
2 boneless skinless chicken breasts (if you're feeling carnivorous).
About 1 cup of fresh kale.
A dash of olive oil or butter.
Optional: Rice or stir-fry noodles. We don't usually partake in this part.
Optional: Sometimes, I like to spice things up with a jalapeno.
Directions
Not a lot of ingredients in this recipe. I usually like to go all out with my cooking, but this one is for those nights when you need something easy and fast.
1. Before you even start the recipe, if you are marinating your chicken (it's not required, but it does add extra zing) get those chicken breasts cut up into bite-sized cubes and marinating in your sauce of choice.
2. Optional Step: If you're going to add rice to your stir-fry, make sure you wash your rice in a rice washing bin or strainer. Wash the rice you say? YES! The yeast and starch that rice naturally has will make it super sticky, tacky, and icky if you do not wash it before boiling. I usually rinse my rice four or five times. It took me YEARS to figure out this secret! WASH YOUR RICE! And now is a good d time to put it in your rice cooker, or boiling water to cook it.
3. If you're not using a cheat bag of frozen veggies as I did, prep those veggies, and your squash. You're going to want to use a potato/veggie peeler to peel off the skin of the squash, cut it in half, de-seed it, and cube it. Seriously, that takes enough time - get the fresh frozen veggies.
4. Chop up your kale (unless you're again, using a cheat and getting a bag of fresh kale that's already cut up. Seriously, it's not really cheating guys. It's called saving time).
5. Start cooking your chicken, in the marinade in a deep stir-fry pan or a wok in the sauce. If you're not using chicken, then go ahead and throw your squash in the pan with a bit of olive oil, fry it up until it gets a little bit soft. If you're using stir-fry noodles, put them to boil (We are the champion at multi-tasking!).
6. Throw your chicken and veggies and sauce in the pan with the squash and bring it to a steady simmer. Let the sauce bubble, and the veggies get nice and soft, including the squash.
7. Throw your kale in there, and let it blanche. For those of you who don't know what that means, it means don't let it get overcooked. You want it to still be a nice pretty green, just slightly wilted and softer to chew.
8. Serve on your noodles or stirfry noodles, or in a bowl by itself... and enjoy.
If you try this recipe, let me know what you think in the comments!
Psst...
I do get a commission if you purchase anything that is linked in this article. Pretty sure I have to put this disclaimer here for legal purposes. Rest assured, I won't link anything I wouldn't use.
About the Creator
Hello to everyone who ventures here!
I am a professional writer, and this is where I blog for personal pleasure.
To See all of my content: https://clearvoice.com/cv/KaseyMartin
To hire me as a freelancer writer email: [email protected]
Reader insights
Be the first to share your insights about this piece.
Add your insights