Chicken Alfredo Stuffed Spaghetti Squash
Drool over this carb alternative to your favorite pasta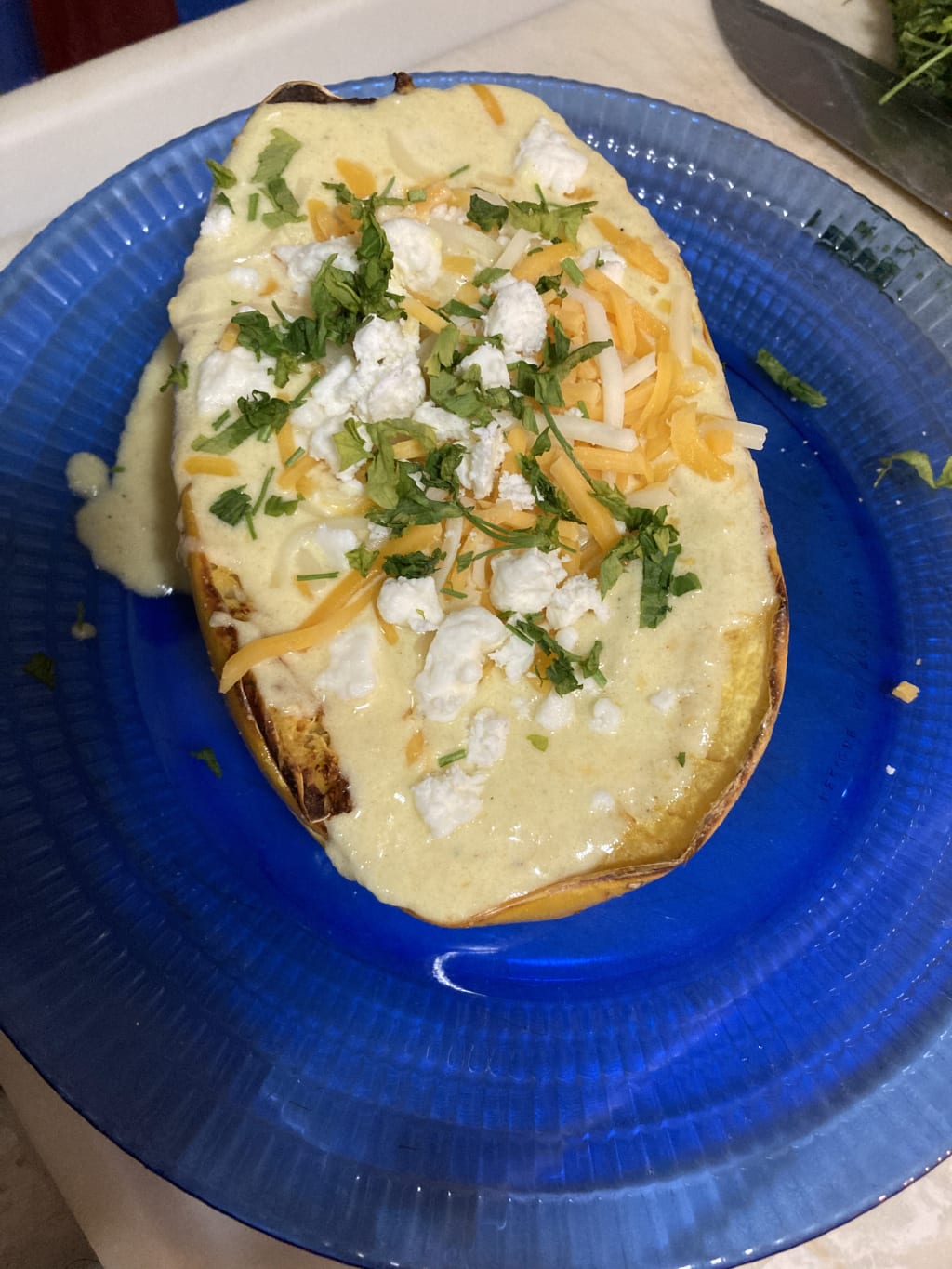 Trust me - the Feta hits it just right.
I've never met anyone who said to me: "I hate alfredo." The great thing about alfredo is depending on how you prepare it almost everyone can eat it. But if you're on a diet, it can feel really naughty. And it is. It's creamy. It's cheesy. And if you make it with pasta (fettuccine, cheese ravioli, a yummy penne... really any pasta will do, won't it?) it's really, really...naughty.
Mmmm... but so, so good.
Oh sorry, we got a wee bit distracted. But, according to my newest favorite app, Noom, no food is off-limits. Even when you're trying to diet. As long as you make smart choices, and of course, moderation.
As a woman who has always struggled with my weight, and with a family who is extremely sensitive to sugars, and carbs, and all the good stuff, I started looking for alternatives that could be much healthier, but still delicious. And I knew one of the recipes I needed to change up into a healthier alternative is the homemade alfredo.
A full-blown coup would be on my hands if I cut it out completely, so in order to keep the subjects in line I came up with an idea: If they can make spaghetti out of spaghetti squash, why can't I make alfredo with it? Just so turns out folks that you can.
And it's amazing. Still very naughty, with the cream and the cheese, but not so naughty as it is with the noodles. And news flash: it's even more filling.
Say what? You heard me right. I promise. So, here it is: my not-so-secret famous homemade alfredo recipe and the steps to take to put use spaghetti squash, instead of a yummy but carby and starchy penne.
The Chicken
Not all alfredo has to have chicken in it, and if you're not a big eater or a vegetarian, this step is totally optional.
Ingredients:
Skinless Boneless Chicken Breasts - for my family which consists of 4 adults and two chewing-aged children, I use about 3. (optional)
Garlic - I used pre-minced garlic in a jar, but if you're going all fresh I'd used about half a clove.
A pinch of nutmeg.
Olive oil.
Spaghetti Squash - if you're stuffing spaghetti squash halves like in the picture (which is totally optional, you could just scoop and serve it on a plate like pasta), get however squash you'll need. Half of the squash is too much for normal people usually, when stuffed with this recipe.
Heavy whipping cream
Buttermilk OR Half and Half OR 2% milk
1 stick of butter
Fresh Parsley,
10 ounces of 4 cheese blend of asiago, romano, parmesan, and fontina cheese.
Shredded cheddar cheese, (optional)
Feta crumbles (optional)
Directions:
1. First, preheat your oven to 400 degrees, then wash your squash, and cut them into halves. Fair warning, slicing through spaghetti squash is not for the faint of heart - or dull knives. You'll want a strong, sharp chef knife.
2. De-seed your halved squashes, then LIGHTLY coat them in olive oil. No salt is needed, spaghetti squash has a great flavor and we're trying to make a somewhat healthy meal here.
3. Line them up on a cookie sheet and pop them into your preheated oven, and you're going to bake them for about 45 minutes to an hour. The sauce and the chicken only take about 15 to 20 minutes to make altogether, so you may want to do a pre-dinner workout to get your appetite going (or watch an episode of your favorite Netflix series, whatever).
4. Ater your workout (or Netflix episode) chop your breasts into thick bite-sized squares. Again, you're gonna want that chef's knife. In a pan, drizzle some olive oil and make it hot.
5. Add your chicken, and cook about halfway, then add your garlic to it. Finish cooking your chicken with the garlic, and sprinkle it with nutmeg.
6. When it's done, remove it from heat or turn it to warm only, and let it sit while you make the alfredo sauce. You're going to need a good-sized saucepan.
No chicken? Skip #'s 4, 5, and 6.
7. Melt 1/4th cup of butter in the saucepan on medium.
8. I eyeball my recipe now, but when I started I would use 1/2 cup of heavy whipping cream, and 1/4 cup of Half and Half or (2% milk or buttermilk). Put them in the pot with the melted butter, and let it start bubbling.
9. When the cream and butter are nice and bubbly, I add the mix of shredded cheeses slowly, letting it melt a little at a time. It's essential you do it a little at a time and let it melt slowly while stirring, or you'll cook the cheese and your creamy sauce will be chunky cheese sauce. Not that it'll taste bad, it just won't be creamy.
10. Add a pinch of nutmeg and pepper to your mix, and throw your chicken into the sauce. Make sure your cheeses are melted all the way and let it bubble. I know you're probably thinking: "Nutmeg?" But seriously that is the secret to AMAZING alfredo. But don't put too much. Just a little pinch! As Merle would say... BAM!
11. When your spaghetti squash is nice and golden, with little specks of charged on the edges, and nice and squashy (see what I did there?), they're ready to be taken out of the oven. You can either scrape out the stringy goodness and put it on a plate and put the alfredo sauce and chicken on top of it like you[r'e serving it on pasta. Or you can do as in the picture, and just spoon a heap of alfredo straight into the middle of the squash.
12. Chop up some fresh parsley and sprinkle it, along with a little bit of cheddar and parsley and some feta - and serve! Oh, this part is optional too. But it adds the extra licious in delicious!
Disclaimer: These links are affiliate links. I do get a commission if you purchase anything I've linked so far!
About the Creator
Hello to everyone who ventures here!
I am a professional writer, and this is where I blog for personal pleasure.
To See all of my content: https://clearvoice.com/cv/KaseyMartin
To hire me as a freelancer writer email: [email protected]
Reader insights
Be the first to share your insights about this piece.
Add your insights