Caramel Apples For Any Season
Fun Affordable Snacks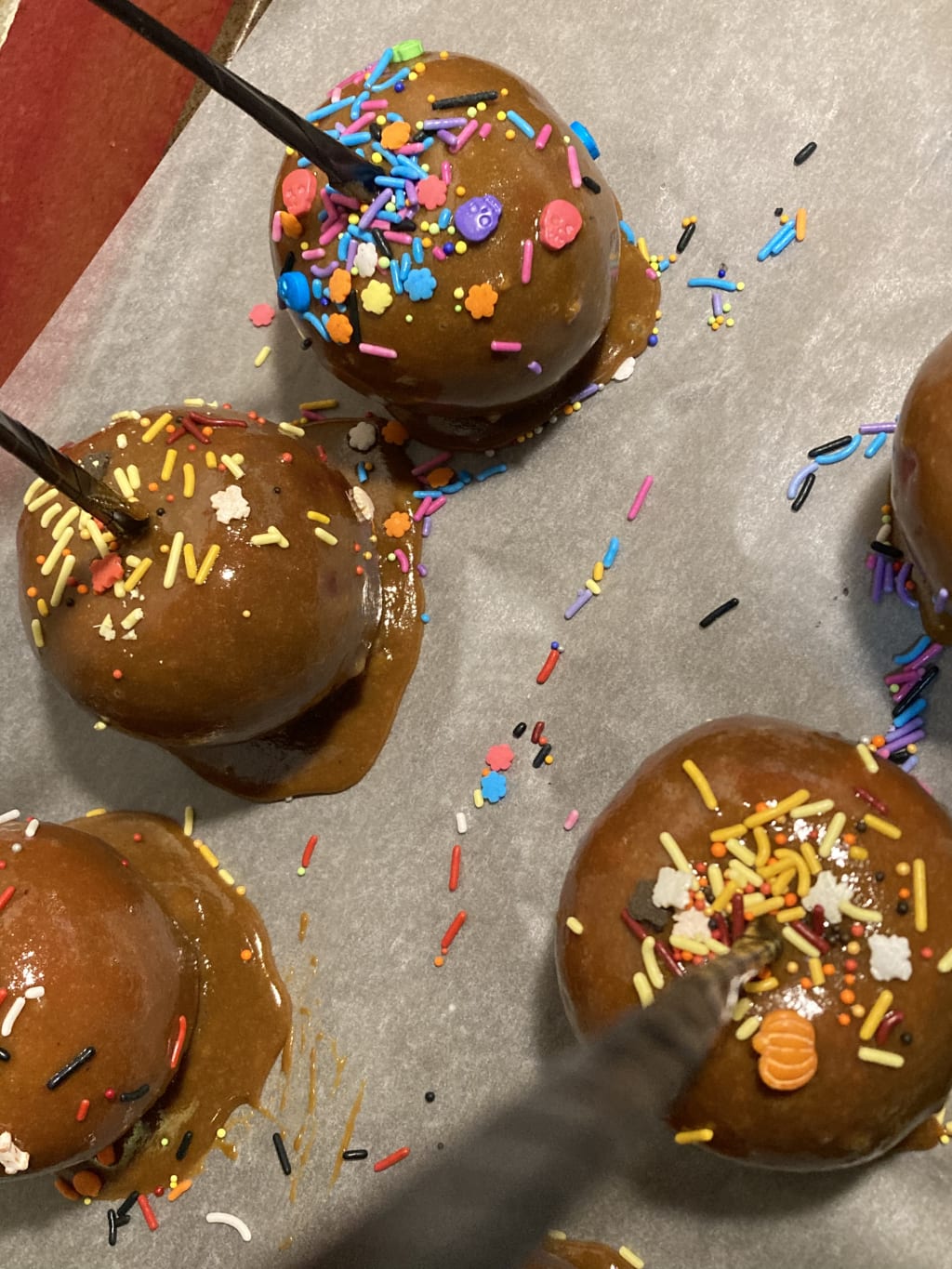 Caramel Apples That Are Gooey but not Hard
What's some food you look forward to the most when the fair comes around?
Cotton candy, funnel cake, deep fried greasy goodies - and caramel and candied apples. But some things are just too good to wait for the fair- and why wait when you can have a blast making some things yourself?
I love making caramel apples with the kids. And this super easy caramel apple recipe is perfect. I take care of the hot parts, and the babies get to decorate their apples with me when they are done.
The recipe does take a while to execute if you're like me and like to make your caramel by scratch. While it's super easy to go buy a run of caramel already remade - I find that caramel cools tacky and touch to chew. And it really just doesn't taste as good.
The longest part about this fun easy recipe is how long it takes to make the caramel. I don't use the long complicated recipe of making it in a pot and having to stir for hours- instead I use a little cheat that you literally can't mess up or burn by getting cans of evaporated milk and boiling them unopened in a large pot for three to four hours.
This makes a delicious caramel sauce that just needs a little bit of tweaking to make it sticky enough to stay on caramel apples.
Another important note is you don't want to cook the apples when covering them with hot caramel - so freezing your apples before hand helps prevent the softening and cooking of them!
Ingredients
A bag of which ever apples you like (I use Fuji or Red Delicious)
One can of evaporated milk
2 cups of brown sugar
1/3 cup of maple syrup
1/4 cup confectionery sugar
Skewers
Toppings and sprinkles
A cookie sheet
Wax paper
Recipe
Get your can of evaporated milk and remove the label if you can. Pop the entire thing unopened in a big pot and make sure it's completely submerged in water. Put it on the stove and turn it on medium high and bring to a boil. Wash your apples then pop them in the freezer so they can freeze while you boil the can of evaporated milk for three to four hours.
Make sure you add water as needed to keep the can completely submerged. Once it's done, remove the pot from the heat and drain the water from the pot.
IMPORTANT: BURN WARNING!!! DO NOT OPEN THE CAN YET. WAIT FOR IT TO COOL FOR AT LEAST AN HOUR!
If you don't let the can cool quite a bit the pressure in the can will cause the caramel sauce to squirt out and it is HOT AND STICKY! You will not be happy if it gets on you and it won't be fun anymore. Third degree burns are avoidable if you let the can cool.
Line a cookie sheet with wax paper, and pull your apples out of the freezer. Remove any stems from the top by twisting them off , and jab a skewer right in the center of your frozen apples. Put them back in the freezer until you are ready to use them.
When your caramel is cool, pop the top to reveal a beautiful caramel sauce that is very pliable. Pour it in a sauce pan- add your brown sugar and maple syrup. Turn the heat on the stove to medium low, and slowly heat the sauce back up, folding the brown sugar, powdered sugar, and syrup into the sauce. Let it get nice and hot to where it boils, constantly folding the caramel until the sugar is melted and the caramel is nice and fused together.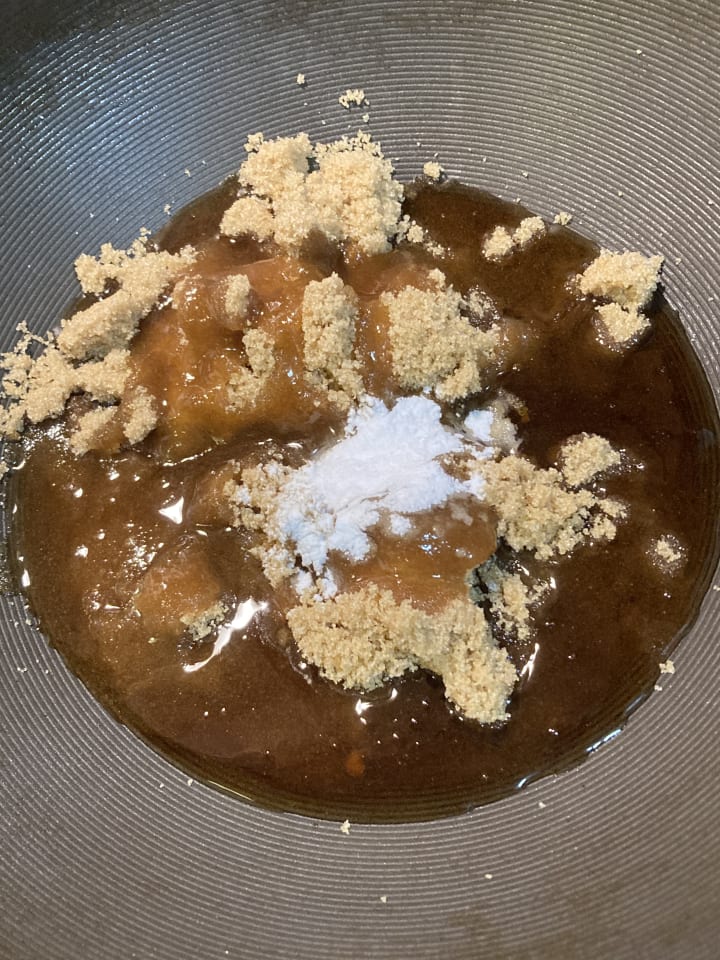 Get your apples out after removing the caramel from the heat, and one by one dunk them into your caramel, using a spoon to evenly coat them. Once the appple is thickly covered in caramel, lift them out of the pot and let the excess caramel drip back into the pan.
When the caramel isn't running off the apple thickly anymore, put them on the cookie sheet. While the caramel is warm out your sprinkles and toppings on them. Then pop them in then fridge for at least an hour before serving.
Amd there you have it. Beautiful, gooey, easy to chew, but delicious caramel apples.
I hope you enjoy making the recipes and if you try it out- let me know in the comments how you liked them!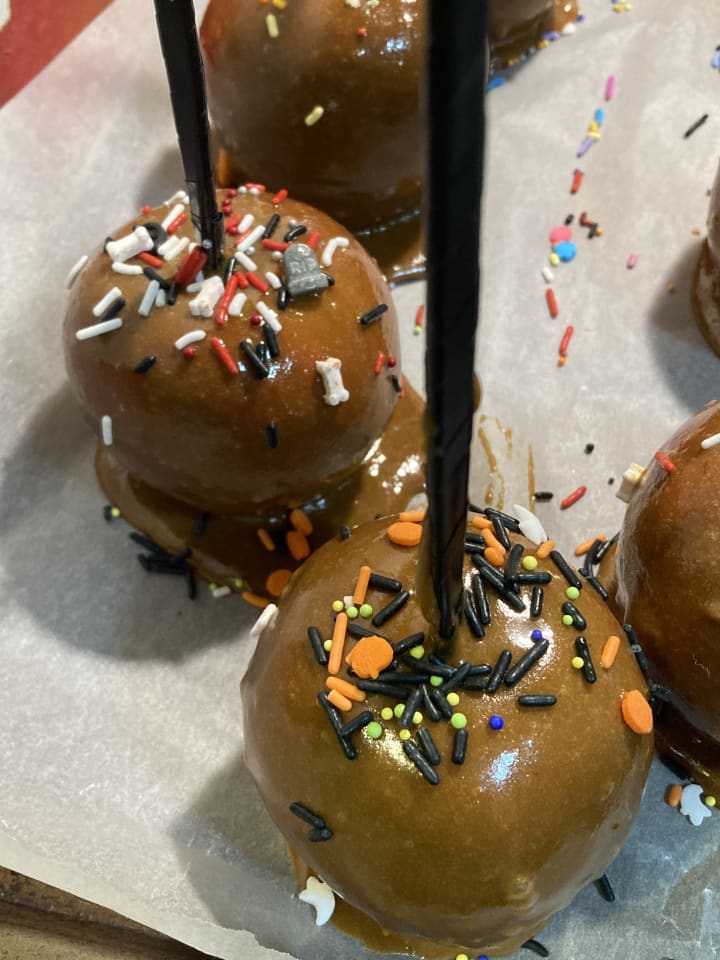 Thanks for reading everyone - and I hope you enjoy your caramel apples as much as my kids did.
About the Creator
Hello to everyone who ventures here!
I am a professional writer, and this is where I blog for personal pleasure.
To See all of my content: https://clearvoice.com/cv/KaseyMartin
To hire me as a freelancer writer email: [email protected]
Reader insights
Be the first to share your insights about this piece.
Add your insights