THE JUDGEMENT OF GOD
WE ARE SEPARATED FROM JUDGEMENT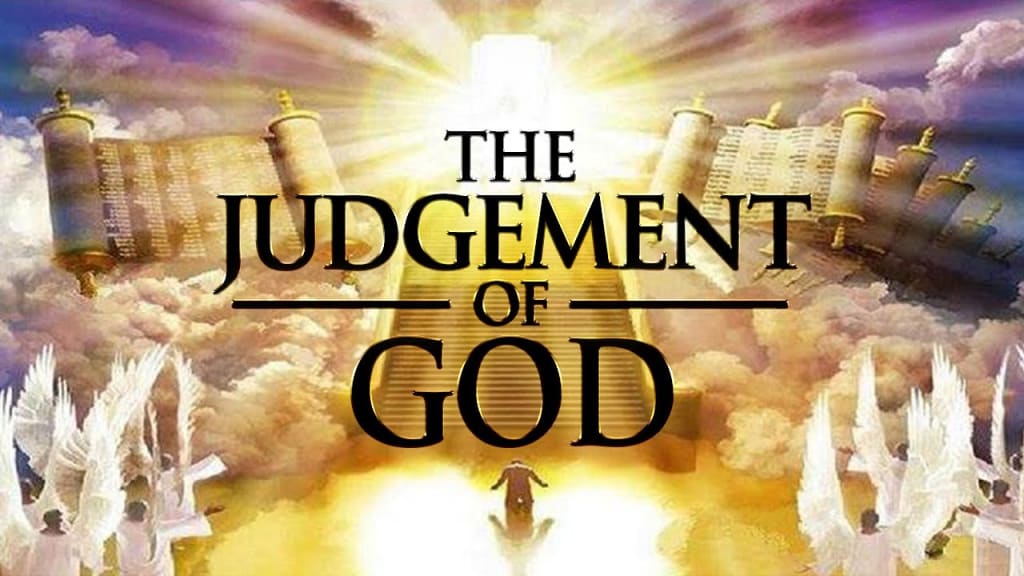 SEPARATED FROM JUDGEMENT
For God so loved the world, that he gave his only begotten Son, that whosoever believeth in him should not perish, but have everlasting life (John 3:16)
There's a word of judgement and condemnation that's already working in the world. Anyone who's born into this world inherits that judgement. But when you're born again, a new life begins with acquittal:
"Therefore being justified by faith, we have peace with God through our Lord Jesus Christ"(Romans 5:1). Romans 8:1 declares: "There is therefore now no condemnation to them which are in Christ Jesus, who walk not after the flesh, but after the Spirit."
It parallels the words of Jesus in our opening verse; anyone who believes in Him is severed from judgement. You're not numbered amongst them that perish; there's a divine decree to that effect. All the negativities in the world: the darkness, diseases, sicknesses, infirmities, poverty, defeat and failure are a result of the curse, the judgement that's at work in the world. But you're not of this world (John 17:16); you're from above; from a heavenly kingdom.
Keep yourself separated from, and in dominion over, all the negative influences and elements of this world through your faith-filled words. 1 Corinthians 2:12-13
says "Now we have received, not the spirit of the world, but the spirit which is of God; that we might know the things that are freely given to us of God. Which things also we speak...." Keep declaring the Word of victory over your life.
Every so often, affirm that you live above this world and have overcome its failing systems! Your life is for the glory of God, for the expression of His righteousness, dominion and excellence. No sickness, disease or infirmity should be allowed to thrive in your body, because the Spirit of Him that raised Christ from the dead lives and perambulates in you! He's invigorated your whole being with the divine life. Have this consciousness and make these affirmations always.
CONFESSION
My life is the expression of God's righteousness, dominion and excellence. No sickness, disease or infirmity can thrive in my body, because the Spirit of Him that raised Christ from the dead, lives and perambulates in me. I'm far removed from the destruction or judgement that works in this present world of darkness, because I belong and live in the Kingdom of God's dear Son. Amen.
FURTHER STUDY:
Galatians 3:13 AMPC; Romans 8:1 AMPC
1 YEAR BIBLE READING PLAN:
Romans 12:1-16 & Psalms 85-88
2 YEAR BIBLE READING PLAN:
Luke 14:25-35 & Judges 18
THE DAY OF SALVATION
(For he saith, I have heard thee in a time accepted, and in the day of salvation have I succoured thee: behold, now is the accepted time; behold, now is the day of salvation) (2 Corinthians 6:2).
More than ever before, there's a burning passion in the hearts of God's people to preach the Gospel, just as there's a great hunger and yearning for salvation in the hearts of men and women around the world. The Spirit has been poured out upon all flesh. Recall the words of Jesus in
Acts 1:8: "But ye shall receive power, after that the Holy Ghost is come upon you: and ye shall be witnesses unto me both in Jerusalem, and in all Judaea, and in Samaria, and unto the uttermost part of the earth."
That's the season we are in now! We've been endued with power to be effectual in soul winning. The message is available to everyone, and everyone can give their hearts to Christ, because this is the acceptable time! Jesus called it "...the acceptable year of the Lord" (Luke 4:19). And it's aptly corroborated in our theme verse: This is the day of salvation. Glory to God!
However, the acceptable time would wind up and judgement would begin. Jesus brought in the acceptable time; He'll come back for the day of vengeance. But at the moment, we're workers together with God in the acceptable time, bringing men and women into salvation (2 Corinthians 6:1)
Help those around you receive salvation through the power of God that works in you in this hour of His grace. Take the Gospel to the lost, hopeless, hurting and downtrodden in your world and in the regions beyond. Remember, the time is short; therefore, glorify God by being fervent and effectual in leading souls to Christ.
PRAYER
The Spirit of the Lord is upon me, because He has anointed me to preach the Gospel to the poor; He has sent me to heal the brokenhearted, to preach deliverance to the captives, and recovering of sight to the blind, to set at liberty them that are bruised. Thank you dear Lord for counting me worthy to be a co-labourer with you in saving souls, in Jesus' Name. Amen.
FURTHER STUDY:
Isaiah 49:7-9 TLB; Hebrews 3:7-8
1 YEAR BIBLE READING PLAN:
Romans 12:17-13:1-14 & Psalms 89
2 YEAR BIBLE READING PLAN:
Luke 15:1-10 & Judges 19
Reader insights
Be the first to share your insights about this piece.
Add your insights