Who Defines Authenticity?
3 Women compare perspectives on their inner and outer beauty. What's yours?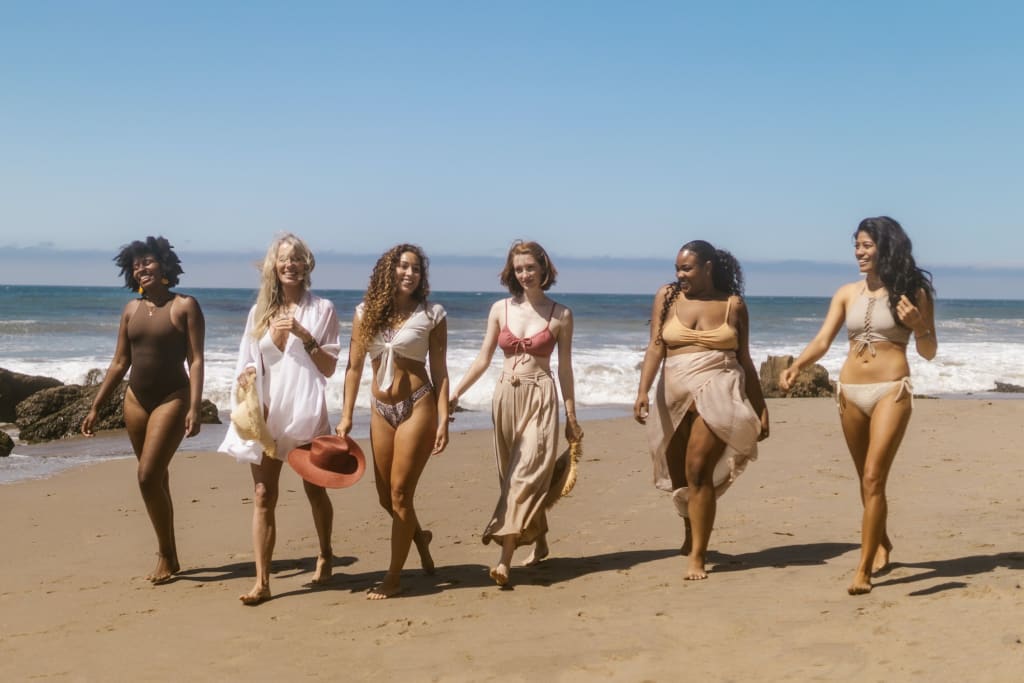 Photo by RODNAE Productions from Pexels
We were tasked to define our "authentic selves". Each of us looked deep and came at the question from entirely different directions. We invite you to let your mind wander in ours a while. Then perhaps dig out your journal and see what words come to mind to define your own sense of authenticity. The challenge may be complete, but the opportunity to write for a prompt continues.
This was the challenge:
So, we're asking you to tell us a story where you let your true self shine through. Maybe you were faced with a rough situation at work or in parenting that made you discover your true strengths! Perhaps you quit your job and launched your own company, despite the fear of failure—or maybe you've decided to go all natural and are no longer wearing makeup or using social media filters. Whether you showed up bare faced to an important event, or have decided to follow your dreams, it's the candid, un-filtered moments that make you who you are.

We, along with our partners at Charles & Colvard , want to fall in love with the real you.
"Black hair over the decades has been the enigmatic phenomenon that keeps others questioning, "how did you do that?" The conundrum of attempting to comprehend the complexities that is the interlocked historical significance of Black hair has led to wars of colorism, self-hate and misguided beauty standards. Black hair or, "our crown", as I prefer to call it, represents the epitome of self-love. At the root of Black hair (no pun intended) is the Black Girl Magic that entrances onlookers in all its mysterious glory and allows us to shine in our own unique way."
Human Are Created Not Born
"My personal philosophy is that you only get one body, and if something about it doesn't feel like it represents who you are, and you have the ability to change it, you owe it to yourself to follow your own path and let haters be damned. And yes, kind readers, there were haters. Because despite the fact it was my body, I had a lot of shade thrown my way for doing what I wanted to do with it and a lot of criticism for being "inauthentic".

To quote one of my idols, Dolly Parton,

"Plastic surgeons weren't intended to starve!""
Embracing Cheugy
"What has happened is that I am now woke to my interests and affections being dated. It's the differentiator: If I am out of date but not aware of it I am Basic. If I am out of date AND self-aware I am cheugy.

The more I look into this the more unfair it gets. I used to do the stuff that IS now trendy, but back then I WASN'T trendy. It's confusing, but let me show you what I mean.

If you have a side part you are cheugy. To be on trend I need to have a center part. Like I did here, in 1978. To be on trend I need to part my hair like I did when I was in high school."
Looking for a group to showcase your Vocal Challenges? Visit Great Incantations!
***
Message the Editors: Les, James or Caroline, and let them know what you are thinking about. Address: [email protected] or through Messenger on our Facebook page.
Important Note: While we love the brand that gives our creations a place in the world, The Vocal Creators Chronicle is an independent publication. We are NOT Vocal Media, and we neither represent them nor answer questions on their behalf. All direct Vocal inquires should be directed to their support staff, starting here: SUPPORT. You may also find relevant information through their resources section, which can be found here: RESOURCES.
About our content: According to Vocal, anyone can publish on their platform. They moderate every story to ensure it complies with their Community Guidelines. However, they do not fact-check every story. Furthermore, the views and opinions expressed in the stories of the columnists and the editors of The Vocal Creators Chronicle are those of the individual Creators and do not necessarily reflect the official policy or position of Vocal nor The Vocal Creators Chronicle. The Chronicle does not accept liability for the personal opinions of or use of advice of any of the columnists or editors. All advice is considered to be undertaken solely at the reader's discretion. Non-original content submitted by columnists is expected to be used in accordance with its source licensing agreements. The Chronicle does not accept personal liability for the use of content included by its columnists.
First published January 13, 2021 by The Vocal Creators Chronicle.