We've Updated Our Community Guidelines: Here's What You Need to Know
As Vocal continues to grow, the Creator Experience Team is committed to updating its guidelines to protect the community while maximizing creative freedom.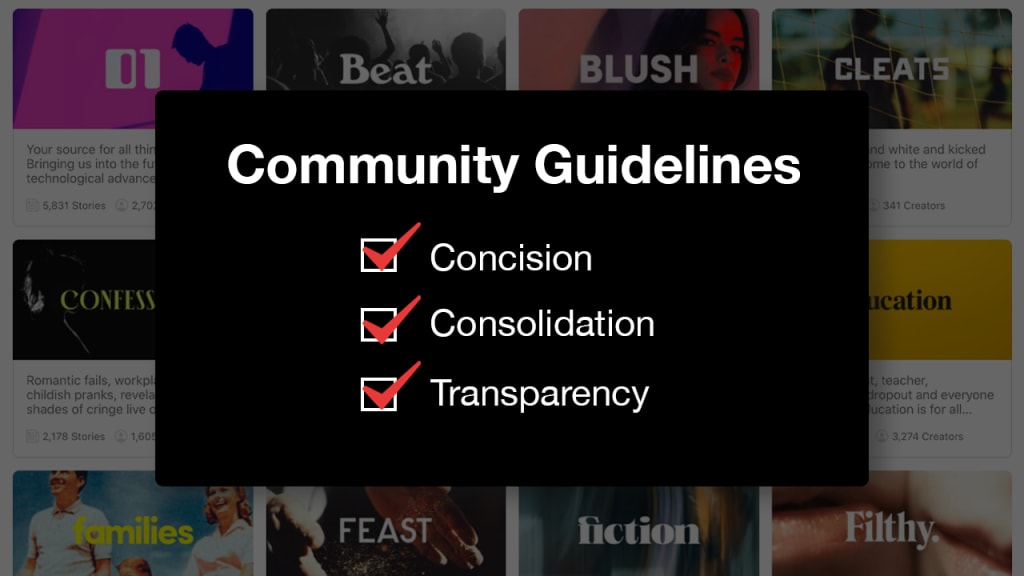 Vocal's Community Guidelines are the policies by which we protect the Vocal network from hate speech and misinformation, as well as set some standards for quality and professionalism of content.
This week, we released the first update to these guidelines since December 2019. They haven't been updated in awhile because they didn't necessarily need to be updated. Vocal was founded on very specific and intentional principles of creator-first safety via human-led moderation, and that hasn't changed. These guidelines are the backbone of the platform that we've built, and they're a wholly necessary element to any online community. Much as we may long for a space where nothing is off limits, a 5-minute stroll through the graveyard of now-defunct networks like Fling, Secret, and others serves as a potent reminder of why content moderation guidelines simply must exist.
However, it is best practice for these Community Guidelines to be updated every 6-12 months, so they were overdue for a facelift.
Concision, Consolidation, Transparency
These were the keywords I circled over and over in red pen as I reflected on the previous iteration of the guidelines. That's why this update looks less like a long list of rules and more like a group of 5 "umbrellas," as I call them, under which are outlined the various parameters for content on Vocal. The 5 umbrellas are:
Quality
Copyrighted Content
Inappropriate Material
Assertions of Personal Beliefs
Safety & Legality
If you'd like to read this policy in its entirety, which we encourage you to do, here is the latest version of Vocal's Community Guidelines:
What you need to know:
We have made a few updates to the Community Guidelines to better meet the needs of our creative community, both the founding members and the newcomers:
By popular demand, we've made clearer the parameters for fiction content, including violent content and content related to mental health struggles. While this content in nonfiction contexts might be flagged by our team, we're now less likely to flag this content in fictional stories (for example, a fictional story about a violent serial killer, or a character struggling with suicidal thoughts), since the last thing we want to do is silence or limit your creative freedom.
In light of recent surges in content related to conspiracy theories and stories containing potentially dangerous misinformation, we've updated our guidelines to reflect that all content that lends credence to conspiracy theories tied to real-world violence will be flagged by our team.
Going forward, we are committed to updating these Community Guidelines more frequently, or notifying you if they haven't changed. After all, these guidelines aren't just an arbitrary list of rules that we enforce. They are a carefully constructed set of conscious parameters that we have determined will best serve Vocal's mission to build community around long-form storytelling. These guidelines not only dictate the day-to-day of our work behind the scenes, but they serve as your roadmap for creating content on Vocal. As such, they deserve to be a priority.
Thank you for taking the time to read over the new Community Guidelines, and as always, thank you for choosing to create on Vocal.
---
Joshua Luke Johnson is a senior content manager at Creatd and head of Content Moderation and Curation at Vocal.