Vocal Bonus Leaderboard: 11/1/2023
Celebrating creativity, engagement, and community building on Vocal.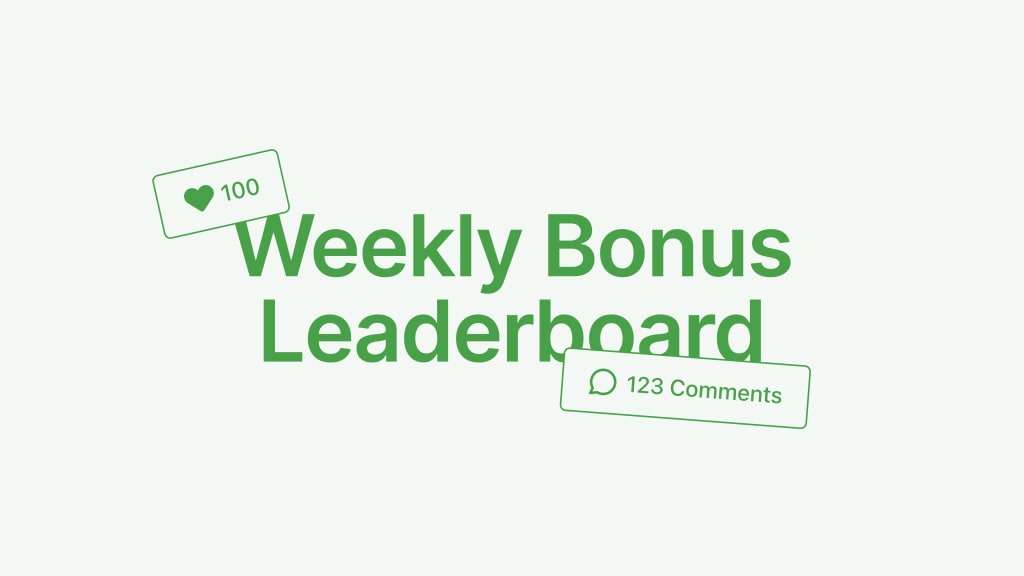 It's time to honor this week's standout creators and their contributions. Before we announce the Leaderboard winners, we would like to address some questions (special thank you to Babs Iverson) we received about how we create the leaderboard. Please see the rules we are following currently when creating the leaderboard:
The time period of data analyzed for each weekly Leaderboard is collected from 12:00am Wednesday - 11:59pm Tuesday ET each week.
Creators can only win one place in one category on the leaderboard.
Creators cannot win the same category two consecutive weeks.
Creators will win the category that they placed the highest in. However, if the category they placed the highest in is the category they won the previous week, and they placed in another category in a lower place, they will win the category that they did not place in the previous week, in the lower place.
Changes made this week:
Honorable Mentions are now the stories that had the most comments without being selected as a Top Story. We have implemented this change based on comments we received from creators like Lamar Wiggins in previous Creator Chats.
Please note that the rules have evolved since the inception of the leaderboard to allow more creators to win. In the spirit of diversifying the winners, we have heard your feedback and would love to also include editorial picks that are not based on engagement in the future. Stay tuned for more updates in the coming weeks.
✨ Most Discussed Stories this Week ✨
Here are this week's top stories that have ignited conversations with their engaged readers.
🏆 Winners
🥇 First Place ($20 Bonus): Donna Fox for Happy 100 Posts (Stories, Poems, lives lived?)

🥈 Second Place ($10 Bonus): Lana V Lynx for "Is Putin Dead?"

🥉 Third Place ($5 Bonus): Cathy holmes for He's Not That Bad, Really
🌟 Honorable Mentions
✨ Popular Stories with the Most Likes this Week ✨
These are the stories that captured hearts (literally) and commanded admiration.
🏆 Winners
🥇 First Place ($20 Bonus): Celia in Underland for The Expert.

🥈 Second Place ($10 Bonus): Lamar Wiggins for The Fridge

🥉 Third Place ($5 Bonus): Kel for Vocal-lies
✨ Most Subscribed to Creators this Week ✨
These creators have shown they have what it takes to build a following, attracting the most new subscribers this week.
🏆 Winners
🥇 First Place ($20 Bonus): Dharrsheena Raja Segarran

🥈 Second Place ($10 Bonus): Zara Blume

🥉 Third Place ($5 Bonus): Philip Canterbury
✨ Most Supportive Commenters this Week ✨
The pillars of our community, these creators excel in uplifting others through their thoughtful comments.
🏆 Winners
🥇 First Place ($20 Bonus): Hannah Moore

🥈 Second Place ($10 Bonus): HandsomelouiiThePoet (Lonzo ward)

🥉 Third Place ($5 Bonus): Kenny Penn
Congratulations to all of this week's victors! Your bonuses will find their way to your Vocal Wallets within the next 72 hours.
We believe that Vocal is an incredibly special space for writers and content creators. It goes without saying that the core of our community is based on mutual respect, fostering an environment where each unique voice can be heard. Following community guidelines isn't just a formality; the guidelines exist because we want everyone to feel safe. Let's be kind to each other and publish something that inspires this week 🙌
Reader insights
Be the first to share your insights about this piece.
Add your insights