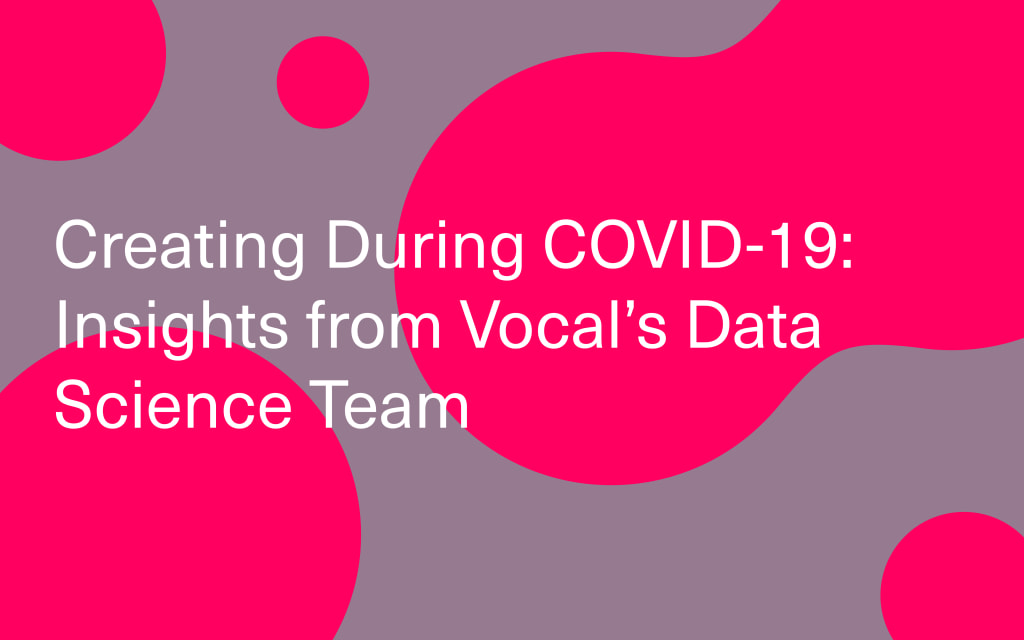 I've spent the last four years of my life living and breathing Vocal—I was there when the very first creator signed up for a free account, and watched as over 600,000 creators followed suit. As Head of Vocal's Business Intelligence team, which oversees strategy and data science, my role is to study all of these interactions within our ecosystem to better understand what makes Vocal tick:
Who is our 'ideal creator' and what motivates them to create?
What resources could we offer creators to help them expand their audience and maximize earnings?
What product features should we prioritize in Vocal's development pipeline to give Vocal creators the best possible user experience?
When the pandemic hit back in March, we saw how severely the creative community was impacted. We recognized that we had a responsibility to our user base to be a source of stability for creators in a time of so much uncertainty. Between the layoffs and the cancellation of gigs, shows, and all of the other events that the creative community relies on for awareness and income, our creators began relying on us more than ever to help monetize their work. After all, digital monetization is far less susceptible to the byproducts of COVID-19, like social distancing guidelines and travel restrictions.
We've been diligently monitoring how activity on Vocal has been impacted during the pandemic period, and thought it would be helpful to share what we've learned from you, our creative community.
Increase in Stories Created Month Over Month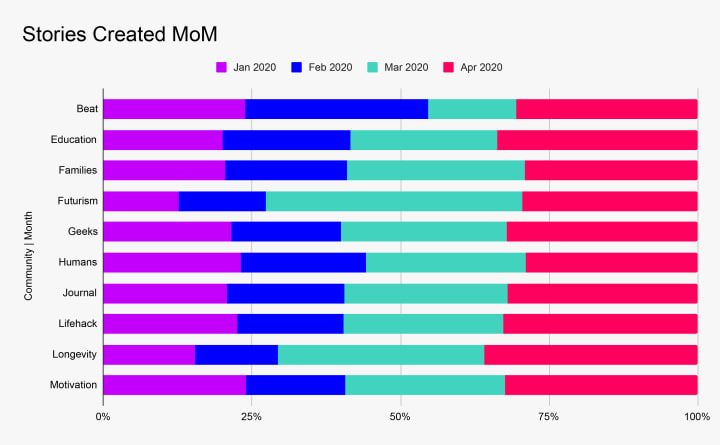 Online content, on Vocal and elsewhere, is being created and consumed at a record pace as internet users have more idle time and are increasingly seeking information and entertainment. In our case, we've noticed an uptick in Vocal activity across the board. The number of unique users consuming content on Vocal has increased by over 30% during the COVID-19 period, compared to the months prior. Further, consumers are spending 12% longer on average reading and engaging with Vocal creators' content. Additionally, there has been a significant uptick within a few of Vocal's communities in particular.
For example, stories being created about health and wellness has increased 140% within our Longevity community since we all began sheltering in place. This is not really a surprising finding given the high priority of health and wellness. Vocal creators are more inclined and motivated to share advice, information, and personal stories about health and medicine, whether about the pandemic itself or on a broader level.
The Litmus Test
Not surprisingly, some of the other communities that have demonstrated significant growth recently are Motivation, our community for inspiration and self-care, and Humans, our site about relationships, which have seen a 45% and 26% increase in story creation, respectively, over the course of the coronavirus pandemic.
One of the things that intrigues me most about Vocal is that the community acts as a litmus test for what our creators and audiences are thinking about, and, by extension, what the world is thinking about. We created Vocal to give people a voice and a safe environment to convey the things that are important to them—as our community analysis has shown, they're doing just that. Among my personal favorites are Christian Johnson's quarantine-inspired playlist, Hannah B's satirical story on life before quarantine, and Nathalia Ramos's entry in the Pay It Forward Challenge.
Decrease in Acquisition Costs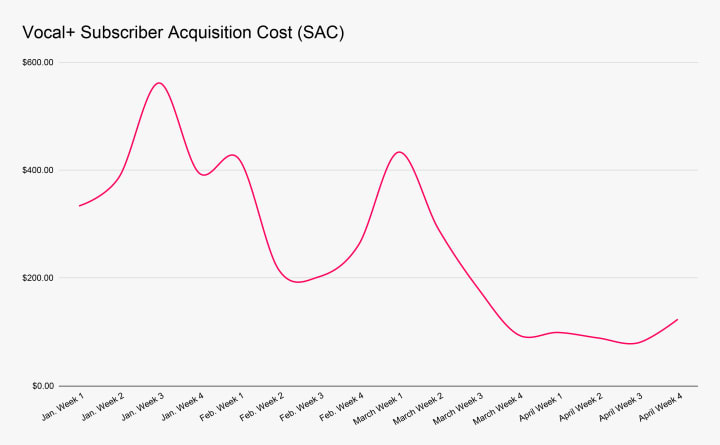 The mission of the data science department is to optimize the platform experience. One of Vocal's big advantages is that its closed ecosystem produces a rich pool of first-party data that the team pairs with data from third-party distribution platforms (i.e. Facebook, Snapchat). Together, they provide a clear profile of our creators and their audiences. We don't sell that first-party data, but we do use it to help us identify new users and nurture them properly, such that it is a worthwhile opportunity for them to upgrade to a paid membership.
The simplest way to explain Vocal's methodology is: maximize Customer Lifetime Value (CLV) and lower acquisition costs (CAC/SAC) to shorten the period of time it takes users to convert from a Vocal Free account to a Vocal+ membership. In addition, the product development team ensures that Vocal+ members are getting enough value that they retain their memberships for a greater length of time (i.e. lower churn). In fact, the link between incentivizing creators and lowering creator acquisition costs is a primary focus of the data science team, and an important consideration for every feature we develop for the Vocal platform.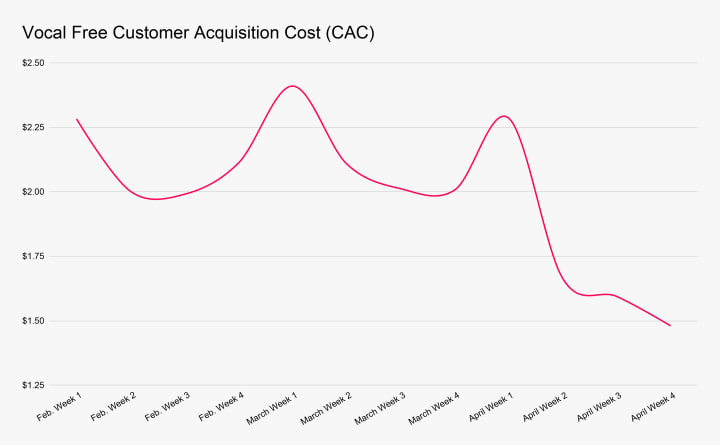 In the past few months, our CAC ('Vocal Free' Creator Acquisition Cost) and SAC (Subscriber Acquisition Cost) have each dropped by as much as 50%. The simplest way to explain this is that the four years we have spent collecting and applying our first-party data has created a virtuous cycle of behavior: Creators recognize Vocal as an attractive source of monetization, audience building, and intrinsic satisfaction. These inputs, plus features like creator Challenges, which further increase creators' earning potential, work together as a catalyst and incentive for joining Vocal+. This formula for success is the holy grail for data scientists. It takes the complex task of scaling the acquisition and retention of new creators⁠ and makes it a whole lot easier.
Vocal offers concrete value to the creative community. These days, it's costing our team much less time and money to identify, acquire, and retain new creators. The value is especially apparent in the context of the COVID-19 pandemic. As creators are finding many of their other revenue sources unreliable or inconsistent, the value propositions of upgrading to Vocal+ have become more apparent, in a shorter period of time. Additionally, the majority of our recent Challenges have been aligned with great brands and real world issues⁠—we've partnered with Vimeo to support small businesses, highlighted 'Everyday Heroes,' exchanged ideas for keeping busy at home, and more. Together, all of these initiatives are proving effective in continually lowering our CAC and SAC, freeing up more time and resources to devote towards giving our Vocal creators and audience the best experience possible.
Increase in Engagement (Microtransactions + Sentiment)
When we analyze what makes for a 'successful' piece of content, it goes beyond the basic metrics. While net read count can be helpful to determine which stories our audience is finding valuable, we also want to look at how readers interacted with a story, as opposed to merely that they've read it. Our production environment allows for rapid implementation of new strategies through the data collected from our multi-variant testing. The Vocal team looks at a great deal of different engagement metrics that help us paint a more complete picture—notably microtransactions such as Tips and sentiment such as 'Likes'.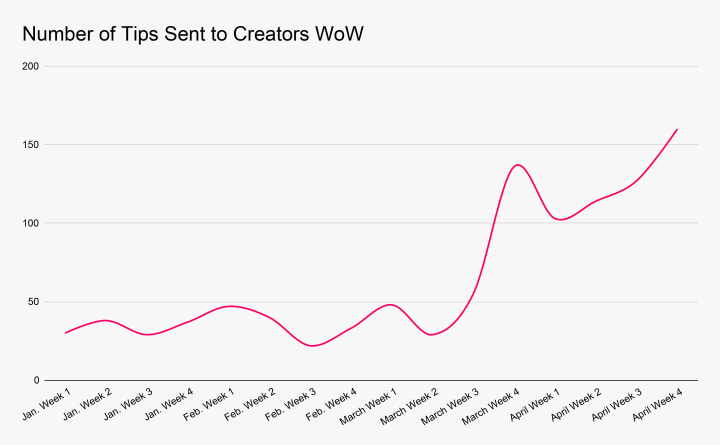 Tips allow Vocal readers to actively invest in creators' work, in the same way you might take an Uber ride and then send a Tip to your driver to reward a job well done. Since the beginning of 2020, we've seen a steady and significant increase in the number of Tips sent to creators, particularly in the last couple of months since the global pandemic began. There are very important takeaways in this data that will serve as the foundation for future features related to microtransactions.
First, it indicates that more people are reading stories while stuck at home and that they're actually being moved by the stories they read, so much so that they give something to those creators in return—either in the form of social currency (sentiment) or actual money (microtransactions). As a creator-centric platform, this interaction is our ideal scenario, and encouraging these transactions is a big part of why Vocal's curated and secure ecosystem is so valuable for creators, brands, and their audiences.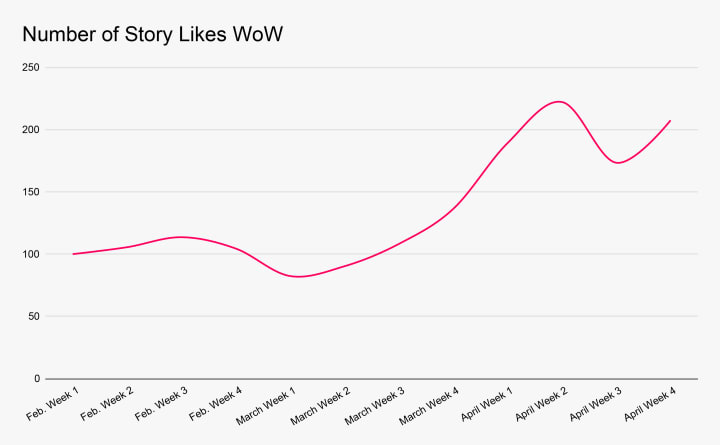 Second, the data suggests that the increase in Likes and Tips is correlated with the increase in the quality of content. Anecdotally, a number of investors and shareholders have commented on the increasing quality of Vocal's Staff Picks over time. The Vocal team, after all, is tasked not just with giving creators monetary support, but in addition, we work hard to develop and circulate resources that help creators hone their skills and publish better content. Vocal provides creators with storytelling tools and monetization opportunities, as well as a collection of resources that help with multiple aspects of story creating—from using data to help creators come up with the best story headlines to choosing images for their stories that will make their content more engaging.
North Star Metric
Higher frequency and value indicates improvement of creator quality as well as the audiences' Vocal experience. Our creators are being rewarded at higher amounts, and more frequently, which tells us that they're getting better at what they do.
The new normal has demonstrated that Vocal's North Star Metric (NSM), which is how much money creators are earning, is paramount to the success of the platform.
Rarely has there been such a difficult time for creators to find their voice. People around the world are deeply impacted by the coronavirus, but the creative community has a unique set of challenges: big and small live shows are being cancelled, events and conferences postponed, and many revenue streams for the creative community are on pause. In that sense, Vocal's mission statement is more pressing and more relevant than ever.
Exploring some of our closely monitored and sometimes proprietary KPIs can help convey that, despite the bleak data we consume daily on news networks and publications, there are some positive numbers, too, as well as promising developments in our Vocal community. In a time with such stiff competition amongst creatives and so little revenue going around, Vocal remains a cohesive and viable community. Creators are giving more to their fans, and fans are giving more to their creators in return. It's patterns like these that reassure me, and the entire Vocal team, that in choosing to partner with creators, we couldn't have made a smarter bet.